Gear Guy
What pack will limit the weight on my injured shoulder?
Last year I separated my left shoulder while taking a test run on my son's mountain bike (after "fixing" his front brakes). The physical therapist said I could only use an external-fre backpack in the future. Other friends, and some outfitters, disagree. What's your opinion on the external- versus internal-fre issue? Any specific packs of either ilk that will help keep the weight off my injured shoulder? Michael Front Royal, Virginia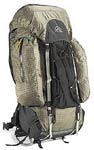 Heading out the door? Read this article on the new Outside+ app available now on iOS devices for members! Download the app.
Well, this is interesting. Your physical therapist's logic is this: An external-frame backpack will typically do a better job than an internal-frame one of transferring the weight of the load to your hips and away from you shoulders. And I agree. But that assumes, A) it's a good-quality external-frame pack, and B) it's adjusted properly. Still, it's not bad advice. Take a look at Kelty's 50th Anniversary Pack ($240; www.kelty.com), a first-rate external-frame model. Or, you might find a Dana Design Terraframe at Northern Mountain Supply, a pack combining Dana's fantastic Longbed external-frame with a Terraplane bag attached. I got one earlier this year for $99 just for the hey of it, and love it. NMS still has a few in the "regular" size (www.northernmountain.com).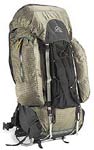 Kelty 50th Anniversary Pack

On the other side of the coin, a good internal-frame model still transfers a lot of weight to the hips, plus will distribute it across the back. So that would work, too. One of the best internal-frame packs for the money is Gregory's Forester ($239; www.gregorypacks.com). For weekend trips, Osprey's Aether 60 ($199; www.ospreypacks.com) is da bomb.


Another thing to do is reduce the load every way you can think of. Don't worry about the pack's weight because in most cases that weight helps keep the frame from sagging and collapsing around your chest. But look into lighter tents, multi-purpose clothing, a light sleeping bag—basically, whatever it takes to get ten pounds out of your "typical" load. These steps alone will make a huge difference.
Also, in time that shoulder will get better. I shattered my collarbone five years ago and still have this grotesque knot of bone on my right shoulder. For a long time, carrying a pack was miserable. But this year it hasn't been a real problem.
Trending on Outside Online