What is the performance difference between bodypacks and backpacks?
What are the pro and cons of so-called "bodypacks" that balance the load on both the front and back of your body, such as the Aarn Bodypack? John Athens, Georgia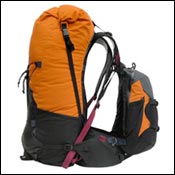 Heading out the door? Read this article on the new Outside+ app available now on iOS devices for members! Download the app.
The Aarn bodypack is one of the odder-looking creations out there. It's essentially two packs—one that goes on your back, the other against your torso in front. The idea is that this distributes the load more evenly front to back, reducing that hunched-over posture the average backpacker assumes when slogging up a hill. The Aarn Featherlight Freedom, a 3,660-cubic-inch pack big enough for weekend trips (or longer if you pack tightly), sells for about US$280 (aarnpacks.com). Aarn packs are made in New Zealand and are distributed in the U.S. only by Rock and Snow (rocksnow.com), a gear shop in New Paltz, NY.
Aarn Featherlight Freedom Bodypack

Featherlight Freedom Bodypack
Aarn's packs have been generally well-reviewed, and of course the concept makes a lot of sense. Not only does the design help distribute the weight, it allows certain items to be more accessible. I've long used a small front "pouch" from Dana Designs as an adjunct to a larger pack as a place to stash sunglasses, Snickers bars, even a water bottle. And when you think about it, backpacks are really pretty ridiculous things. They don't really put the load where the body can most easily carry it, they can collapse your chest area just when you need it open and released so you can breathe, and they have to be taken off before you can get something out. The Aarn packs try to remedy some of these flaws.
On the down side, Aarn packs also are more complex to pack, and their suspension makes them slightly more difficult to get on and off. This is speculation on my part, but I should think as well that wrapping a pack around your body, more or less, would reduce ventilation and cooling.
I once had a conversation with Yvon Chouinard, founder of Patagonia, about packs. His preferred packing method was to retrofit a more or less traditional pack with a "tump line"—a strap that attached to the pack, then up and across the top of his head. Much of the weight from the pack was transferred to his head and shoulders, which—after certain muscles got used to it—was a much more efficient way to carry a pack than having all the weight on your back. It's the way big loads are carried in much of the world. The backpack is largely a Western, and odd, invention. But, old habits die hard. I've never really seen anyone lugging a pack with a tump line. Nor have I seen any Aarn packs in use.
The Gear Guy reports from 2007 Winter Outdoor Retailer, the bi-annual gearapalooza in Salt Lake City. Check out his top picks for gear to watch in 2007.
Trending on Outside Online