Where can I get a good "strapack"?
A couple years ago I saw an ad in Outside for a pack which was basically a strap that went over one shoulder and had several pockets on it for gear. I think it was called something like "strapack." Can you help me find it? David Washington, Missouri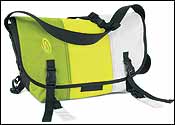 Heading out the door? Read this article on the new Outside+ app available now on iOS devices for members! Download the app.
C'mon, make me work harder! Google "strapack" and you'll turn up the goods—basically a small pack with a single strap rigged with a cell-phone holster ($39; www.computerbags.com/strapack.html). Several companies make something similar, such as Eagle Creek's Fling ($45; www.eaglecreek.com), a very similar "pack" with a small pack bag attached to a sling-style strap. I also like REI's take on this type of pack, a sleek item called the Singular Shoulder Pack ($68; www.rei.com). It has lots of good features, such as a long zipper, removable padded laptop case, and small pockets for keys and other loose items.

Laptop Messenger

This is basically an urban, on-campus style—when I was in college, lo, those many years ago, I hauled around an ancient Gerry daypack and never really put it "on." So savvy marketing people picked up on this—in fact, I believe I was their inspiration—and started designing easy-on, easy-off one-strap packs.
The other model, of course, is the courier bag, the quintessential one-strap pack, and a useful one at that. Eagle Creek's Runway ES ($40) is a slightly spiffed-up version of such a pack—it's on or off your back in a second, holds your laptop or other around-town necessities, and is made of tough Cordura nylon. The other sure-fire brand in this realm is Timbuk2, a staple of grungy bike messengers and road warriors everywhere. Try its popular ballistic-nylon Laptop Messenger ($90; www.timbuk2.com) or customize your own, with fun options like Neapolitan ice cream-style coloring, reflectors, and strap add-ons like a cell-phone holster and accessory case ($80 for medium-sized bag; $10-$20 for upgrades and accessories). This should give you everything you remember—and more—from that long-ago ad in Outside.
For a dizzying array of the best packs and luggage, check out Outside Online's 2005 Buyer's Guide.
Trending on Outside Online