Which boots will last me a lifetime?
I'm looking for a stitched-sole, full-steel-shank leather boot. They seem to be an old-school requirement, but I really want to have a pair of hiking boots that will last me 20 years. Does anybody still make high-spec hand-stitched stuff, or are injection-molded boots the only option? Josh London, United Kingdom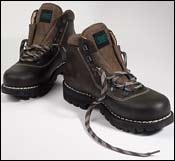 Heading out the door? Read this article on the new Outside+ app available now on iOS devices for members! Download the app.
You really are old-school, Josh. What you're after is a boot made with Norwegian-welt construction—that classic boot with the stitching around the perimeter of the sole. This method yields a very rugged boot that can be re-soled many times. But, it's also a more labor-intensive way to build a boot and it yields a boot that requires substantial break-in. So, glued-together soles—which by and large work great—now dominate the market. They're more flexible, and hence more comfortable, than stitched-down soles. Plus they're easier to make.

Limmer Light-Weights

Whenever I think of Norwegian-welt boots, I think of my old Galibier Super Guides, climbing boots I wore for years. French-made, very rugged, heavy as sin, not particularly comfortable. But you still can get them for 250 euros on the Continent. Here's one link that may help: www.achat-grenoble.com/pro4407-Super-Guide-de-Galibier.htm (though brush up on your French, mon ami).
But there are other choices. Scarpa makes a classic-style boot called the Rio ($249 U.S.; www.scarpa.com), an excellent all-around hiking boot that has Norwegian-welt construction and a steel shank. One very durable boot, with no frills such as a Gore-Tex liner.
Finally, there are the U.S.-made Limmer boots. The Limmer Light-Weight has 2.9-millimeter leather, a leather liner, a terrain-eating Vibram sole, and Norwegian-welt construction ($260; www.limmerboot.com). Don't let the name fool you—it's a super-tough boot that will last for years and years. Or, for a few bucks more, you can go with the slightly heavier Mid-Weight.
For more of the best hiking boots, check out Outside Online's all-new Hiking-Boot Buying Guide.
Trending on Outside Online