Will a pair of stitch-down boots rattle my brain?
I interested in buying a pair of Limmer boots, and have heard that they are very comfortable and the best backpacking boots you can buy. However, some have warned me that the old-fashioned construction means less cushioning that could "rattle my brain," especially since I have a heavy footfall. Is there a significant difference between cement and stitch-down boots? Brad Essex Junction, Vermont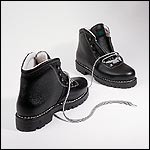 Heading out the door? Read this article on the new Outside+ app available now on iOS devices for members! Download the app.
Limmer boots are indeed legendary in the boot world. They're true boot brutes—the Limmer Standard ($325; www.limmerboot.com) has leather that's 3.2 millimeters thick, half again what is found on most boots. And they're leather-lined as well, a feature that adds durability, and in my view comfort. The Limmer Lightweight ($250) is still more boot than most "heavyweight" trail boots, with 2.8-millimeter leather, and is ideal for backpacking with heavy loads and on rough trails.

Limmer Standards


As you note, the Limmer boots use stitch-down—technically, Norwegian welt—construction. That's visible in the double line of stitching atop the sole; it's what attaches the sole to the boot. That's a rarity today, with nearly all boot makers relying exclusively on cemented soles, in which the sole literally is glued to the boot. Norwegian welt construction is exceedingly rugged, and a boot made this way can be re-soled many times.
So, the question is, why are cemented boots so popular? It's true, they're easier to make. But it's also true that a cemented boot is lighter and generally more flexible than one made with Norwegian welt, hence more comfortable and requiring less break-in. Durability on a well-made cemented boot is fine; I've never had one de-laminate on me. And they can be re-soled, although it's a slightly trickier process than with a Norwegian welt. A cemented boot that perhaps would be a good competitor for the Limmer Lightweight is Montrail's venerable Moraine ($260; www.montrail.com), an extremely rugged boot made with three-millimeter leather—so right between the two Limmer options.
You won't go wrong with the Moraine or the Limmer boots—provided they fit well. For the Limmers, too, allow ample time for break-in and to allow the liners to mold to your foot shape before you try long hikes. But once properly broken in, a pair of Limmer boots will give you years and years and years—did I say years?—of service. A long time. Years, in fact.
More hiking-boot reviews and advice in Outside's 2004 Buyer's Guide.
Trending on Outside Online