Gear Guy
How Can I Choose Products That Give Back?
While getting outside and playing with gear is a dream, it isn't my favorite part of my job—it's the people I work with. I have found that outdoors people—for the most part—are really good people. So, it makes sense that give-back programs are popular in the outdoor industry, and there are a lot of them to navigate. Which are the best?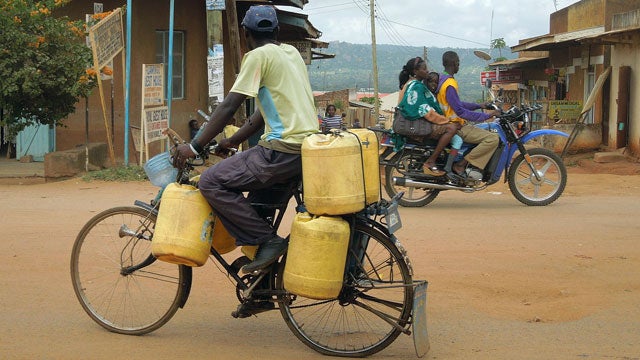 Heading out the door? Read this article on the new Outside+ app available now on iOS devices for members! Download the app.
The Product: MiiR Wave Single Speed

A Miir Wave single-speed bicycle

A Warren Pieces skateboard on the highway.

A Keen utility boot.

GU Roctane energy gel.

A Teva sandal.
Contribution: For every bike that MiiR sells, they either donate a sturdy bike to World Bicycle Relief, or donate resources to the Boise Bicycle Project that allows someone to build or earn their own bike through sweat equity.
Miir started in 2009 as a water bottle company with a goal of using $1 from each water bottle sold to directly provide one person with clean water for a year. In 2011, owner Bryan Pape was in Liberia documenting their first two water projects, when he saw a strong need for inexpensive transportation. They launched a bike line to help fill this need. Miir intentionally splits their contributions internationally and domestic. Both programs share a focus on having recipients earn their bikes by non-monetary means with the goal of empowering them. The World Bicycle Relief has donated over 100,000 bikes throughout Africa. "Kids sign two year agreement that they will keep a GPA based on community standards, after that they can keep it," says Pape. The Boise Bicycle Project supplies bikes to adults and children using different earning programs. "Adults wrench on bikes to earn credit to buy with sweat equity," says Pape, "With kids its more educational."
The Product: Warren Pieces Skateboard
Contribution: 5% of any Warren Pieces board purchase goes directly to the High Fives Foundation, which sponsors recovery for athletes that have suffered life-altering injures during winter action sports.
Whitney Phillips and Matt Groom created Warren Pieces as way to make something useful from the massive amount of wood waste they saw as carpenters and loggers. The beautifully crafted, handmade, boards are completely constructed from scraps left behind from carpentry and logging projects. They use scraps from the boards to make board holders to cut down even further on waste. "We can make toothpicks eventually," Phillips says of his desire to cut waste to zero. Phillips did carpentry work for 1% For the Planet and he was childhood friends with High Five's founder Roy Tuscany, so the contribution bloomed organically. Truckee, California-based High Fives uses that money to sponsor everything from massage therapy to physical training sessions to aid athletes who have suffered life-changing injuries—like spinal chord or traumatic brain injuries—while pursuing a winter action sport in their recovery.
The Product: KEEN Utility Boots
Contribution: For every KEEN Utility Boot that is sold in a retail store in the fall, KEEN donates $5 to Homes for Our Troops
What that means: Homes for Our Troops is a non-profit that builds adaptive homes for wounded veterans returning from war. The adaptations are developed specifically to help maximize the veteran's freedom of mobility in their home. The homes are provided at no cost to the wounded veterans. KEEN has been running this in store promotion for two years and over half of the stores involved are matching KEEN's donation. This excitement it has generated inside the retail shops is a testament to the program's success, according to KEEN's corporate social resource manager Chris Enlow. "It's about building strong community," Enlow says. "If we can promote their great work and get retailers excited they get more donors which builds sustainability for these organizations."
The Product: GU Special Edition Passionfruit Roctane
Contribution: Starting June 12, all profits from GU Special Edition Passionfruit Roctane sales will go to the Challenge for Kids Campaign—a partnership with the non-profit Challenged Athletes Foundation that is geared to raise $50,000 to purchase prosthetic limbs for children
GU is not gear, but most outdoor athletes use some type of simple calorie replacement, so I figured this marriage would be worth putting on your radar. Challenged Athletes is a non-profit that focuses on helping people with disabilities who want to be active compete in their favorite sports. The Challenge for Kids Campaign was built to raise money to specifically purchase prosthetic limbs for kids in three ways. Through an online portal you can directly donate, the portal offers tools to help you fundraise, or you can purchase the Roctane.
The Product: Teva Footwear
Contribution: Teva commits to cleaning one foot of shoreline—either river, lake or ocean—globally for every pair of shoes they sell.
Teva's goal is to clean 4.4 million feet of shoreline worldwide by the end of this year. The commitment seemed nebulous at my first look, but research proved that Teva will be able to qualify the number of feet that they will help clean up and rescue. Their initiative is twofold, they fund clean water organizations like Waterkeeper Alliance, Save The Colorado, and Surfrider Foundation as well as actual river or ocean clean-up efforts some of their retailers.
Lead Photo: Andrew Dressel/Wikimedia