Arc'teryx's Trail-Running Shoes Hit Their Stride
The third generation of Arc'teryx's trail footwear fully reflects the famed quality, fit, and versatility of the Canadian outdoor apparel brand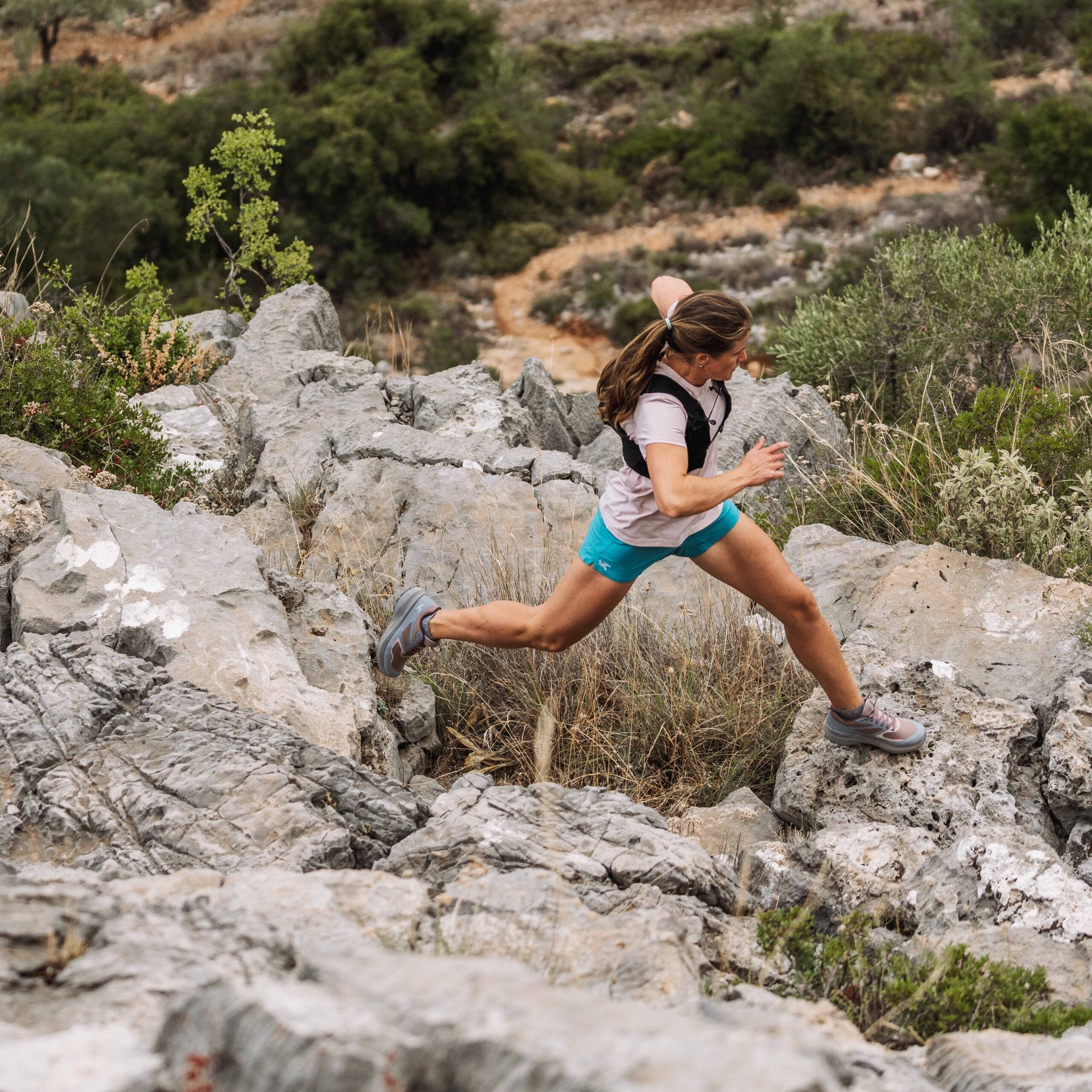 Courtesy Arcteryx
Heading out the door? Read this article on the new Outside+ app available now on iOS devices for members! Download the app.
A typical outing in British Columbia's Coast Mountains–the backyard testing ground for the Arc'teryx outdoor apparel brand–runs through forest trails, passes under rain-soaked pines, and ascends technical traverses before reaching exposed rocky ridges above timberline. This diverse and demanding landscape is a prime example of the type of terrain Arc'teryx's trail shoes are designed for. While they have been making trail running shoes for eight years, only recently has their Norvan line emerged as solid contenders in the space, with three models delivering lightweight performance on valley-to-summit adventures.
Arc'teryx began making its footwear line in 2015, an anticipated natural step after the company was bought by Salomon in 2002. In the early days, Arc'teryx relied extensively on Salomon's footwear expertise. But now it has a new design independence gained from corporate shifts and, mostly, from the confidence inspired by Arc'teryx's steady growth. The Arc'teryx footwear that has survived are athlete-directed choices, with an emphasis on durability and cross-functionality.
"Our athletes are about breaking boundaries in the mountains, moving across several activities to accomplish their missions," says Ovidio Garcia, Arc'teryx's vice president of footwear. "We strive to provide them with the best tools to excel in that environment and augment their performance and experience." Garcia understands the importance of testing their prototypes in the mountain terrain for which they are designed and his team spends a lot of time with athletes, observing and gathering insights on how to improve the shoes.
Unlike other apparel manufacturers that foray into footwear, Arc'teryx wanted to build from its expertise, rather than simply adding its logo to another brand's shoe design—like Patagonia once tried with Merrell—or bringing in another manufacturer's footwear team. The Norvan shoe line reflects the brand's devotion to its design ethos that welds together architecture, engineering, ergonomics, and a good dose of mountaineering expertise.
The brand, coming from an apparel and gear perspective, has always had to "build with what we have," says Greg Grenzke, senior director of advanced concepts and footwear originator with the brand. Arc'teryx has frequently had to push its machinery and materials to adapt to new applications, ones not originally envisioned, and created spliced-together "Frankenmachines" to crank out novel end products that solve real-life foot issues and concerns.
"The shoes represent a collaboration, one born of the constant dialogue we athletes have with the design team—we tell them what's working and what's not working," says Arc'teryx Run athlete Adam Campbell, who I was fortunate enough to pace during an exciting part of the 2015 Hard Rock 100. Campbell also takes the footwear team into the coastal range so they can personally see and feel the product in its natural habitat.
"I would say the thing that brings people into our community is appreciation for the highest performing equipment and apparel—and also the most beautiful," says Garcia. "Every shoe and detail in our product serves a purpose."
We found these three models from Arc'teryx's Norvan line to excel when the purpose is trail running.
Super-Light Scrambler: Norvan SL 3 ($160)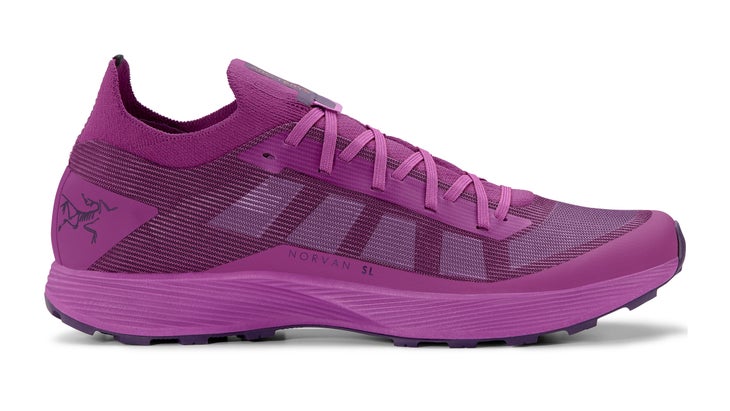 Weight: 6 oz
Stack height: 19 mm heel / 12 mm forefoot (7 mm drop)
This is the ultimate approach shoe, best suited for nimble prancing on rocky surfaces when you want precise foot placement. The "SL" stands for super light, and they live up to the name. Weighing in at a mere six ounces, there isn't a lighter off-road shoe currently available.
Lightweight materials and a minimalist design make the SL 3 flexible and agile on rocks and roots, delivering a fleet-footed feel but requiring a ginger touch when maneuvering challenging trails and technical descents. The firmly responsive EVA and Polyolefin midsole blend gave sparse cushioning, but delivered sufficient buffering to not get bruised from the excellent underfoot feedback. An embedded, .7mm-thick TPU film from the arch forward provided some assuring protrusion protection while allowing unfettered flex.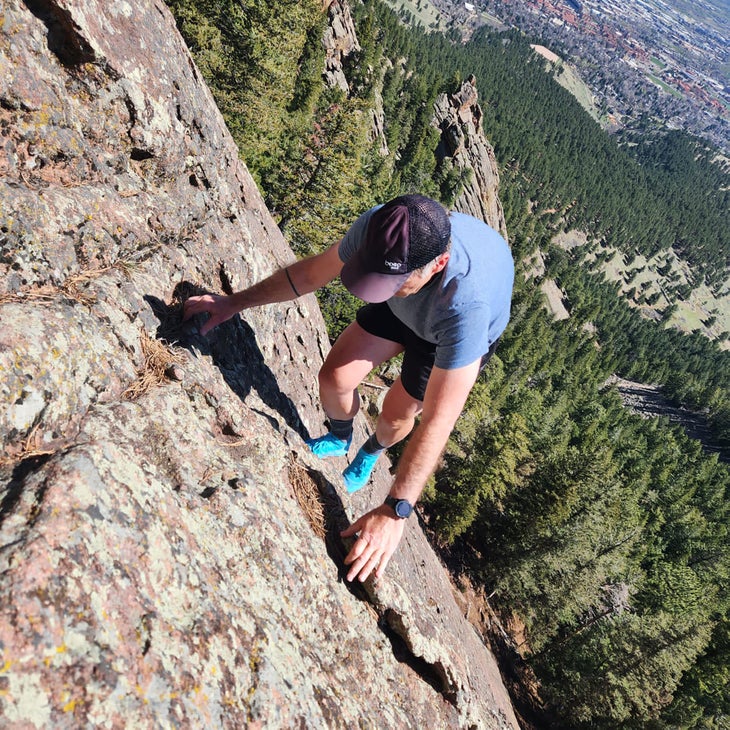 The superior flexibility lends itself to easy rock face "smearing," qualifying them as one of the best shoes we've tested for runs that entail scrambling and sustaining traction. One tester proved it by running and climbing the "Buckets" route on the Second Flatiron above Boulder, Colorado. As a nod to their climbing roots, the Norvan SL features integrated medial collar loops so the shoes can be clipped to a harness when swapped for mountaineering boots or bouldering slippers, although the utility of the shrunken, ornamental feature is negligible. The MegaGrip Vibram outsole with 3.5mm lugs is fully functional, however, and provides a grippy hold reminiscent of LaSportiva's run-climb offerings.
The upper's secure and flexible grasp promotes the SL 3's quick and nimble running performance. The coated recycled polyester upper was extremely breathable and shed moisture rapidly while maintaining a snug midfoot grip, reminding one tester of when he used to wrap his arches in athletic tape before donning cross-country spikes. Credit that firm foothold to the alternating pattern of wide and narrow lacing loops across the flexible forefoot. Another tester appreciated that the narrow midfoot hold still allowed for splay in the broad toe box. The thin laces also tucked nicely in the lace garage, evidence of Arc'teryx's Salomon roots, and the thin, stretchy knit collar helped to prevent trail grit and gravel from entering around the ankle.
While we don't recommend the SL 3 for running an ultramarathon, given their minimal midsole cushioning, all our testers felt they were superb for short ascents, for dancing over rocky terrain, and for swift runs on any trail for those who prefer only a whisper of weight and protection.
Smooth, Steady Cruiser: Norvan LD 3 ($165)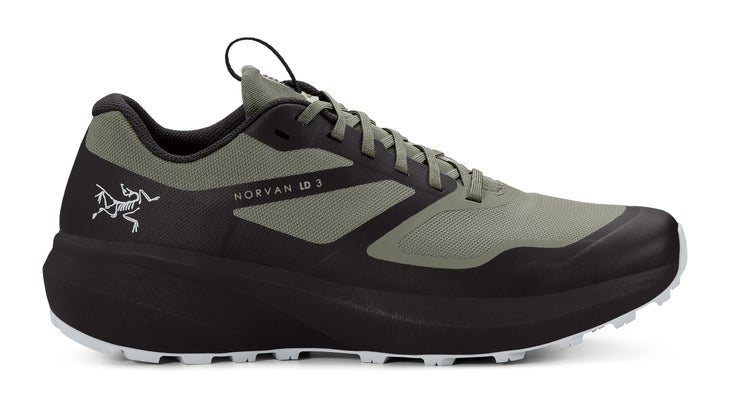 Weight: 9.2 oz
Stack Height: 29 mm heel /23 mm forefoot (6 mm drop)
Arc'teryx's go-to shoe for a wide variety of trail surfaces, the LD 3, or "long distance" shoe, is aptly named. The EVA and Polyolefin midsole is quite substantial, yet not so thick as to qualify as oversized or maximalist. Fortunately, the cushioning felt muted and "non-squishy"—even a bit bouncy—and provided a balanced, comfortable, and moderately responsive ride over varied terrain. Testers reported that the dependable shock absorption also didn't seem to fatigue or pack down over long runs.
The LD's ride is not unlike Salomon's comfortable and versatile Ultra Glide 2, which is high praise on its own, but the Arc'Teryx fit is also more sculpted to the foot and more finessed, thanks to a foam tongue and internal foot wrap. The supportive, highly-breathable, lightweight upper has enough volume for wider feet, and allows for foot expansion from heat or distance. The sole, outfitted with 4 mm lugs made of Vibram's MegaGrip, served well on most surfaces, from challenging, rocky singletrack to paved roads, exuding an assuring steadiness.
The LD isn't the performance vehicle of the SL but the two shoes are intended for different purposes: one ought not compare an SUV to a race car. The SL is intended for a mix of running, scrambling and climbing, whereas the LD's goal is to deliver comfort on the run—which it does without compromising its competent performance.
Climber's Running Shoe: Vertex ($180)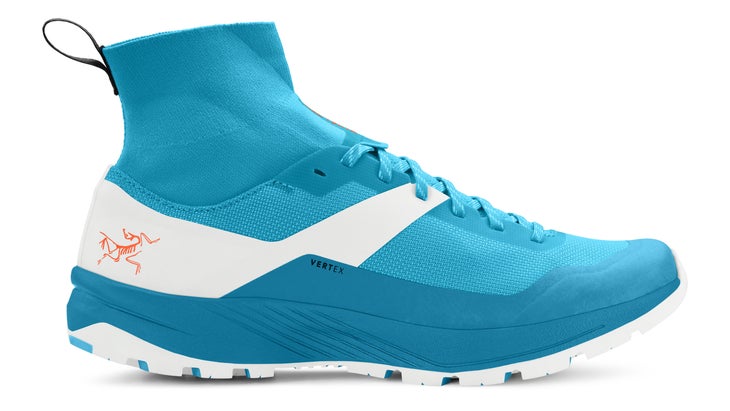 Weight: 11 oz
Stack Height: 25 mm heel / 17 mm forefoot (8 mm drop)
Arc'teryx's Vertex falls more on the mountaineering side of the spectrum, and was the least runnable of the models tested. It features a smart, sock-like upper that employs a knit collar to keep scree or other trail flack from ankle intrusion. The "360-degree randing"—a supportive band around the shoe's perimeter—and the welded support zone around the heel and instep reflect the shoe's Alpine heritage and functionality, but reduce the shoe's flexibility. And the plastic rock plate integrated into the midsole at mid to forefoot leaves the shoe feeling "boot-y" and too stiff for a flowing heel-to-toe transition.
The Vertex is, however, durable and protective, and its compressed EVA midsole with anti-abrasion wrap and microfiber lining provide plenty of shielding from protrusions—as in, it's bomber. The rigid outsole is complete with a 4mm lug pattern of Vibram's MegaGrip and a friction zone in the forefoot for better traction on rock.
One tester's question summed up our impression of the Vertex: "Perhaps these shoes are designed more for climbers than for runners?" Not only do they feel more suited to scaling a wall than running a 10K, unless I were a climber and had just come down from some daunting physical effort, perhaps with a patina of chalk on my hands and dirt on my legs, I wouldn't feel comfortable wearing the Vertex to a coffee shop for fear of qualifying as a poser.
That said, if you are that climber and want to run in and out from a scramble, the Vertex is a stable, protective, durable, and relatively light hybrid that will take on any terrain.
Lead Photo: Courtesy Arcteryx