2023 Summer Gear Guide
The Best Men's Summer Running Gear of 2023
We tested 88 running shorts and tops over hundreds of miles of roads and trails in summer heat and humidity. These 11 kept us feeling the most comfortable, speedy, and stylish.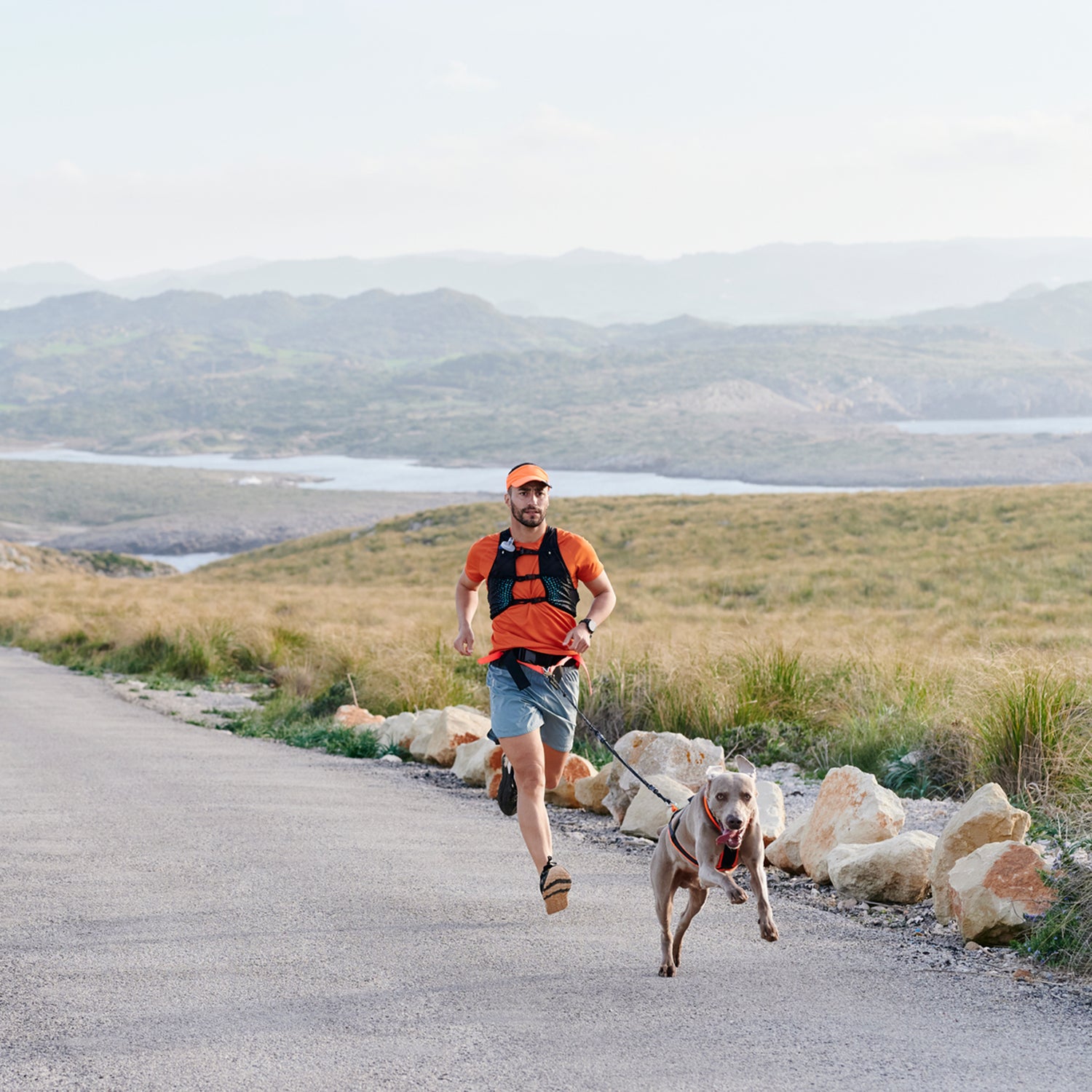 Heading out the door? Read this article on the new Outside+ app available now on iOS devices for members! Download the app.
For runners, summer doesn't arrive when the sun is out the longest, and isn't announced by a long weekend of patriotic social gatherings spent playing yard games and drinking beers over a grill. Rather, it arrives mid-run, on an otherwise beautiful day when the sunshine and warmth beguile you into choosing a longer route or pushing harder than you have in months. All of a sudden you realize that your heart is pounding faster than it should, gritty sweat is stinging your eyes, and your so-called "easy" pace from the day before actually kinda does feel like work (maybe even hard work).
Summer appears in earnest, and it's both a blessing and a curse. With daylight stretching far beyond the limits of the workday, there's ample time for dawn patrol missions or social runs after quitting time. Warmer temps mean a simpler kit, with fewer layers and less fuss (not to mention less motivational self-talk required to lure you outside). Alpine snowpack melts off, trails dry out, and seasonal roads open up, offering a world of route options that have long been off-limits. For all of these reasons, summertime is, statistically speaking, when most people run the most miles.
But summer's heat and humidity—or intense dry heat, depending on your locale—conspire against running efficiency, forcing your body to work harder than at other times of the year to maintain the same pace. Even where I live, in Upstate New York, summer workouts can be a struggle, daily runs are sometimes scheduled around hourly forecasts, and long runs demand water stops or a hydration vest. But summer miles bring fall smiles, and I'm a sucker for fall marathons and ultramarathons. So every year I do the hard things during the hardest season, in the hopes that fall will bring a PR or, at least the kind of effortless running that I imagine we were born to do.
Along the way, I've dialed in my warm-weather running kit, because I've learned that good gear can make a big difference. Here is the cream of this year's crop—versatile running apparel pieces that will keep you as cool as possible and safe from the sun, as well as stand the test of countless miles of summer training and social runs, from mud season straight through to first frost.
The Winners At a Glance
Tops
Move Free Designs Summit Cap
Roark Bless Up Breathable Stretch Shirt
Hoka Glide Singlet
Soar Hot Weather T
Rabbit Run Day Tee
Ibex Springbok Short Sleeve Tee
Bottoms
Patagonia Strider Pro Shorts 5"
The North Face Summit Pacesetter Run Brief Short
Janji 3" AFO Split Short 3.0
Nathan Essential 7″ Short
Tracksmith Allston Half Tights
How We Test
Number of Testers: 4 (ages 41 to 52)
Number of Products Tested: 88
Number of Miles: 1,494
Vertical Feet: 92,833
Longest Run: An island 50K w/8,500' of climbing through old-growth forests overlooking Puget Sound
Hottest Run: An 18-mile loop through the Catalina Mountains outside of Tucson, when temps soared to 95ºF (in October!)
I enlisted three other veteran runners—one in Northern Arizona, one in Seattle, and another in Oregon—to help me put dozens of pieces of summer running apparel through their paces over four months last summer and early fall. I tested them on the village streets, rolling country roads, and forested technical trails around my upstate New York home. My partners played with them on a wild mix of urban streets, buff mountain trails, forested parks, multi-use corridors, rocky headland scrambles, and technical tracks in their respective desert and oceanic locales, and far beyond. We ran on scorching summer days, when the heat index was well above 100 degrees Fahrenheit, and on soggy, gray days when temps started in the 40s and barely touched the 60s. We wore them for short neighborhood cruises and more than one ultra-distance event. Along the way, we filled out feedback forms scoring each item's thermoregulation, breathability, stretch, durability, and fit; discussed its notable sport-specific features; called out any shortcomings; and asked the all-important question: would we buy this piece ourselves?
The Best Men's Summer Running Tops of 2023
Move Free Designs Summit Cap ($30)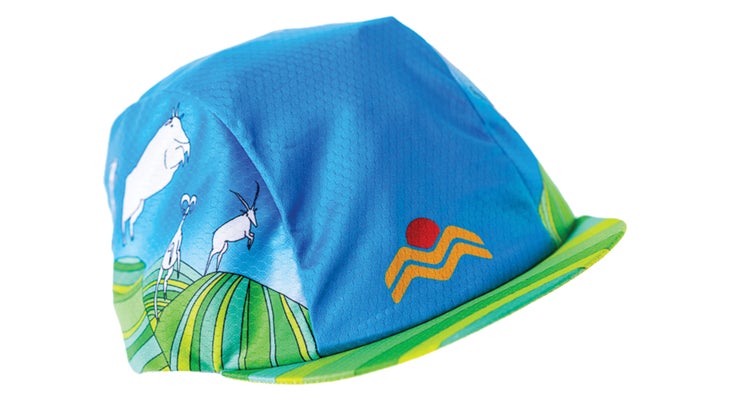 Weight: 37g/1.3oz
Sizes: One Size
For devotees like us, a running cap is more than a simple sun shade; it's also a wind and rain cover, a sweat sponge, a hair tamer and, when dunked in a stream or stuffed with ice, a top-notch cooling device. Most days we reach for the Summit Cap, which is all of these things in a colorful, eye-catching design that receives compliments nearly every time we wear it. Made from ultralight, stretchy UPF 50+ polyester, it comfortably conforms to nearly any size noggin with the pull of an elastic cinch in back. The cycling-inspired visor provides just enough cover to shield your face from the elements, and a super-absorbent sweatband keeps the salty stuff out of your eyes.
Bottom Line: An eye-catching, made-in-the-USA cap that's budget-friendly and checks all the performance boxes
Roark Bless Up Breathable Stretch Shirt ($89)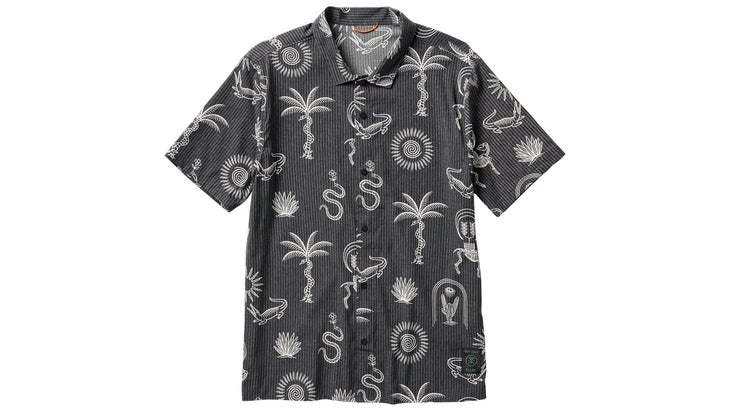 Weight: 109g/3.8oz
Sizes: XS-XXL
Within the niche category of running button-ups (yes, it's a thing), this shirt stands out for its bold, party-ready prints and breezy, run-ready fabric. Designed to perform in the steamy heat of tropical Jamaica—where "bless up" is akin to "good day"—the Bless Up Shirt is incredibly lightweight and breathable. Its custom-woven fabric is a blend of moisture-wicking polyester and strong, quick-drying nylon Tactel with tiny holes engineered throughout for ample airflow. Other thoughtful touches include four-way stretch and side splits for comfort while in motion, and a snazzy collar that flips up for back-of-neck sun coverage. I wore it to a muggy afternoon trail meetup that would've soaked and wilted most tops, but the Bless Up stayed both dry and sharp-looking enough to wear straight to a local brewery post-run (while my running partners changed out of their soggy tops).
Bottom Line: A technical top with style and versatility to spare that gets the job done from trail to tavern and beyond
Hoka Glide Singlet ($42)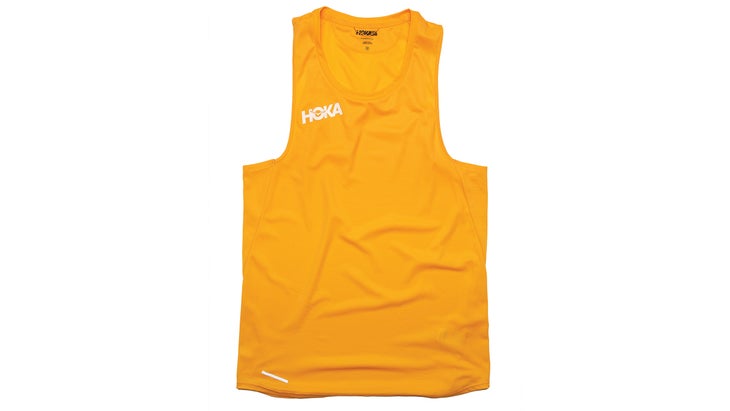 Weight: 49g/1.7oz
Sizes: XS-XL
Singlets are, by their open nature, made for the hottest of days, and the Glide is no exception. Made from an ultra-lightweight 100 percent recycled polyester, it's the lightest, most breathable and fastest drying of the dozen or so that we tested. During track intervals and tempo days, our testers loved the airy, barely-there feel of this performance top, which weighs a full 37 percent less than the next lightest top we tested, and breathes as smoothly as Kipchoge. What's more, the stretchy fabric's unique grid texture readily wicked sweat from skin to surface, keeping us cool and comfortable, no matter how hard we pushed the pace.
Bottom Line: A barely-there performance piece for going hard in the heat
Soar Hot Weather T ($107)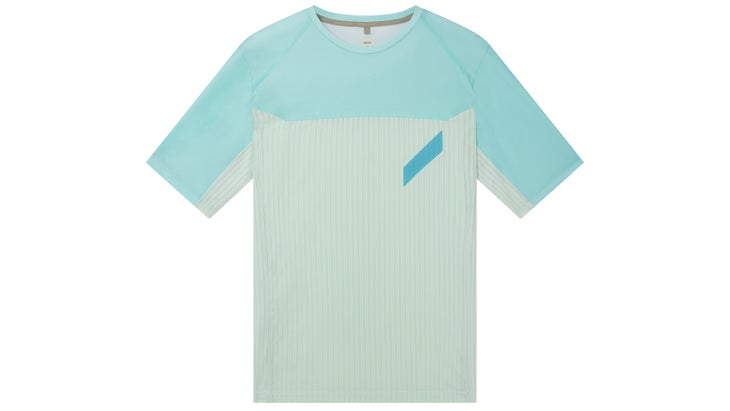 Weight: 75g/2.6oz
Sizes: XS-XXL
When the sun's beating down, but you're either too self-conscious or too skin-conscious to run topless, British brand SOAR's Hot Weather T is the next best thing. Primarily constructed of a sheer, open-weave 3D mesh that rapidly wicks sweat and breathes incredibly well, this lightweight shirt vents your torso and underarms, cooling you as you run. Up top, though, a tightly-woven UPF 50 polyester fabric prevents UV rays from damaging the delicate skin of your most sun-exposed regions, namely your arms, shoulders, chest, and upper back. Need even more coverage? A few more bucks buys a long-sleeve version that weighs less than an ounce more and runs nearly as cool.
Bottom Line: An incredibly lightweight tee with targeted UV protection for hot days
Rabbit Run Day Tee ($50)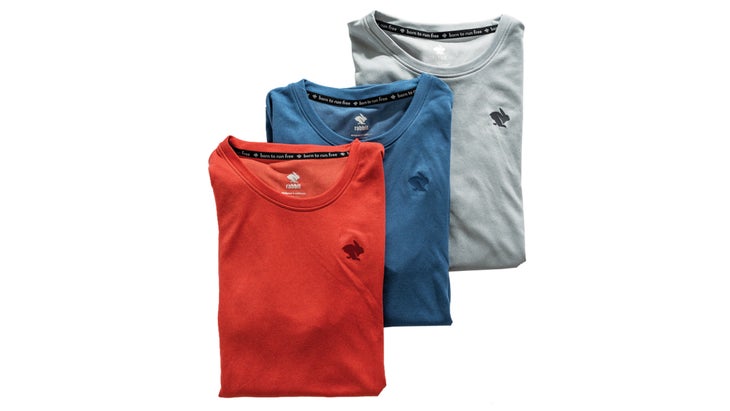 Weight: 123g/4.3oz
Sizes: S-XL
Not every summer day is a sun-baked scorcher, especially when you live and train in the mountains. When temperatures dipped and precip fell, Rabbit's Run Day Tee—a plush, stretchy synthetic tee that wears like your favorite, well-worn shirt—became our testers' go-to choice. Not only did it fare well by itself on long training runs in the Cascade foothills, where its slightly thicker, heavier fabric provided just enough insulation to keep the engine warm, but it also layered comfortably beneath a rain shell whenever so-called "alpine weather" struck, without overheating us. Should you accidentally overdress, its quick-drying polyester wicks sweat from your skin and a microtextured interior helps reduce cling, so you can focus on your run.
Bottom Line: A super comfy tee that goes the distance—keeping the core warm and dry—when summertime temps dip and raindrops fall
Ibex Springbok Short Sleeve Tee ($95)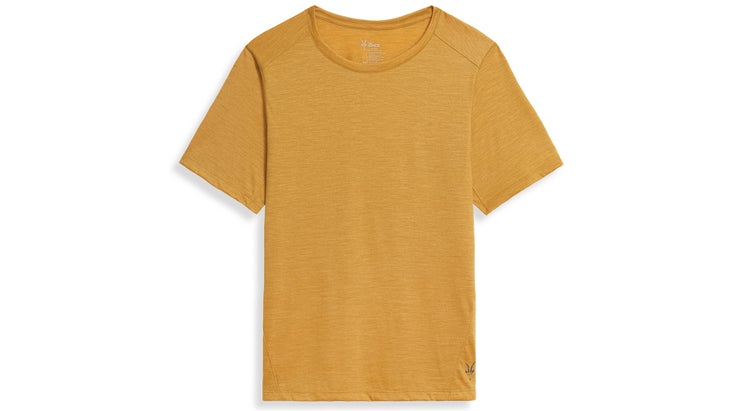 Weight: 122g/4.3oz
Sizes: S-XXL
How do you improve merino wool, nature's renowned wunderfabric that's prized for its next-to-skin comfort, built-in temperature regulation, natural breathability, and stubborn odor resistance? In this shirt's case, you blend it in equal parts with Tencel, another soft, natural fiber that wicks moisture three times as fast and makes you feel 40 percent cooler. Ibex then wrapped those fibers around nylon filaments to make a stronger, longer-lasting fabric. The Springbok kept us cooler than traditional merino shirts on cruisey runs, and didn't get soaked or stick to us when we worked up a sweat on more intense efforts. Forward shoulder seams helped prevent chafing, especially when wearing a loaded vest, and gusseted underarms meant it moved well and didn't bind through a full range of motion.
Bottom Line: A cooler, drier merino-blend shirt that won't rub you the wrong way, no matter how hard you push it
The Best Men's Summer Running Bottoms of 2023
Patagonia Strider Pro Shorts 5" ($80)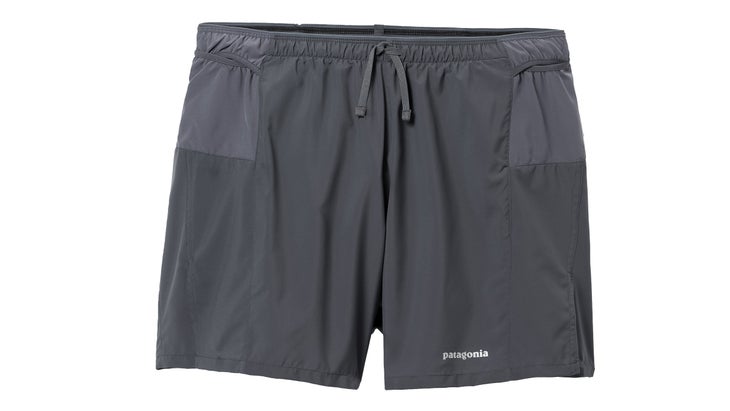 Weight: 95g/3.4oz
Sizes: XS-XXXL
After multiple miles wearing the Strider Pros, all of our run testers agreed that they were, as one declared them to be, "the most comfortable running shorts I've ever worn." We could leave it at that, but there's more to say about this updated version of one of the most beloved, time-tested trail shorts on the market. Patagonia built them with loads of pockets for ultra trail events and longer wilderness missions when you might not want to wear a vest: a secure zip pocket stows a smartphone, while two stretch pockets on each side hold plenty of snacks to fuel the adventure. The outer layer is made from a light and airy recycled polyester fabric, with the new addition of spandex lending them plenty of stretch for longer-lasting comfort on the trail. Inside, built-in briefs, now made from moisture-wicking, fast-drying Capilene Cool, help keep you fresh even on hot-weather, high-output efforts.
Bottom Line: Light, breathable, fast-drying trail shorts with ample storage for going the distance without wearing a vest
The North Face Summit Pacesetter Run Brief Short ($75)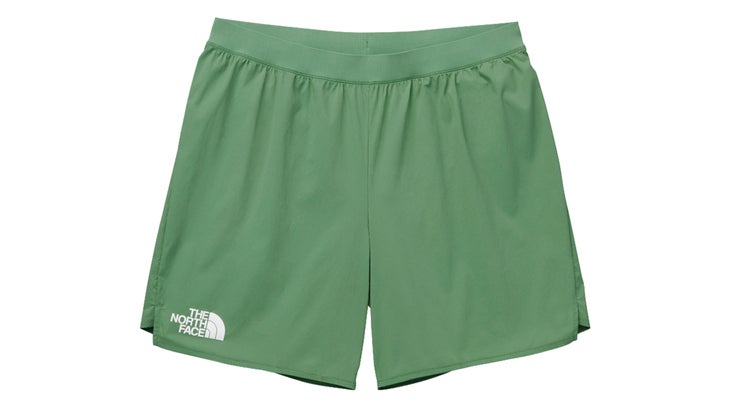 Weight: 96g/3.4oz
Sizes: XS-XXL
For everyday training, it's hard to beat The North Face's new Summit Series short. Made from gossamer stretch-woven nylon with increased abrasion and snag resistance, they're lightweight and breathable enough for scorching-hot blacktop runs in town, but tough enough for the rigors of the trails beyond. Plenty of pockets store all the essentials for the long haul—including a secure lumbar zip pocket for your phone, flanked by a couple of powermesh stretch pockets for snacks, and a small interior pocket for keys. Supportive liner briefs keep you fresh and chafe-free for as long as your legs will take you.
Bottom Line: Lightweight, versatile daily training shorts that are cool in town while tough enough for the trail
Janji 3" AFO Split Short 3.0 ($48)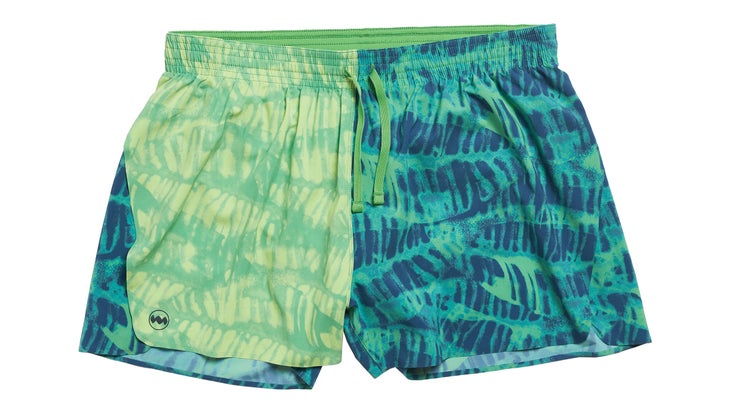 Weight: 87g/3.1oz
Sizes: S-XL
The star of track meets and local road races for decades, split shorts are lightweight, fast and, in their purest form, incredibly simple. With this latest iteration of their popular splits, Janji focused on that basic principle, simplifying the waistband, stripping away excess storage, and replacing traditional sewn hems with gram-shaving bonded ones. The result is their lightest-weight short ever. With a 3-inch inseam and one of the highest splits we've seen, these sleek speedsters afford max range of motion and plenty of airflow for zero-distraction comfort during all-out efforts. Put these on for track sessions and fast-and-furious races (15K and shorter), where speed is king and storage is immaterial.
Bottom Line: Run fast and free in these minimalist racing splits
Nathan Essential 7″ Short ($60–65)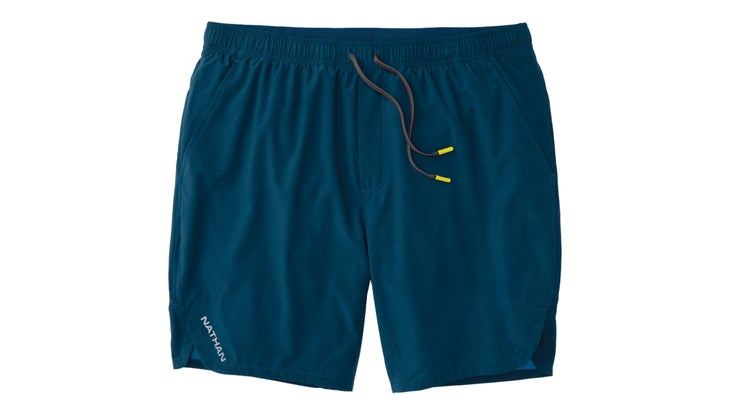 Weight: 168g/5.9oz
Sizes: S-XXL
Some runners love strutting their stuff in skin-tight compression shorts or barely-there racing splits. For the rest of us, Nathan made these super-comfortable everyday two-in-one training shorts. While not the lightest or fastest shorts we tested, they come with (as the name suggests) all the essentials—a quick-drying, fitted, stretchy polyester/elastane liner with flatlock seams; a confidence-inspiring outer shell short with 7-inch inseam; and pockets galore for storing phone, ID/credit cards, and gels. These stretchy shorts kept pace on dozens of summer runs, and their boxer brief-style liners never chafed. In fact, they felt so good and looked so sharp that we never wanted to take them off, and, in addition to running in them, wore these shorts for yoga, ultimate frisbee, and even casual social events.
Bottom Line: Two-in-one cross-trainers that look good and feel great
Tracksmith Allston Half Tights ($98)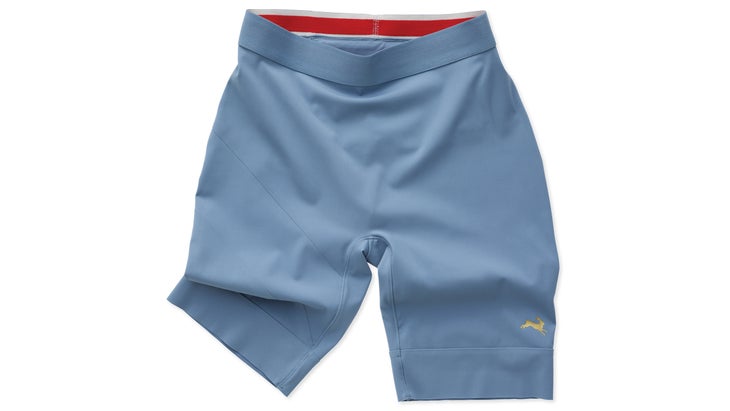 Weight: 96g/3.4oz
Sizes: S-XL
Increasingly popular among elite track athletes and top-tier marathoners, half tights are becoming the performance choice for seriously fast people. Whether that's because the skin-tight shorts significantly reduce aerodynamic drag, allow them to move better, or just plain look speedy, we can't be sure. What we do know is that we love these minimalist half tights from Tracksmith for our highest-intensity efforts. Made from a highly compressive 57/43 blend of nylon and elastane, they have a snug, supportive fit that keeps everything firmly in place and eliminates chafing. The Allstons adapt well to longer runs, too, thanks to three pockets—a secure lumbar zip pocket big enough to hold a full-size iPhone and two drop-in pockets on either side for your fuel of choice—that can handle all the essentials for a two- or three-hour effort.
Bottom Line: Soft and breathable compression shorts that look fast and feel like a second skin
How to Buy
Assembling a summer running kit is fairly straightforward, and mostly about getting out of the way of your body's own built-in thermoregulating functions. After all, the human body has evolved over millions of years to quickly and efficiently (among mammals, anyway) dump heat during high-intensity activities like running. The trick, then, is choosing apparel—usually shorts, t-shirt, and cap—that strikes a balance between your relative modesty level and tolerance for sun exposure, and then ensuring that it's lightweight, breathes effectively, wicks moisture aggressively, and moves easily with your body.
Any warm-weather top worth its weight will be made from moisture-wicking materials—such as polyester, nylon, bamboo, polypropylene, or merino wool—that pull sweat away from your skin and move it toward the outside to dry faster, thereby boosting your body's chief cooling mechanism while reducing the likelihood of chafing. For maximum cooling, lightweight fabrics with holes or an open weave, such as mesh, maximize a top's airflow and breathability, but that comes at the cost of increased UV exposure. For sun worshipers in hot environments, some kind of mesh singlet with a 3D, moisture-wicking weave is probably ideal. But sun-sensitive runners can still get the best of both worlds by choosing a lightweight tee that combines an airy, open weave in hotspots like the torso and armpits with a tighter, UV-blocking weave over the more sun-exposed regions of the shoulders, upper chest, and upper back. Other considerations include fit (slightly loose-fitting pieces typically breathe better but can cause chafing), stretch and antimicrobial treatments that fight stink.
Similarly, the best running shorts are made with moisture-wicking performance fabrics like polyester and nylon, sometimes mixed with stretchy elastane for unrestricted mobility and freedom of stride. They also have a built-in liner for breathability and bounce-free support. And all but the most pared-down racing shorts will have ample secure pockets to store items like your phone, keys, credit card/ID, and fuel for daily training runs. Once these basic criteria are met, the main considerations are relative compression or looseness, pocket volume, and length/coverage—our picks range from 8-inch half-tights that stretch more than halfway to the knee to 3-inch splits that could almost pass for booty shorts. These are all, by and large, a matter of personal preference and will depend on what kind of running you plan on doing in the shorts. For racing, you'll want minimal weight, max range of motion, and pocket storage to match the distance you're running. For everyday training, choose what's comfortable for you, and make sure there are enough pockets to carry what you typically need, that they are easily accessible while secure, and that they are in practical locations—high on the hip is best, where items tend to bounce the least.
When it's time to upgrade your gear, don't let the old stuff go to waste–donate it for a good cause and divert it from the landfill. our partner, Gear Fix, will repair and resell your stuff for free! Just box up your retired items, print a free shipping label, and send them off. We'll donate 100 percent of the proceeds to The Outdoorist Oath.
Lead Photo: Ivan Gener/Stocksy