The Best Running Shoes of 2018
Heading out the door? Read this article on the new Outside+ app available now on iOS devices for members! Download the app.
Pavement? Trail? Snow? These workhorses have you covered.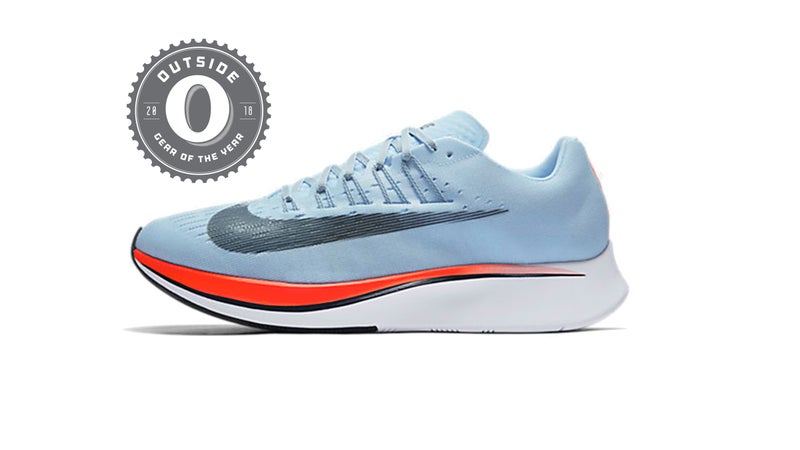 Nike Zoom Fly ($150)
Race shoes can't be training shoes. Or so we thought. The Zoom Fly—a speed-addicted trainer born out of Nike's attempt to break the two-hour-marathon mark—was both the most exciting shoe of the year and the most fun. With its carbon-infused nylon plate running from heel to toe, the Zoom Fly is the stiffest trainer we've ever seen, period. But that isn't a bad thing. We immediately noticed the powerful, propulsive forward spring, lightning-quick turnover, and snappy feel, despite the relatively thick cushioning of the 33-millimeter stack height. It feels like a highly caffeinated ride—an easy grab for fast long-distance training sessions and a no-brainer race-day pick for middle-of-the-packers, who won't mind the extra foam. The only downside (if you can call it that): you may find yourself running PRs on recovery days. Wide feet? Mind the narrow, streamlined fit. 8.8 oz (men's) / 6.5 oz (women's); 10 mm drop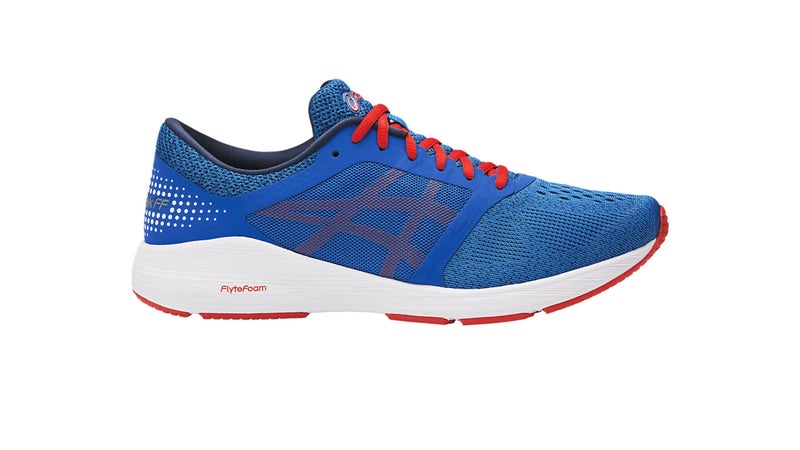 ASICS RoadHawk FF ($100)
Best For: Quick training.
The Test: If it weren't for a little bit of road slap, we would have had nothing but compliments for the RoadHawk, a new, impressively light, amply cushioned trainer with a socklike fit. The stretchy mesh in the toe box feels open and accommodating, but the slimmer last and midfoot overlays give it a secure and responsive locked-down feel. With its eight-ounce weight and springy FlyteFoam midsole, the RoadHawk can hammer out fartleks and tempo sessions while providing a soft landing—comfort without a sluggish feel. That crisp clap in the toe with every stride was not a deal breaker, but it was definitely a distraction.
The Verdict: One of ASICS's best light- weight trainers in years. 8 oz (men's) / 6.4 oz (women's); 8 mm drop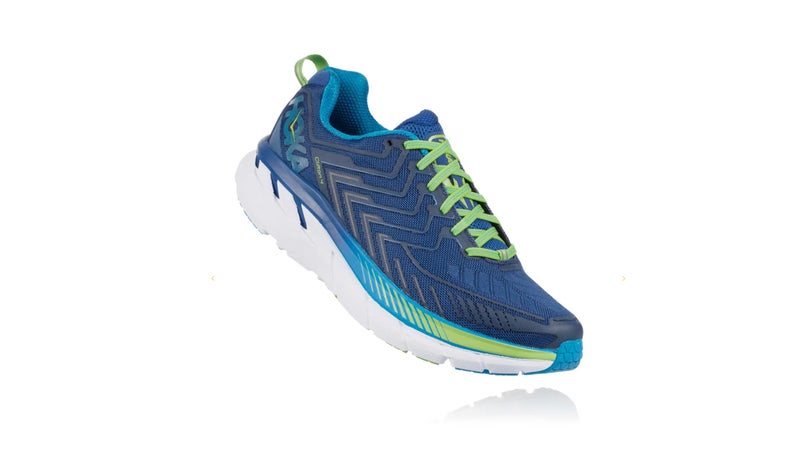 Hoka One One Clifton 4 ($130)
Best For: Cushioning addicts.
The Test: The Clifton got a significant update in its fourth generation. It is still a mega-fat shoe built for easy cruising, but with a more durable midsole, a completely revamped upper now built with reduced overlays and engineered mesh, and a wider, slow-cinching fit that got a thumbs-up from our team. The rockered outsole throws heel strikers into the back seat, but the characteristically low weight allows for a good clip. The new midsole felt radically different as the seasons changed—almost too firm and energetic on crisp mornings, but breadloafy on warmer afternoons. A few testers sniped at the still too narrow toe box.
The Verdict: A mature maximalist, best for foam fans who want some spring in their step. 9.3 oz (men's) / 7.5 oz (women's); 5 mm drop
Men's Women's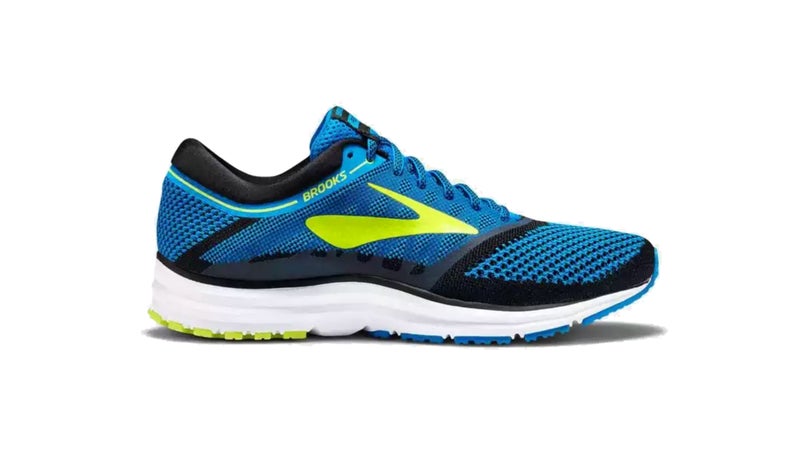 Brooks Revel ($100)
Best For: Comfy cruising.
The Test: The new Revel offers the best overall balance of easygoing cush, long-distance support, and amenable fit of any of the year's road shoes. "It fits snugly but definitely opens up where you need it," one tester remarked. That said, the damp, supportive BioMoGo DNA midsole meant the Revel wasn't our pick for days when we wanted to go fast. While the shoe looks like a new-school trainer, those who like the more traditional Brooks Glycerin or Ghost will find a familiar ride. The steep 12-millimeter drop caters strictly to the heel-striking set.
The Verdict: Nothing blew us away, but the Revel hovered near the top of our list. At this price, it's a screaming deal. 10.4 oz (men's) / 8.8 oz (women's); 12 mm drop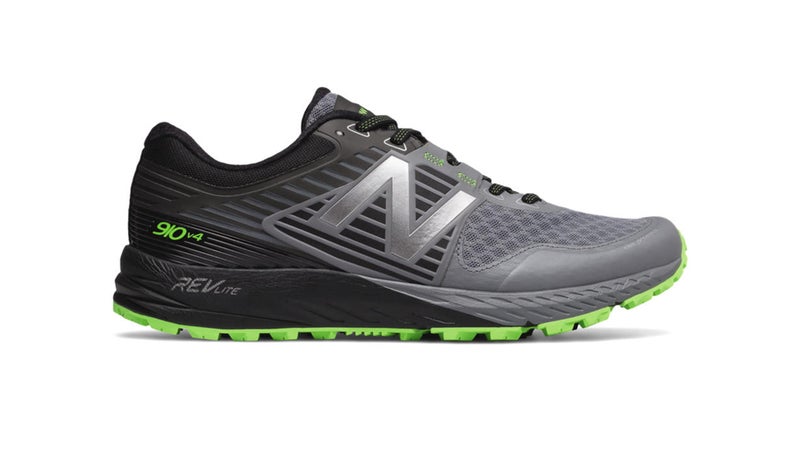 New Balance Trail 910v4 ($110)
Best For: Tough terrain.
The Test: If lightweight shoes leave you feeling somewhat vulnerable, the 910v4 is your safe zone. Moderately thick, muscular, and amply protective, it lends extra oomph on rougher trails and run-to-hike summits. And with seven pairs of grommets and a stout midfoot wrap, the 910 offered the most locked-down fit of any shoe in the trail test. But it's certainly not the quickest or lightest shoe in the pack, nor the nimblest. 
The Verdict: A powerful, protective tool that won't break any tape but will never duck a challenge. 11.5 oz (men's) / 9.6 oz (women's); 8 mm drop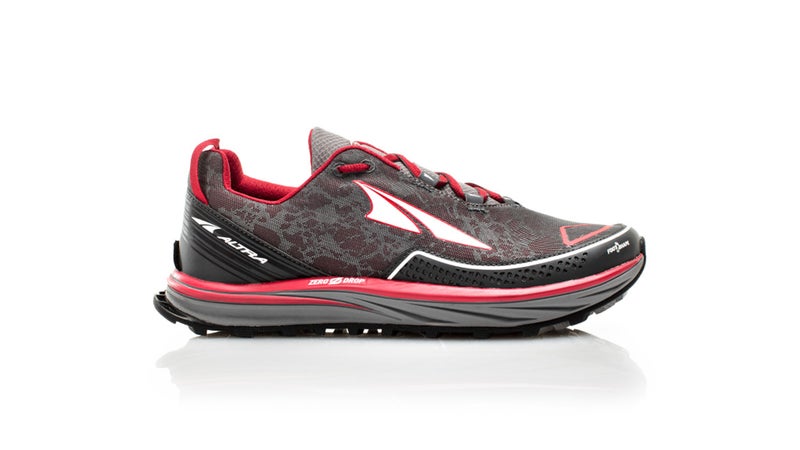 Altra Timp ($130)
Best For: Epic days for zero-drop fans. 
The Test: If the Timp were a ski, it would be a mid-fat: the 29-millimeter midsole is thick enough for long-haul comfort, but not so slabby that it felt sluggish or disconnected from the trail. The smooth, responsive ride begged for longer days, and while Altra claims the shoe has a narrower, performance-oriented fit, it still felt a little roomy and somewhat sloshy on downhills and rocky turf without a thicker sock. As with all zero-drop shoes, heel strikers need not apply. Bonus: the hidden reflective pattern pops in headlamps (or headlights).
The Verdict: For midfoot strikers who like to go long, the Timp is a welcome addition to the quiver. 11.1 oz (men's) / 8.9 oz (women's); zero drop
Salomon Sense Ride ($120)
Best For: All-around versatility.
The Test: Simply put, the Sense Ride raised the bar for every other trail shoe in the test. Nothing came close to beating its combo of give-'em-hell speed and quick-stepping technical chops with an accommodating midsole—one of the softest we've seen from Salomon. The fit is narrow, as you'd expect, but not restrictive, and while we noticed some forward slip on downhills (due to the chronically loose forefoot laces in Salomon's quick-lace system), overall this proved to be the most fun and fast-flying shoe of the bunch. Long distance, short distance, this shoe can do it all.
The Verdict: The best in the biz. 10.4 oz (men's) / 8.1 oz (women's); 8 mm drop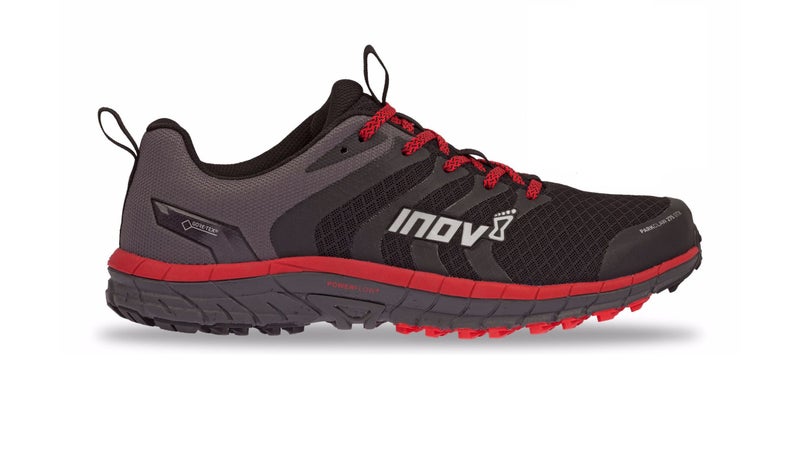 Inov-8 Parkclaw 275 GTX ($150)
Best For: Slush stomping.
The Test: The Parkclaw features Gore-Tex's new Invisible Fit waterproof liner. Unlike the typical Gore-Tex bootie that gets sewn into a shoe, this weatherproofing simply lines the upper fabric itself. The result: without that traditional bulky, crinkly bootie, it's hard to tell the Parkclaw is waterproof until you step in a puddle. Otherwise, it's a moderately low-riding, moderately lightweight all-terrain runner with an exceedingly high-volume fit (Sasquatches, rejoice!). Hard-packed trails and winter roads rolled smoothly under the Claw's subdued lugs, although there is a fair bit of stretch in the sidewalls, so the shoe feels a bit loosey-goosey on rubble and rock. 
The Verdict: A versatile road-trail cross-over with a better kind of Gore-Tex. 10.8 oz (men's) / 8.7 oz (women's); 8 mm drop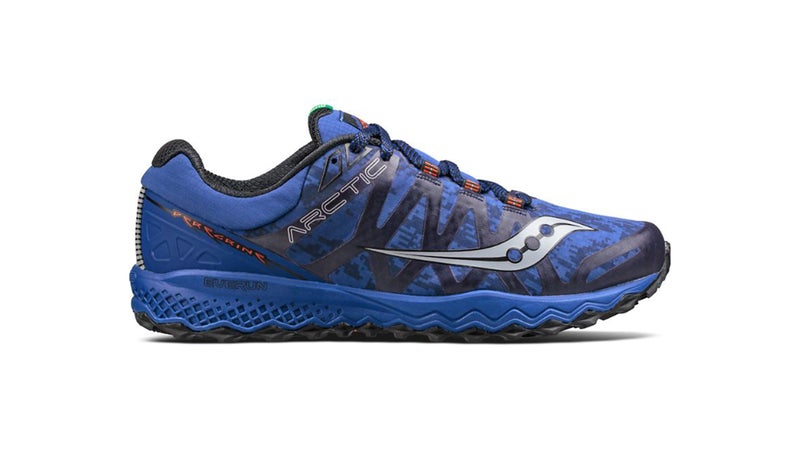 Saucony Peregrine 7 Ice+ ($150)
Best For: Icy roads.
The Test: The marquee feature on this winterized version of the Peregrine 7 is Vibram's sandpaper-like Arctic Grip tread pads, specifically designed to glom onto glassy, wet ice. The pads work surprisingly well on those terrifying melt-freeze patches you hit on otherwise dry pavement. On hard-pack or slush, though, we still prefer an old-fashioned set of carbide spikes and a luggier outsole. The shoe itself is a champ—warm, low-riding, and plushly comfortable, with a thick tongue and decent water resistance, if a somewhat lumbering feel.
The Verdict: In shoulder season, these tacky soles shine. 9.4 oz (men's) / 8.4 oz (women's); 4 mm drop
Men's Women's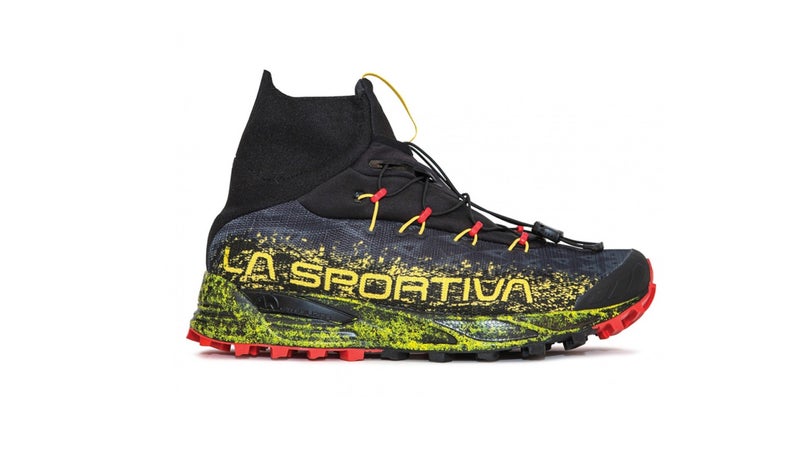 La Sportiva Uragano GTX ($180)
Best For: Postholing.
The Test: What blizzard? To keep snow out, La Sportiva sealed up the Uragano's heel collar with a stretchy, insanely comfortable integrated gaiter that's more sock than shoe. While the gaiter is only water-resistant, the bottom of the shoe is armored with waterproof Gore-Tex. With no tongue, the shoe has a blissfully even and non-bunchy fit across the instep. Normally we hate round laces (they tend to come undone quickly), but the Uragano's are glove-friendly and stow securely in a stretchy pocket, and the foam padding across the top of the foot takes the bite out of snowshoe straps. But be aware: the fit can feel slim. Best to do yourself a favor and buy half a size up.
The Verdict: An uncompromising foul-weather friend. 12 oz; 10 mm drop