The Best Women's Running Shorts
Everyone can find a pair that fits perfectly, whether you prefer compression, roomy cuts, full coverage, or a barely there fit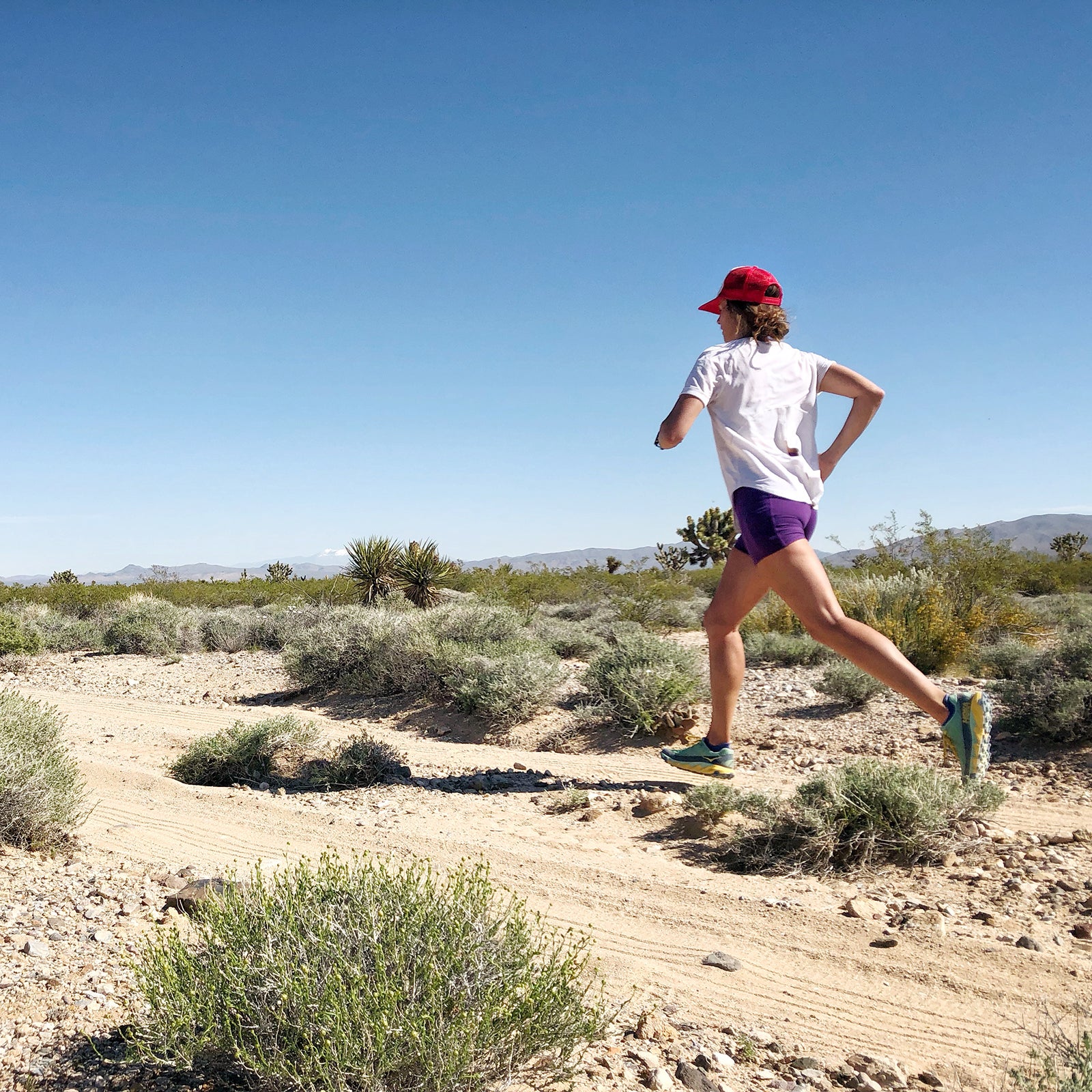 Anna Callaghan(Photo)
Heading out the door? Read this article on the new Outside+ app available now on iOS devices for members! Download the app.
If your running shorts aren't comfortable, you'll notice it pretty quickly: they'll chafe, they'll sag, they'll ride up. It's enough to turn a fun jaunt into a nuisance and a long run into a much shorter one. Contrary to popular belief, everyone can wear running shorts—it's just a matter of finding the ones that fit your body.
After two months of testing more than 30 models from ten companies over some 400 miles, four other women and I found that choosing a single best pair of shorts was nearly impossible—it's too subjective. But we did find a handful of favorites that work well for different body shapes and preferences.
How We Tested 
I've been running somewhat seriously for the last decade, from road marathons to 100-milers, and I've been informally judging shorts over thousands of miles of training. For this test, I covered a couple hundred miles a month for two months, running almost every day (and sometimes twice a day). I also enlisted four friends—marathoners and trail runners alike—to get an idea of what works best for different kinds of bodies.
I wore these shorts on mountain scrambles and forested outings in the foothills of Boulder, Colorado, on hot slogs across California's Mojave Desert and Death Valley, and for tempo workouts, three-mile jogs with the dog, and 15-mile trail runs. I even wore one pair, the Tracksmith Run Cannonball Run, for 25 hours straight during the Leadville Trail 100 Run.
My testers and I looked for a number of characteristics in the shorts we tried, but overall comfort was paramount. What makes a pair of shorts feel great for each person varies, of course, but the contributing factors are often the same: waistband, inseam, leg openings, and how the built-in underwear is sized.
Best Short Shorts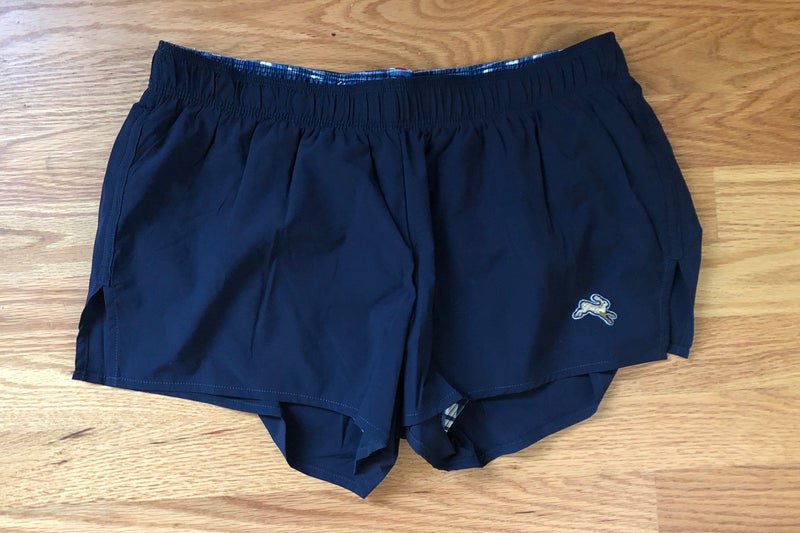 Tracksmith Run Cannonball Run ($88)
Pros: Quick drying, no chafing
Cons: Expensive
Inseam: 2 inches on the small, 2.5 inches on the medium or large
Two and a half inches is my ideal inseam length, and of all the shorts in this range, Tracksmith's Run Cannonball Run shorts are my favorite. They feel weightless and just as comfortable on mile one as they do on mile 20. I've worn one pair probably 300 times over the past two years, and they were my go-to shorts for training and running the Leadville 100 in 2017. I'm not exaggerating when I say that I wore them every day for a full year.
Tracksmith, a Boston-based company with a track-loving cult following, actually designed these for midrun swims. That feature is more aspirational than practical, and while I did make sure to swim-test them twice during a hot Seattle summer, the benefit I noticed most is that the shorts are quick drying, so they don't stick to your skin or chafe when wet. That's thanks largely to a 100 percent polyester liner that's made to retain its form when wet (Speedo uses the same material in its bathing suits) and a lightweight nylon-elastane outer that feels like you're wearing nothing at all.
Sizing for the Run Cannonball Run is a little small: I wear a size small in Janji's AVR Middle Short (below), and even though both shorts share a roughly 2.5-inch inseam length, I needed a medium in the Run Cannonball Run. That's probably because, while the the Janji short is relatively roomy in the thigh, the Run Cannonball Run is a bit more bootylicious. That said, it still feels unrestrictive and out of the way as a result of the lightweight fabric and the size of the leg openings.
A note about pricing: at $88, the Run Cannonball Run was more expensive than any other model I tried. That was a nonstarter for many of the testers I worked with. But I've gotten two years of constant wearing and washing out of a single pair that is still in my rotation, so I think it's worth the splurge.
Runner-Up
A close second, the Janji AVR Middle Short ($60) sports a three-inch inseam that was long enough for me to feel covered but short enough that it wasn't restrictive. It's made with a mesh lining and a light, bouncy polyester-spandex outer that hit a sweet spot: soft, but not so flimsy that it lost structure or bunched up. The waistband is made from perforated mesh that's comfortably snug and features an internal drawcord that won't slip out in the wash. A cell-phone-size back pocket has a key loop for added security. The rise varies, depending on the size; small hit almost at my belly button—just the kind of fit I prefer.
The other thing to note about these shorts: they look cool. Janji works with designers and artists around the world to source an array of wild graphic prints, including a pair covered in gesturing hands, a collaboration with Chifumi, a street artist from Phnom Penh, Cambodia. I got a lot of "Who makes those?" questions while wearing them.
I think some women may like these shorts as much as the Run Cannonball Run shorts. The main reason I didn't was that the liner is borderline too tight.
---
Best Low-Rise Shorts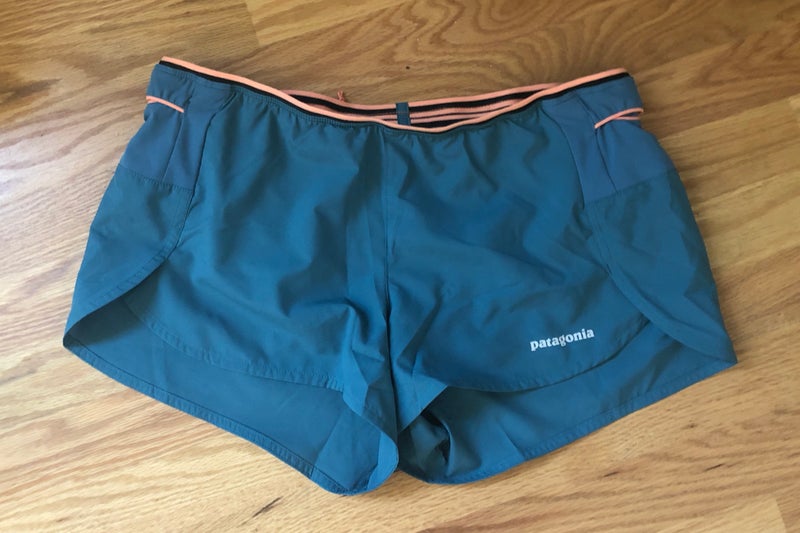 Patagonia Women's Strider Pro Running Shorts 3″ ($59)
Pros: Soft, durable material; pockets
Cons: None
Inseam: 3 inches
The women in this test who prefer low-rise shorts loved Patagonia's Strider Pro. It's made from quick-drying, 100 percent recycled polyester-ripstop fabric and treated with a DWR finish, which meant it didn't get soggy or saggy in drizzly conditions that saturated other fabrics. Like Janji's AVR shorts, the material is soft without losing structure and bunching or chafing. It's also impossibly light.
Aside from the next-to-skin feel, the biggest benefit of the Strider Pro is that it stays out of the way. The generous leg openings and light, stretchy fabric make it feel roomy. I was a little surprised by that, as many of Patagonia's bottoms (like the fan-favorite Baggies) tend to make me feel like a sausage. Despite the barely there feel, the Strider Pro offers significant storage capacity, with a zippered pocket on the back waistband for keys and cards and four overlapping envelope-style pockets for gels and snacks.
I can't speak to the Strider Pro's ability to hold up over many years, but because these shorts are made with a ripstop fabric, they'd be the ones I'd take on trail runs where I might be bushwhacking.
---
Best High-Rise Shorts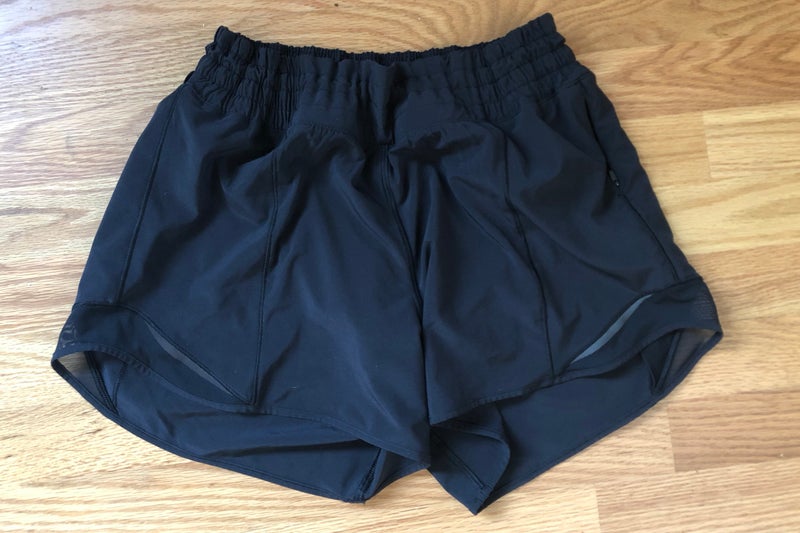 Lululemon Hotty Hot Short II ($58)
Pros: Versatility, stretchy fabric, wide waistband
Cons: Very roomy if you like close-fit shorts
Inseam: 2.5 inches or 4 inches
This model was the most versatile on our list. That's because Lululemon offers versions of the Hotty Hot Short II with both a high and medium rise, and with 2.5- and 4-inch inseams, meaning you can mix and match rise and length based on preference.
I tested the high-rise version with a 2.5-inch inseam on a steep trail up Bear Peak in Boulder and found that the outer material, made from a proprietary, four-way stretch fabric, was airy, quick drying, and didn't bunch up. The side zipper pocket was perfect for stashing keys—and I didn't have to fiddle around behind my back to find them—and the continuous drawcord stayed put in the wash.
But the highlight of these shorts is the fit: the flat, wide waistband holds you in but doesn't pinch like some elastic waistbands can, and the leg holes are spacious. Both the shorts and the liner offer plenty of room for a butt—nothing felt squeezed. If you like a little more room, these shorts are definitely more spacious than the shorts by Tracksmith and Janji, which are on the slimmer side.
Runners-Up
I tested several shorts with a similar cut: thick, flat high-rise compression waistbands and roomy legs. Oiselle's Roga Short ($56) has a four-inch inseam and an even looser cut than the Hotty Hot Short II. And Outdoor Voices' Hudson Short ($55) is soft and comfortable, though a little shorter, with a 2.5-inch inseam. Testers liked all three, but the Hotty Hot Short II largely won out because Lululemon's fit strategy will work for the widest range of women.
---
Best Compression Shorts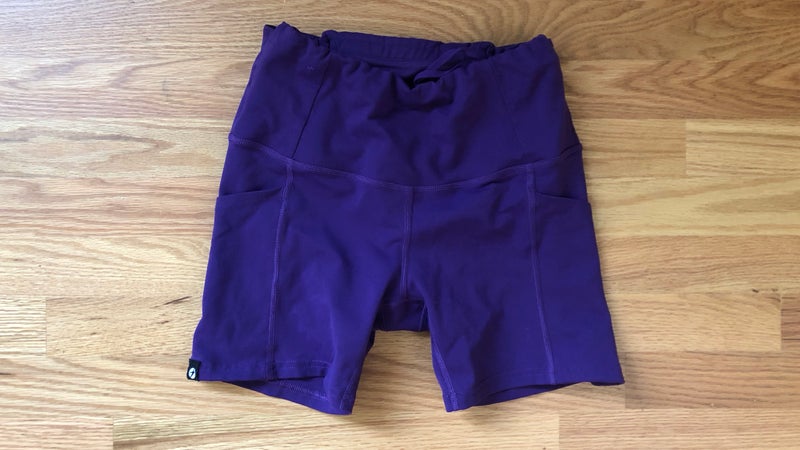 Oiselle Pocket Jogger Shorts ($58)
Pros: No riding up; great for hot or rainy weather
Cons: If you don't like skintight clothing, these aren't for you
Inseam: 4.75 inches
I've always liked the idea of compression shorts, but until now, I hadn't found a pair that worked for me. These nylon-spandex ones are the first to check all of my boxes. They sport a 4.75-inch inseam and a nice high rise, with an internal drawcord and two thigh pockets to stash a phone and snacks. I tested the Pocket Jogger in a relay run across the Mojave Desert, with legs of up to 18 miles. It was a brutal test environment: during one of my six-mile legs, the temperature hit 111 degrees. I felt like I was in an oven, but the shorts were perfect: they stayed in place and didn't show an ounce of sweat, turn my legs into sausages, or induce camel toe.
Runners-Up
I also liked Saucony's Bullet Tight ($55), which is made with a four-way stretch-polyester material and a four-inch inseam. It stayed put well enough, but I found myself missing the extra inch of length in the Pocket Jogger, which seemed to help it move around less.
The softest fabric I touched throughout the test was in Girlfriend Collective's Seamless High-Rise Run Short ($48) and Seamless High-Rise Bike Short ($48). I love the 11-inch rise of the bike short, the fact that it's made of recycled water bottles, and the brand's inclusive sizing (XXS–6XL). The run short did ride up a bit on me, so I'd probably reach for the bike short, even though it's a little longer than I'd like—almost to the knee, which is obviously best suited for biking.
What to Look For
In my mind, picking out shorts is more like choosing wine than a hard science: if you like a pair, then it's good. The decision is both personal and subjective, and if you're already a runner, chances are you already have an idea of what you prefer. For example, I know I like shorts with a high rise, a short inseam, some kind of pocket for keys and cards, and a continuous or an easy-to-untie drawstring.
I usually try on shorts by sitting down, doing a few squats, and taking a lap around the store (or my living room if I've ordered online). If the shorts don't already feel pretty good indoors, they're not going to feel any better out running.
Here are a few of the basic factors you'll want to consider when buying shorts.
Rise: In general, a pair of shorts that sits at the hips is low rise, anything at midhip is medium rise, and anything above the hip is high rise.
Inseam length: Generally, a short inseam is between two and two and a half inches. Longer inseams are four inches or more. Again, this is personal preference. If you often have problems with chafing or shorts rolling up, going longer (or choosing a compression short) can help. A short inseam is great for staying out of the way and for runs in hot weather, when you're looking for as little fabric as possible.
Pockets: I'm indifferent to pockets for gels and energy chews, but I think a zippered pocket for a key and credit card is essential. All of the shorts I've tested here have those.
Material: You need lightweight, breathable material. I've found that simply touching a fabric with my hand is enough to tell me if a pair of shorts fulfills both requirements. Does it feel thin and airy? Is it stretchy? If you can't touch the shorts before buying them, check the material specs online. Nylon is more durable than polyester, while elastane and spandex offer stretch.
Price: All of the shorts here are at least $48. Cheaper shorts do exist, but I think it's worth investing in a pair that fits perfectly or at least really well. You'll be a happier runner for it.
Compression: Compression shorts are a little controversial. Some people love them, while others won't go near them. Compression shorts work well if you prefer the fit and feel of running tights but want something shorter for the hotter months. I've found them quite comfortable, especially in sweaty or warm and rainy conditions, when traditional shorts might get saturated and start to chafe. If you haven't found a pair you like: go longer. Compression shorts often roll up when they hit the widest part of the thigh.
Lead Photo: Anna Callaghan
Trending on Outside Online