Sponsor Content: Columbia
Even the Biggest Cities Have Easy Escapes
These 15 trails offer getaways for every type of hiker in the East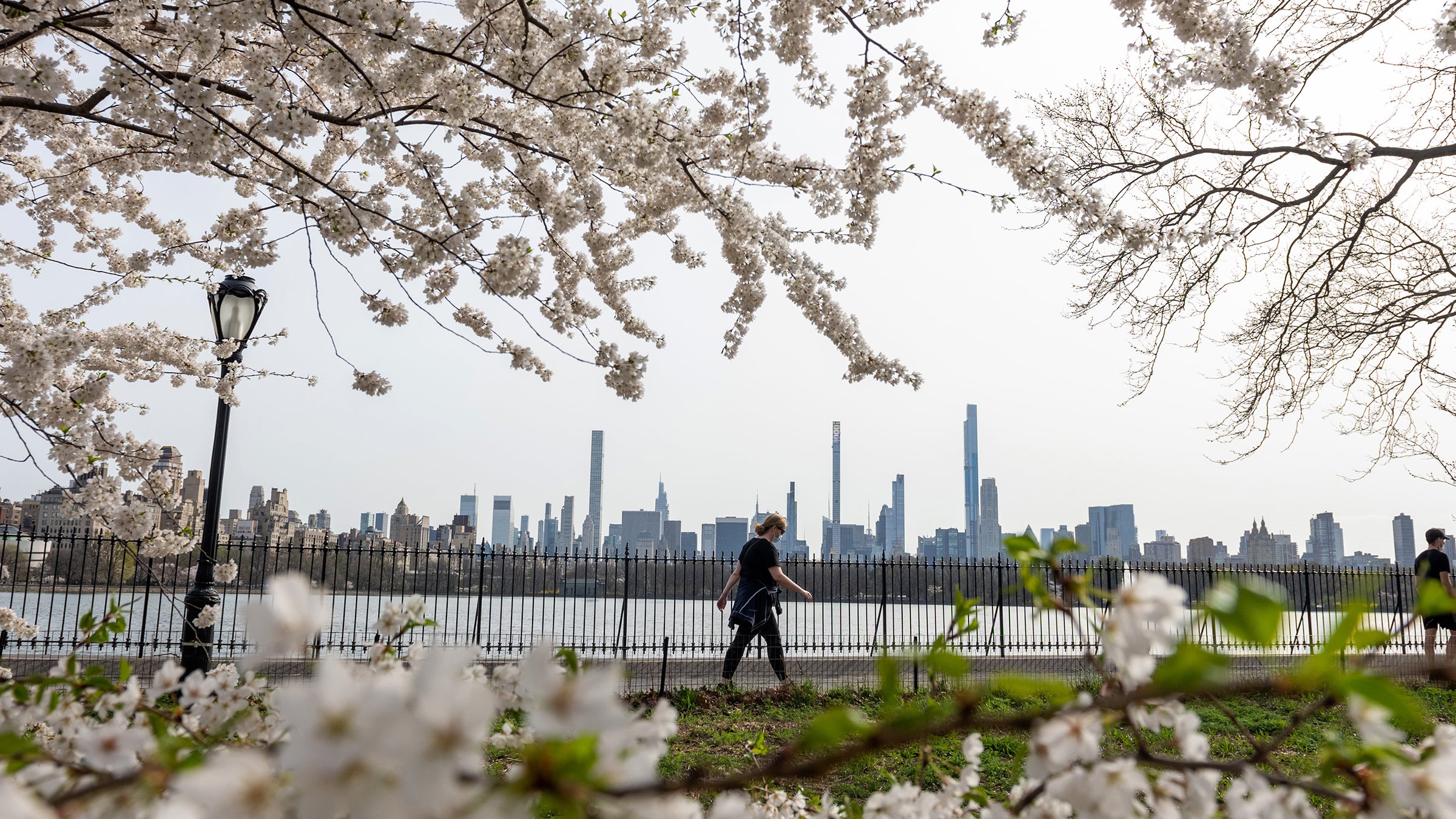 Getty Images
The Eastern United States is a true feast for hikers. The full array of options extend from the mountains of the Northeast to the rolling hills of the Mid-Atlantic and the lush forests of the Southeast. The diversity of possible routes is impressive. And though many of these trails are located near some of the most populated cities in the United States, they still offer a distinctly wild experience. Try out a new route today.
New York City
No Time: What more needs to be said about the Central Park Loop, one of the world's best city routes? Just do it if you haven't already. The 6.1-mile loop (pictured above) takes you through the heart of Central Park's lush greenery, and around landmarks like the Bethesda Fountain, the Jacqueline Kennedy Onassis Reservoir, and the Great Lawn, all underneath skyline views. Of course you'll find a crowd of hundreds of other walkers and runners to pass (or be passed by.) You'll be so enamored of the setting that you won't care if it's the latter. 
Mild Miles: Staten Island's Greenbelt Blue Trail delivers the kind of thrills you thought you couldn't have within the five boroughs. The 5.4-mile loop boasts steep ascents and rocky terrain while passing through woodlands, over streams, and around ponds. The elevation gain of over 1,000 feet is not nothing: Challenging workouts can be had if you choose to push the pace. Since the trail is easily accessible via public transit, it's a great way to escape Gotham without truly leaving town
Steep Scrambles: Just an hour north of NYC, the Breakneck Ridge Trail presents a thrilling challenge you didn't think existed so close to the Big Apple. Though the loop is just 4.4 miles, you'll find steep inclines, intense scrambles, and one of the most challenging climbs in the area. Before that, you'll pass by old ruins, beautiful forests, and plenty of hikers. Check out the trail on a weekday to have a few views for yourself. No car? Look for service via Metro-North. 
Washington, D.C.
Mild Miles: The Boulder Bridge Loop in Rock Creek Park presents a manageable and fun challenge for hikers—and it's close to the city. The loop is approximately 4 miles and features a mix of paved and unpaved trails, including a stream crossing and a few steep hill climbs (watch out for roots). Along the way you'll capture glimpses of Rock Creek, its surrounding forests, Boulder Bridge, and the National Cathedral (if you're paying close attention). Need a longer challenge? Rock Creek Park's Outer Loop features 10 miles of trail. 
Steep & Spicy: The Great Falls Park Loop Trail is a 4.5-mile loop that follows the Potomac River yet gets rugged and technical, with steep ascents and descents, narrow paths, and rocky sections. You'll encounter boulder fields and stream crossings, and plenty of history, like remnants of the Patowmack Canal and the historic Great Falls Tavern. This one's not a breeze; expect to be challenged, especially if you add on the popular, aptly named Billy Goat Trail that skirts the Maryland side of the river.
Quick & Close: Looking for an epic hike in nature without leaving the D.C. area? The C&O Canal Towpath's 6.3-mile stretch from Georgetown to Bethesda is a killer trail option: easy to navigate and ready for attacking at any speed. You'll be treated to scenic views of the Potomac River and the historic Chesapeake and Ohio Canal. If you go the full distance, you'll hit the turnaround point in Bethesda, where you can take a break in a quaint downtown before heading back to Georgetown for a 12.6-mile round trip. Take the D6 bus to get there. 
Atlanta
Light & Fast: It's not a walk in the park (well, it kind of is) but the Stone Mountain Loop Trail presents a manageable challenge for trail runners with its just-right mix of terrain over 5.3 miles. There's plenty to see, from views of the Atlanta skyline to the much-debated Stone Mountain carving to numerous waterfalls. Conquer this granite rock and you'll feel some awe and accomplishment, for sure.     
Summit Views: The Kennesaw Mountain Trail near Atlanta is a rewarding trail if you've got the stuff. At 11.6 miles out and back, it offers breathtaking views of the surrounding mountains and lush forests. The trail is a mix of dirt, rocks, and roots with steep inclines and declines. You'll encounter several historic Civil War sites along the trail before arriving at the summit, where you can take in a panoramic view of Atlanta's skyline. 
No Time: The Atlanta BeltLine Trail delivers an engaging urban route via 22 miles of converted railway corridor. Sections through some neighborhoods are paved; some aren't. Short on time? Check out the Eastside Trail, which runs for 2.25 miles from Midtown to Reynoldstown and passes through historic neighborhoods while providing stunning views of the skyline. 
Boston
Going the Distance: A Northeast classic and one of the oldest multistate hiking trails in the U.S., the Wapack Trail runs 21.5 miles over six small mountains (all under 2,300 feet) between Mount Watatic in Ashburnham, Mass., and North Pack Monadnock in Greenfield, N.H. Ambitious hikers will find rocky terrain, steep climbs, and sweeping views of the New England countryside. Be prepared for a rugged and rewarding point-to-point challenge.
Light & Fast: With nearly eight miles of moderately challenging terrain, the Middlesex Fells Reservation Skyline Trail will make you forget that you're so close to the city. The well-marked path passes through lush forests and over boulders, and features views of the Boston skyline and surrounding suburbs. Be prepared for muddy conditions if it's rained recently. 
No Time: Lace up and hit the Charles River Path for a scenic, close-to-the-city hike with serious Boston vibes, plenty of access points, and 17 miles of trail that make it easy to choose your perfect distance. Along the paved path, you'll encounter bridges, parks, sweeping Charles River views, plus plenty of bikers and runners. Several MBTA bus routes and train lines line up with the route if you need to get there without a car.
Philadelphia
Short & Sweet: Need a quick shot of nature? The Pennypack Trail has the stuff. This 5.5-mile trail winds along the Pennypack Creek and through a lushly forested landscape, with subtle elevation changes and a few more technical sections. The trail is a mix of singletrack and wider paths, with a few stream crossings. 
Steep & Spicy: The Wissahickon Valley Park Loop Trail wends for nearly ten heavily wooded miles, part of it through a gorge that's been inspiring artists and writers for centuries. If it was good enough for Edgar Allen Poe and Mark Twain, well… Lace up your hiking shoes and sort your creative challenges out mentally while you're padding over this rocky and hilly technical trail. 
Quick & Close: Need a scenic escape without getting in the car? The Schuylkill River Trail will do the trick. The mostly flat trail follows 10.5 miles of the Schuylkill River, making it easy to choose your own distance and pace. Along the way you'll spot historic landmarks like the Philadelphia Museum of Art and Boathouse Row. Better yet, you'll find water fountains and restrooms. 
---
Columbia has been creating innovative apparel, footwear, accessories and equipment for outdoor enthusiasts since 1938. Columbia has become a leading global brand by channeling the company's passion for the outdoors and innovative spirit into technologies and performance products. To learn more, please visit  columbia.com.
Lead Photo: Getty Images