Hoka Just Made My Favorite Trail Shoe Even Better
The Tecton X made me a Hoka convert—the updated second version improves it without messing with what I love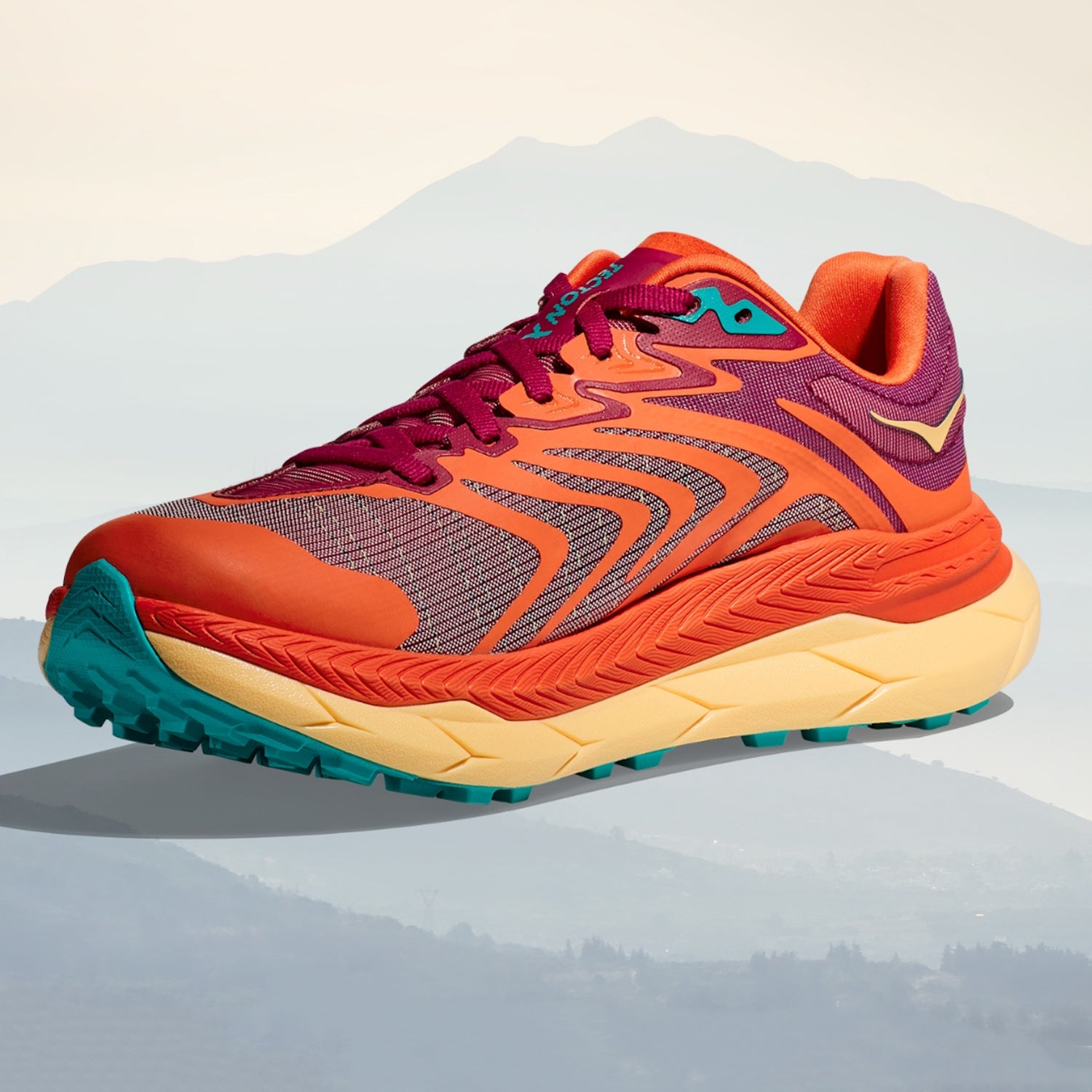 Heading out the door? Read this article on the new Outside+ app available now on iOS devices for members! Download the app.
Hoka Tecton X 2 Reviewed
Hoka has taken its highly-acclaimed carbon trail shoe, the Tecton X, and made substantive improvements to its upper, enhancing the weave while pulling in the toe box for a more precise, race-ready feel over big miles. This is a high performance—and high-priced—racehorse shoe for your trail stable.
Pros: More durable, less permeable upper weave; Improved toe box and foothold
Cons: Price; Limited (and loud) colorway
Weight: 8.8 oz
Stack Height:  32–27 mm (men's); 30–25 mm (women's); 5 mm drop
MSRP: $225
If you've been running for much time at all, you've likely had the experience of finally finding a trail shoe that works for you, your foot, your running style, your aesthetic, and then found out one day that the company made updates that totally and completely wrecked them for you. Or even sometimes (gasp) learn that they discontinued them altogether (here's looking at you Pearl Izumi).
It's a tragedy, but something we hear, and experience, far too often.
So when our team first heard Hoka was updating the Tecton X for Spring 2023, we crossed our fingers and hoped that not much would change, as Hoka's first carbon trail shoe so comprehensively impressed our feet when it came out last year that it won an Editor's Choice award from TrailRunner's gear team.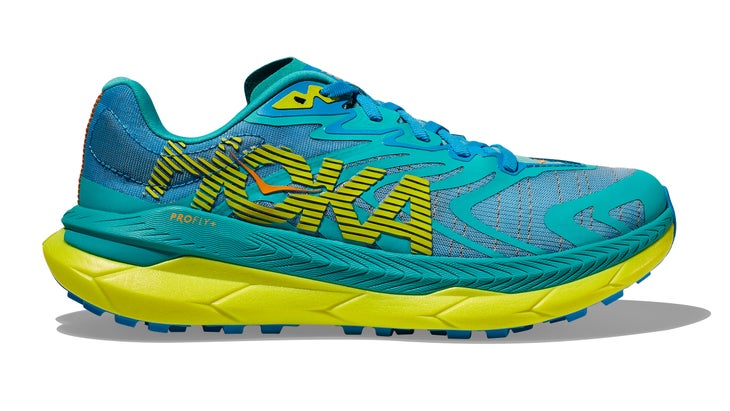 Personally, I was late to the Hoka party, coming from more of a minimal trail shoe background and finding earlier Hoka models to be a bit…much. But the Hoka Tecton X's changed the game for me. I found them to offer an extremely lightweight yet comfortable ride, with great underfoot protection and not too many maximalist tendencies.
So I was particularly excited, and nervous, to take the Tecton X 2's for a spin. Luckily, Hoka didn't move many chess pieces around with this update, and the ones they did move brought one of my favorite trail shoes even closer to the Pantheon of all-time greats. I'm happy to report that most of the bells and whistles you know and love from the Tecton X have been retained, with some subtle yet noticeable improvements. Here's what I found.
The Upper: New and Improved
The first thing you'll notice with the Tecton X 2's is its updated upper. Instead of the engineered jacquard featured in the previous model, the Tecton X 2 has an updated "Matryx" mesh that is lighter and more breathable, thanks to its reinforcing Kevlar threads, while also being more water resistant. I found this upper to be a significant improvement to the previous model, which, at times, after many miles, felt shifty. The Matryx upper has a micro-ribbed mesh but feels more durable when subjected to abrasive elements and debris.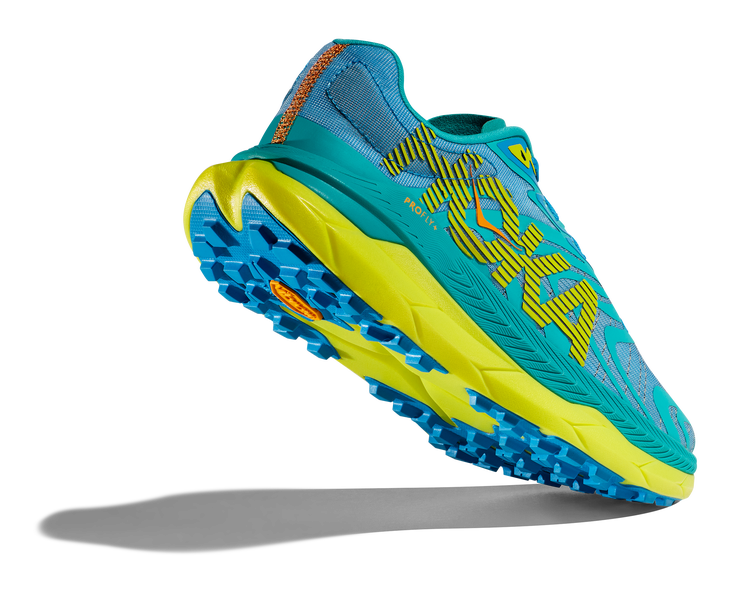 I've been testing these shoes on trails near the Western States course in the wake of an unseasonably wet winter, and the Tecton X 2 uppers kept a snug wrap on my foot, while keeping me dry and not losing the overall integrity of the fit as the miles added up.
I was pleasantly surprised to find that the toe box in these new Tecton X 2's feels subtly narrower than in the previous model. This may have been one of my biggest criticisms of the original Tecton X, that the toe box, though spacious, didn't feel precise on technical terrain. The new version improves this, along with an improved gusseted tongue. I don't normally notice updates to a shoe's tongue, but the Tecton X 2 leaps ahead of the original model's construction, which felt cheap and flimsy. (And nothing should feel cheap and flimsy on a shoe that costs $200+, right?)
The Midsole: Staying With What Works
Not much has changed from the previous model underfoot. You're still getting that above-average adaptable propulsion from parallel carbon fiber plates in a high-rebound foam, perhaps the best configuration of carbon fiber tech for trail shoes I've found for my stride. The carbon plates pull double duty by offering a rock plate substitute for further underfoot protection.
After a three-hour run in the Sierra foothills, my pace was above average and my feet were happy. After logging some early vert, any remaining pep in my step for the later miles felt sustained, at a relatively low effort, by the responsive combination of carbon and Profly+ foam. As with many Hoka shoes, the Tecton X 2 offers an exquisite weight-to-protection ratio, which means that navigating technical terrain in these shoes feels both precise and protected. Also, Profly+ foam offers a dependable dual stack layering for proper snap and speed: Softer layer of foam on top, with a firmer, more responsive layer below.
When compared to other premium trail offerings coming on the scene, like, The North Face Summit Vectic Pro—which I've also really enjoyed—the Tecton X 2's aren't as aggressively rockered, nor does its stack height feel as precarious on technical terrain as the Vectiv Pros (even with comparable stack heights).
Underfoot, the four millimeter Vibram Megagrip lugs (with the thinner Litebase keeping the weight down) delivered the same dependable and ambitious grip, but never felt like they had too much bite. My paved approaches to the trail didn't feel clunky, and the traction wasn't too much on any of the smooth forest roads.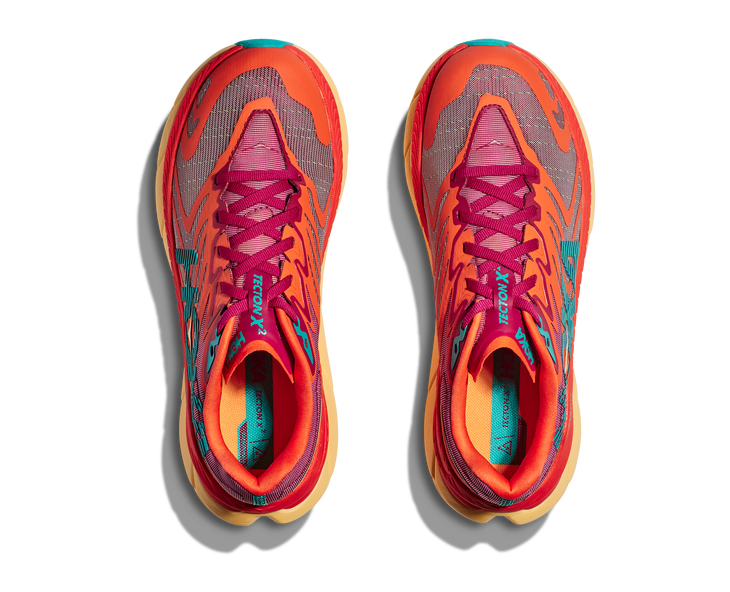 Bottom Line
There's no question: the new updated Hoka Tecton X 2's middle name is "Premium." They firmly retain their status as a high-end addition to any quiver. Like its predecessor, the X 2's hit the mark on most every account, and Hoka has reconciled some of the flaws found in the upper of the previous model. Right out of the box, the shoe feels ready for prime time, light enough to rip a 15-mile trail loop and substantial enough to approach a 100-miler with confidence. The main question is whether the upgrade is worth the steep price, and how many miles they'll remain snappy. I guess I'll have to keep lacing them up, gladly, and find out.
Lead Photo: Courtesy Hoka