The Gear Junkie Scoop: Hydrapak E-LITE VEST
Heading out the door? Read this article on the new Outside+ app available now on iOS devices for members! Download the app.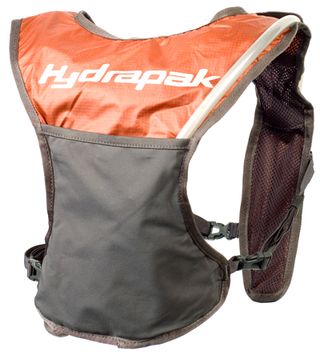 Running long distances with water is a pain. A backpack with a hydration bladder can significantly slow you down. Holding a water bottle in the hand is a hassle. And those fanny packs that secure a bike bottle for hydration on the hips? Every one I have tested bounces enough to drive me mad.
Fortunately, designers in the trail- and ultra-running worlds have come up with an in-between. Not quite a backpack, but a step up in size and support from a fanny pack, hydration vests are essentially low-capacity backpacks that hug the upper back.
Salomon has an innovative hydration vest coming out this spring designed by ultra trail runner Kilian Jornet. CamelBak Inc. offers small vest-type packs as well as shirts like its RaceBak product with built-in water-reservoir pockets. Nathan Sports, Ultimate Direction USA, and other companies have long had products that fall within the niche. New this autumn, Hydrapak of Oakland, Calif., unveiled a hydration-vest, the E-LITE VEST, which I have put to the test on a few long runs this month.
On my scale, the E-LITE VEST rung up at 10.1 ounces, which included the (empty) water bladder. On the back the E-LITE VEST is all but unnoticeable. Its included water bladder has 1 liter of capacity — enough for a two- or three-hour run in moderate temps. More if you want to push it.
When filled up, the reservoir sits high on the back. The vest cinches tight. While running, bouncing is minimal, and you can stride and jump on a trail run pretty much unencumbered while carrying a significant amount of fluid.
In addition to the reservoir, which sits in an open pocket on back, there are two small zippered pockets and four "holsters" on the harness straps. These small pockets are made for storing essentials like energy gel, sunscreen, a phone, and a compass. They are accessible as you run, meaning you do not need to stop to dig out your fuel or a tube of lip balm.
Larger items like a rain shell, a map, or a GPS device do not have an appropriate place in the E-LITE. On one long run, I stuffed a lightweight shell in next to the hydration bladder in back. But as I ran, I worried that a corner of the fabric might sneak out and snag on a tree. A closure of some kind on the main back pocket would be nice.
Overall, I give this product a thumbs-up. It is reasonably priced at $49.99, which includes the reservoir. Hydrapak make great reservoirs, and I have used them for years. One neat touch: The reservoir can be turned completely inside out to clean and dry.
The final word: If you need a method for toting water — and a few small pieces of gear and energy food — on long-distance runs, the E-LITE is a viable hydration option. $49.99, www.hydrapak.com
–Stephen Regenold is founder and editor of www.gearjunkie.com.