Gear Trends at the Boston Marathon
Run with 36,000 strangers, and someone else will probably have on the same outfit—or at least the same shoes.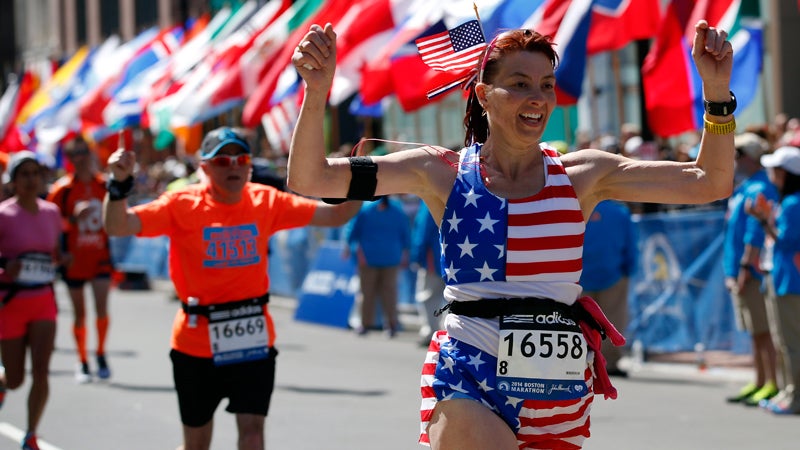 ASSOCIATED PRESS(Photo)
Heading out the door? Read this article on the new Outside+ app available now on iOS devices for members! Download the app.
If you're not an elite runner, people watching is often the best way to pass time during a marathon. From the Bible verses scrawled on the arms and backs on Nashville's Country Music marathoners to the guy who ran the 2007 London Marathon in slow motion (for real), I feel like I've seen it all since I began running 26.2 milers back in 2005.
Runners Samantha Rynas and Whitney Dreier with Tom the Patriot.
This year's Boston marathon was no exception. I began the morning talking to Tom Feller, a Bay Stater who would run the race dressed as a patriot. He wore long pants, a linen shirt, a wool waistcoat, and a tri-corner hat. He would carry two small American flags along the way. But, as if that wasn't impressive—or patriotic—enough, he informed me that he'd already run the course on the anniversary of the bombings carrying two enormous American flags. Why? Because he wasn't allowed to carry them on race day due to increased security measures. (Here I was, worried about toting along two packets of Honey Stinger chews, and this guy was on his second marathon of the week in full Paul Revere garb. Talk about a reality check.)
Due to the costume crack down at Boston this year, Tom was the only Revolutionary War-era colonist I saw, but there were certainly many like-minded patriots charging out of Hopkinton—red, white, and blue were everywhere. Stars and stripes patterned shorts, tights, tops, and arm warmers were worn with pride by men and women alike.
Here are a few other trends from Boston 2014:
Lululemon Everything
As I chugged along in my mismatched Nike top, Adidas bra, UnderArmour shorts, and Saucony kicks, women in their elegant Lulu tops floated by, their pleated Pace Rival Skirts flirting with every step. And it wasn't just a couple ladies who stood out in the crowd—it was about every other woman. At one point I looked up and saw several of the same Tone It Tanks bobbing down the course in front of me. I think it's safe to say that Lulu is not just for yogis anymore.
French Braids 
Just on the ladies, of course. I've been braiding my hair since high school, so maybe I'll take credit for this one.
Solar Zest
Adidas' blinding Boston Marathon Celebration Jacket has been selling well since its release in January. But unlike previous years, in which Adidas' race apparel was typically purchased exclusively by runners, everyone was drapped in orange this year. For every participant sporting the jacket, a handful of spectators and family members also showed their support by wearing these "colors of happiness and optimism." And the dayglow windbreakers weren't just selling out at the expo: they were also available at the Boston airport for folks doing some last-minute shopping.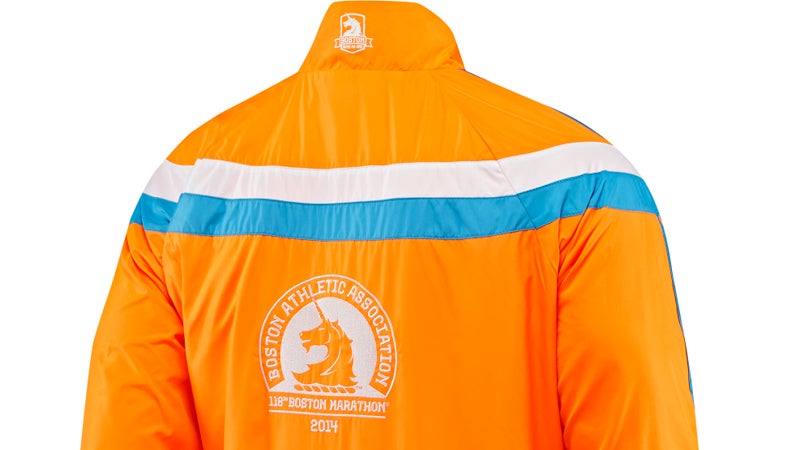 Compression Socks
Clearly not just for recovery. And apparently also not just for compression—several runners were spotted tucking gels into the socks. Beats wearing a fuel belt, I guess.
Bright, Bright, Bright Shoes
My neon yellow Kinvaras included. I suppose they complement the Celebration Jackets well.
No Vibram FiveFingers
It seems those ridiculous looking shoes (if you can even call them that) are finally on their way out; I only saw one pair. That being said, I didn't see an abundance of Hokas or the like either. It seems as if we have reached a middle ground between minimal and maximum cushioned shoes.
Hand-Woven Scarves
The day before the race, I kept seeing people wearing blue and yellow knitted scarves—you know, like something your grandmother might make. I finally asked a stranger where he got his, and it turns out the Old South Church in Boston passed out 7,000 of them in the days leading up to the race. According to its website, "in this year of remembrance and hope, our vision is to wrap each athlete in the love poured into stitches of handmade blue and yellow scarves." Many of the scarves were made locally by the Old South Knitters, but many were also made by volunteers across the country.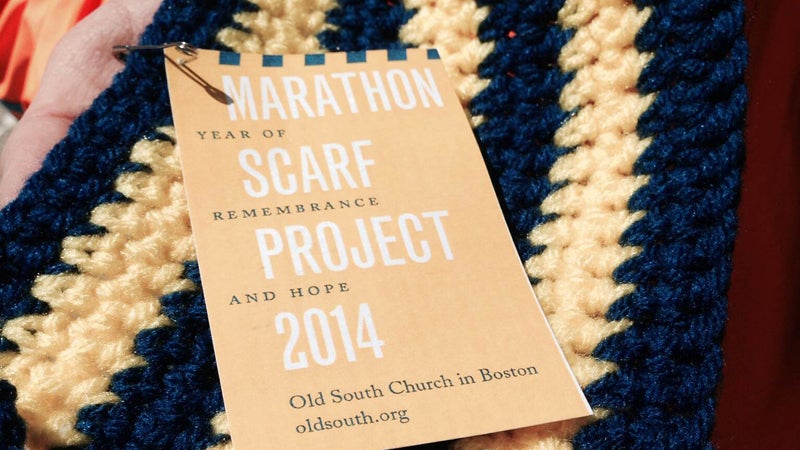 Boston Strong
Scrawled on arms, backs, legs. Said out loud, written on posters, plastered across storefronts. And unlike many of the other items that made this list, I am confident we'll see Boston Strong again next year.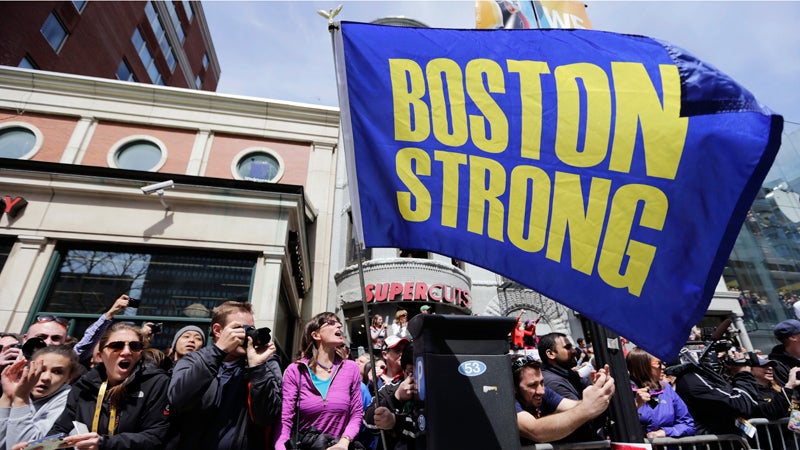 Lead Photo: ASSOCIATED PRESS