Gear of the Year: Trail Runners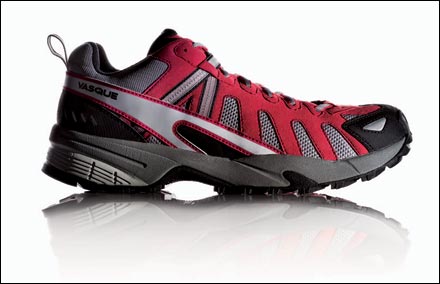 Heading out the door? Read this article on the new Outside+ app available now on iOS devices for members! Download the app.
Switch Hitter
Not counting genetic mutants like ultramarathoner Dean Karnazes—who could probably jog a century in flip-flops—the rest of us need trail runners that can go from dirt to rock to road and do it gracefully. The Vasque Blur accomplishes that trick and then some. The hybrid gave us quick toe-offs whether we were running up Colorado's Longs Peak or racing across hardpack flats, and its stability smoothed out the rockiest descents. This Gear of the Year winner actually made average runners feel like they could run with Karnazes—at least for an hour or two.
Vasque Blur (12 oz) $85 www.vasque.com
1. The Blur's deep, contoured heel pocket locks the rear foot in place, fine-tuning your feel for the trail by eliminating sloppy fit. Reducing heel slip also prevents blisters, especially on uneven terrain. That, plus a roomy toebox, enabled numerous testers to get a good fit.
2. For road-to-trail runners, the Blur hits a sweet spot between protection and speed—with little trail-shoe clunk. A molded EVA midsole with a soft crash pad cushions impact on hard paths and even pavement, and a stub-proof rubber toe cap let us punt rocks out of the way.
3. Only a custom orthotic provides better support. A stiff thermoplastic-urethane (TPU) plate underfoot was rigid enough to accommodate a tester with paddle-flat feet and one whose arches compress during high-mileage runs. All appreciated the stability on the roughest trails.
4. Sticky rubber tread gave us spiderlike traction on rocky footing near the top of Longs Peak. But without the deep lugs that can turn some trail runners into platform shoes, the Blur doesn't feel tippy on the road—making it a true hybrid. Running at night? Reflective strips shine brightly.
5. The mesh upper is reinforced with durable microfiber, which wraps the foot like a burrito for lateral stability. The material also mixes breathability with water resistance, making it a versatile player for warm to wet conditions. Look for a Gore-Tex version out this summer.
Gear of the Year: Road Runners
ASICS Gel-Kinsei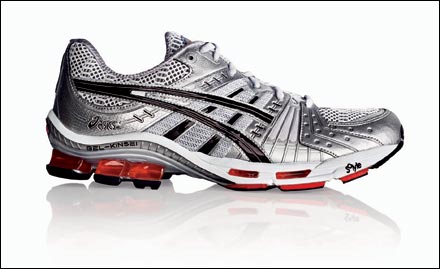 Future Shock
Ever since that heroic, fatal dash from Marathon to Athens, runners have been looking for an edge. Here's a guaranteed advantage, whether you're going 26 miles or two. ASICS's Gear of the Year–winning Gel-Kinsei adjusts to various foot types and running styles, while improving performance across the board. The shoe's Space Age exterior conceals an equally futuristic interior, with an intricate multipiece heel system that helped the Kinsei adapt to many testers' feet while softening our runs—and speeding them up.
ASICS Gel-Kinsei (13 oz) $165 www.asicsamerica.com
1. The genius of the Kinsei is an infinitely adaptable heel component that isolates and absorbs impact to reduce pronation and aid in forward propulsion. The system uses several independent variable-density gel pods that act together to minimize shock and create a stable platform.
2. Speed is goosed with the Space Trusstic System, a midfoot thrust enhancer that creates a pocket under the midsole. Translation: Stability is maintained while pressure is released, so each foot strike provides maximum forward energy as you roll toward toe-off.
3. The Spacemaster-UV mesh in the upper stretches to create a better-than-average fit. It also adapts to your foot while in motion, preventing bunching or folding, which can lead to blisters. We also like the material's breathability, which keeps feet cool and dry.
4. The forefoot gel pods are twisted—in other words, angled on two different planes—to provide the maximum response for both landing and toe-off. These midsole inserts are embedded in Solyte, a proprietary lightweight structural material with good bounce.
5. Downsides? The Kinsei could stand to lose an ounce or two, but otherwise there's little to nitpick about. Unless you mind people watching you run. You'll feel like a celebrity in these futuristic kicks; just try to remember that it's the shoes people are staring at.
Gear of the Year: Road Bikes
Cannondale Synapse Carbon 2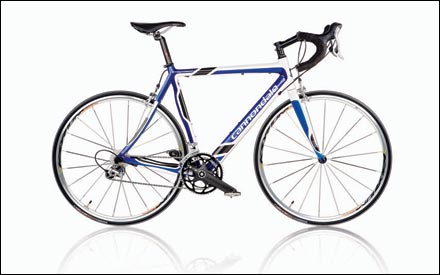 Smooth Operator
Long a champion of oversize aluminum tubing, Cannondale shifts gears to create an all-carbon rig that's fast enough for testosterone-addled group rides but much more comfortable than its trademark metal frames on epic outings. With slack geometry, a moderately upright riding position, and the superior road-damping qualities of carbon fiber, the Synapse 2 is built for luxurious, high-mileage riding. As the afternoon wore on and our testers became road-sore and tired during a day of cranking on coarse asphalt in Saguaro National Park, outside Tucson, we didn't need a vote to choose this Gear of the Year winner: Anyone not on the Synapse was scheming to get it back.
Cannondale Synapse Carbon 2 (16.7 lbs, 56 cm) $3,200 www.cannondale.com
1. Cannondale first ventured into carbon-fiber road bikes with the revered aluminum-composite Six13 (ridden to victory in the 2004 Giro d'Italia). The Synapse combines the Six13's speedy DNA with a supple feel throughout for a plusher, more approachable ride.
2. The Synapse is as light as comparably sized compact frames but with the solid, substantial character of a full-size model. It flew up climbs faster than bikes a pound lighter and, thanks to a stretched-out wheelbase, felt stable on the twisty descent from Colorado's 14,264-foot Mount Evans.
3. Where carbon's smooth feel translates as lifeless and heavy in some frames, the Synapse softens rough stuff while preserving a lively ride. Credit the elegantly curved, hourglass-shaped seatstays, which soak up asphalt chatter while transferring power straight to the pavement.
4. No matter how fast the frame, without good parts it's just modern art. Cannondale balances value and performance with a complete Shimano Ultegra/Dura-Ace drivetrain, its own proprietary carbon crankset (lighter and stiffer than Ultegra), and flashy Mavic Ksyrium Elite wheels.
5. Unlike the backbreaking drop position on many road bikes, a relaxed steering angle and a touch of extra head-tube height create a slightly upright—hence more comfortable—cockpit without sacrificing speed. "Logging 20-plus hours a week on this bike would be easy," said one tester.
Gear of the Year: Mountain Bikes
Ellsworth Epiphany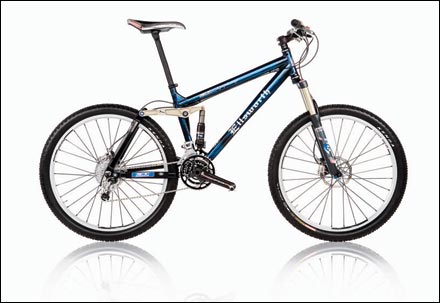 The Answer
The question: Do you buy a mountain bike with big travel or less weight, stable angles or lively handling? Ellsworth's Epiphany eliminates the compromise, riding an inspired line between cross-country and downhill. You get a bike with five-plus inches of front and rear travel in a package that weighs just a few Allen bolts more than the company's venerated four-inch-travel Truth. During a long weekend in Moab, the Epiphany aced every trail I rode, from black-diamond slickrock climbs to downhill chatterfests rough enough to put fear in the hearts of 4×4 off-roaders.
Ellsworth Epiphany (26.6 lbs, 19 in) $5,400 www.ellsworthbikes.com
1. Ellsworth's elegant four-bar linkage, the benchmark for full-suspension bikes, ensures that all the power you put into your pedal stroke goes directly into moving you uphill—rather than getting lost in the flex of the shock and frame. So you expend less energy to go faster.
2. Shaped aluminum tubing makes for a light, snappy ride, and an asymmetrical chainstay adds rigidity to counterbalance the suspension. That means responsive comfort: The Epiphany kept me fresh during a one-day ride of Canyonlands' century-length White Rim Trail.
3. The Epiphany may have lots of travel, but it still climbs like a cross-country racer. The suspension keeps the rear wheel glued to the ground. Riding behind a friend on an Epiphany, I marveled that whenever he cleared deep ruts and foot-high steps, his rear tire never left the dirt.
4. With a longer wheelbase and slightly more relaxed geometry than the Truth, the Epiphany goes downhill like a Hummer. My first ride, I plunged down the boulder-strewn Shafer Trail, near Moab, with no regard for braking or choosing a line—and came out grinning maniacally.
5. Our Epiphany tipped the scale at an admirable 26.6 pounds with a sensible parts mix: a silky SRAM drivetrain, precise Magura Marta SL disc brakes, and a stable-platform Fox Talas X TrailTune fork. Without spending much more, you could easily trim this ride down to 24 pounds.
Gear of the Year: Shells
Patagonia Spraymaster
Patagonia Spraymaster

Patagonia Spraymaster
Storm Chaser
Patagonia has virtually erased the line between soft shell and storm shell with the Spraymaster. The incredibly stretchy, astoundingly waterproof, and impressively breathable lightweight shell fuses the best of both worlds. Call it a firm shell. And rest assured, it's the one jacket that will prompt you to seek out bad weather.
Patagonia Spraymaster (9 oz) $249 www.patagonia.com
1. A good soft shell will stretch 20 percent—each yarn lengthens from, say, five inches to six. But the Spraymaster's stretch-knit nylon exterior—exclusive to Patagonia—easily doubles that, making it ideal for trail running, climbing, or any pursuit that demands flexibility.
2. Add a trim athletic cut, ripstop nylon on the underarms that reduces friction when you're running, and a smooth interior that slides easily over layers and it's no surprise testers lusted after this jacket. We knew we had a winner when they got excited just ripping it off one another.
3. When I ran hard uphill for half an hour in 50-degree rain, the Spraymaster repelled every drop of water and trapped only a dram of condensation, even while my hair dripped with sweat. On the same trail in similar conditions, other soft and storm shells left me soggy.
4. Attention, fabric wonks—here's how it works: Patagonia matches its top-of-the-line DWR (durable water-repellent) coating and waterproof-breathable laminate with a stretch-knit exterior (unlike the stretch-woven fabrication of other soft shells), enhancing the jacket's breathability.
5. Details are dialed: Oversize mesh-backed pockets allow venting without added weight; water-resistant zippers work smoothly; a sculpted hood fits snugly over your bare head; foolproof elastic cuffs seal the sleeves at the wrist; and a one-hand-adjustable drawcord cinches the hem.
Gear of the Year: Light Hikers
Lowa Jannu Lo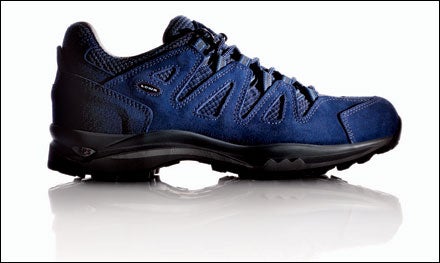 Blue Suede Shoes
Cross a Suburban with a BMW and you'd get the automotive version of Lowa's Jannu Lo: a smooth and fast ride anywhere. By combining a tough upper with a solid platform and then lining the inside with baby-butt-soft leather, the Jannu delivers an exquisitely plush, but armored, feel. The shoe would have earned Gear of the Year honors for that alone, but add the royal-blue exterior—Lowa's antidote to hiking-footwear earth-tone monotony—and you have a shoe that stands out just as well on the sidewalk as on the trail.
Lowa Jannu Lo $125 www.lowaboots.com
1. An all-leather interior puts the Jannu in the luxury class of light hikers. Its lining feels buttery soft, like a golf glove. After a few days of wear, it conforms to your foot like a custom shoe. Leather won't dry as quickly as a synthetic liner, but in return you get the ultimate in durable comfort.
2. The Jannu is constructed with a leather commonly used in rugged mountaineering boots. The flexible fibers in the split-grain leather upper protect your foot against scree and other trail hazards and prevent the scrapes and cuts that shorten the life spans of flimsier shoes.
3. Expect an ultrasmooth ride, even on rocky trails. That's because the EVA foam in the midsole absorbs shock and cushions your foot from heel to toe. The soft zones in the heel and ball of the foot are bordered by firm polyurethane that helps stabilize the foot throughout your stride.
4. Make no mistake: This is no old-school leather stomper. Strategically placed mesh on the upper and tongue keeps weight reasonable and prevents the shoe from becoming oven-hot. Still, the Jannu's hiking-boot DNA means excellent support and stability for long days on rough terrain.
5. The durable lugs on the Vibram sole shouldn't wear down after a season or two of use, as can happen with some of the stickier rubber out there, and the toothy tread bites hard on loose dirt and rock. On steep, slippery descents, we especially liked the sole's anti-skid braking.
Gear of the Year: Backpacks
Arc'teryx Naos 55
Arc'teryx Naos 55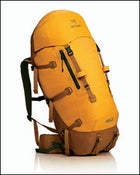 Arc'teryx Naos 55
Submarine Dream
Innovation usually comes in fits and starts: a zipper here, a strap there. But Arc'teryx dispenses with the nickel-and-dime approach with this revolutionary pack. Any other year its every detail—from welded seams to dynamic suspension—would have been noteworthy. In this case the sum is much, much greater than the parts, setting a new standard for blending comfort, durability, and waterproofness. On a trip in the Grand Canyon, with ten testers and ten different packs, every morning started with near mutiny over one simple question: Who gets to carry the Naos today?
Arc'teryx Naos 55 (4.3 lbs, 3,420 cu in) $429 www.arcteryx.com
1. The Naos is constructed from just two pieces of intricately cut fabric. The trick is made possible by new technology that pairs tough 420-denier fabric with a double-sided urethane coating, which allows designers to weld seams and fuse components directly to the pack.
2. The integrated harness-frame-pack design provides efficient, direct load transfer to the hips. Even with 50 pounds aboard and treacherous footing on an after-dark descent of the Grand Canyon's New Hance Trail, the Naos's streamlined suspension proved stable and supportive.
3. Dynamic suspensions are appearing on more and more packs this year, but for head-slapping simplicity, none beats the rotating plastic disk that connects the Naos's hipbelt to its frame. It moves with you on every high-stepping maneuver. As one tester noted, "I could wear this salsa dancing."
4. With its roll-top closure and sealed seams, the pack makes rain covers and drybags obsolete. Not only does the Naos ride out a storm without absorbing any water weight, it's so watertight it floats. Just remember that the outer pocket zips are water-resistant, not waterproof.
5. The narrow profile is phenomenal for mobility, but the tradeoff is no water-bottle pockets (you do get a hydration sleeve inside). There's no concession on durability: We scraped the pack across rocks and had trouble even scuffing the fabric. In a throwaway nation, this is an everlasting pack.
Gear of the Year: Tents
Black Diamond Skylight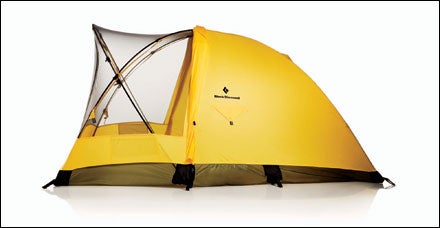 House Proud
The debate between bigger and lighter ends here. On an early-fall trip in the Wind River Range, Black Diamond's Skylight performed like a big top, allowing a pair of testers (one over six and a half feet tall) to stretch out and stay dry. The shelter weathered a gusty rainstorm with no dripping or swaying and stowed overflow gear without causing clutter claustrophobia. Then it packed away like one of those lilliputian ultralights.
Black Diamond Skylight (4.2 lbs) $430 www.bdel.com
1. With its generous interior and 42 inches of headroom, the Skylight is billed as a three-person shelter—and could fit three go-light martinets. But we peg it as the perfect two-and-a-mutt tent, affording castlelike quarters for a pair of big guys but capable of housing three in a pinch.
2. Most single-wall ultralight tents use nonbreathable waterproof nylon. But BD wrapped the Skylight in a silky, highly water-resistant, breathable fabric that has no trouble rebuffing a pounding thunderstorm. In fact, we got the material to weep water only when we held a hose to it.
3. The Skylight is a hybrid: a single-wall tent in back and a traditional double-wall shelter in front, simultaneously reducing weight and increasing ventilation. That, plus smart roof vents, keeps air circulating. Even after windless, dewy nights, my tentmate and I woke up to chalk-dry inner walls.
4. The single large door does its job, and other details are spot-on: a big vestibule, four storage pockets, corners beefed up with packcloth, and plenty of guy-out points. Cool feature: Roll back the fly for stargazing, and cover up faster than you can say "rain" if a squall suddenly materializes.
5. The internal pole pockets make setup fussy, but the hassle is a bonus in a storm: Stake out the corners first, dive in, and pitch the tent from inside. The Epic fabric can't be taped, so you'll need to seam-seal the Skylight. (It's a simple task—just don't put it off until the night before your first trip.)
Gear of the Year: Sleeping Bags
Sierra Designs Trade Wind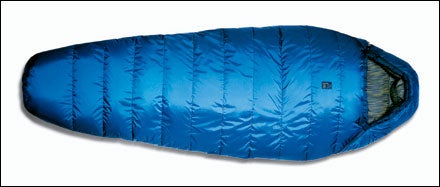 A Dry Heat
Tent walls condensing like a steam room? Roll over and go back to sleep in the Sierra Designs Trade Wind. The down bag's waterproof shell is impervious to weather that will wilt the feathers of lesser bags like, well, a cold shower. But that's not all. Premium down fill, a roomy cut from shoulders to toes, and no-kidding warmth when the mercury dives below freezing round out this Gear of the Year–winning sack.
Sierra Designs Trade Wind (15°F) $330 www.sierradesigns.com
1. The Trade Wind embodies the SD philosophy: Give people what they want in a high-value, no-gimmicks product. In this case it's a warm cocoon for pushing the edges of winter camping, a waterproof shell to protect the down insulation, and a price that must keep competitors up at night.
2. Sheathing the Trade Wind is a tough skin of DriZone, a waterproof-breathable material that's been upgraded from last year's version to make it more hydrophobic. Not even a foul weekend at Washington's famously drippy Olympic National Park could soak this puffy bag.
3. You might expect that the Trade Wind reaches its respectable weight (just 2.8 pounds) by skimping on inner space. You'd be wrong. There's room to toss and turn for even big and restless sleepers—especially with the contoured footbox and spacious hood.
4. SD's designers goosed the loft per ounce with premium 800-fill down, and our testers noticed—the Trade Wind is almost a half-pound lighter and compresses better than its predecessor, and it's still reassuringly warm in the teens. No one even lamented the lack of a draft collar.
5. Why should a sleep sack be a fashion snooze? Sierra Designs finally injected some style into the backcountry bower this spring by lining the Trade Wind with a colorful print. Look for similar liners on other SD sacks, including the Trade Wind's 30°F cousin, the Rain Shadow.
Gear of the Year: Surfboards
Hobie M-80

Mush Machine
Talk about kids in a candy store. Contemplating the 20-surfboard quiver we assembled for Buyer's Guide testing this year, our wave riders felt as if they'd been given the keys to Wonka's brand-new surf factory. We had longboards, guns, funboards, thrusters, and fish—yet there was one stick our testers kept plucking from the rack: the Gear of the Year–winning Hobie M-80. At first glance it looks like a mid-eighties four-fin, but from the initial paddle and bottom turn it's clear the M-80 is the sweetest thing on water.
Hobie M-80 (5'4″ to 6'8″) $800 www.hobie.com
1. You heard it here first: Four-fins will be the hottest surfboard trend in 2006—and the Hobie M-80 is going to be leading the charge. Shaped by Hobie veteran Terry Martin, this board is a fast, easy-paddling, mush-shredding machine.
2. It paddles with uncommon smoothness and speed for a six-foot-two-inch board. With hard rails and minimal rocker, the M-80 glides into waves, almost like a longboard. I had lots of two- and three-stroke takeoffs—it catches waves so early and easily that it feels like cheating.
3. With 21. 5 inches of width tapering to a wide double-winger swallowtail, the board turns quickly while remaining loose. That means the M-80 can sometimes spin out during sharp turns in head-high surf, but experienced riders will learn to anticipate and control the slides, adding to the fun.
4. Most important, the M-80 is fast. Really fast. The quad-fin setup gives it amazing drive down the line. Surfing it in a hollow, shoulder-high reef break, I was consistently able to rocket through sections I normally don't make. At times I even had to rein it in to stay near the peak.
5. At 2.6 inches thick, it also has mucho float, which maximizes fun in smallish, mushy surf—the sort of waves most of us see on an average day. Think of it as an "80-percenter," the perfect board for knee- to head-high surf—80 percent of the conditions you'll encounter.
Gear of the Year: Kayaks
Wave Sport Project

Play Station
Last year, Wave Sport's designers must have taken the same trip through the wind tunnel that Lamborghini techs made recently. Gone are the rococo flourishes and hard angles, replaced by spare, fluid lines. But where the Project's predecessor, the ZG, allowed comfort and speed to compromise performance, this year's boat is a pure aerial machine. It's fast for its short six-foot-one-inch length and rockered to generate a big first bounce down a wave—the first step toward cutting-edge combo moves.
Wave Sport Project (45,52 & 62 gal) $999 www.wavesport.com
1. When you're surfing, a flat hull is fast, while the rocker provides lift. The Project incorporates rocker at each end—like a twin-tip ski—to give you the best of both worlds. The design maximizes speed with a long flat surface, then converts velocity into lift to send you flying.
2. The drop chines—nautical-speak for edges—employ a subtle ridge ringing the hull to lay down a carpet of ball-bearing-like bubbles under the hull. You'll feel like you're surfing an oil slick. With a 360-degree release point, you're cleared for takeoff no matter which way you're facing.
3. Wave Sport's FAT 4.0 outfitting system features ratcheting backband, adjustable thigh hooks, molded hip pads, and closed-cell-foam risers to keep you in a snug, knees-up position. In flatwater, you should be able to balance on edge, and in rapids spin on a wave by turning your head.
4. Looping—doing an aerial somersault—requires enough forward volume to launch your boat, buried deep in the water, clear into the air. Though a lot of boats can loop, the Project's bow forms an evenly tapered wedge to give you aim and consistency.
5. Away from the big waves, you can still throw down. The Project's short, stubby ends and tapered shape make it easy to cartwheel and stall in flatwater. Lean, clean cartwheels—initiated by thrusting your elbow to the stern—are a great way to hone balance and rhythm.
Gear of the Year: Sunglasses
Zeal Optics Maestro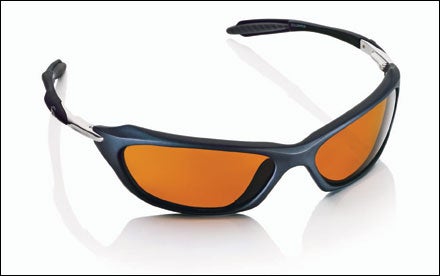 Trick of the Light
Zeal Optics' Maestro nails it with its new ZB-13 sepia polarized polycarbonate lenses. The amber tint amps up depth perception, intensifies contrast, sharpens edges, and performs masterfully in so many light conditions that you'd think they were photochromic (the kind that adjust to brightness). But the lenses don't change—they're just incredibly versatile, as is the Maestro in general. Which means whatever type of performance shade you want, you should start the hunt right here.
Zeal Optics Maestro $130 www.zealoptics.com
1. When a bikie friend of mine put on the Maestro, he started making porn noises: "Yeah, baby! Yessss!" And the ecstasy-inspiring visuals have a performance upside: With the copper tint's enhanced depth and clarity, you can go faster and harder, in and out of glare and shadows.
2. The Maestro is bombproof where most sunglasses are highly vulnerable to breakage: at the hinge points. The co-molded nylon and silicon temples segue into steel on both sides of the metal hinges, which are spring-loaded to cradle the head as securely as a fitted helmet.
3. The big lenses follow the curvature of the eye and reach back for good peripheral coverage. Protection from wind and sunlight is near absolute and totally secure because of the head-holding temples and hydrophilic silicon at the nose and ears. The sweatier you get, the stickier the stuff becomes.
4. It's no surprise that Moab-based Zeal makes great mountain-biking shades, but the Maestro is excellent for all pursuits, even snow sports. Thanks to the polarized lenses, which blunt even the most headache-inducing midday light, you'll crash and burn long before your eyes tire out.
5. Wear them anywhere without looking like a weenie—fashion-forward sculpting of the matte nylon frames dresses things up, so this model is as street-worthy as sporty. But the style is more than just for show: The sleek frame shape still keeps out rogue photons and wind.
Gear of the Year: Luggage
Osprey Meridian 22
Osprey Meridian 22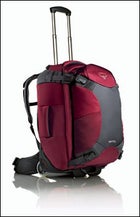 Osprey Meridian 22
Stow Away
Wheel it, shoulder it, sit on it, kick it—Osprey's Meridian 22 adeptly adjusts to any adventure and absorbs every road-inflicted insult. It relieves you of attachment anxiety, since it's carry-on legit, but magically stows everything you need for an around-the-world journey. Can't resist picking up that wooden mask in Papua New Guinea? There's room for that, too.
Osprey Meridian 22 $279 www.ospreypacks.com
1. On a five-week trip in India, this 3,700-cubic-inch carry-on convertible was impervious to 3,000 hard-knock miles by plane, train, rickshaw, boat, and one cranky camel. Credit the bag's ballistic-grade nylon fabric, Hypalon-reinforced wear points, and ultradurable ABS plastic base.
2. It took just a nanosecond to morph the wheelie into a trim side hauler that looked classy enough for a five-star hotel and easily negotiated narrow train and plane aisles, where the Meridian's plush foam-cushioned handles (side and top) made overhead stowage a snap.
3. When the going got rough, the backpacker in me loved how the curved retractable handle is integrated into Osprey's High Road Chassis to work like a traditional frame stay. In backpack mode, it has the best adjustable suspension I've seen in convertible luggage.
4. The ultrasecure (four buckles and a zipper) detachable pack is a day tripper's dream, with dual water-bottle holders, front zipper pouch, and zip-away back panel that accesses a hydration sleeve. It's big enough to hold a day's worth of supplies, including Lonely Planet's fat India guide.
5. After souvenir hunting, I sinfully overstuffed the main compartment, but it never surrendered. Even after sitting on the thing and muscling the oversize zippers—and actually breaking a sweat in the process—I couldn't find one sign of seam stress or hardware malfunction.
Gear of the Year: Digital Cameras
Nikon D50
Nikon D50
Nikon D50
Picture Show
Value never looked so good. The D50 puts a pro-quality digital SLR in reach of ambitious amateurs who want to move beyond snapshots—without shelling out more than they paid for their first car. With the ability to swap out lenses and go manual, it allows utmost creativity. And cutting-edge technology—like a smart flash that solves tricky lighting for you—ensures great pics even if you don't know a megapixel from a memory card.
Nikon D50 $760 www.nikonusa.com
1. For roughly the same price as a high-end point-and-shoot, you get a host of pro features like high-speed 2.5-frame-per-second shooting, RAW-format capabilities (for the best image capture), a smart flash, and the versatility to stick any compatible Nikkor lens out front.
2. Capturing fast action is simple with the D50, thanks to a lightning-quick autofocus system that automatically tracks moving subjects. Even on dimly lit forest trails on Vancouver's North Shore, I was able to nail perfectly sharp midair shots of my mountain-biking buddies.
3. Nikon has clearly done its ergonomics homework: With a rubberized grip, intuitively placed buttons, and a soft eyepiece, the D50 felt like an extension of my body minutes after I began shooting. Even the lens it ships with—an 18–55mm f/3.5–5.6—fits comfortably in the hand.
4. Point-and-shoot ease lets you capture impressive stuff on full automatic pilot, while manual control—over primary features such as focus and exposure, plus the option to tweak details like color saturation, white balance, and contrast—offers unbeatable creativity.
5. The 6.1-megapixel D50's sophisticated pop-up flash simplifies candid indoor shooting by eliminating red eyes, overblown highlights, and ghostly skin tones. It's even smart enough to read challenging backlight outdoors and compensate with a little burst of fill flash.
Gear of the Year: GPS
Garmin GPSmap 60CSx
Garmin GPSmap 60CSx

Garmin GPSmap 60CSx
On Location
Basic navigation is available in everything from cars to phones these days, but Garmin's palm-size powerhouse GPSmap 60CSx takes a sophisticated GPS—once found only in the hands of explorer-engineers—and puts it in every traveler's pocket. With the unit's intuitive interface, Garmin has simplified use for beginners while simultaneously incorporating a host of complex features that will impress veteran users. And with the longest battery life of any unit we tested, it will never leave you stranded.
Garmin GPSmap 60CSx $500 www.garmin.com
1. Screen quality matters, and the 60CSx's 2.6-inch, 256-color LCD is best-in-show for clarity. In bright sun, the transreflective technology soaks up ambient light and channels it into the display (like an internal two-way mirror), eliminating the need to suck up battery power with the backlight.
2. The unit strikes the perfect balance between compact and capable. At just seven ounces, it's loaded with an expandable memory (ships with a 64MB micro SD card) and deluxe features like an ultrafast processor, multiple navigation screens, a barometric altimeter, and an electronic compass.
3. The 60CSx's battery run time is officially rated at 18 hours on two AAs—among the best on the market. Yet we managed to coax out even more time from our test unit while hiking in the Grand Canyon: After four days of almost constant use, it still had power to spare.
4. Smartly labeled buttons—easily operated with one hand, even gloved—and a Windows-like menu interface make the 60CSx a breeze to use. Within minutes of cracking the package, we were storing waypoints and creating routes for a local hike—without a single glance at the manual.
5. The Garmin MapSource topo CDs ($100) are everything that digital mapping should be: fast, easy to upload, incredibly detailed, and simple to navigate. The version we used for hiking in the Canadian Rockies included trails that didn't even show up on other companies' maps.