Yes, Lululemon Makes Trail Running Shoes 
The athleisure brand debuts an off-road shoe that is as versatile as its fashionable apparel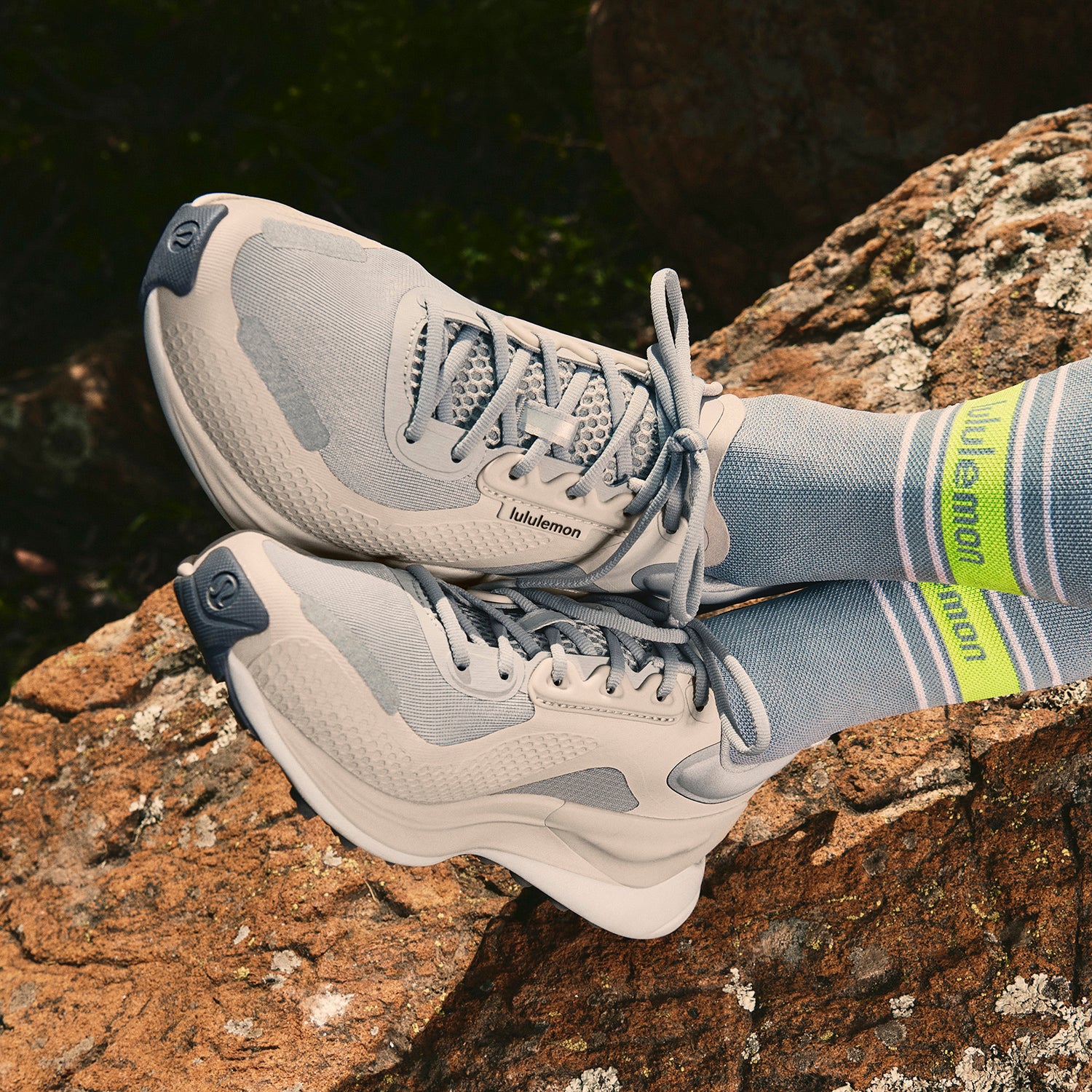 Courtesy Lululemon
Heading out the door? Read this article on the new Outside+ app available now on iOS devices for members! Download the app.
Trail running often evokes images of gritty ultrarunners navigating mountain passes—not the place you'd expect to find gear made by Lululemon, a brand best known for its fashionable tights and expensive hoodies. The company has, however, entered the trail running market this spring with a women's-specific off-road running shoe. But don't expect a rugged light hiker: despite the new category, this shoe fits with what you know about Lululemon.
The Blissfeel Trail ($158) debuted in May  2023, just over a year after the Blissfeel road shoe hit the market. The brand moved into the running shoe space because the sport is big among the brand's devotees, says Simon Atkins, senior vice president of footwear at Lululemon. "Introducing shoes was a natural extension given our expertise in technical running product," he says.
Taking the further step into trail shoes, says Atkins, gives consumers "the flexibility to explore new terrains and supports women as they go farther on their runs." Toward this end, the Blissfeel Trail is designed to transition comfortably from road to trail and back.
Atkins says that the company was intentional about launching their footwear for women first instead of launching a men's shoe and then adapting it for the women's market. According to the company, four years of research and "1 million Volumental foot scans" were used to dial in a fit and cushioning targeted specifically for women.
Like the road shoe, and other Lululemon apparel and gear, the shoe also looks just as good while traipsing around town as it does on dirt paths. It comes in five different colors to cater toward the fashion-minded shopper who gravitates toward Lululemon gear.
The shoes are stylish, sure. But how do they perform? We put the Blissfeel Trail on three seasoned road and trail shoe testers to see how they measure up against dozens of other trail running shoes on the market.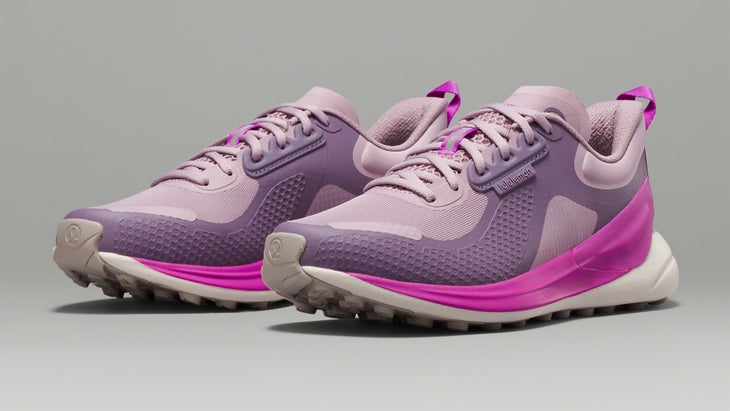 Fit and Feel
The Blissfeel Trail is notably comfortable upon first step-in, with a soft, slightly stretchy, seamless mesh upper that alternates between open, breathable zones, highly flexible panels, and more supportive areas around the midfoot and toecap, reinforced by TPU film overlays for durability.
"The materials used on the shoe cue comfort to me," said one of our testers. "Basically, it's what I'd expect from Lululemon—which is a good thing." She appreciated the soft padding around the heel collar both while wearing these casually and while running. "And the heel cup is quite nice and secure," she added.
All three testers praised the fit and comfort of the shoe on mellow terrain, but when they ventured off on more rugged trails, they craved more hold. "I felt like my foot moved a bit too much laterally, like there was too much space on either side of my foot," one said.
Cush and Traction
Cushioning underfoot comes from what Atkins calls "a proprietary foam chemistry," which we felt was just fine—not notably springy, nor too firm. The shoes ran comfortably both on tame trails of varied surfaces and on road sections en route to trailheads. The ride was perhaps not as responsive as high-end road-specific shoes, but also not as clunky as some beefier trail shoes on pavement.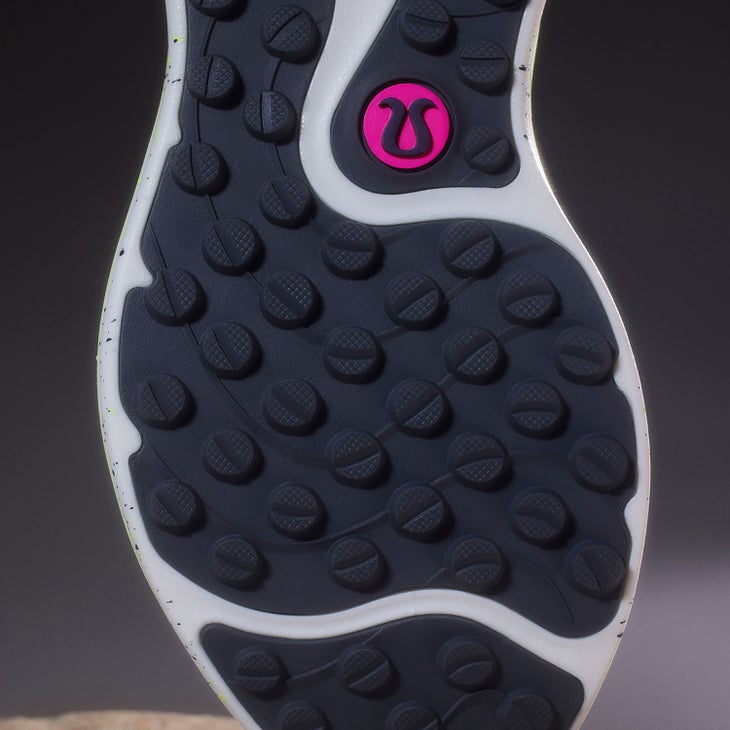 A standout feature of this shoe is the high-abrasion rubber outsole with a traction pattern (circular shapes with grooves cut into them) that made us feel sure-footed on gravel paths and smooth dirt trails. The traction "seems like it will be durable and hold up for many runs," said one tester, while another reported that she "ran on gravel trail with these and felt stable."
The traction did well on rockier terrain as well, but we felt the looseness of the upper and its lack of protective overlays made this shoe better suited for more mild ground.
Bottom Line
The Blissfeel Trail is billed as a road-to-trail shoe, and it lives up to the description—as long as the trails are more crushed gravel or smooth dirt than rugged, off-camber, mountainous terrain. It's not for someone aiming to set records (at 9.9 ounces, they're not the fastest-feeling shoes), nor for the adventurer who needs bullet-proof durability and locked-in security. But for a runner who is looking for one shoe to run some road miles, go on occasional, mellow trail outings, wear to the gym for a lifting session or HIIT training class, and then meet a friend for lunch afterward, here's your shoe.
Lead Photo: Courtesy Lululemon