Meet the Marathon Runner Designing Your Trail Gear
Nancy Hoo is the woman behind your favorite Arc'teryx trail running kit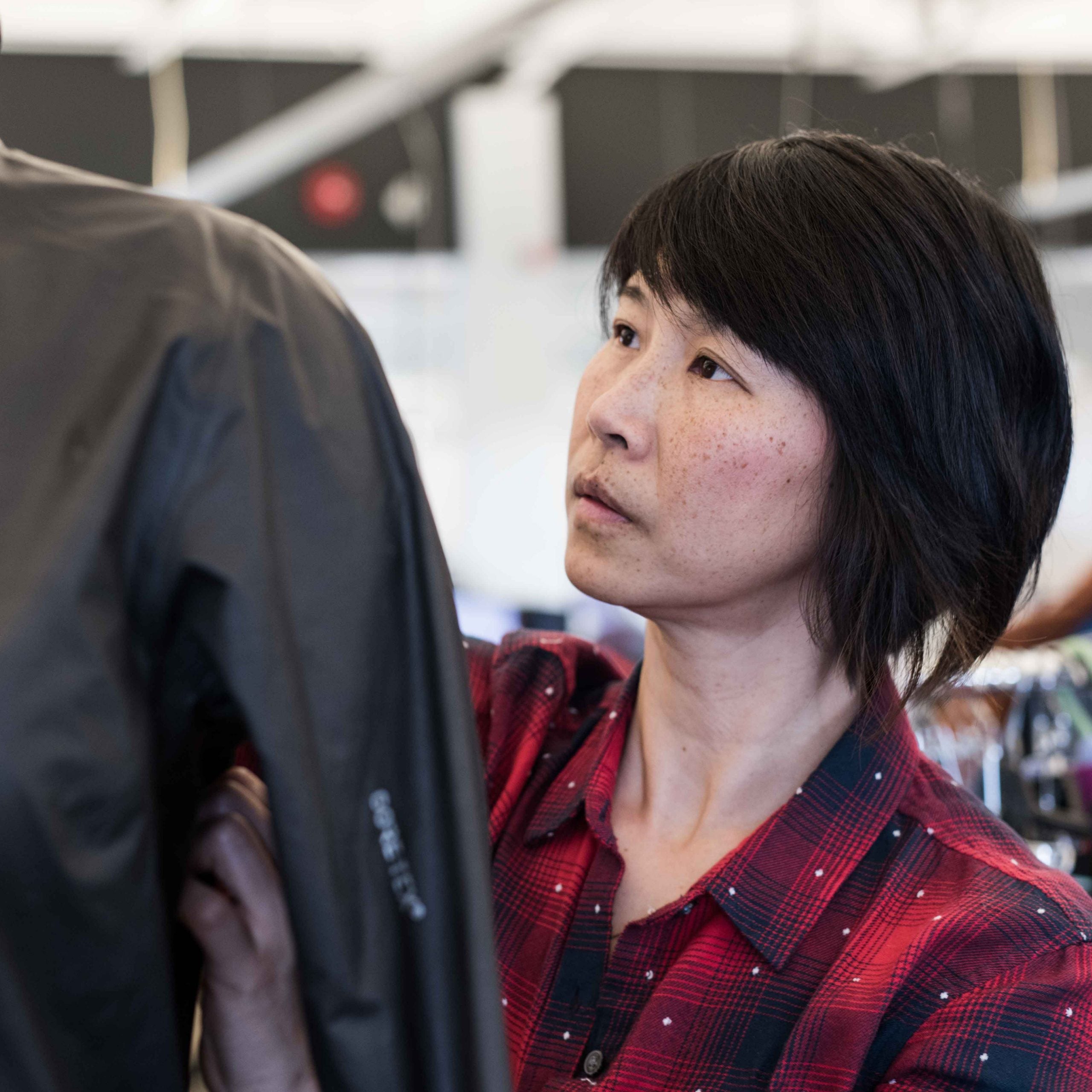 Heading out the door? Read this article on the new Outside+ app available now on iOS devices for members! Download the app.
Have you ever wondered about the person who designed and tested the breathable vents and nifty hood of your favorite running jacket? Ever been hit by a downpour mid-run and wanted to thank her? If you run on the trails around Vancouver, British Columbia, you might get your chance.
Nancy Hoo, 50, is a design manager for the Arc'teryx Endorphin trail running and base layer collections. Hoo's work fuses her talent for "the technical aspect of design" with her passion for running.
Her favorite part of the job? Watching buyers put her team's clothing through the wringer. "When I'm outside and up in the mountains, I see gear that I've worked on—people wearing it and putting it to work," Hoo says.
---
Name: Nancy Hoo
Age: 50
Job: Designer for the Arc'teryx trail running and base layer collections
Current City: Vancouver, British Columbia
Hometown: Hong Kong (Hoo came to Vancouver when she was three.)
Years on the Job: Eight. Hoo freelanced for Arc'teryx for six years while raising her three children; she's been in Arc'teryx's BC-based headquarters full-time for two years.
Must-Have Apparel Item: "A really great jacket. I've always liked outerwear!"
Outdoor Passion: "I've always been a runner."
Design Area of Expertise: "I specialize in formfitted products with stretch materials. I've worked in areas from run to swim to bike that have allowed me to learn about body form and movement. Knits and stretch wovens work well in allowing the body to move without hindrance."
Favorite Piece of Arc'teryx Gear: "My go-to is my Motus shirt, short-sleeve or long-sleeve. I can wear it all season and use it for everything from long runs to skiing and hiking. I never chafe in it. It's amazing."
Favorite Piece of Non-Arc'teryx Gear: Innov 8 Ultra 270 runners. They are super-bright pink with a bit of blue, and I am definitely not a pink girl. It was the only color they had, but they felt so good that I had to have them. They are lightweight, give me amazing grip on the trails, and have a wide toe box with a good fit at the back heel."
What She Loves About Design: "I've always loved clothing and how it's put together. It's amazing that you can make something starting with 2-D patterning, and then be able to sew it up. I've always been driven by material and texture, how fabrics feel and what you can do with them. When I got out of school at Kwantlen Polytechnic University, I went straight into the technical aspects of fashion (design, patterning, construction) and kept on going."
Certification/Education Needed for Her Job: "A degree in fashion arts and technology will encompass an understanding of patterning, body form, sewing construction, textiles. And it'll give you some computer applications like Photoshop and Illustrator. I live in the world of Illustrator for my job.
"There are a lot of people here [at Arc'teryx] with industrial design backgrounds, too. It comes at it a different way, from a design point of view, and it looks at using materials for product needs and intended use. It's very purposeful."
A Typical Workday: "I get to just build really cool stuff! I get to talk to athletes. I talk to the [outdoor-oriented] people around me to see what they have a need for. Then I look at materials. I look at patterning. I look at different production details. And then I put it all together to build a collection that is small and precise and purposeful for the consumer. We also look at fits and the logistics of what it takes [for a garment] to be feasibly made and go into production."
Her Area of Focus: "I do Arc'teryx's Endorphin Collection, which is trail running apparel. It's hard to make a Gore-Tex jacket—or a waterproof jacket—that's light and breathable. Since you're working super-hard when you're running, your temperature goes up. You're building condensation in your garments. You're just sweaty! We want the jacket to be waterproof so you can run in all kinds of weather, but waterproof material has a membrane that has low air permeability, so you get a lot of condensation in the jacket.
"The Norvan Jacket is one of the pieces I'm most proud of. We have these really cool vents—there are no zippers, since we're trying to make it lightweight, and pit zips are just too cumbersome to deal with underneath when you're trying to work hard. We used in-house feedback; colleagues would come up and talk to me or send us feedback through email after trying out a prototype. We were thinking of how to create more air circulation to the jacket without adding weight, so we reduced it by not putting in pit zips and incorporating these vents under the arm, so it doesn't leak in water but allows for circulation."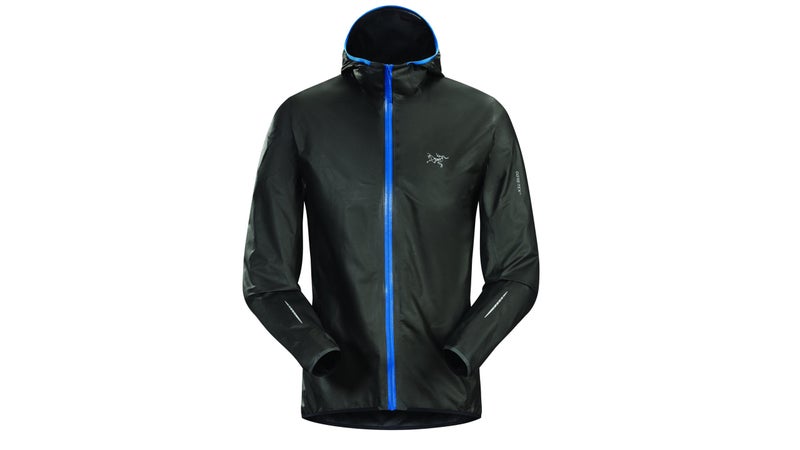 Incorporating Athletes' Feedback into the Clothing: "We were aware that some people will go out for a two-hour run or not a super-long run as part of their training, and they wouldn't necessarily carry a pack. We thought of what you'd need to carry while trail running. A lot of people carry a phone, a wallet or ID, gels. So Arc'teryx created the Soleus short for men and the Nera 3/4 tight for women. The Soleus has a five-pocket system: There's a center mesh pocket that's large enough to house our light jackets. Then we have a zipping security pocket that you can put your phone in, a stash pocket for gels and bars, and front pockets. In the Nera, we have a three-pocket system. The front is big enough for your phone, and there are two stash pockets."
Workspace Setup: "We [designers] have a worktable right beside us that we can do patterning on and that we can play and manipulate things on. Sewing machines are close by, so I can go sit on a sewing machine and do a quick mockup of something to see if it works before I bring it to our pattern technicians to make it prettier and initiate a product with them."
How to Get a Foot in the Door of Outdoor Apparel Design: "People ask me, 'How do I become a designer?' I say gain all the knowledge you can. Pattern making is super important; you need to understand how patterning works because fit is so integral to a fantastic product. If you don't have fit, you won't have a very good product. Learn about sewing construction, the sequencing of how to put your garment together. Gain knowledge about different machines, stitches, and what textiles are available and by what means you can put a garment together. Textiles are a huge part of outdoor apparel—textiles and materials are so integral to your design that you need to understand how they work and what their benefits and limitations are. Also, computer applications. You're looking at Photoshop or Illustrator or InDesign to be able to communicate your designs and taking that to your product developers to be able to understand and read. That's all knowledge you gain in school and internships.
"And then, just really having passion for the activity you're building for. If you don't know how to use it and what the intentions are, you won't be able to understand it. If you have a passion for it and know the activity, that has an impact on your design as well."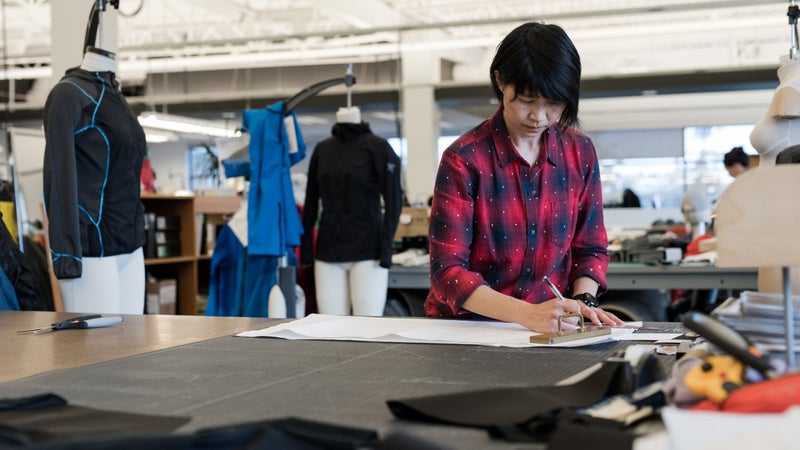 What People Don't Understand About Her Job: "Design is only half your job as a designer. There are a lot of logistics. You have to understand how your product can get to market. You have to look at product-line planning to make a concise collection. You don't want to overwhelm your buyer. You want to design a collection that addresses their needs but doesn't have a lot of pieces. I don't need to have 25 different T-shirts; I need to address [buyers'] needs. It's about product knowledge, how to make things feasible, and how to communicate it. And there's a lot of product testing."
Minimizing Deskwork/Maximizing Outdoor Time: "The outdoors is such big part of our brand and product. At work, we're all big users of our product. If we don't go out and use it, we just don't get the understanding we need to build useful gear. We're surrounded by mountains. In Vancouver, you can be up in the mountains skiing, come back down and go for a bike ride around the creek, and then go on a lower trail run. All three things in one day. "
Three Personal Bests: "I backpacked the West Coast Trail (in British Columbia)! It was amazing. The views were spectacular. It made me realize that, wow, I really live in a beautiful part of the world.
"And I did the New York Marathon. It wasn't about the race; it was just about the people. [The crowds of onlookers] are so excited. They cheer you on every step of the way. They are so loud! I usually run with music, but I couldn't hear it. I took my music out and put it away, and they were there for me. That was the best race I've ever been in.
"Also, my kids. My kids are the biggest highlight of my life. I have three, and I think they make you realize what life really means. I am just constantly learning from them."
On Loving Her Job: "I always tell my kids, when you choose your path, you should love it. Work is a huge, huge part of your life. It's not just a small part of it. It takes up so much of your time here on this earth. So, when you wake up, you should just love where you're going."