The Running Shoe You Need if You're Heading Out on Icy Trails
The Norda 001 G+ Spike tames impossible trails while keeping you dry and protected in winter weather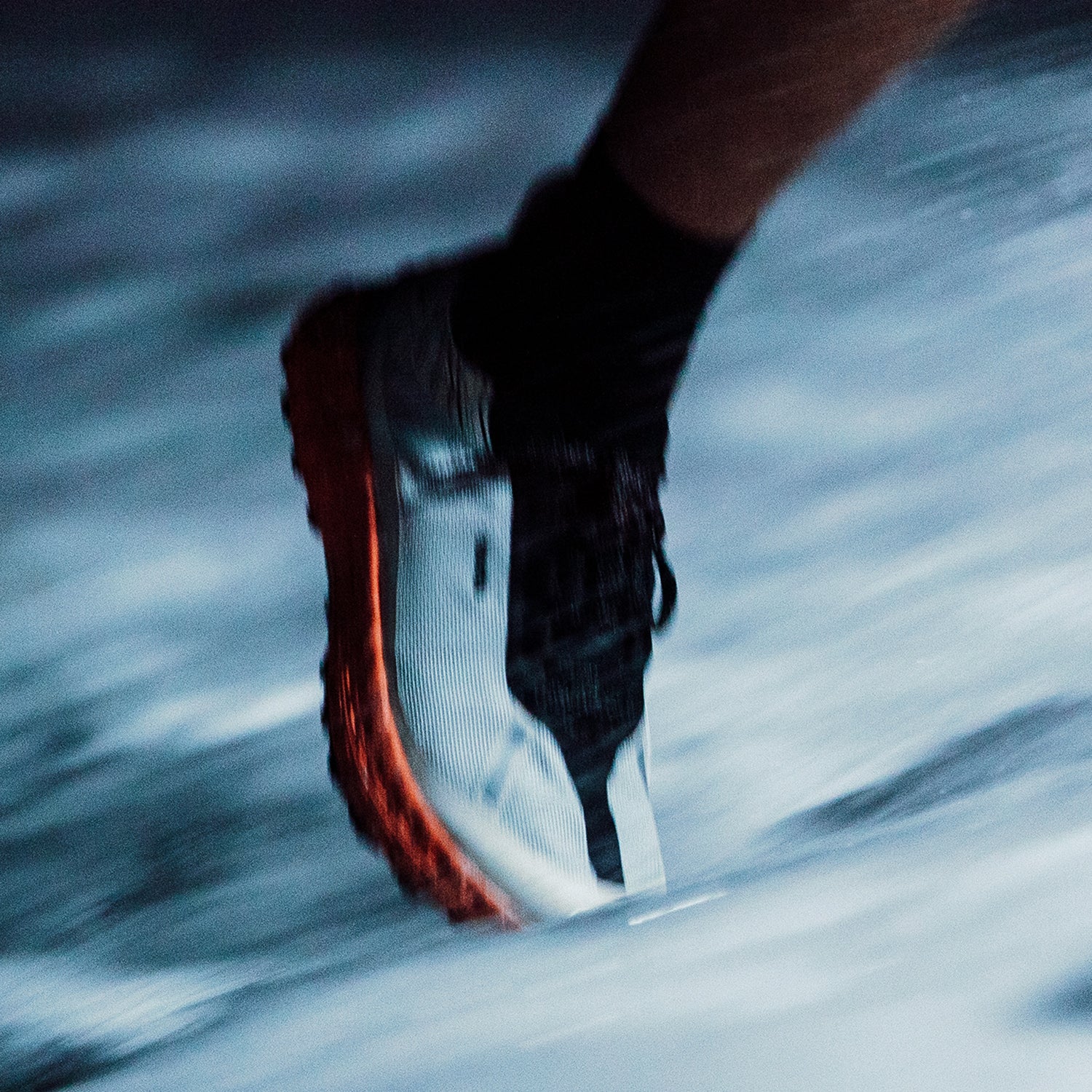 Courtesy Norda
Heading out the door? Read this article on the new Outside+ app available now on iOS devices for members! Download the app.
Norda 001 G+ Spike Review
MSRP: $270
Weight: 9.5 ounces (M); 8.2 ounces (W)
Stack Height: 26mm heel / 21mm forefoot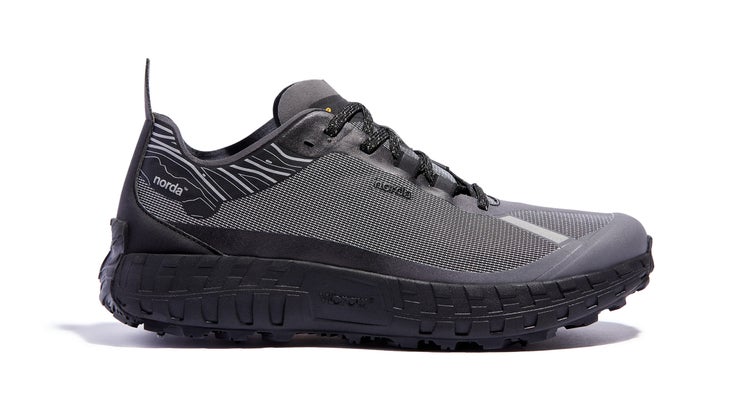 Boulder weather this winter has conspired to keep me, a life-long runner, from pursuing my activity of choice. First, we got ten inches of soupy snow on all surfaces, road and trail. That was immediately followed by two days of double-digit negative temps (take your pick between F and C, it hardly matters). As you can guess, we ended up with an icy layer blanketing the entire city. Then we got more snow. A lot more snow.
But I had a secret weapon. I was testing the Norda 001 G+ Spike, a carbide-tipped stalwart that chuckled at this attempt to thwart my running forays.
Free Gear Upcycling
When it's time to upgrade your gear, don't let the old stuff go to waste–donate it for a good cause and divert it from the landfill. Outside's partner, Gear Fix, will repair and resell your stuff for free! Just box up your retired items,
print a free shipping label
, and send them off. We'll donate 100 percent of the proceeds to
The Outdoorist Oath
.
Norda hails from Montreal, Canada and the 001 G+ Spike is the shoe the brand's founders, Willa Leus Martire and Nicholas Martire, have long yearned to make. They are passionate about this shoe, which provides steady traction for their Northern climes. And they take a "no compromise" stance as far as the material quality of their products, as well as preserving the environment as much as they can. Like the Speedland brand, this is not a company that will cheapen its product to reach a wider audience—hence the hefty price tag on the 001 G+ spike, which is worth it if you're willing to splurge for top performance and durability.
Proven Base, with a Twist
The 001 G+ Spike is, at its core, a studded version of the 001, Norda's popular original trail shoe, a steady, lightweight trainer. Like the 001, the 001 G+ Spike's midsole stacks up to a moderate 26 millimeters at the heel and 21 millimeters under the forefoot. Made of firmly-supporting and energy-returning "SLE," Vibram's proprietary midsole foam, it handles itself well in a wide range of temperatures with no noticeable change in flexibility. Adding to the cush is a five-millimeter TPU insole (think adidas Boost). Both versions grip the ground with a five-millimeter lugged outsole made with an exclusive tread pattern out of Vibram's malleable and durable performance Megagrip rubber compound and attached to the midsole with a 50% thinner and 30% lighter base than Vibram's traditional rubber.
What's different are the ten carbide spikes added to each shoe's sole, spread across the fore and rear of the foot for traction on icy surfaces over flat and hilly terrain. The spikes cannot be removed, so these shoes are limited to ice and snow, or trails without many rocks or pavement crossings. It goes without saying that the 001 G+ Spike is NOT to be worn on wooden floors unless you plan on reimbursing the floor owner for the ensuing damage.
The 001 G+ Spike is light for a winter runner at under 10 ounces (285 grams) for US men's size 8.5, but you'd only want to use it as a racer if you were running a winter ultra and needed its sturdy, supportive performance underfoot. The protective ride doesn't deliver the kind of low-profile feedback a racer requires for fleet-footed nimbleness during high-speed maneuvers, but, come winter training sessions, when just getting out the door is a victory, this dependable, snow-tires-for-the-feet feel is exactly what you'll want.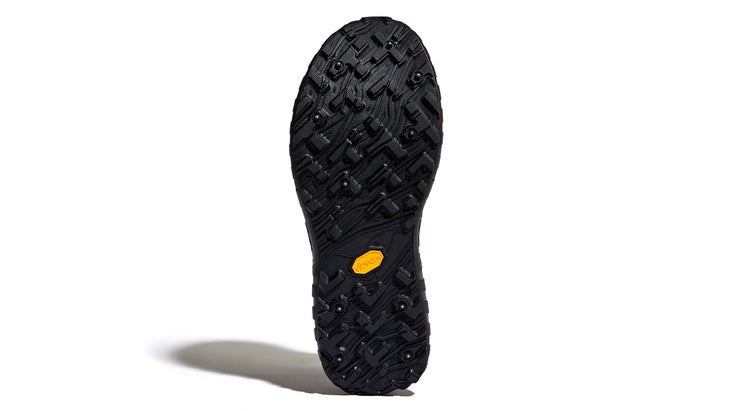 Bulletproof Top
The G+ Spike version adds one other twist: a Graphene membrane lining the upper. Graphene, Norda claims, is "the lightest, strongest, most conductive natural material on Earth," and this membrane is designed to increase the upper's ability to thermoregulate the foot. While the G+ membrane didn't magically warm my feet when running in ice-cold temps, I did note and appreciate that the liner is both waterproof and highly breathable, an almost too-good-to-believe combination in a winter training shoe. I was not able to detect the promised bacteriostatic effect of the liner, but, truth be told, I never ran through slushy puddles of fecund slime. I'll take their word for it.
The outer layer of the upper has its own magic material as well. One might accurately call the shoes "bulletproof," because they incorporate Dyneema threads. Dyneema, widely used in body armor, is known for its incredible tensile strength, measured to be 15 times stronger than steel threads of the same weight. Woven into the seamless upper and the laces, it adds abrasion resistance and overall durability. Dyneema is also bio-based, and given that it adds to the shoe's longevity, helps justify the shoe's price while also lowering the shoe's carbon footprint.
The fit is small and requires sizing up at least a half size, or a full size if you have a high-volume foot, because the forefoot is snug (although that is less of a problem in the cold, when the foot tends not to swell). The sizing is based on a unisex last so women need to convert their size for the right fit.
Notes from the Trail
When running in the 001 G+ Spike, my feet led me toward softer surfaces and favored ice and snowpack over dry ground and pavement. Hard surfaces made me more tentative, as though I was a dog with unclipped nails skittering across marble flooring. The shoe delivered plenty of cushioning for running on the soft surfaces the spikes require and the solid support kept me feeling stable on otherwise iffy terrain.
The best part, if, like me, you appreciate getting away from people: Being clad in the G+ Spike allows you to venture far away from traffic, making icy trails your close companions. As for the steep price? To have the confidence that I won't fall hard on ice and, therefore, will be able to get through what has been a long, cold, snowy winter while avoiding the dreadmill is worth it, especially since the Nordas promise to last several winters, given their highly-durable materials.
Lead Photo: Courtesy Norda