The Perfect Race-Day Bag, According to the Pros
A handful of endurance athletes on the food and gear they rely on at the start line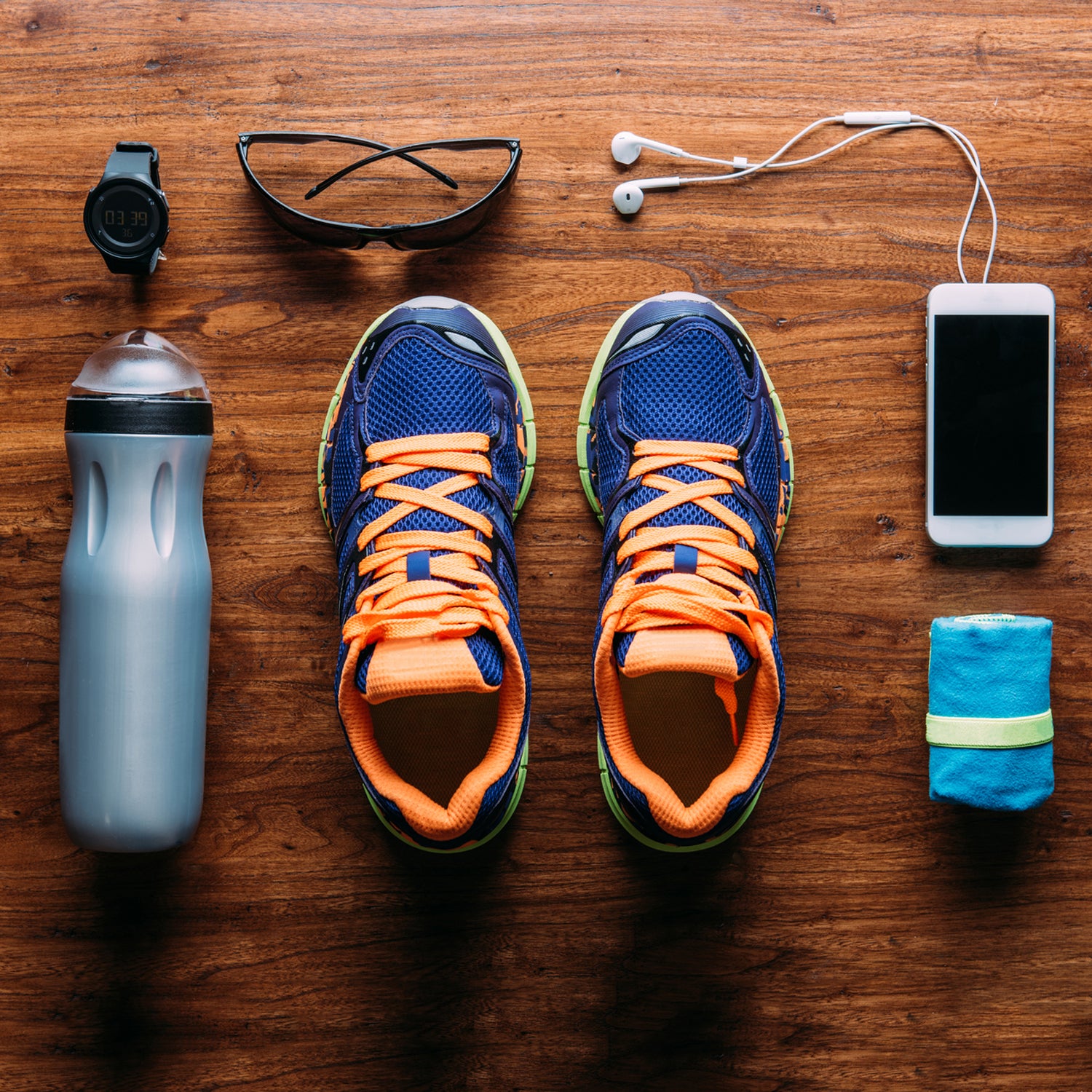 Heading out the door? Read this article on the new Outside+ app available now on iOS devices for members! Download the app.
You've trained for months, developed a race strategy, and fine-tuned your nutrition plan. Now it all comes down to the race-day bag. This kit is where function meets superstition—both equally important for endurance athletes—and where you stash everything you'll need before the start and after the finish.
We turned to pro long-distance racers to discover the items they can't toe the line without.
Runners
Shorts and Singlet: "I wear my race singlet and race shirts under my outer layers in the morning, but you'll see me constantly checking to make sure those magically didn't fall off of my body as I leave the hotel," says pro runner Tyler Jermann. Check the weather and make sure you have plenty of layers, including some that you can ditch midrace.
Shoes: You'll often wear different shoes in transit than you will to race. Pro runner Liz Costello reminds racers to check for their shoes before leaving the house or hotel, since plenty of people (including herself) forget that key item.
Socks: "I forgot to pack socks for my last trip…that was a little too less-is-more," says runner Jennifer Bergman. This is especially important if you rely on particular socks for optimal comfort.
Foot Roller: A lacrosse ball or portable roller can be fantastic for working out kinks post-race and (hopefully) preventing some soreness later.
Cyclists
The Accessories: Arguably more important than the clothing you're wearing. "Before leaving the hotel room, I always have to run through a checklist of helmet, glasses, gloves, shoes," says pro roadie Alison Tetrick. "I start from the top and work my way down to make sure I have the imperative equipment for the race."
Your Computer: "I double check and then triple check that I have my SRM head unit," Tetrick says. "Riding or racing without a cycling computer is like flying blind. I tend to study course maps and important turns, so I love being able to know where we are on the route."
Chamois Cream: For long road races, all the pros rely on this stuff to avoid friction and dreaded saddle sores—especially key during a stage race.
Flat Kit: A bike pump and digital pressure gauge for mountain bikes and cyclocross bikes, plus spare CO2 and tubes for in-race emergencies.
Face Wipes or a Wet Cloth: Cycling can kick up a lot of grime from the road or trails. Tetrick swears by portable wipes or a small washcloth to clean her face after the finish line. "No one wants to go to the podium with a road-grime unibrow!"
Safety Pins: There's nothing worse than realizing you have no way to secure your bib. Make sure to bring extras so you can pin on multiple numbers.
Triathletes
Specific Transition Bags: Keep a small container for each transition. For the swim, make sure you have goggles, swim cap, and Body Glide. For the bike, check that your bike, helmet, sunglasses, and cycling shoes are easily accessible. For the run, Body Glide your running shoes to prevent blisters and improve transition times, says Olympic triathlete Greg Billington.
Sunscreen: "A sunscreen stick is awesome because you can fly with it and it actually lubes as it protects," says pro triathlete Esther Atkins. She uses it as a combo sunscreen and lubricant to keep her clothes from chafing.
Sweatband: Once you're on land, you'll likely be dripping water from the swim and sweating all at once. Sarah Piampiano, a professional triathlete, recommends using a sweatband around your wrist to wipe your forehead and keep moisture out of your eyes.
Extra Everything: Given the length of a triathlon, the opportunities for mechanical or equipment breakdown are many. Have a few spares. Pro triathlete Katie Zaferes has become well-known to her fellow racers for her small Ziploc full of "extra goggles, rubber bands, extra hair ties, tampons, electrical tape, and gels."
Toilet Paper: The pre-triathlon Port-a-Potties attract quite a line. Pro triathlete Tim Don always brings a roll with him in case he can't spare the time to wait.
Everyday Endurance Race
Wallet, Keys, and Phone: You should keep these essentials on hand in the event of an emergency, especially if you don't have family or friends in the crowd. To keep things lightweight, use a silicone card pocket stuck to the back of your phone to hold your ID and a credit card.
Your Bib: If you picked up your packet before race morning, double and triple check that your bib number or chip timer are safe, Don says. If you get to the starting pen without either, you're too late.
Race Nutrition and Hydration: By this point, you should know what you're bringing to fuel midrace. It's more about how you plan on carrying all those items and making sure you have plenty of time to perfect your setup. Take an hour the night before to create your hydration mixes and pack your GUs or gels into the precise pockets or compartments where you want them to be during the race.
Post-Race Snack: Almost every pro sticks a protein shake, powder, or bar in his or her race bag for immediate consumption after the finish line. "Getting food in immediately following a race is so key," Piampiano says. She goes for hard-boiled eggs paired with a Clif Nut Butter Bar.
Headphones: Essential for pre-race pump-up tunes and that midrace wall you're afraid of hitting. "I have a whole playlist that I use to visualize my race as I run," Piampiano says. Note: Some races won't let you wear headphones during the race, so be sure to check out the rules ahead of time.
Bags in Bags: Ellen Noble, 2017 silver medalist at the World Championships of Cyclocross, has a bag for everything to put inside the larger finish-line bag that the race provides. "Doing this has cut my pre-race stress in half! When I'm looking for something, I just grab its specific bag," she says.
Booze: "Use it as a thank you to your staff or teammates, or to celebrate a win, or to take the edge off defeat, or as bribery to get some extra snacks," Tetrick says.
Dry Clothes: There's nothing worse than a wet sports bra. Bringing a fully dry change of clothes is key to post-race comfort, Atkins says.
Trending on Outside Online