Supershoe Simplified
Topo's super-foam-powered Cyclone 2 perfects the brand's vision of combining the best qualities of natural-movement footwear and cushioned running shoes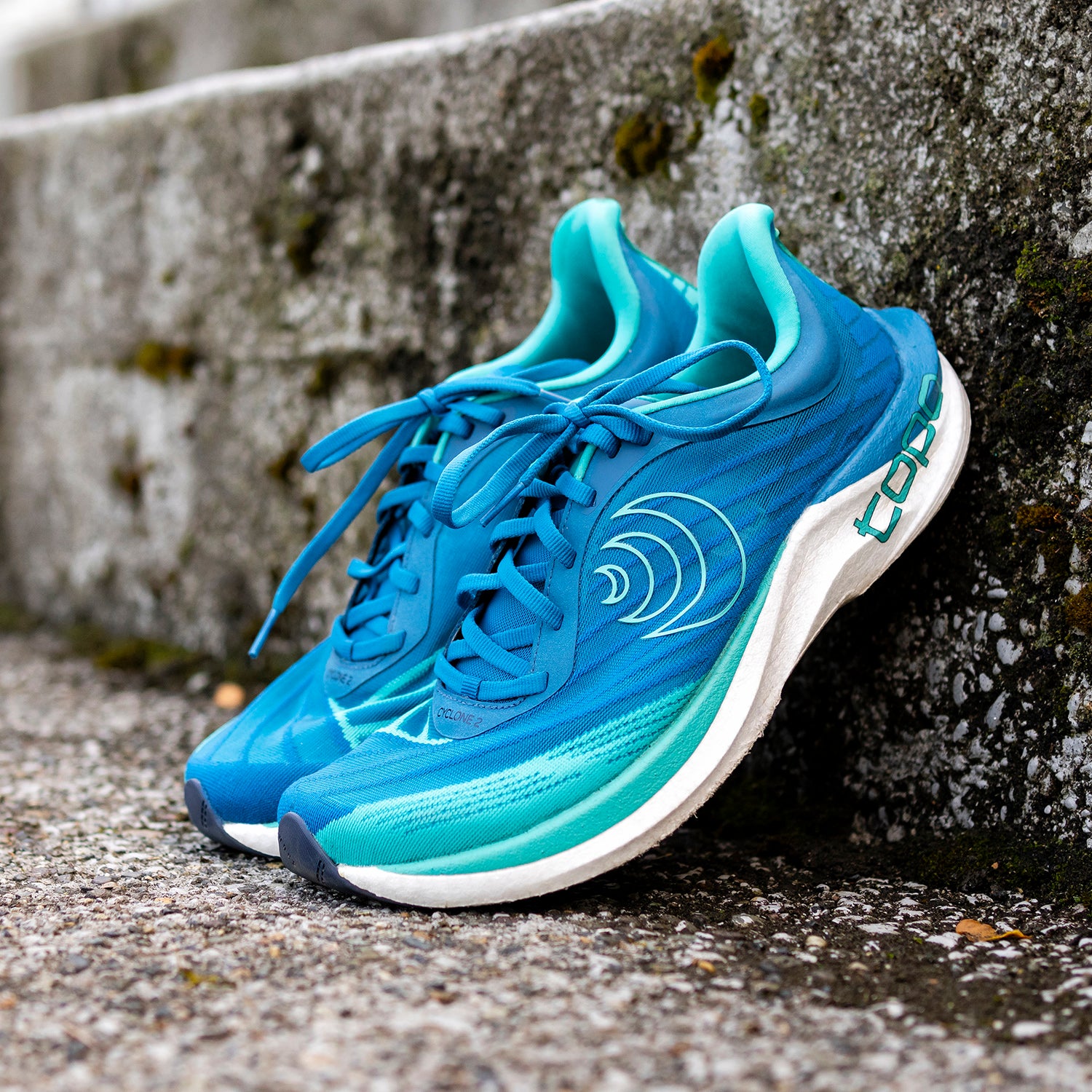 Heading out the door? Read this article on the new Outside+ app available now on iOS devices for members! Download the app.
Topo Cyclone 2 Review
MSRP: $150
Weight: 5.5 ounces (women's), 6.9 ounces (men's)
Stack Height: 28-millimeter heel / 23-millimeter forefoot (5mm drop)
I realized how attached I had become to Topo's completely-new Cyclone 2 when I found myself putting off writing this review so I could run in the shoe more and not have to move on to testing others. This shoe makes me smile and puts a spring in my step every time I head out the door in them.
When Tony Post founded Topo Athletic in 2012, he told me his goal was to "allow the foot to be in a more natural environment, but give it the chance to adapt." To accomplish this, he combined principles of minimalism that had transformed his own running with more traditional running shoe design. "I like a shoe that allows your toes to spread and splay, but want it to feel connected to your body," he said. "A shoe with a little bit of protection underfoot, but not heavy layers of cushioning—something that allows the body to work and move naturally."
All Topos since have followed these guidelines: they provide ample forefoot room while snuggly securing the foot from heel to arch, and have low-drop, flexible soles that combine light cushioning with a connected, responsive ground feel. Not until now, however, has a shoe fully realized Tony's initial vision as fully as the Cyclone 2—a shoe that moves like a minimalist model and provides a stable, proprioceptive ground connection while cushioning and bouncing like a supershoe.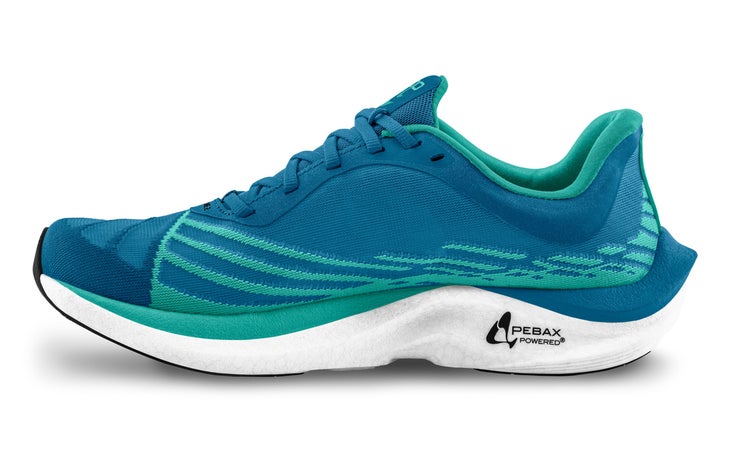 The Cyclone 2's magic stems from its Pebax midsole. First experienced in the Nike Vaporfly 4%, Pebax has proven to be the unparalleled ingredient of supershoe racers. The beauty of the foam is that it combines ultra-light weight, a super-soft feel, and an über-bouncy response in the same material. The material deflects and rebounds so powerfully that shoe designers of thick supershoes have had to embed rigid, curved plates in it to make it stable enough to support effective running and keep the stride momentum rolling and springing forward.
A few shoes have played with using Pebax without the plate, including Topo's Specter, which surrounds a Pebax core with a frame of firmer foam to maintain stability. The combo creates a comfortable, effective trainer, but dampens the Pebax's zing. The Cyclone 2, in contrast, rides on an untethered, uncaged Pebax midsole and relies on a low stack height and wide base of support to maintain stability and harness the foam's bounce.
While I appreciate the responsiveness of Pebax in other shoes, I've not been a fan of its excessive squish, so I was anxious to see if the Cyclone 2's formula worked. I've now spent three weeks running in the shoe, which has included some speedwork, an hour-long run, and daily miles ranging from effortless cruises to dead-leg slogs. I haven't put in the volume needed to assess their durability, but I have put them through enough paces to know how their ride compares to other models.
My verdict? I'm a fan. The Cyclone 2 reminds me of eating at a top-end restaurant where the food requires no embellishment but is presented simply and cleanly to let its superb qualities stand alone. Like a swordfish fillet or a Wagyu steak, the Cyclone's full Pebax midsole shines without need of any doctoring in the form of plates, frames, or layers. This delicacy is unobtrusively accompanied by a near-invisible upper that complements the midsole's properties.
The keys to the smile-inducing ride reside in the midsole's thickness, density, and geometry. The sole is soft enough to compress, but the thinness keeps it from sinking too far. Just after the soft touchdown, the foam firms up, but before it bottoms out, it bounces back with an energetic rebound. The shoe's ample width from heel to toe ensures my foot doesn't roll sideways as I land, stand, and push off.
The Pebax foam is also superbly flexible, adapting smoothly to any landing and moving with my foot through the stride. Unlike many of today's shoes that are essentially thick, rocking platforms we carry around to land on, the Cyclone feels like an extension of my foot that enhances the ground feel but lets me move and propel naturally.
The upper complements the sole by staying out of the way and simply doing its job of holding my foot in place. It's made of a thin, flexible, airy engineered mesh that wraps smoothly. The thicker lines that improve security and durability are part of the weave, not a separate material stitched or bonded to the upper, reducing weight and stiffness.
The only overlay is a thin, soft plastic layer bonded to the inside of the upper under the edges of the insole on both sides. "We use this type of internal rand construction in many of our products to improve the shoes' durability and fit," says product manager Russ Stevens. The combination of the rand, the slightly cupped midsole, and the snug mid-foot fit makes my arch feel lightly wrapped and supported, but not controlled.
Farther toward the forefoot, the shape opens up and stays far away from the toes. It's so wide, in fact, it feels a bit sloppy when hitting my top speed—but the fit is both comfortably snug and welcomingly roomy at 5K race pace or slower.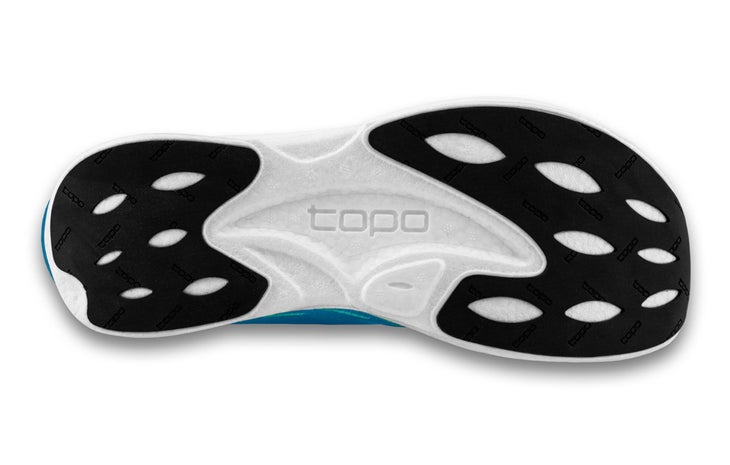 Underfoot, the only thing that lies between my sole and the soft midsole is a five-millimeter-thick Ortholite sock liner made of responsive PU foam. It is anchored from slipping around by a thin liner of perforated EVA over the cloth stroebel that holds the upper onto the midsole. The outsole is similarly minimal: two pads of two-millimeter-thick, smooth-but-grippy rubber over the heel and forefoot. While I wonder about the durability of the exposed Pebax between patches, so far I've never found the sole inadequate, whatever the surface or conditions.
It adds up to a delightfully light and spry shoe. I'll grant that the Cyclone 2 doesn't have the enhanced roll and trampoline boing of carbon-plated, high-stack supershoes. But what it lacks in mechanical pop it makes up for in foot activation and natural movement, while retaining the soft-and-bouncy feel of top-end racers.
Bottom Line
The Cyclone 2 disappears on your foot and stays out of the way while delivering a fun, responsive ride with exquisite ground feel.
Similar Shoes
Tracksmith Elliot Runner ($198)
Weight: 8.4 oz. (women's size 8), 9.2 oz. (men's size 9)
Stack Heights: 33.5-millimeter heel / 24.5millimeter forefoot (9mm drop)
With a similar, simple, full-Pebax midsole, the Tracksmith Elliot also delivers a smooth, energetic ride. The foam in the Tracksmith is tuned somewhat firmer, and the heel is higher and the drop greater than in the Cyclone 2. Plus the Tracksmith's upper is more substantial and the toe is tapered traditionally.
Altra Vanish Tempo ($190)
Weight: 6.9 ounces (women's) / 8.2 ounces (men's)
Stack Height: 33-millimeter heel / 33-millimeter forefoot  (0-millimeter drop)
Altra's Vanish Tempo also has a footshaped last, but a slightly narrower, snugger fit and less heel-toe drop than the Cyclone 2. The Altra uses a proprietary responsive foam that is similar but not quite as soft as Pebax. With a thicker stack height than the Topo, particularly in the forefoot, the Vanish Tempo's ride feels more protective and somewhat bouncier than the Cyclone 2, but at the cost of some stability and ground feel.
Skechers Razor 4 ($145)
Weight: 6.4 ounces (women's) / 8.0 ounces (men's);
Stack Height: 30-millimeter heel / 26-millimeter forefoot (4-millimeter drop)
With a similar stack height and drop, and a TPU-based, soft-and-responsive superfoam midsole, Skecher's Razor 4 delivers much the same responsive ground feel and cushioned ride, albeit one that's a tad firmer than the Topo's. The Skechers has a winglet plate bolstering forefoot stability and enhancing its roll, and a traditional, tapered fit.
Saucony Tempus ($160)
Weight: 7.9 ounces (women's) / 8.9 ounces (men's)
Stack Height: 36.5-millimeter heel / 28.5-millimeter forefoot (8-millimeter drop)
Like the Cyclone 2, Saucony's Tempus employs a full-length slab of Pebax underfoot and has a wide, stable base. The Tempus, however, has a higher stack height and drop, and adds a frame of firmer foam along the sides and under the forefoot, making the ride more stable and less flexible than the Topo.
Lead Photo: Stephen Matera / Topo