The Best New Winterized Running Shoes
These eight water-shedding shoes laugh in the face of snow, sleet, slush, and rain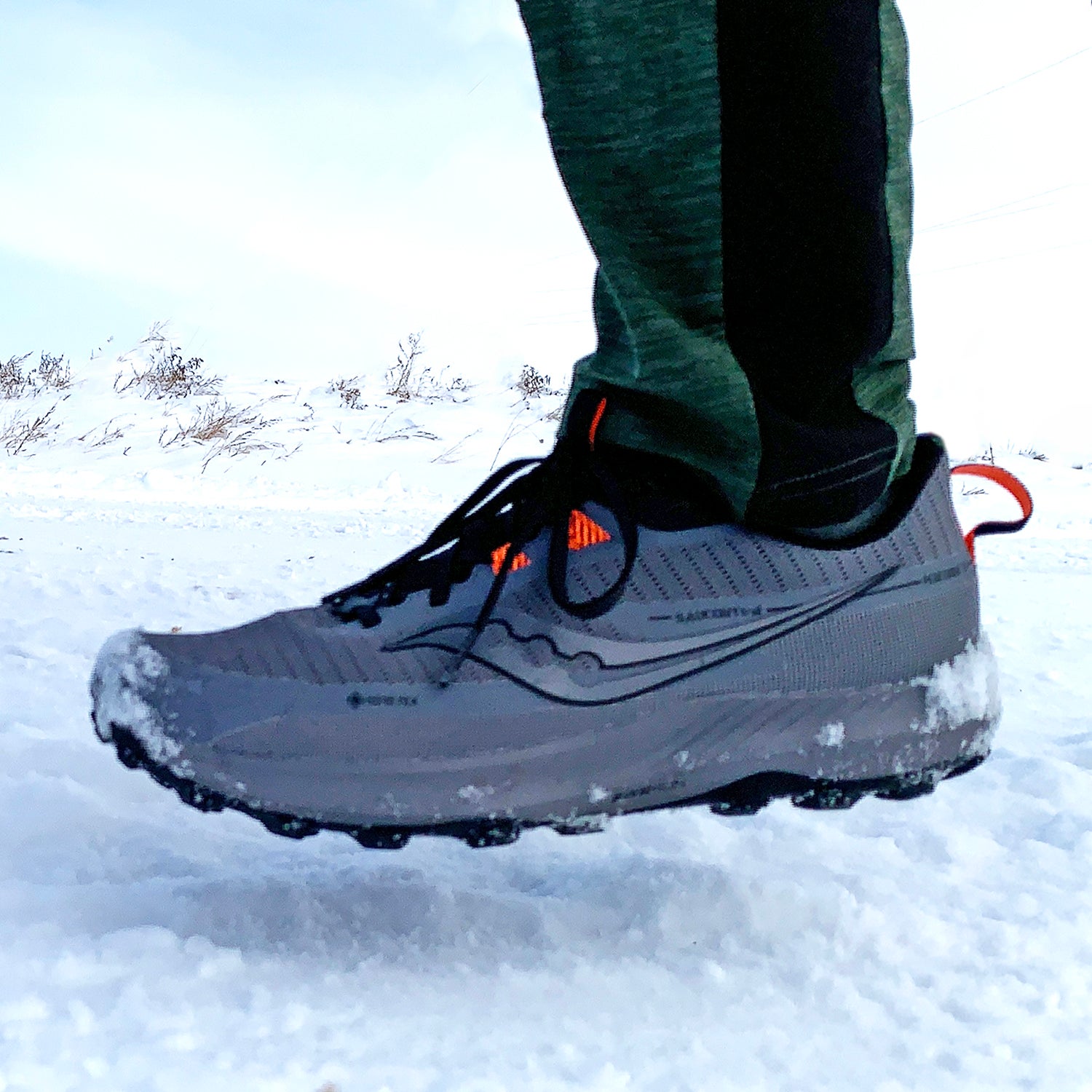 101 Degrees West
Heading out the door? Read this article on the new Outside+ app available now on iOS devices for members! Download the app.
Winterized running shoes have come a long way from the heavy, clunky, almost boot-like waterproof kicks offered a decade ago. Today's fleet range from light and speedy semi-supershoes for uptempo road running to shoe-and-gaiter combos for tackling snow-covered mountain trails. Some are even equipped with spikes to make quick work of otherwise impossibly slick icy surfaces.
All winterized shoes help keep feet warm as they block wind, and they tend to have thicker, less-breathable uppers—a benefit even in dry cold-weather conditions. The good ones breathe just enough to not get clammy inside, too, but most runners find their feet get hot in winterized shoes in temps higher than about 40 degrees.
Waterproof shoes also keep feet dry by blocking out snow, rain, splashes, and slop. Water-resistant shoes add warmth and usually breathe fairly well, but don't keep feet as dry as shoes with uppers that are fully lined with waterproof membranes and sealed at every seam. Besides reducing cold and wetness, all winterized shoes keep your shoes from soaking up water and gaining weight. (We're all for winter strength training, but lugging around waterlogged footwear isn't the way to do it.)
If you live where it rains hard enough, or run through snow or puddles deep enough, waterproofing becomes rather moot due to that big hole in the top of the shoe—you know, where your foot steps into it. In these conditions, a high-top, built-in gaiter will make a world of difference in keeping you dry and comfortable.
I and a small group of testers put numerous winterized running shoes through their paces on snow and slop in and around Boulder, Colorado, and recommend these eight models to keep you comfortable through your winter runs.
Trail Shoes
Saucony Peregrine 13 GTX ($160)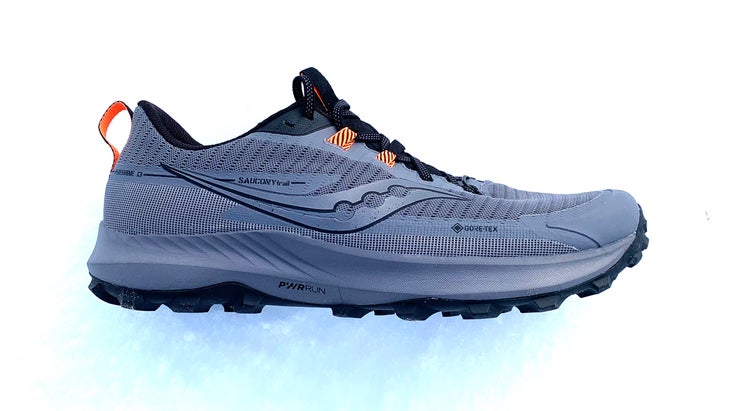 This Gore-Tex-lined shoe kept my feet warm and dry on a four-mile trail run in six inches of fresh snow. It kept me upright on a mountain run with a slushy, snowy ascent and rocky descent, and was warm, comfortable, and capable on neighborhood runs where the streets had become snow-covered "trails." One of the Outside shoe testers gushed, "These things are burly AF." Yet, at 9 ounces (women's), they're rugged without weighing you down. Like the non-Gore-Tex Peregrine 13, the GTX version is low-to-the-ground (28mm/14mm) and nimble, with confidence-inspiring traction and just the right amount of cush.  10.1 ounces (men), 9 ounces (women); 4mm drop 
BUY NOW (Available February 7)
HOKA Speedgoat 5 GTX ($170)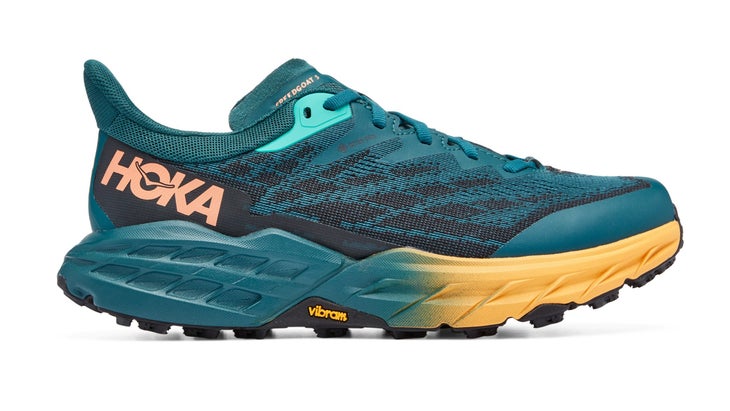 With 30 millimeters of cushioning under the heel and 26 millimeters under the forefoot (for the women's model; 32/28mm for the men's), the Speedgoat 5 GTX has the largest overall stack heights of all trail shoes in this round-up—they are Hokas, after all. I found a new appreciation for the height: I could step in icy puddles and my feet stayed well above the waterline—and therefore, warm and dry. The cushioning was welcome on both rocky trails and hard, frozen dirt. Waterproofing comes from a Gore-Tex "Leaf" membrane (made with recycled components) beneath a double-layer jacquard-engineered mesh upper. The combo makes for a protective, yet soft, flexible, and comfortable upper. Five-millimeter Vibram Megagrip lugs provide great traction. 11.5 ounces (men's), 9.6 ounces (women's); 4mm drop
Salomon Speedcross 6 GTX ($160)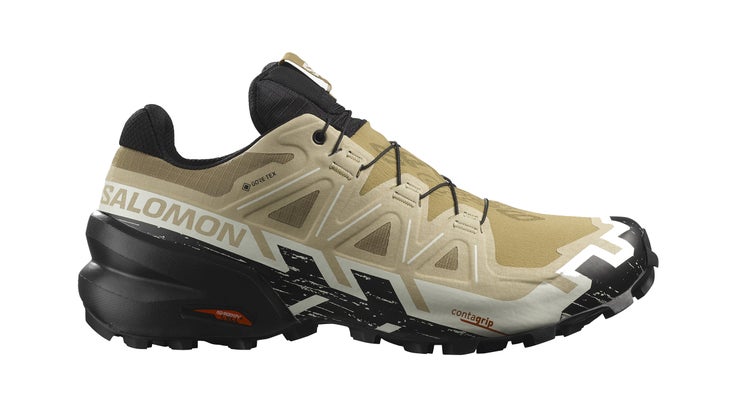 The Speedcross 6 GTX's five-millimeter lugs may be the same depth as those on other shoes in this roundup, but they feel far more aggressive. Due to their broad spacing, sharp edges, and multidirectional arrow shapes, it's like you're wearing microspikes or crampons for traction on soft snow and slop. Like the non-Gore Speedcross 6, this shoe has a narrow profile and Kevlar quick laces for a snug, secure fit, which combine with the traction for an overall nimble feel. A Gore-Tex membrane and anti-debris mesh upper made of durable Ripstop nylon add to the ready-for-anything feeling of these shoes. (They're also great easy step-in shoes for ski resort parking lots.) Bonus: They're made from recycled material. 11.6 ounces (men's), 9.8 ounces (women's); 10mm drop
Scarpa Ribelle Run Kaibra G ($240)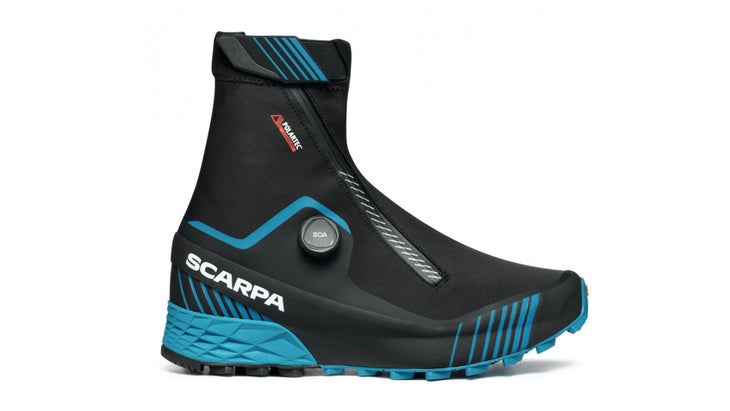 With the bones of a low-volume, mountain-capable Scarpa Ribelle Run trail shoe underneath a winterized outer softshell, this shoe can handle all kinds of winter adventure. A twist of the BOA Li2 dial on the outside secures the hidden Dyneema laces across your foot, eliminating the hassle of opening and digging under the outer wrap to tie or adjust traditional laces on the inner shoe. The softshell gaiter—a Polartec Windbloc—is not fully waterproof, but we found it cuts biting winds and sheds moisture with aplomb. The outsole's sticky rubber grips rocky sections of trail for confident maneuvering, and a band of TPU rubber wraps around the entire shoe to both enhance durability and allow you to "smear" (climber talk for pressing rubber against rock for traction). 13 ounces (unisex sizing); 4mm drop
La Sportiva Blizzard GTX ($245)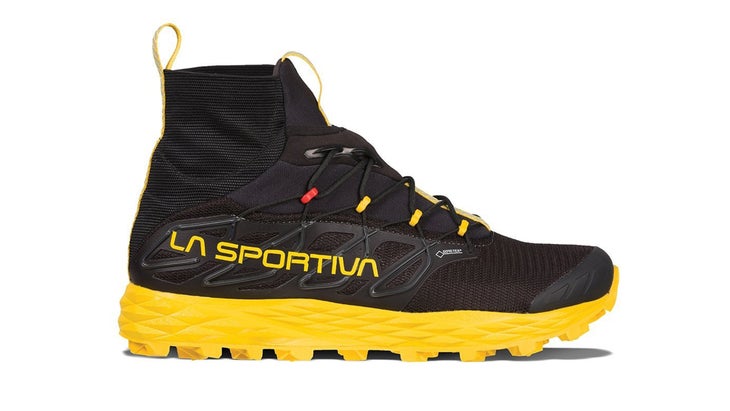 Tungsten alloy spikes that protrude ever-so-slightly from the lugs of these shoes turn slick, icy conditions into regular trail. Six spikes under the forefoot grip going uphill and four under the heel offer braking on descents. The set-up works: I've worn these on mountain runs in mixed snow and ice and felt sure-footed the entire route. The single-cord lacing system effectively pulls the upper—a nylon mesh/Gore-Tex membrane combo with durable and protective TPU overlays—securely around my narrow feet for an added feeling of control. And the four-way stretch, water-resistant Dyneema scree guard that extends around the ankle moves comfortably with me while keeping trail gunk from sneaking in and irritating my feet. 13.3 ounces (unisex sizing), 6mm drop
The North Face Flight VECTIV Guard Futurelight ($250)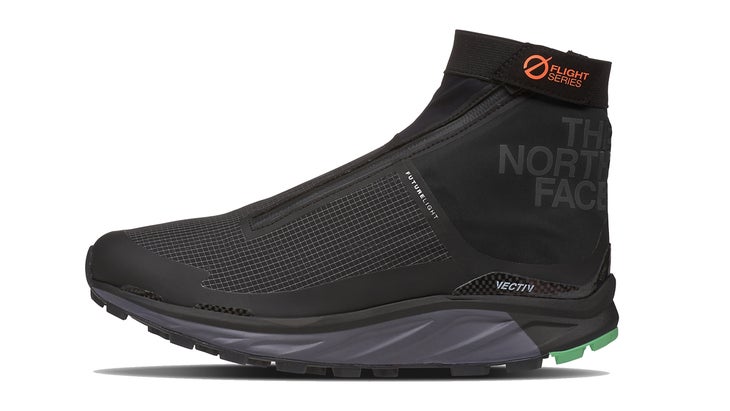 The only carbon-plated, winterized trail shoe, The North Face Flight VECTIV Guard Futurelight offers the pop of a plated shoe with the total protection of an integrated waterproof/breathable ankle-high outer shell. The shell kept my feet and ankles completely dry and comfortable, without overheating, on a winter run in the Indian Peaks of Colorado, where I had to navigate water running down the middle of the trail as well as sections of deep snow. The responsive, rockered midsole combined with secure traction gave me the confidence to pick up the pace, especially downhill, making this shoe somewhat of a unicorn—as lacing up winterized trail shoes usually leads to slow slogs. 10.8 ounces (women's); 6mm drop
Road Shoes
Saucony Endorphin Speed 3 Runshield ($180)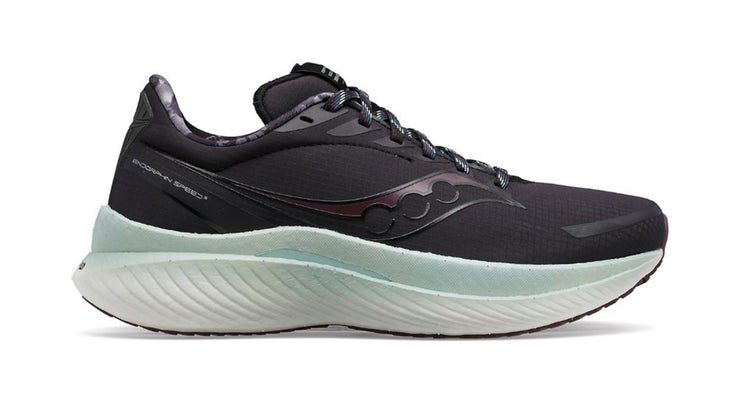 Winter doesn't necessarily mean long, slow base miles for everyone. (Spring marathon, anyone?) I found the Endorphin Speed 3 Runshield a peppy, lightweight trainer that encouraged uptempo runs. Its responsiveness stems from the S-curved, winged nylon plate sandwiched between thick layers of lightweight, springy foam (PWRRUNPB) that has made the non-winterized Endorphin Speed perennially popular. The water-resistant Runshield kept my feet warm on runs down to 25 degrees, even in thin socks, while breathing plenty well enough to vent sweat. This isn't a completely waterproof shoe, but the water-resistant upper was sufficient for most mild winter road miles, and any sloppier conditions would call for trail shoes with better traction. 8.1 ounces (men's), 7.2 ounces (women's); 8mm drop
Brooks Ghost 14 GTX ($160)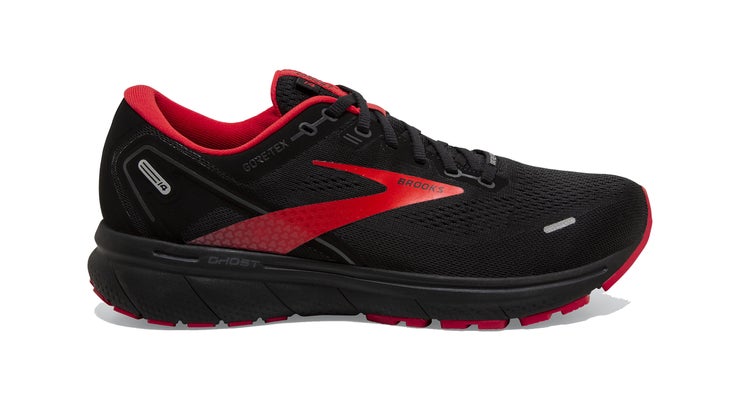 A Gore-Tex membrane bonded directly to the mesh upper of the Ghost 14 GTX turns this cushy neutral road shoe into a winter workhorse. The Gore-Tex layer adds warmth on cold and dry runs, while protecting feet from rain, sleet, and snow. The cushioning—Brooks' DNA Loft— is as soft, forgiving, and lively as it is in the non-Gore-Tex version of this shoe. I found this Ghost comfortable on long and short road runs alike in wet or just cold weather, but its road-only outsole isn't grippy enough (nor does it claim to be) when snow cover made roads more suited for trail shoes. I also appreciated this shoe for its low-profile styling; it worked great for spectating youth soccer games on wet fields (soccer/lacrosse/XC parents, you know what I'm talking about). 10.7 ounces (men's), 9.8 ounces (women's), 12mm drop
Lead Photo: 101 Degrees West