Topo Athletic's Most Cushioned Road-Running Shoe Is Its Best Yet
The Specter is a speedy super-foam trainer that supports your stance and lets your feet engage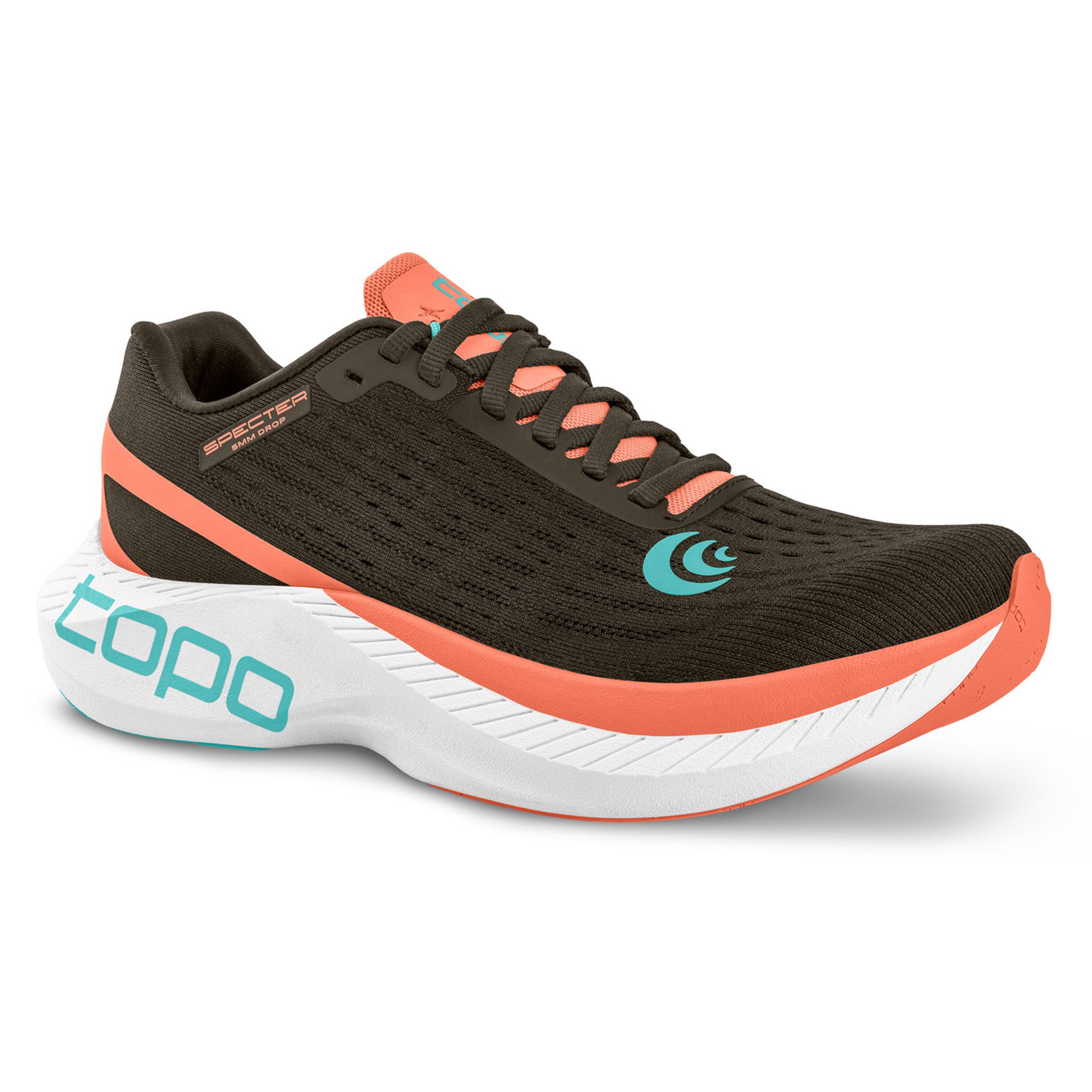 101 Degrees West
Heading out the door? Read this article on the new Outside+ app available now on iOS devices for members! Download the app.
Topo Athletic Specter Review ($150)
Weight: 6.9 ounces (women's) / 8.1 ounces (men's)
Stack Height: 35-millimeter heel / 30-millimeter forefoot / 5-millimeter drop
Topo Athletic's first high-stack, cushioned performance shoe lands in a crowded category of lightweight, bouncy trainers and racers. But the Specter manages to stand out due to its generous forefoot fit, balanced cushioning and stability, and natural, smooth-rolling ride.
If you're unfamiliar with Topo Athletic, the Boston-based company was born in 2013, one of the brands that emerged from the ashes of the minimalist movement. Topo's founder, Tony Post, served as president and CEO of Vibram USA in the 2000s, and was instrumental in popularizing the Five Fingers as a running shoe before starting his own brand. The shoes he created are designed to allow a natural stride while providing comfort and support. Distinguishing features include a roomy toe box to let toes splay for natural balance and propulsion, a low heel-toe drop to gently reduce overstriding, and, until now, relatively low stack heights.
I've also always appreciated the brands' underfoot sensation, which I would call comfortably firm. It's something akin to running on the wet sand of a beach that waves have just washed across: the surface gives under your foot but maintains a firm, supportive base you can dance over—in contrast to the dry sand where you keep sinking in as you try to stabilize and push off. Through the years, even while evolving their cushioning, Topos have consistently provided this sensation of responsive stability.
Thankfully, when they set about to create their highest-stack, most cushioned model to date, the Topo designers considered it important to maintain this soft-but-grounded feel. They accomplished this combination by using two foams underfoot. The core of the Specter's midsole is made of ultra-light, ultra-soft, bouncy Pebax foam (as in the Nike Vaporfly) which compresses and coddles the foot's contours before springing back. This squishy foam doesn't sink too far, however, as it is surrounded on the bottom and sides by a somewhat firmer EVA-blend foam. "You get the best of both worlds," says Russ Stevens, product manager at Topo, "A really fast ride underfoot, with a neutrally-stable platform. When you get up in mileage and your form starts to break down, you stay over the platform."
To see if the claims were true, I wore the Specters for three weeks of daily runs, including a progression run, a tempo run, and some longer efforts—plus I packed them on a trip to Chicago where I did miles on a concrete lakefront path. I've not put in the volume needed to assess their durability, but have clocked enough time to dial-in their fit and note their feel at a variety of paces and levels of fatigue.
I found the Specter's ride far more cushioned than previous Topos, but still underlayed with the security of a stable platform that supported my stance—so much so that I'd note my feet and lower legs relaxing as runs progressed. The shoe felt like it complemented my natural stride pattern and delivered an efficient ride that seemed to reduce fatigue.
The half-height layer of Pebax, however, didn't produce as much boing as shoes with thicker slabs of energy-returning foam, and the forefoot rocker was less dramatically curved and more flexible than many similar models—both of which make the ride somewhat less propulsive than other shoes in this category. But I'll take that tradeoff in a training shoe, to avoid the sensation of balancing on a squishy superball or having to alter my stride to match the roll of a rigid plate.
I most appreciated the ample forefoot space, letting my feet spread out luxuriously and my toes engage for a stable stance. The toe box is easily the roomiest in this category, as even Altra, the competing foot-shaped brand, has changed to a new, slimmer last for their speedy models. But the Specters' heel and midfoot are snug, and its flexible, engineered mesh upper with internal support straps and tightly-spaced eyelets securely locked my average-width foot down at speeds up to about 10K pace—anything faster than that and the hold started to feel sketchy.
Overall, I found the Specter consistently delivered the easy comfort and support of a dependable, fast friend who is always ready for a run at any pace—which made me keep reaching for them even when I should have been moving on to test other models. This would be a great shoe to train in for a marathon or half where you plan to compete in a high-stack, plated racer, as they provide a similar geometry (so you're practicing the same stride patterns) but let your feet activate and get stronger, making you more powerful on race day.
The Specter Is for You If:  You're a runner who values a generous forefoot and a comfortably firm, stable platform in a versatile, light, speedy trainer. It's a great option for those who find plates too prescriptive or full super-foam midsoles overly squishy and unstable.
What They're Best For: The Specter shines when you're cranking out training miles on daily runs, long runs, and uptempo efforts at marathon or half-marathon pace.
---
Similar Models:
Altra Vanish Tempo ($190)
Weight: 6.9 ounces (women's) / 8.2 ounces (men's)
Stack Height: 33-millimeter heel / 33-millimeter forefoot / 0-millimeter drop
Similar shape, but with slightly narrower fit. More aggressive rocker. Full-height super foam midsole makes the ride bouncier and more cushioned, but with a less stable stance.
Weight: 7.9 ounces (women's) / 8.9 ounces (men's)
Stack Height: 36.5-millimeter heel / 28.5-millimeter forefoot / 8-millimeter drop
Similar midsole frame construction but with more PEBA foam underfoot for a softer feel, more bounce, and smoother heel landings. Higher frame on the sides of the midfoot provides more rotational motion control. Narrower toebox.
Hoka Mach Super Sonic ($150)
Weight: 6.9 ounces (women's) / 8.3 ounces (men's)
Stack Height: 29-millimeter heel / 24-millimeter forefoot / 5-millimeter drop
Similar two-layer midsole construction, slightly flexible rocker, and cushioned-but-supportive ride. Narrower forefoot, and stiffer, more secure upper.
Lead Photo: 101 Degrees West