The Exercise Mask Our Gear Guy Swears By
This face covering is good for both all-day wear and working out
Sarah Jackson(Photo)
Heading out the door? Read this article on the new Outside+ app available now on iOS devices for members! Download the app.
The question I've been asked most during my six-and-a-half-year tenure as Outside's Gear Guy is: "Are Yeti coolers worth the money?" (Yes and no.) It's a sign of our current times, however, that this has been surpassed in the past two months by: "Is the Under Armour Sportsmask worth the money?" People have asked me in the store, at a car dealership, while running, and while doing pull-ups on monkey bars at a park. My answer is a resounding yes.
The reason? It's the most comfortable and usable mask of the dozen I've been testing for the past six months, ideal for both all-day wear and hard workouts. (But please note that this is not a medical or surgical mask.) I thought I would need a quiver of face coverings when I realized that wearing them would become part of our daily routines, but this is the only one I really need.
The longest I've worn it without taking it off was for seven hours, when I purchased a Toyota Tacoma. While the dealership figured out my financing, I honestly forgot I had it on. The slight structure kept the polyester and polyurethane fabric (which felt similar to a nice, insulated base layer) off of my nose and mouth, so it didn't feel constrictive or hinder my breathing.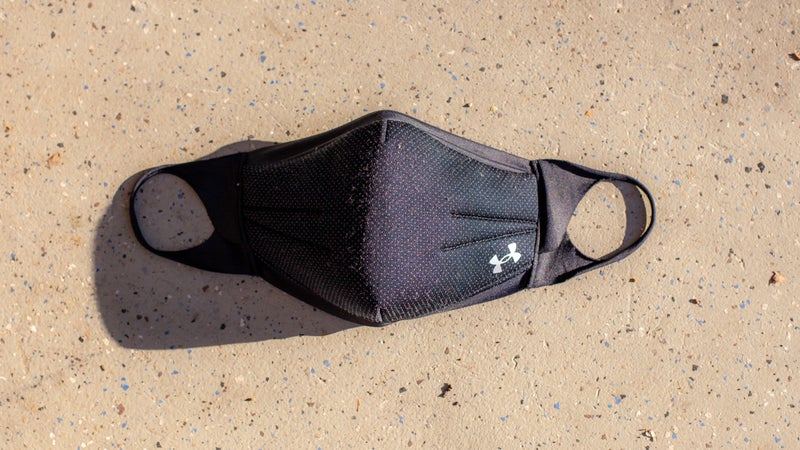 The soft and supremely stretchy ear bands are made from a nylon-spandex blend that never rubbed or pulled at the back of my ears, unlike the cords of most masks. Even so, the straps create plenty of tension, which kept the mask firmly attached to my face. The bendable nose bridge also allowed me to dial in the fit above my beak so it wouldn't slip down. This is a tall task: I have a rather large, bulbous nose, and it's a nightmare in most masks. The angle of my bridge and the curvature of the snout itself create a steep slope to a cornice—perfect for sending poorly fit coverings off the edge. Yet I've never had to pull the Sportsmask back up over my nose.
The Sportsmask is also the best mask I've used for exercising. The first test I conducted was a circuit that involved sprints, push-ups, and kettlebell swings. Breathing was significantly easier, and it held to my face more effectively than any other version has. The fact that this mask provided complete coverage while still keeping a pocket of air in front of my nose and mouth helped mitigate the feeling that I was being tortured while sucking for air between sets. Don't get me wrong: it sucks to exercise in any mask, so I'm not going to tell you Under Armour cracked some secret code to create full oxygen flow, but it's the best option I've encountered for allowing you to breathe while keeping your airways covered.
I firmly believe that the investment in this mask is worth it for anyone. When I recommend products, I often add a caveat like, "These skis are totally worth the extra $500 if you ski perfect powder 50 days a year." There is no such caveat with this mask. At $30, it's roughly double the price of other performance masks on the market. But I would argue that its fit, comfort, and breathability mean you will use it twice as much.
Lead Photo: Sarah Jackson