Gear Guy
What's the Best Hydration Pack?
What's the best way to haul water when running long distances?
Heading out the door? Read this article on the new Outside+ app available now on iOS devices for members! Download the app.
We've tried CamelBaks, fanny packs, even holding a water bottle in one hand for miles and miles. But just last week, while battling summer heat, poorly marked trails, and sudden thunderstorms, I found the best solution yet, a small nylon carrier called the Fluid Race Vest (Mountain Hardware, $60). It holds tons of water, plus gels, goos, and other nutritional space-food for long runs. I don't always incorporate the products we test here at Gear Guy into my daily routine, but I've been using it on regular runs, not just races.
The only downside? Style points. In the annals of technology, it must be axiomatic that any true innovation makes you look like a total dork.
The Fluid Vest is a new running accessory for keeping hydration and supplies close at hand. It's a good one. But I had to get used to the appearance. During the testing period, my running friends said I looked like an organ grinder's monkey, a futuristic morris dancer, and a guy who shrunk his frame pack in the wash. So what? Among all the technical gear in a race, it wouldn't stand out. And it's not like I'm not going to wear it to the record store.
Weighing in at around five ounces, the Fluid was designed for ultramarathoners, specifically for holding all the supplies needed between far-flung water stops. Its various buckles, straps, and elasticized nylon bands cinch to your torso, holding as much as 50 ounces of water on your back without budging. Its ventilated mesh allows you to sweat without bogging down.
Though I didn't try it in an ultramarathon, I found the vest useful on various long and short runs, which I'll relate after the jump.
Mountain Hardwear Fluid Race Vest: Fit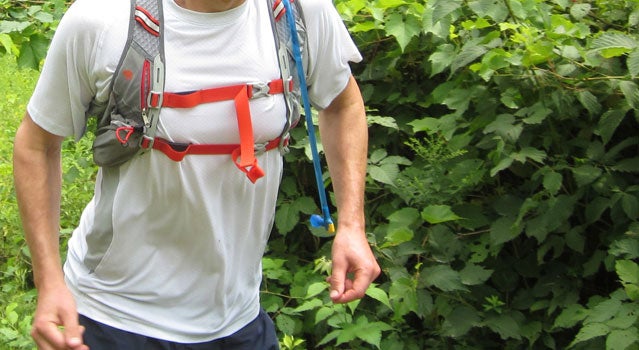 If the purpose of the Fluid Vest is to securely tote water and nutrition for long runs, I decided my first test should be to gear up for the trail. I like long, exploratory routes through unimproved logging roads and old growth woods with little groundcover. These sorts of runs give me the mileage I need for the week, plus they build in some adventure and excitement. The route lets you wander at a slow pace for about three hours, find new features, seek a few vistas, and then map your way out. But it's all a little scary to think about the possibility of an emergency.
Wearing the Fluid made me feel secure about this type of run. I had my cell phone with me, enough water to last a day or more, and pockets full of Gu, Shot Bloks, and Hammer gels. The construction of the Fluid incorporates reflective accents for high visibility. Two "sternum straps" fit so securely that I didn't notice the three pounds of water and the other items. And everything was accessible in either elasticized or zippered pockets.
Moving along at 10-minute miles felt a little like sitting in a comfortable commercial coach seat. You're moving through space with a nice view, snacks and refreshments within arm's reach.
The fit was excellent—but that comes with a caveat. For now, the Fluid only comes in one size: small/medium. Because the vest is also unisex, I had my wife try it on. She generally doesn't want anything to interfere with her sports bra while running, but on her, the vest was short enough that it didn't reach to her bustline; it held to her upper torso, making it a plausible option for women as well.
Mountain Hardwear Fluid Race Vest: Storage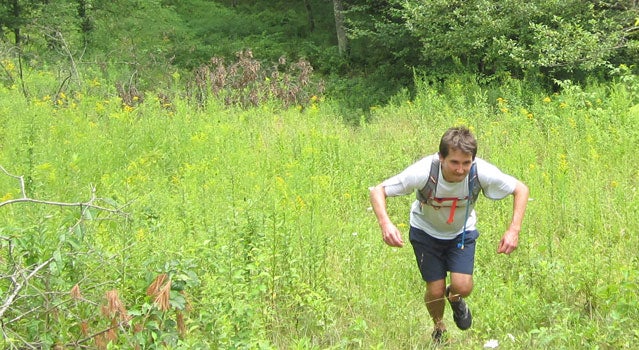 A common logistical problem prompted my next test with the Fluid. In Chesterfield, New Hampshire, there's a glacial-carved body of water called Indian Pond, miles from any road access. Ice cold, clear, and chock full of snakes and leeches—just what you'd expect of a great untouched swimming spot. I'd always wanted to jump in, but I hate running back to the car in soggy clothes. With the Fluid Vest, I was able to bring a full change of clothes and a towel, and run to the pond and back. The springy shock cords held a lot of bulky items and cinched down to hold them securely.
Mountain Hardwear Fluid Race Vest: Final Analysis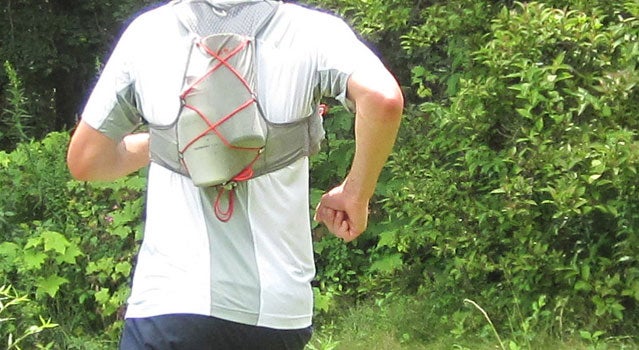 If you pit the Fluid against other hydration systems, it fares well. For $60, the product doesn't come with its own water bottles or hydration bladder, but those can be added for a small price ($10-$30). So it's basically a modular system that lets you add your favorite options. With a large hydration bag, you can carry a couple quarts of pure water on a long trek. With bottles, you can swap out a specially made supplement mix, given by your pit crew in a race. I also like the Camelback HydroBak ($43), but it's not as comfortable as the Fluid. Plus, after a few years you need to replace the hydration bladder anyway (mine was hosed the day my son backwashed part of a hamburger and I forgot to clean the bag before storing it—TMI, I know.)
For the final test, I decided to wear the vest on a speed workout, despite the potential for bouncing (and despite the fact that my running partner insisted on calling the vest a "man-bra"). I should explain that my running buddy is sort of demanding. He likes to run in the middle of the day despite hot conditions. He likes to meet on a random dirt road in the middle of nowhere, with no access to a car or high school gym to grab water.
We planned to run a warm-up, six by one-mile repeats, and a warm-down. The midday sun was brutal, it was humid, and temps were in the high 80s. The Fluid stayed put on repeats at an average 6:30 pace, and it was comfortable and secure the whole time. The day demanded a constant need to rehydrate, and after an hour, it was great to pause for a big water break and a refueling. There really is no other way to travel.