Gear Guy
Should I get a plastic or Kevlar kayak?
As someone who kayaks on Quebec's waterways, I torn between the durability of plastic and the speed and efficiency of Kevlar. Also, as my skills improve, I hardly ever use the rudder system, and skegs seem less prone to mechanical failure, anyway. My father has a Seaward Chilco, which is my yardstick for comparison. Nicholas Westmount, Quebec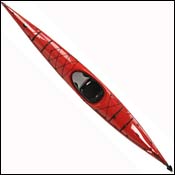 Heading out the door? Read this article on the new Outside+ app available now on iOS devices for members! Download the app.
Well, why not just get another Chilco? That is a truly lovely boat—fast, maneuverable, and with plenty of room for gear if touring is your thing. Not a cheap boat but par for what these things cost: $3,000 U.S., $3,700 Canadian in fiberglass, about $700 to $800 more for Kevlar (www.seawardkayaks.com).

Eclipse 17.0

That said, there is an excellent option that offers the price advantage and toughness of a plastic boat with the light weight of fiberglass and Kevlar. It's Airalite, a high-impact acrylic material that started to appear on boats three years ago. Airalite is made in sheets, then heat-molded into a kayak. Very tough, great looks, weight on par with more expensive stuff. For example, the Perception Eclipse is a 17-foot boat, made with Airalite, that offers handling and space along the lines of the Chilco for about $1,500 U.S. (www.kayaker.com). That's not bad. I honestly don't know why Airalite hasn't simply pushed every other material out of the market—even plastic—as it looks ten times better for not that much more money.
As for the rudder/skeg question—well, my guess is you know this, but they're not quite the same thing. The skeg is a drop-down fin that's directionally fixed, and that helps trim the boat in different wind/current conditions. The rudder is much more of a pure directional device. It's true that a good kayaker doesn't "need" a rudder, so you can regard that as an optional item. I like a rudder, myself. And the Eclipse comes with an excellent one designed by Cascade Designs, standard. They're simple systems, really, so while they do add a measure of mechanical complexity, it's not the bolt holding everything in place.
For more water-worthy hardware, check out Outside Online's Kayaks Buying Guide.
Trending on Outside Online