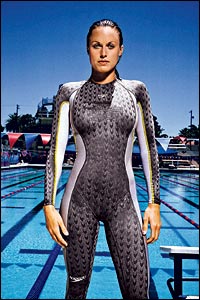 Heading out the door? Read this article on the new Outside+ app available now on iOS devices for members! Download the app.
The new rule for performance swimwear: More is less—less drag, less turbulence, and less time to the finish line. At this summer's Athens Games, 75 percent of all swimmers will get hydro-dynamic in full-body and cutoff suits. The superhero getups are competition legal—they made their Olympic debut at Sydney in 2000—and several will be available by the end of summer for triathletes, masters swimmers, or anyone looking to make waves at their local pool.
performance swimwear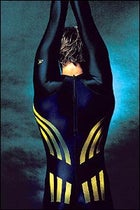 MAN IN FULL: Olympic gold medalist Ian Thorpe gets his grooves on in the Adidas JetConcept.
Amanda Beard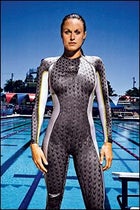 Amanda Beard

ADIDAS introduced its full-body swimsuits in 1998, and Australian torpedo Ian Thorpe later used one to win five medals in the Sydney Games. This summer, Thorpe is sporting the latest design, the JETCONCEPT, which utilizes long grooves, modeled on the channels in airplane wings, to move water more efficiently over the body. ($350, mail order only; 800-448-1796, www.the-world-of-sports.com)

You'd think the horizontal ridges at the core of TYR's sleeveless AQUA SHIFT line would slow you down, but the company claims they harness turbulence and reduce resistance by 10 percent. Separate arm bands, banned from Olympic competition, increase your pulling power. ($220; optional bands, $30; 800-252-7878, www.tyr.com)

SPEEDO worked with researchers at London's Natural History Museum to develop the FASTSKIN FSII, which will be worn by breast-stroke Olympian Amanda Beard, and most of her teammates, in Athens. The textured fabric mimics the drag-cheating efficiency of sharkskin. Available in steel-gray and—feeling frisky?—leopard print, models are tailored to each stroke. ($350; 800-547-8770, www.speedousa.com)