Arc'teryx Just Announced Its First Ski Boot and Avalanche Airbag
On Monday, we got a sneak peek of the two new backcountry products at the company's Canadian headquarters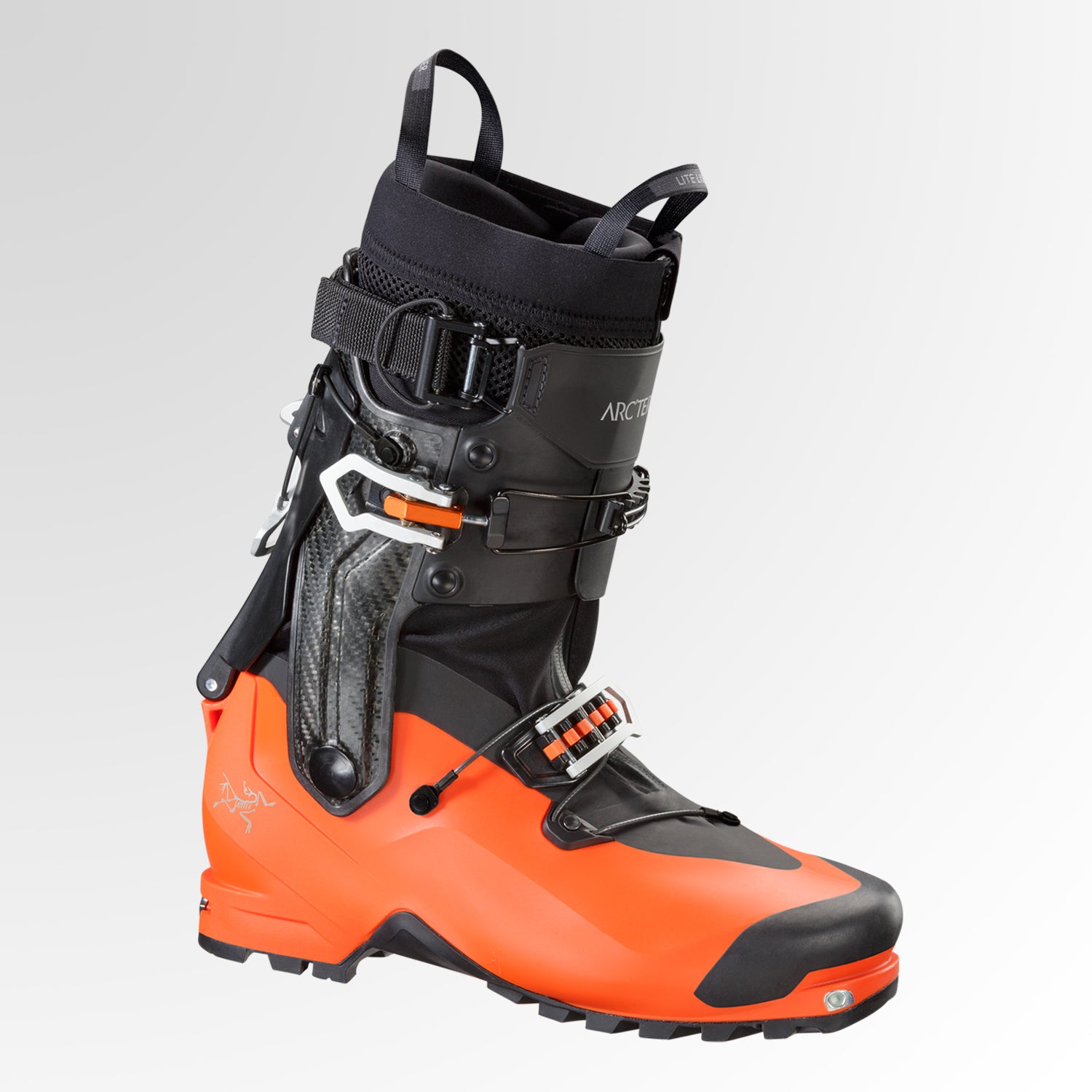 Arc'teryx(Photo)
Heading out the door? Read this article on the new Outside+ app available now on iOS devices for members! Download the app.
Arc'teryx, long known as a leader in outdoor apparel, just made the jump into hard goods by announcing its first ski touring boot and avalanche airbag. Both products represent innovative rethinks of their respective categories, and officially go on sale in fall 2016.
"This is the biggest product launch Arc'teryx has ever seen," says Chris Denny, public relations manager for the Vancouver, Canada-based company. "We're entering two brand-new category lines." Denny says Arc'teryx waited to get into hard goods and avalanche safety equipment until it was certain it could bring something new and durable to the table that solved current problems in the space. The two announcements foreshadow a deeper commitment to both categories in the years ahead, he says. 
The airbag pack is the result of more than five years of development and involves 28 patents pending. Called the Voltair Avalanche Airbag, it uses a battery-powered fan to fill the airbag, rather than a canister of compressed gas like those used in Mammut, Backcountry Access, and ABS bags. It works like the Black Diamond JetForce airbag packs, but Arc'teryx says there are some key differences in the technologies.  
Designers went through 23 different fan iterations before settling on the current one. It's a centrifugal blower fan, similar to ones used in vacuums, which is robust and can create high static pressure that's ideal for blowing up a bag stuffed in a pocket. Arc'teryx claims that the battery, a rechargeable lithium polymer, performs better in cold temperatures than the one used by Black Diamond, and can be removed from the pack, making travel easier. (Rechargeable batteries can't be checked onto planes.) 
That battery has enough juice to fill the bag eight times, making practice deployments realistic. That was a key consideration, says Pete Hill, one of the pack's designers. "If you don't practice, you won't blow it off in an emergency," he says, citing a study that found 20 percent of airbag deployments fail and 60 percent of the time it's because of user error. In another effort to reduce user error, the trigger handle can't be stored into the pack like models from other brands. Instead, it twists to lock off or on, a motion that can be done in an avalanche with practice.
The rest of the pack honors the efficient minimalism Arc'teryx has staked its reputation on. The Voltair comes in 20- and 30-liter versions, both built in Arc'teryx's AC2 construction—a highly water-resistant, lightweight material. The bigger pack is divided into a tool compartment and a main body, with vertical ski carry on the back. The smaller pack has a single zip access pocket. Designed and built in Vancouver, the packs will retail for $1,650 and $1,700*.
The second big announcement out of Arc'teryx will excite anyone looking for a boot designed as much for climbing as skiing. The six-model Procline touring ski boot line is one of the first products that shows collaboration between Arc'teryx and its sister company Salomon under parent company Amer Sport, which brought Arc'teryx designers over to use Salomon's France-based footwear development lab. "It's a real collaboration between Salomon,…one of the best ski-boot makers, and Arc'teryx, [which has] expertise in other areas, like laminating," says Frederico Sbrissa, Arc'teryx's footwear line manager. The goal was to create a boot that could perform at an optimal level climbing, ski touring, and descending, and in the process appeal to backcountry skiers looking to go far and fast.
The boot's most innovative feature, says Sbrissa, is a two-piece rear cuff. When in walk mode, it not only allows hiking-boot-like forward and rear flex (50 degrees forward and 25 backwards) but also, for the first time in a ski boot, side-to-side motion (23 degrees inward and 12 degrees outward). The lateral flex adds precision and comfort for climbing rock and ice without skis, and for skinning on steep and icy skin tracks. Combined with a rockered Vibram outsole and a shock-absorbing polyurethane insert, the boots feel impressively comfortable for walking. Locked in ski mode, the carbon fiber and Grilamid plastic cuff system on all six boots in the line stiffens up comparably to other lightweight touring boots, says Sbrissa.
Another first in a ski boot is the Procline's full gaiter. A waterproof zippered booty seals the heat moldable liner inside the outer shell, keeping powder and slush out even when both buckles are wide open.
To arrive at six different models, Arc'teryx made three different shells and married them with two different liners. For the shells, there's the top-of-the-line Procline Carbon, the regular Procline boot, which features less carbon, and a women's version of the regular Procline. Then there's a light liner that saves weight and a support liner that adds stiffness, available with any of the three shells. The top-of-the-line Procline Carbon boot with the light liner weighs 2.6 pounds and the regular Procline boot with the support liner weighs 2.8 pounds. The Procline Carbon with either liner retails for $1,000, while the regular Procline and the women's version both retail for $750. 
We'll put both the boot and the airbag to the test over the following days while backcountry skiing in British Columbia, so stay tuned for more detailed reviews.
*The price of the bags has been updated
Lead Photo: Arc'teryx