Why Cody Townsend Prefers These Extended-Grip Ski Poles for the Backcountry
The professional skier says long grips help him save energy and avoid injury in the backcountry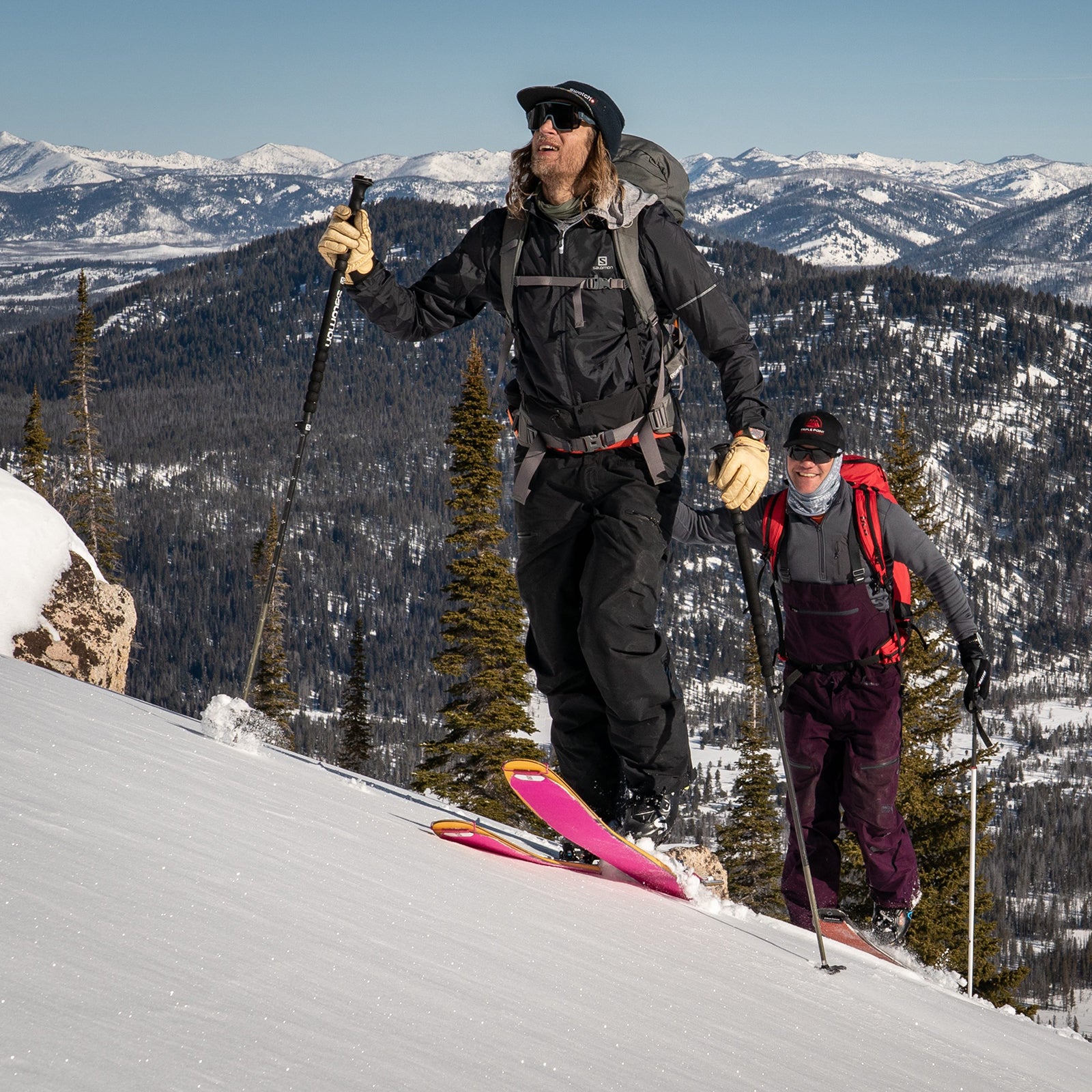 Bjarne Salén/The Fifty
Heading out the door? Read this article on the new Outside+ app available now on iOS devices for members! Download the app.
Last year I called professional skier Cody Townsend just as he summited Ward Peak on skins, above California's Palisades Tahoe. We'd set up an interview to talk about his ski poles, and he'd timed things so he was at the top, with cell reception, just as I rang.
It was odd to be calling Townsend to discuss ski poles instead of his many interesting endeavors—like tackling North America's 50 most iconic backcountry ski lines—but he was as charismatic and enthusiastic as ever. And it was actually because of that ski project, which he calls The Fifty, that I'd landed on the subject of his gear.
The real meat of The Fifty is a series of beautiful and funny videos that show Townsend climbing and skiing. But he'd also recorded several bonus segments, including one where he detailed the kit he'd been using, and that's where I first learned about the poles.
"The most questions I've gotten have been about my damn poles," he said in a video while standing in his garage, surrounded by gear. "I didn't know people cared about poles so much. Almost every time I post a video, people talk about these things. I don't even know the name of them."
It turns out the poles are a Salomon team model called the MTN Carbon S3 that only pro athletes like Townsend get, at least until this fall, when they will be available to the public. He loves them because they're made of two carbon shafts (a 16-millimeter-wide upper shaft and a 14-millimeter-wide lower one), plenty light, and offer ample length adjustment. He also prefers them because they feature an extra-large foam grip that's about 18 inches long—and it's that grip so many of us wanted to know about. So he addressed it in the video and then went into more detail on our call.
That grip, Townsend said, is helpful when sidehilling in the backcountry, because he can slide a hand down it and keep that shoulder relatively level as he plants the pole uphill.
"When you spend a lot of time in the backcountry, you're always trying to find ways to limit your movement and be more efficient. By keeping my uphill shoulder balanced and level, I'm saving a lot of energy and avoiding a lot of pain on big tours," Townsend told me.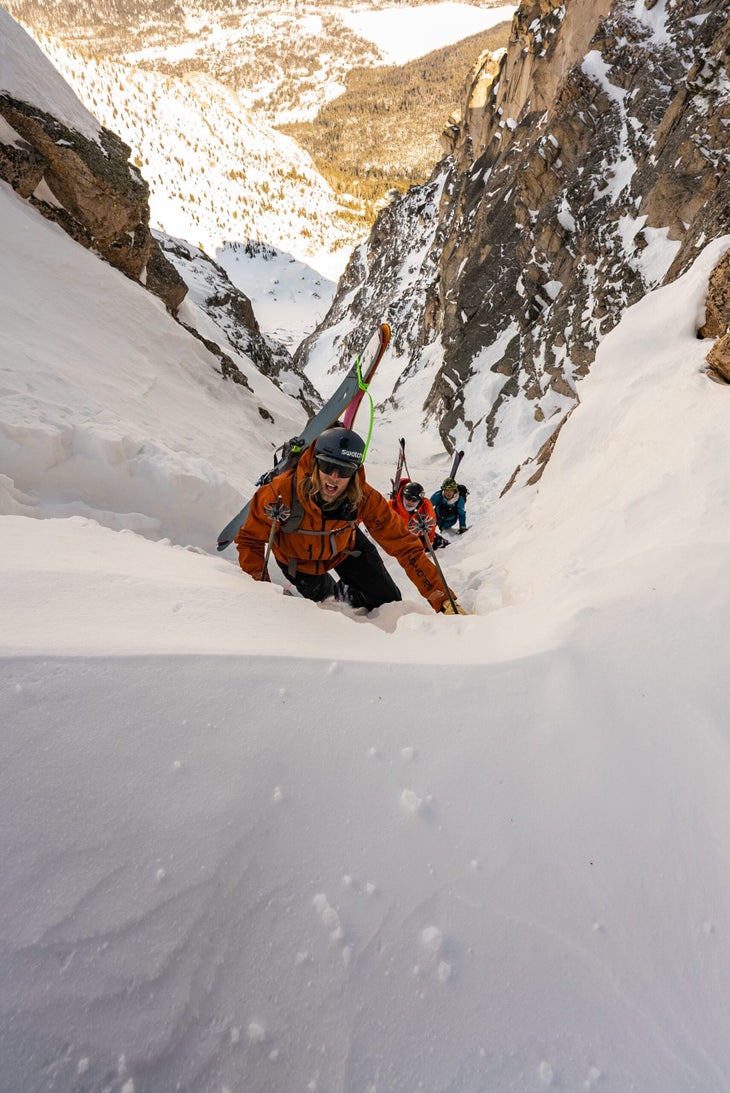 On steep boot-packs, Townsend turns the poles upside down (as in the above image) and jams the grips into the snow as extra anchor points. He drilled a GoPro mount into one pole to use as a selfie stick. He likes that the straps come off, because he never skis with them in the backcountry.
"Poles seem pretty inconsequential to a regular skier. Usually they're just something they use for balance," he said. "But as you start to get into the backcountry, you start to see that poles are an essential piece of equipment that can make you more efficient and even safer. That's why I've fallen in love with these things."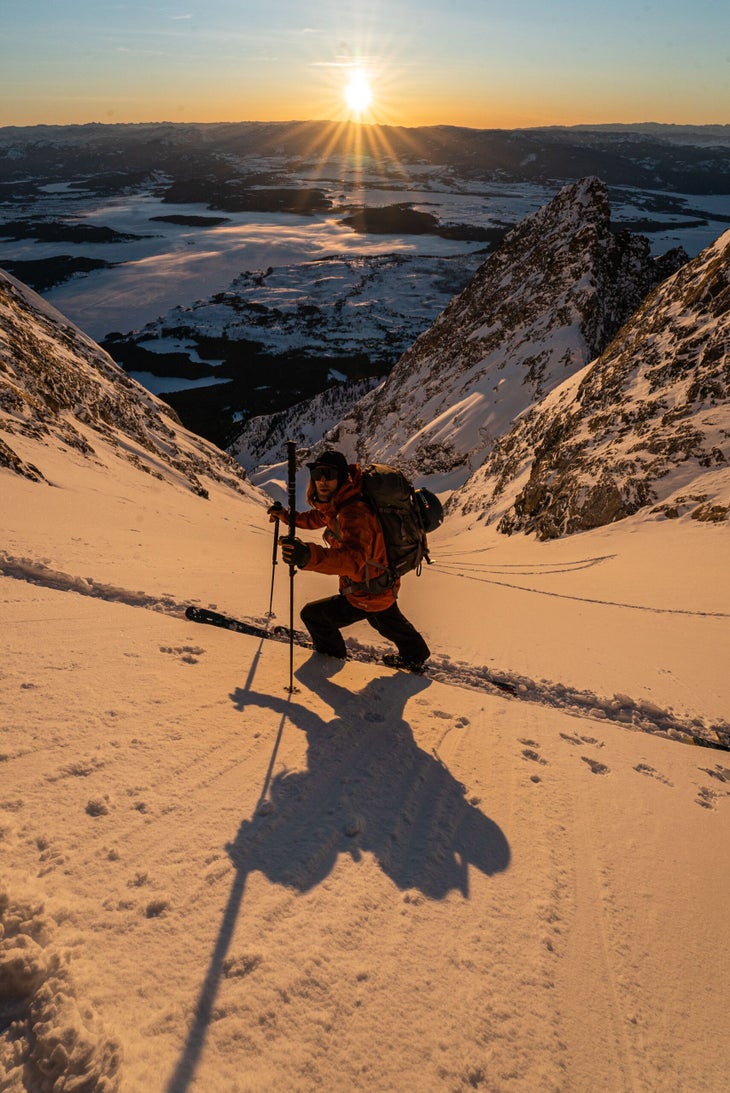 Curious to test the poles myself, I called Salomon and asked for a pair but was told that gear journalists weren't allowed to try them out them just yet. So I searched the internet and landed on the Backcountry Plinko poles ($150). They have a carbon lower shaft and an aluminum upper shaft, are fully adjustable, and, most important, feature a large foam grip similar to the one on Townsend's Salomon poles. Black Crows also makes a similar model, the Trios Freebird ($190), which I have yet to test, but the Plinko's lighter weight, price, and carbon build sold me.
I immediately took the Plinkos out on several ski tours and discovered that the grip not only mattered on steep sidehills but on any tour with a variable pitch. Even while dawn-patrolling the ski area before work, I found myself automatically moving my hands up and down the grips, depending on how steep a slope I was climbing. I wasn't 20 miles deep in the backcountry like Townsend, but I was glad to immediately become a more efficient hill climber, thanks to my poles.
Extended-grip poles aren't taking over ski resorts just yet, but they're definitely growing in popularity in the backcountry. According to reporting from our sister magazine Ski, fixed-length long-grip poles have been popular in Europe with guides who want adjustability for their hands but don't want to deal with extendable poles, which can fail. Here in the U.S., Folkrm now makes a popular fixed-length long-grip pole called the Wyeast ($110), which I've yet to test. I still don't know how expensive Salomon's new poles will be when they hit the market, but Townsend said that he's glad there's a growing community of pole geeks like him interested in the technology.
"All the interest definitely surprised me," he said. "I love to tinker with my gear and want my poles to be a certain way, but I thought 95 percent of other skiers would probably stick with regular grips and absolutely not care. It's really cool to see people care."
Lead Photo: Bjarne Salén/The Fifty