Behind the Lens
In the market for ski goggles? Here's what to look for this season.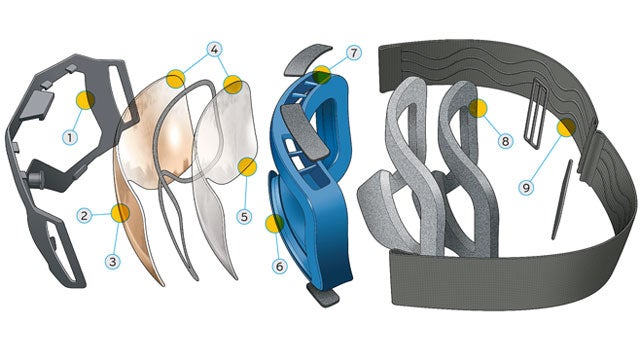 Heading out the door? Read this article on the new Outside+ app available now on iOS devices for members! Download the app.
1. Interchangeable lenses: Goggles have always had these, you just had to order a set. Now many models come with an array of lenses out of the box and feature quick-swap systems that let you match tints to changing conditions.
2. Lens Curvature: Cheap lenses that are formed flat and then bent into the goggles' frame can create headache-inducing distortion. Better models have spherical or cylindrical lenses. The optics are markedly better and so is the fit, because the lens curves the way your face does.
3. Lens Tint: Darker for full sun, lighter for overcast days. What isn't so intuitive is that the receptors in your eyes actually prefer certain tints. Try yellow, gray, amber, and persimmon tints and see what feels right.
4. Double Lenses: Employing the same technology as double-paned windows, most goggles over $25 feature fog-fighting double lenses.
5. Antifog Coating: All goggles have it on the inside of the lens. Two things to remember: never touch the lens's interior when it's wet, and only lightly dust it when it's dry. Swirl the coating and you'll trash the lens.
6. Frame: Here's yet another reason to buy from your local specialty ski shop—helmet compatibility. Bring your helmet and try on goggles until you get a near perfect fit.
7. Vents: Some are better than others. But none can work magic. If you walk inside a warm lodge with cold goggles on, you'll probably need to take them to the bathroom and run them under the hand dryer to get rid of the condensation.
8. Foam: Even this small detail makes a big difference. Look for two or three distinct layers of foam padding. The varying densities distribute pressure, so you can seal out airflow without leaving indents in your cheeks.
9. Strap: Look for a bead of grippy silicone. It's what keeps the strap from slipping on the surface of your helmet. No silicone, no deal.