2024 Winter Gear Guide
The Best Backcountry Skis of 2024
Looking for the perfect backcountry ski for deep days and big missions? Start here.
Max Ritter
Heading out the door? Read this article on the new Outside+ app available now on iOS devices for members! Download the app.
This article was first published by SkiMag.com.
Whether you're looking for a dedicated backcountry ski that strikes the perfect balance between weight and performance, a lightweight ski to charge up the biggest peaks, or a slackcountry ski that will pull double-duty at the resort and beyond the ropes, you'll find something right up your alley on this list of the best backcountry skis of 2024.
If you're in it for the downhill, peruse the skis that are a little wider underfoot and weigh closer to 2,000g per ski. Trying to set a Fastest Known Time on your dawn and dusk patrols? Then you're looking for something light and narrow underfoot. Whatever adventure you're in the market for, you can't go wrong with any of these unisex backcountry skis designed to maximize fun on the ups and the downs.
Looking for the best women's backcountry skis of 2024? You'll find those here. 
How We Test
Number of skis tested: 11
Number of testers: 12
Testing locations: Grand Teton National Park, Wyo., Teton Pass, Wyo., Hatcher Pass, Alaska, Snow King Mountain, Wyo., Little Cottonwood Canyon, Utah
Testing conditions: Deep powder, chalky windbuff, breakable crust, firm resort groomers, and spring corn
Average age of tester: 29
Average height of tester: 5'9"
Average weight of tester: 155 lbs
We lucked out big time testing backcountry skis in the Tetons this winter, with record-breaking snowfall that had us reaching for powder sticks more often than not. Our testers hit the skintrack for pre-work dawn patrols on Teton Pass and long alpine missions in Grand Teton National Park. Many were lucky enough to catch bottomless pow days, while others tested this year's crop of backcountry skis in variable conditions between storms.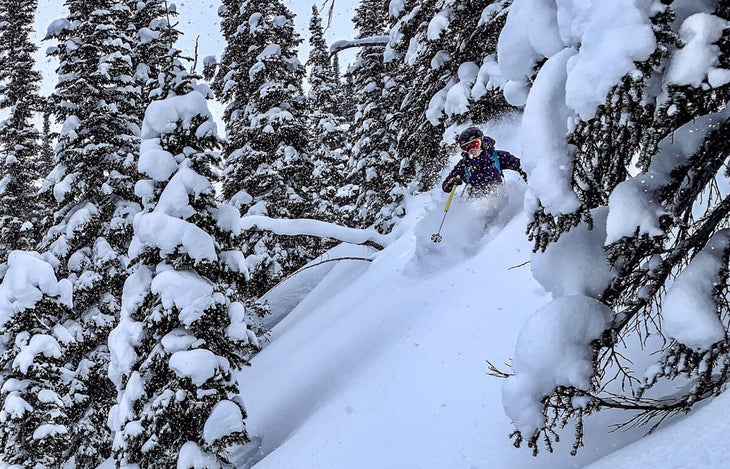 Our test crew included a mix of nine-to-fivers, weekend warriors, and self-proclaimed ski bums who cranked out laps in search of lightweight skis that held their own in soft snow and variable conditions alike. The goal: To find the backcountry skis that demonstrated the best balance of uphill and downhill performance. Bonus testing days chasing storms in the Wasatch and a ski mountaineering trip to Hatcher Pass, Alaska rounded out a solid mix of playful pow skiing, steep couloirs, mellow meadow skipping, slarvy spring corn, and sidecountry laps.
Meet the Testers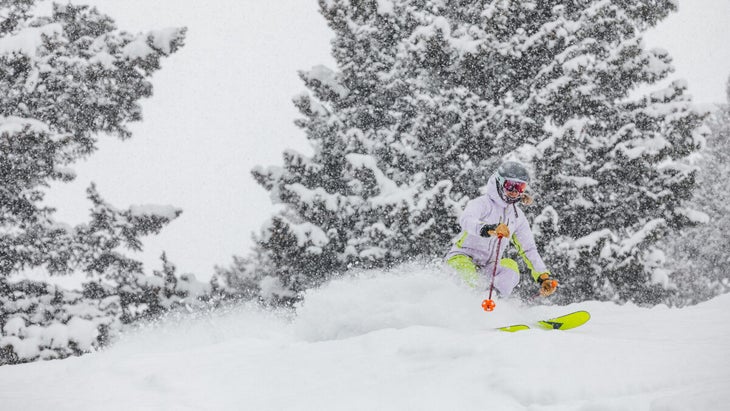 Age: 27 | Height: 5′8″ | Weight: 120 lbs
Krass is a freelance ski journalist based in Jackson, Wyoming with work featured in SKI, Powder Magazine, Freeskier, Teton Gravity Research, and Ascent Backcountry Snow Journal. She spends winters backcountry skiing in Grand Teton National Park and riding lifts at Jackson Hole Mountain Resort, with the occasional trip to the Alps (for the food, obviously).
Age: 30 | Height: 6'0" | Weight: 180 lbs
Ritter is a photographer and writer based in Jackson, Wyoming who's been skiing in the backcountry for over 10 years. He spends most of his time skiing at Jackson Hole Mountain Resort, Teton Pass, and Grand Teton National Park. While he's no stranger to long slogs, Ritter is really in it for the downhill.
James Temple
Age: 29 | Height: 5'10" | Weight: 165 lbs
Temple is a med student who splits time between Jackson, Wyoming and Charlottesville, Virginia. He's a ripping skier with an affinity for cliffy freeride terrain and is known at times to be the first one to hit a questionable pillow or straight line.
The Reviews: Best Backcountry Skis of 2024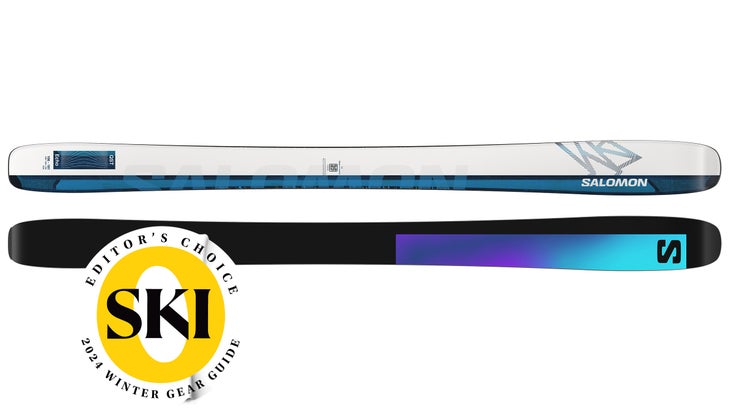 Lengths (cm): 157, 165, 173, 181, 189
Dimensions (mm): 139-106-126
Radius (m): 19 (181)
Weight (per ski in grams): 1,760 (181)
Pros: Playfulness, Forgiveness
Cons: Stability at Speed, Flotation
Known for their energy, playfulness, and solid feel in variable conditions, the QST skis have an uncanny ability to please pros like Cody Townsend as well as us mere mortals. The brand-new QST Echo 106 shares the shape and profile of the all-mountain QST 106, with a slimmed-down construction (the Echo shaves off 200 grams per ski) that's spry on the skintrack while maintaining an impressively quiet feel through variable snow in the backcountry. Salomon ditched the Titanal in this model, opting for a lightweight and responsive caruba-and-poplar core, with basalt fibers that bump up the stiffness. "This is your daily driver," said Jackson, Wyoming-based tester Max Ritter. "Floats in pow, nimble in tight trees and couloirs, but reliable and solid when it comes time to open up the throttle and ski fast through chunky snow." Testers agreed that the lightened-up construction made the QST Echo 106 feel more energetic than the QST 106, touting the benefits of the lower swing weight for confined couloirs where you need to get your skis around quickly.
Read the full review for category scores, strengths, weaknesses, and tester feedback.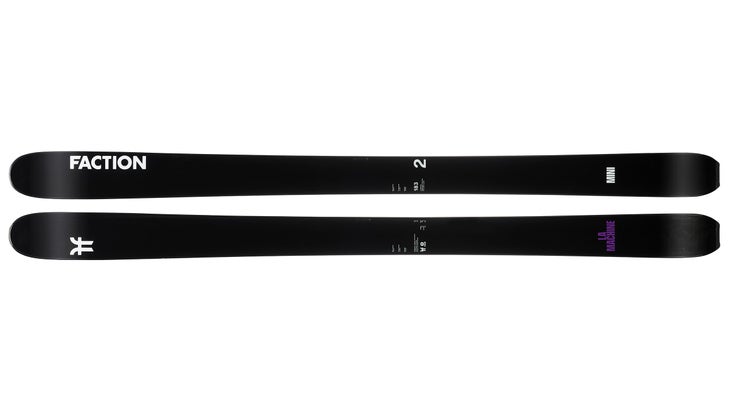 Lengths (cm): 157, 164, 171, 177, 183
Dimensions (mm): 124-99-116
Radius (m): 19 (177)
Weight (per ski in grams): 1,390 (177)
Pros: Playfulness, Quickness
Cons: Crud Performance, Flotation
Faction's La Machine series is proof that lightweight touring skis don't need to be boring. The Mini is the second-slimmest La Machine ski, with a 99-millimeter waist that proved to be a really solid ski for going after bigger objectives. A lightweight paulownia core keeps the weight down while allowing for an energetic feel, and full-carbon layers add a fair amount of stiffness underfoot. While many touring skis in this weight class can be stiff and unwieldy, the freeride-oriented rocker profile and twin-tip design allowed the Mini to score high in Playfulness and Forgiveness, which testers agreed felt like a new way to look at skis in the Unisex Backcountry category. It's quick and maneuverable in tight trees, firm couloirs, and the occasional bump run after skinning up the resort before work. "A fantastic steep-skiing machine that won't tire you out on long approaches," said Ritter. "Great for spring missions and still surprisingly floaty in deep snow."
Read the full review for category scores, strengths, weaknesses, and tester feedback.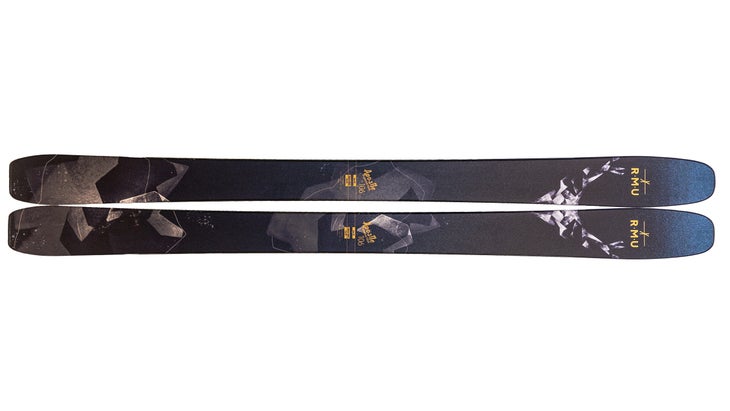 Lengths (cm): 176, 184
Dimensions (mm): 140-106-127
Radius (m): 20 (184)
Weight (per ski in grams): 1,672 (184)
Pros: Stability at Speed, Crud Performance
Cons: Playfulness, Forgiveness
A powerful ski that will take you places, the RMU Apostle 106 Carbon Tour is proof that you don't have to sacrifice downhill chops for a ski that can knock out big climbs. This model is the dedicated uphill option in the brand's evergreen Apostle collection, featuring a lightweight poplar-and-paulownia core laid up with carbon to deliver stiffness and power. "This one is ideal if you want a stiff ski you can drive through turns in the backcountry, but also if you just want to lap powder," said tester Kyle Fowler, an expert freeride skier who calls Wyoming's Tetons home. The 106-millimeter waist provides a solid platform for staying afloat in deep snow, and while the Apostle 106 Carbon Tour is a directional ski, there's a fair amount of tip and tail rocker that one tester said made it "feel way wider than a 106." Stability at Speed stood out, with testers deeming it a top choice for big freeride lines, handling crud with style and grace.
Read the full review for category scores, strengths, weaknesses, and tester feedback.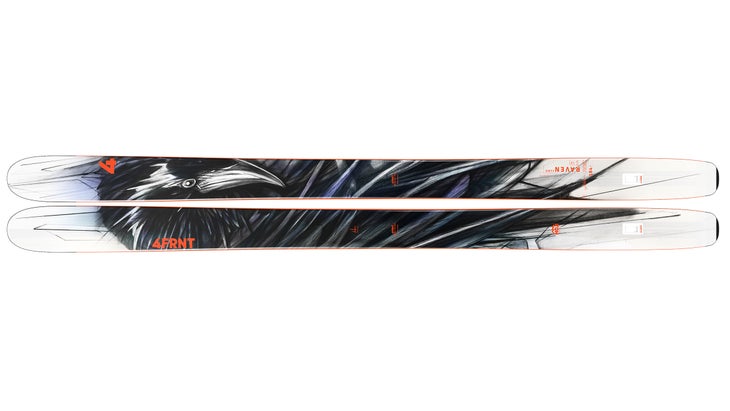 Lengths (cm): 170, 177, 184, 190
Dimensions (mm): 121-104-112
Radius (m): 29 (184)
Weight (per ski in grams): 1,827 (184)
Pros: Playfulness, Quickness
Cons: Stability at Speed, Versatility
A cult-like classic that deserves love from the masses, the 4FRNT Raven is a tool that has the capacity to turn mediocre skiing into a heck of a lot of fun, smeary and playful in soft snow and smooth and forgiving while blasting through crud. Energy and pop come from a lively aspen-and-maple core, reinforced with carbon for a stiff feel that you can drive through turns. Some testers hopped on the Raven and felt like they'd immediately found a long-lost best friend, but more folks agreed that it took a few tours to get familiar with the reverse-camber ski. "It's pretty much the perfect one-ski backcountry quiver—as long as you take a few days to learn how to actually ski it," said Ritter. "The shape definitely takes some getting used to for anyone coming from a traditional directional ski."
Read the full review for category scores, strengths, weaknesses, and tester feedback.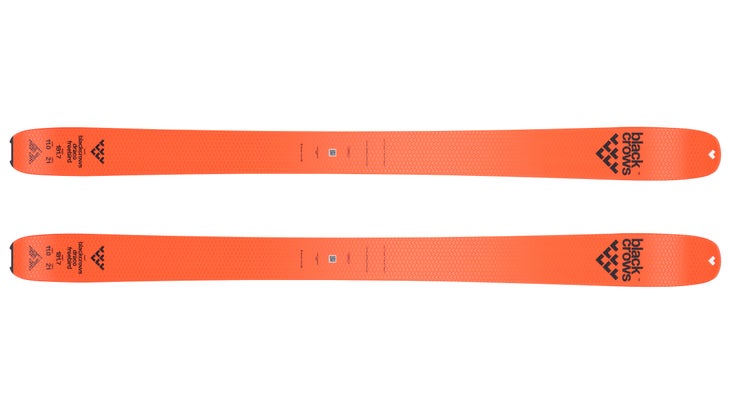 Lengths (cm): 176, 181, 189
Dimensions (mm): 138-110-126
Radius (m): 21 (181)
Weight (per ski in grams): 1,800 (176)
Pros: Playfulness, Flotation
Cons: Responsiveness, Versatility
The all-new Draco Freebird replaces the Ferox as the powder seeker in Black Crows' touring-oriented Freebird line, a floaty and playful option for creative skiers looking to charge. A poplar-and-paulownia core provides the right balance of energy and dampness, with a pretty straight sidecut that favors folks who like to ski fast. It's also predictable, which testers appreciated while transitioning between mank, firm snow, and chalky pow, sometimes all in the same run. A big ski like this can certainly chew up a ton of terrain, inspiring confidence when you're looking at a mixed bag of conditions. But despite an affinity for committing to the fall line, it's not an overbearing ski; the double-rockered profile allows for an easy slide and pivot, dumping speed and washing out of turns if you need to. It ranked high in Playfulness and Flotation—no surprise given its 110-millimeter waist, twin-tip design, and generous rocker lines. "This is really the ultimate powder touring ski," said tester James Temple after a record-breaking winter season in Wyoming's Tetons, his home terrain.
Read the full review for category scores, strengths, weaknesses, and tester feedback.
Best for the Long Haul: Black Diamond Helio Carbon 104 ($950)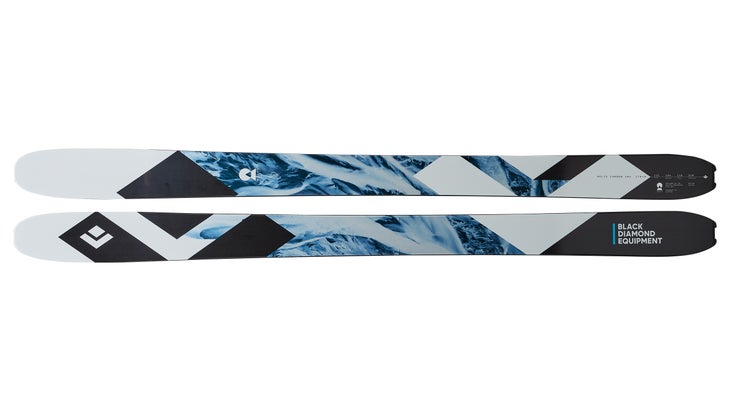 Lengths (cm): 160, 166, 172, 178, 184
Dimensions (mm): 131-104-118
Radius (m): 21 (172)
Weight (per ski in grams): 1,450 (178)
Pros: Responsiveness, Quickness
Cons: Versatility, Forgiveness
The bread and butter of Black Diamond's touring lineup, the Helio Carbon 104 is a do-it-all backcountry ski that chows down on big-vert days. Ranking high in Responsiveness and Quickness/Maneuverability, this ski felt spry and nimble while snaking through tight forests, and testers noted that it floats remarkably for a 104-millimeter-underfoot ski thanks to the early rise tip and tail. A carbon layup keeps this model stiff and damp, with a springy paulownia core that won't weigh you down on long climbs. "Really surprised me with its easy handling," said Austria-born tester Elmar Eidelpes, who spends winters skiing in the Tetons. "It's ideal for someone who's heading out for big, long powder days and needs a light ski to keep up." It took us for a bit of a ride in firm snow and chunder, and testers felt that it made a better companion while meadow skipping and cruising down wide-open bowls compared to steep, committing lines.
Best for Big Objectives: Dynastar M-Tour 108 ($1,000)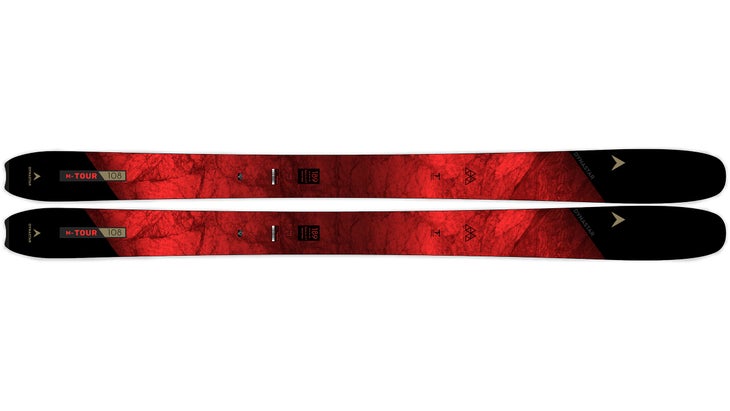 Lengths (cm): 171, 179, 187
Dimensions (mm): 136-108-126
Radius (m): 22 (187)
Weight (per ski in grams): 1,450 (187)
Pros: Stability at Speed, Flotation
Cons: Playfulness, Quickness
We've loved the big-mountain chops of Dynastar's M-Free collection, so anticipation was high to see what the all-new M-Tour 108 had to offer. With a 108-millimeter waist, it's a beefier free-touring ski than some of the brand's narrower models, scoring high marks in Flotation as well as Stability at Speed. Directional rocker features plenty of early rise in the tip and less in the tails, which rewarded more-traditional turn shapes, although it came alive the faster we went. This model held its own while opening it up in steep, wide-open bowls, inspiring confidence in variable snow, especially for testers who are used to charging hard inbounds. At just over 1,500 grams per ski, the M-Tour 108 strikes a happy middle ground in its weight-to-performance ratio, making quick work of long climbs without straying from its freeride roots. "An approachable and balanced touring ski," reported Vermont-based tester Kyle O'Keefe, who appreciated how well this offering transitioned between soft snow and crud.
Best for Spring Missions: Fischer Transalp 98 CTI ($900)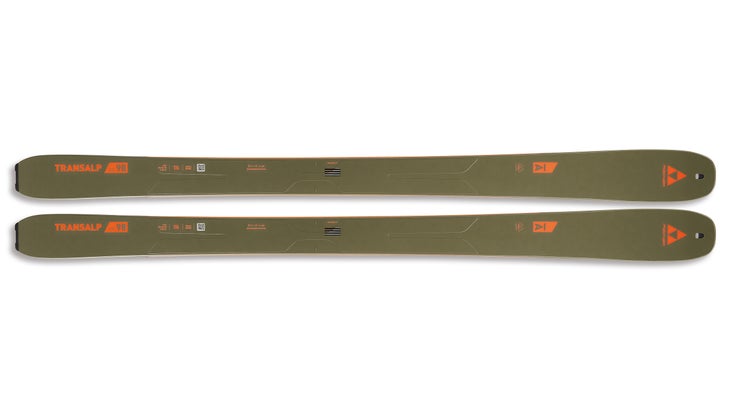 Lengths (cm): 155, 162, 169, 176, 183
Dimensions (mm): 133-98-118
Radius (m): 22 (176)
Weight (per ski in grams): 1,410 (176)
Pros: Versatility, Stability at Speed
Cons: Flotation, Playfulness
Fischer totally overhauled its Transalp collection this season, adding a little more freeride flair to its technical reputation. The all-new 98 CTI is an excellent daily driver for areas with less snowfall, and its trim design and reliable nature make it a killer spring ski for big alpine missions. A touch of Fischer's Shaped Ti places just enough metal in the 98-millimeter-underfoot ski (yes, metal in a touring ski) to optimize grip and stability on firm, technical descents, while a light and bouncy paulownia core and carbon stringers keep the weight low and the flex consistent. While it's not the floatiest ski we tested in the Unisex Backcountry category, early rise tips make it easy to steer in softer snow, and it really kicks into gear when you start to step on the gas. "Ideal for an aggressive, energetic skier who wants a reliable ski they can take into a range of conditions," said Eidelpes. "Absolute fun machine. Just not for an absolute beginner."
Best One-Ski Quiver: Blizzard Hustle 10 ($800)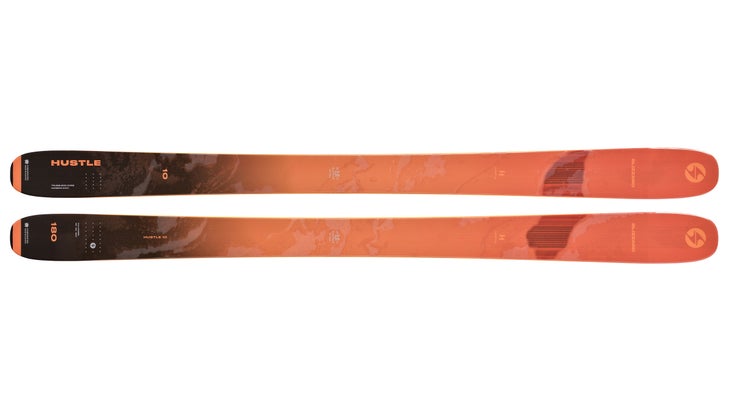 Lengths (cm): 156, 164, 172, 180, 188
Dimensions (mm): 133-102-122.5
Radius (m): 17 (180)
Weight (per ski in grams): 1,780 (180)
Pros: Crud Performance, Versatility/Balance of Skills
Cons: Flotation, Playfulness
Blizzard's Hustle collection takes the shape of the charge-y, freeride-inclined Rustler line, with a lightened-up, skintrack-ready construction. The Hustle 10 sports a versatile 102-millimeter waist and a rockered tip and tail, which can handle the soft stuff equally as well as it can plow through chundery snow (high marks for Crud Performance), earning trust from testers as conditions shifted from midwinter fluff to late-season mank to springtime corn. "Getting to ski what feels like a resort ski in the backcountry is a real treat," said Lily Krass, whose home mountain is Jackson Hole, Wyoming. "A super-solid ski that can charge through variable snow without leaving you gassed." Despite the fact that Blizzard substituted a carbon laminate for the Rustler's metal DRT insert, the Hustle 10 still isn't for weight weenies. At just under 1,800 grams per ski, it makes an ideal freeride touring tool for those who don't want to sacrifice an iota of downhill performance.
Best for Inbounds Touring: Völkl Rise Beyond 96 ($750)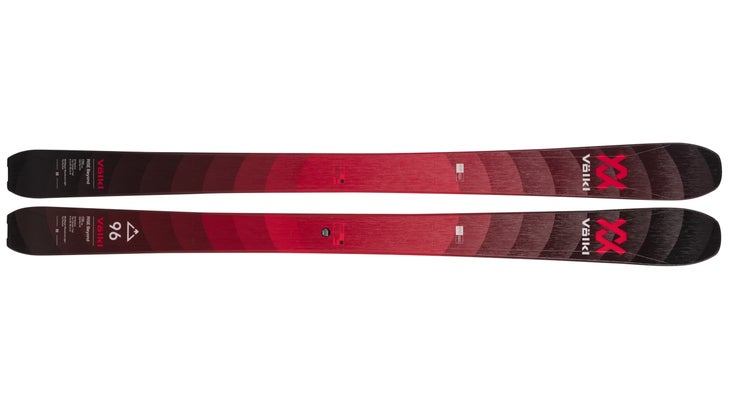 Lengths (cm): 156, 163, 170, 177, 184
Dimensions (mm): 138-96-119
Radius (m): 17 (177)
Weight (per ski in grams): 1,262 (170)
Pros: Responsiveness, Quickness/Maneuverability
Cons: Flotation, Versatility/Balance of Skills
Big climbs are no match for Völkl's Rise Beyond 96, a slightly more versatile option than the Rise Beyond 88, which we tested extensively last year. A directional shape and a decent amount of camber underfoot led to high marks in Hard-Snow Integrity and praise for its edge control, a predictable ride in a lightweight package thanks to a multi-layer wood core beefed up with a carbon tip. The 96-millimeter-underfoot ski boasts a wide 138-millimeter shovel (which surprised us with a decent amount of float for a sub-100-millimeter ski), and the zippy 17-meter turn radius made for an agile and responsive ride that felt right at home dodging trees and hop turning down chutes. Railing turns at high speeds caused the Rise Beyond 96 to twitch a bit, but slow and controlled precision is the name of the game. "This is a great all-around touring ski for those with a traditional turn and good carving skills," said Ritter. "Great for resort touring or spring ski mountaineering."
Best For Long Tours: Armada Locator 104 ($975)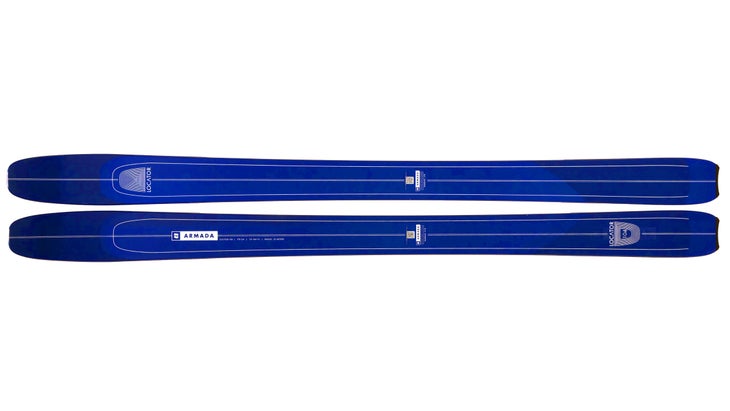 Lengths (cm): 162, 170, 178, 186
Dimensions (mm): 130-104-121
Radius (m): 21 (170)
Weight (per ski in grams): 1,375 (170)
Pros: Quickness, Playfulness
Cons: Crud Performance, Stability at Speed
Smeary, surfy, and a heck of a lot of fun, we found Armada's Locator 104 to be our ticket to extended exploratory days in the backcountry. Featherlight on our feet for long climbs, and with a wide shovel and mid-fat waist for sniffing out powder stashes, this ski is a solid daily driver for areas that see a decent amount of low-density snow. An ultralight caruba core reinforced with carbon led to a stiff but approachable tool that isn't afraid to be driven, but won't tire you out at the end of a long day. Some might be surprised to see the Locator 104's directional shape; a heavy amount of tip rocker noodles and floats through soft snow, while the flat tail maintains edge hold and control when you're looking for precision. "This ski excels in boot-top pow, and the low swing weight feels nimble in tight terrain," said 5-foot-8 Krass. "It isn't your ticket to fast freeride lines, though. Instead, opt for playful tree skiing or controlled turns in narrow couloirs."
Lead Photo: Max Ritter
Trending on Outside Online