2023 Winter Gear Guide
The Best Backcountry Skis of 2023
Looking for the perfect backcountry ski for deep days and big missions? Start here.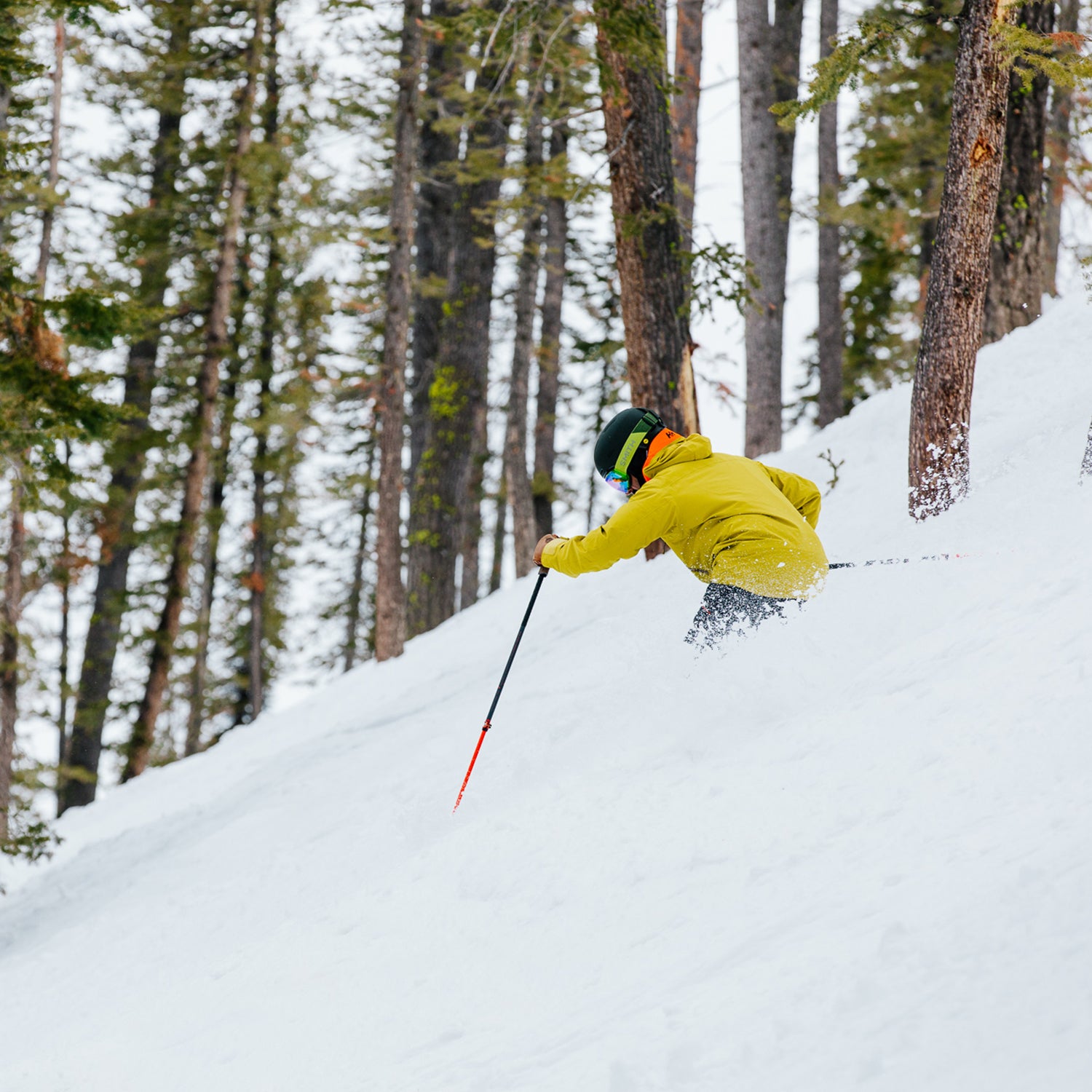 Heading out the door? Read this article on the new Outside+ app available now on iOS devices for members! Download the app.
This article was first published by SkiMag.com.
Whether you're looking for a dedicated backcountry ski that strikes the perfect balance between weight and performance, a lightweight ski to charge up the biggest peaks, or a slackcountry ski that will pull double-duty at the resort and beyond the ropes, you'll find something right up your alley on this list of our favorite backcountry skis of 2023. If you're in it for the downhill, peruse the skis that are a little wider underfoot and weigh closer to 2,000g per ski. Trying to set a Fastest Known Time on your dawn and dusk patrols? Then you're looking for something light and narrow underfoot. Whatever adventure you're in the market for, you can't go wrong with any of these unisex backcountry skis designed to maximize fun on the ups and the downs.
Looking for the best women's backcountry skis? Check them out here.
How We Test
Testing backcountry skis is tricky, because every skier is looking for something different in a backcountry setup. Of course, you want a backcountry ski to be lighter than the skis you charge on at the resort. But the total weight you're lugging up the skin track depends on your binding, boot, and ski combination; plus, not every skier cares about having an ultralight backcountry ski, especially if downhill performance is compromised by the lightweight construction. For this reason, we primarily considered downhill performance when testing and reviewing this year's crop of backcountry skis.
Free Gear Upcycling
When it's time to upgrade your gear, don't let the old stuff go to waste–donate it for a good cause and divert it from the landfill. Outside's partner, Gear Fix, will repair and resell your stuff for free! Just box up your retired items,
print a free shipping label
, and send them off. We'll donate 100 percent of the proceeds to 
The Outdoorist Oath
.
To be entered into SKI's gear test, each backcountry ski had to weigh in under 2,000g per ski and be mounted with a tech or hybrid binding. A crew of 15 testers then put these skis to test at Sun Valley and in the Colorado backcountry to assess how well they performed across seven skills categories—Versatility, Crud Performance, Responsiveness, Quickness, Stability at Speed, Flotation, and Forgiveness.
Go deep: Learn more about SKI's testing process
Testers, a mix of advanced and expert skiers with extensive backcountry skiing experience, rated each ski in each skill department on a 1-10 scale (10 being the highest). The 13 unisex backcountry skis reviewed below are those that rose to the top of the pile after impressing testers with their performance across all seven scoring categories.
Meet the Testers
Lily Krass
Age: 36 | Height: 5′8″ | Weight: 110 lbs
Krass is a freelance ski journalist based in Jackson, Wyoming with work featured in SKI, Powder Magazine, Freeskier, Teton Gravity Research, and Ascent Backcountry Snow Journal. She spends winters backcountry skiing in Grand Teton National Park and riding lifts at Jackson Hole Mountain Resort, with the occasional trip to the Alps (for the food, obviously).
Luke Larsen
Age: 39 | Height: 5′10″ | Weight: 190 lbs
Larsen owns and operates Salt Lake City's Lifthouse ski shop with his brother, Zac Larsen. Larsen practically grew up in the shop, a family-owned business, and spent his free time chasing gates on the Snowbird Ski Team. He has been gear tester for SKI for more than a decade.
Keri Bascetta
Age: 38 | Height: 5'7″ | Weight: 140 lbs
SKI's former photo director Keri Bascetta has spent her whole life on skis, and almost as long behind the lens shooting skiers and ski gear for SKI. She lives in Denver, Colo., and splits her ski days between Colorado's Winter Park, Loveland Ski Area, and the backcountry.
Related: Your 101 guide to backcountry skiing
Reviews: The Best Backcountry Skis of 2023
Blizzard Hustle 10 ($800)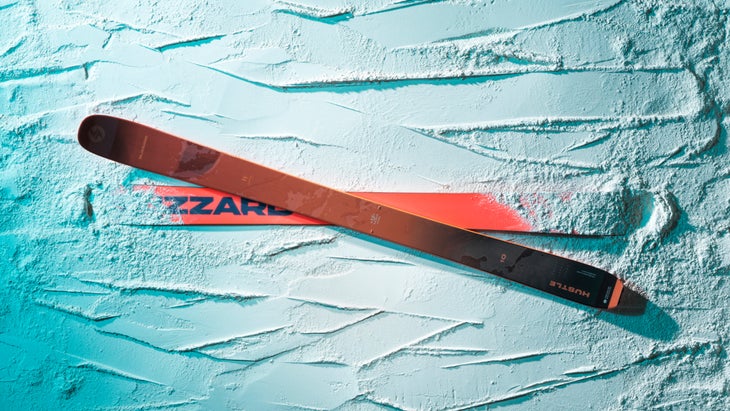 Lengths (cm): 156, 164, 172, 180, 188
Dimensions (mm): 133-102-122.5
Radius (m): 17.5
Weight (per ski): 1,780g
Pros: Versatility, Stability at speed
Cons: Playfulness, Forgiveness
The most talked-about ski in this year's test lived up to the hype as a one-ski quiver for the backcountry that more than holds up in the resort. It's light enough to charge uphill, but stable as anything in all downhill conditions, and testers felt confident railing on the Blizzard Hustle 10 anywhere. This ski busts through crud as well as it floats through the freshies in open terrain and tight trees alike. "I don't think there's any skier who wouldn't like this ski," said Lily Krass, a fired-up tester from Jackson Hole, Wyoming. "It's strong, reliable, and chews through crud. This would be a great ski for an intermediate to advanced backcountry skier who isn't overly weight conscious." With three different flex zones that get progressively softer toward the tip and tail, the ski is extremely well-balanced and agile, though a few testers noted a slight lack of pop and pizazz in and out of turns at high speed. "The Hustle is bread to any kind of snowy butter. Will not disappoint," assured Colorado-based tester Keri Bascetta. "Light enough to save your strength on the uphill for the fun part," added tester Drew Schulte, also from Colorado. "The performance allows you to forget you're skiing on a lightweight setup during the descent. Amazing all-around performance in a lightweight package."
Read the full review for category scores, strengths, weaknesses, and tester feedback.
---
Salomon MTN 96 Carbon ($800)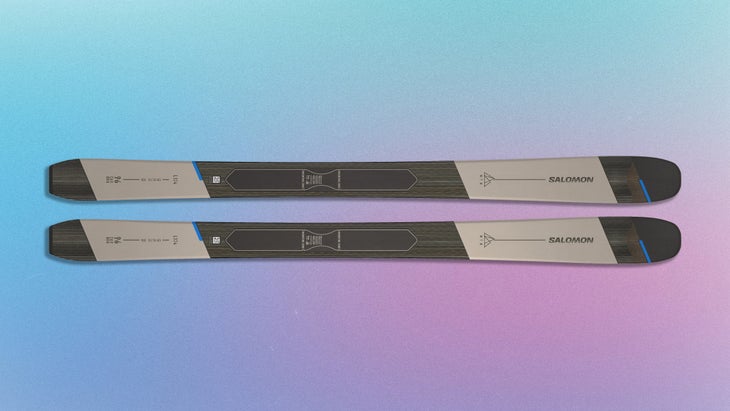 Lengths (cm): 166, 174, 182
Dimensions (mm): 129-95-115
Radius (m): 18
Weight (per ski): 1,390g
Pros: Versatility, Playfulness
Cons: Stability at speed, Flotation
Testers expected such an uphill-focused ski to feel flimsy when the terrain got weird, but all were pleasantly surprised. "For how lightweight it is, I thought it was just going to fold up in choppy stuff," says tester and Aspen Snowmass patroller Mike Britt. "But it held up and skied strong." Scoring high points for nimbleness and energetic return, the easy swing weight made tight spots a non-issue, while the MTN 96 Carbon handled enough force to really let it run. For travelers who pack light and like to bring one quiver-killing ski on trips and long tours that focus more on big objectives and less on deep powder, the uphill performance on this thing gets you to places where it shines: steep, technical terrain. As a testament, another tester said it "handled all the mank and crusty snow I could throw at it" and "made terrible conditions a lot of fun." "An amazing amount of performance packed into a very lightweight package with no sacrifices," commented Utah tester Luke Larsen.
Read the full review for category scores, strengths, weaknesses, and tester feedback.
---
Völkl Rise Beyond 96 ($750)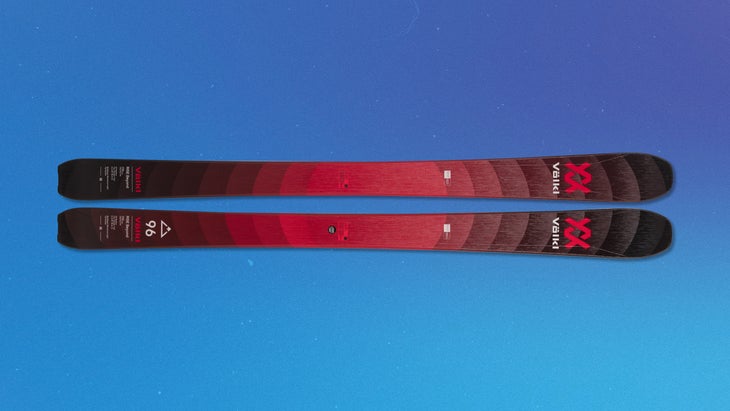 Lengths (cm): 156, 163, 170, 177, 184
Dimensions (mm): 138-96-119
Radius (m): 17
Weight (per ski): 1,262g
Pros: Quickness, Responsiveness
Cons: Flotation, Forgiveness
"Energetic," "balanced," and "dependable" were the three words used consistently to describe this ski. Poplar wood in the edges for stability, paulownia in the center for flexibility, and beech underfoot for strength, durability, and damping keep the Rise Beyond 96 lighter than its resort-focused cousin, the Mantra, yet still sturdy and responsive. "If a racer wanted to become a backcountry skier, this would be his ski," said one tester who found its narrow waist ideal for bigger, technical terrain as well as mellower aspects without a lot of new snow. This ski eats up variable, hard snow in open spaces, but some testers noted that it's not wide or damp enough to ski deep, heavy, chunky snow. When it comes to spring slush, tight trees, light bumps, and technical ski-mountaineering lines, this serves up a full menu. "I was shocked by how hard I could drive this ski with a pin binding on it," said Larsen. "Truly blown away at the strength-to-weight ratio."
Read the full review for category scores, strengths, weaknesses, and tester feedback.
---
Line Vision 98 ($750)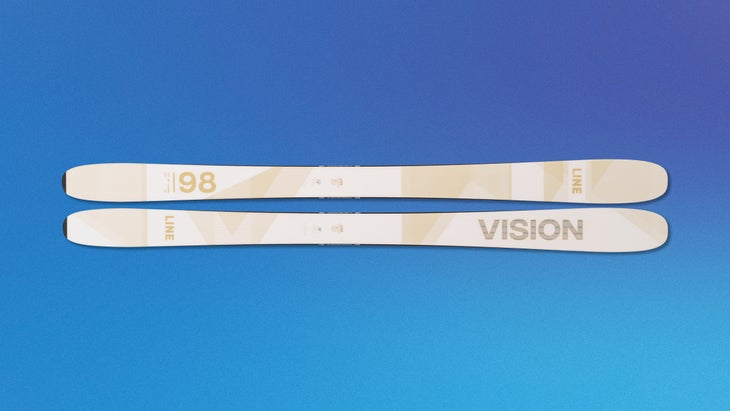 Lengths (cm): 172, 179, 186
Dimensions (mm): 131-98-119
Radius (m): 18
Weight (per ski): 1,515g
Pros: Playfulness, Versatility
Cons: Crud performance, Flotation
For those who prioritize the downhill over charging uphill, the Vision 98 lets you bring resort playfulness and agility to the backcountry. "There's not much this ski doesn't like," wrote tester Luke Larson, who grew up racing in the Cottonwood canyons. "If you're willing to add a little weight to your backcountry setup to have a ski that drives like your resort ski, this is your pony." It's on the heavier side, which will add up on long tours, but the stacked aramid (the base material for Kevlar), carbon fiber, and fiberglass give it enough dampening to save energy in your legs on long, chunky exits in variable conditions. Skiers looking to get into more-serious mountaineering lines with no intention of resort or sidecountry skiing may want a lighter setup. "I was surprised by how smoothly it skied," said tester Scott Yorko, a diehard Colorado backcountry skier. "It definitely punches up, and I'd ski this on just about any snow or terrain that wasn't excessively steep and deep."
Read the full review for category scores, strengths, weaknesses, and tester feedback.
---
Nordica Enforcer 104 Unlimited ($800)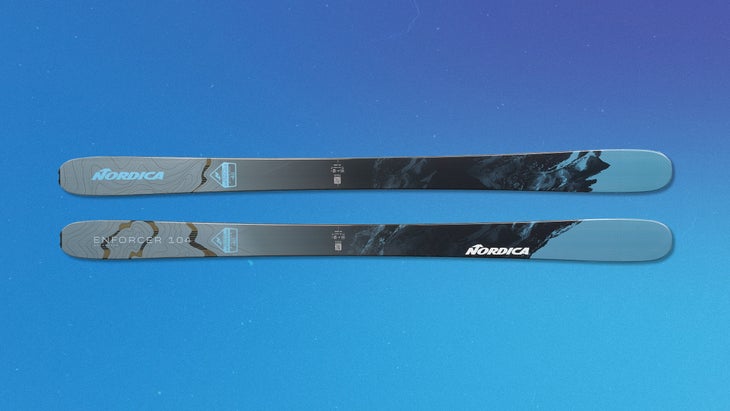 Lengths (cm): 165, 172, 179, 186, 191
Dimensions (mm): 134.5-104-123.5
Radius (m): 17.5
Weight (per ski): 1,700g
Pros: Stability at speed, Versatility
Cons: Forgiveness, Quickness
In order to transform their top-selling ski into a backcountry weapon that still holds up almost anywhere, Nordica incorporated a carbon chassis, lightweight poplar wood core, thinner topsheets, and shorter edges—all in the name of shaving weight and calling the Unlimited an "all-mountain touring" ski. "The perfect backcountry addition for the skier who already has a love affair with the Enforcer 104," said one tester, while another claimed it's best for "strong, efficient skiers. If you don't have the skills to ski it, the Enforcer Unlimited will knock you out of your comfort zone real quick." While it mostly held up to Nordica's claims of handling rapidly changing backcountry conditions, some testers noted that it didn't do what they wanted it to in tight, variable terrain and conditions, and that it was slightly more chattery in the nose than the Enforcer when coming in hot. "A great ski that's easy uphill, can bag the deepest of snow, and can still get you down an iced-up chute," said East Coast tester Paul Marshall. "I found I was able to engage the edge deeper than I expected," added Larsen. "Great all-around backcountry ski for any conditions."
Read the full review for category scores, strengths, weaknesses, and tester feedback.
---
DPS Pagoda Tour 100 RP ($1,549)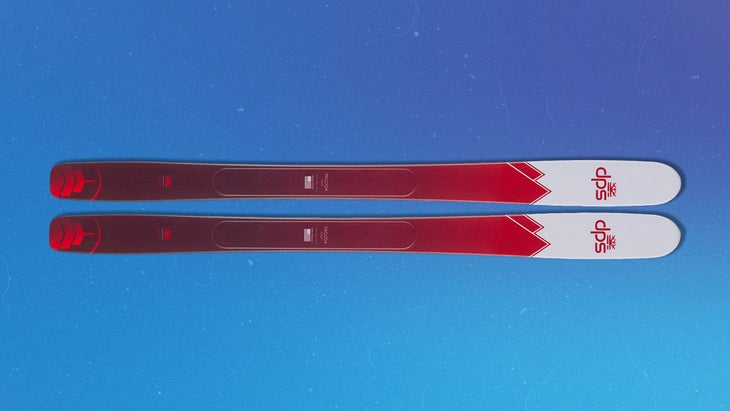 Lengths (cm): 153, 163, 171, 179, 184
Dimensions (mm): 132-100-117
Radius (m): 15
Weight (per ski): 1,480g
Pros: Flotation, Playfulness
Cons: Crud performance, Versatility
The energy-saving, lightweight construction of this ski makes it a true uphill performer for skiers who prefer to go far and high looking for the best possible snow. Given the weight, testers were surprised by the pop and edge hold in firmer conditions, but the Pagoda Tour 100 RP truly excels in champagne powder, where it can be nimble and playful on wide-open runs. Tech nerds will find the hybrid wood/foam core interesting in concert with the Algal Wall technology: Sixty-three percent of this new bio-based material is sourced from a microalgae that's more environmentally friendly and used for its damping characteristics, bend strength, impact resistance, machinability, and bonding. Full carbon laminate and a World Cup race base keep the performance high, though some testers felt ​​the tail is a bit stiff and hard to release from time to time and that the ski gets loose at speed in heavier snow and icy conditions. "Surprisingly reliable and quite fun. A great option for backcountry skiers of the West who know they'll find some fresh snow somewhere," said SKI editor Jenny Wiegand.
Read the full review for category scores, strengths, weaknesses, and tester feedback.
---
Armada Locator 104 ($800)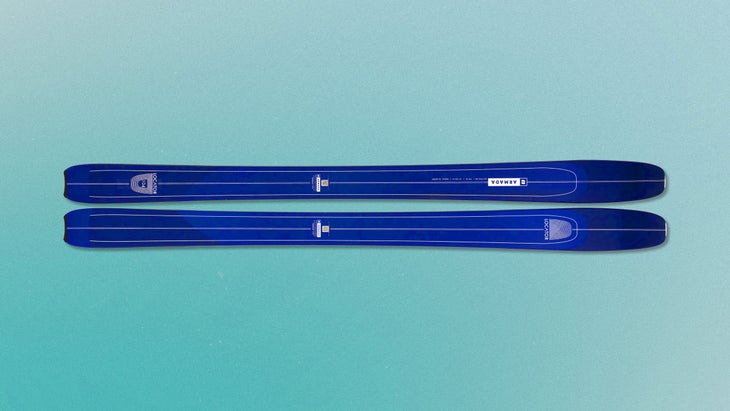 Lengths (cm): 162, 170, 178, 186
Dimensions (mm): 131-104-122
Radius (m): 22
Weight (per ski): 1,425g
Pros: Responsiveness, Flotation
Cons: Crud performance, Forgiveness
Some people want a different ski for every type of condition, while others want to use the same setup for most days. The Locator 104 is light enough for midwinter tours, without sacrificing its ability to charge. It tended to kick our testers back a bit, which was fine for snowy conditions, but maneuverability depends on the skier. While some found it a bit much to initiate tight turns in the trees, those with race backgrounds who really drive their skis found that the energetic Locator likes to be pushed or else the tail hangs on a bit too long. "Soft snow with obstacles in the fall line seemed to be the comfort zone for this ski," said one tester who appreciated the ski's ample rocker. "It gets a bit twitchy on hardpack, and you can get bucked around if you aren't on it." Colorado-based tester Jon Sexauer called it "easy to figure out, forgiving if you make a mistake, with a wide-enough platform to feel confident in a variety of snow conditions." "I loved how much I could open this ski up. I poured it on and it asked for more," Larsen added.
Read the full review for category scores, strengths, weaknesses, and tester feedback.
---
Black Diamond Helio Carbon 95 ($830)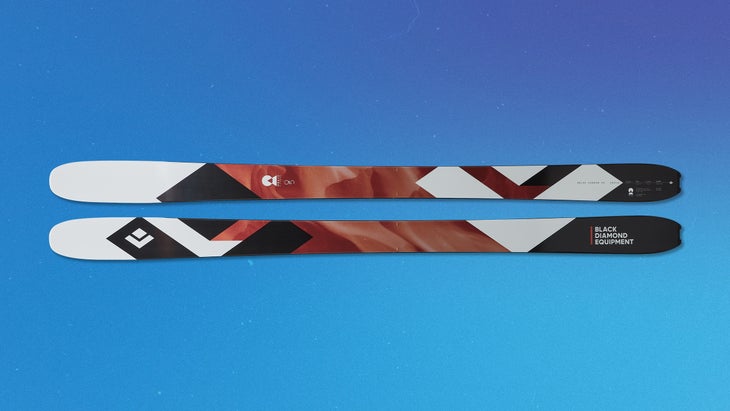 Lengths (cm): 155, 162, 169, 176, 183
Dimensions (mm): 124-95-113
Radius (m): 19
Weight (per ski): 1,400g
Pros: Responsiveness, Versatility
Cons: Flotation, Playfulness
Black Diamond revamped its popular backcountry ski with a pre-preg carbon-fiber layup that has improved the dampness, torsional stiffness, and flex pattern of this ski. It still skis like a Wasatch uphill charger for bigger mountaineering days when weight and reliability count. Several testers said it lacked playfulness and suffered a bit in deeper snow, but that it felt at home in steeper fall lines and technical terrain. Utah tester Luke Larsen pinged this one as ideal for "a skier who likes higher speeds and wants to push this thing in the backcountry." He also noted that it's best skied with some forward pressure, since it gets a little loose and catchy if you get in the backseat. Durability was an obvious priority when BD added full-perimeter 5mm beveled ABS sidewalls and a tail protector with integrated skin-clip tab. Keep this one ready to go for steep, cold snow and spring corn. "Snappy and livelier than expected, but still a lightweight ski with limitations," said Paul Marshall, a tester from the East.
Read the full review for category scores, strengths, weaknesses, and tester feedback.
---
Season Pass ($799)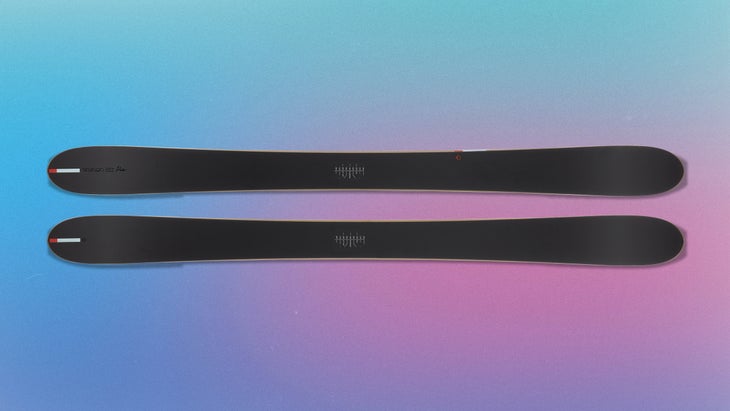 Lengths (cm): 165, 176, 185
Dimensions (mm): 140-115-136
Radius (m): 16.5
Weight (per ski): 1,800g
Pros: Flotation, Crud performance
Cons: Versatility, Quickness
With just three sizes and plain topsheets, the Pass keeps it simple by focusing on a smooth, surfy ride in all conditions. This ski is ideal for skiers painting stylish lines down the slope while slashing and jibbing natural features. Everyone who tried it described this ski as "balanced" thanks to carbon reinforcements and camber underfoot with subtle rocker on the tips and tails, marrying float with stability and pop in most conditions. "The ski shines while getting playful in softer snow, but struggles to find itself in the bumps," said one Colorado tester who would recommend the Pass primarily for chasing deep days in Japan. "Wide-open bowls, or meadow skipping if you're touring, would be ideal terrain for this ski." It's still a bit heavy for anything longer than short tours, which is why powderhounds will love this most when they are more focused on fun turns than aggressive skiing. "A great crossover option for intermediate skiers who want one ski for in- and out-of-bounds and aren't the most interested in technical terrain or big vert totals," said Sexauer.
Read the full review for category scores, strengths, weaknesses, and tester feedback.
---
Elan Ripstick Tour 104 ($800)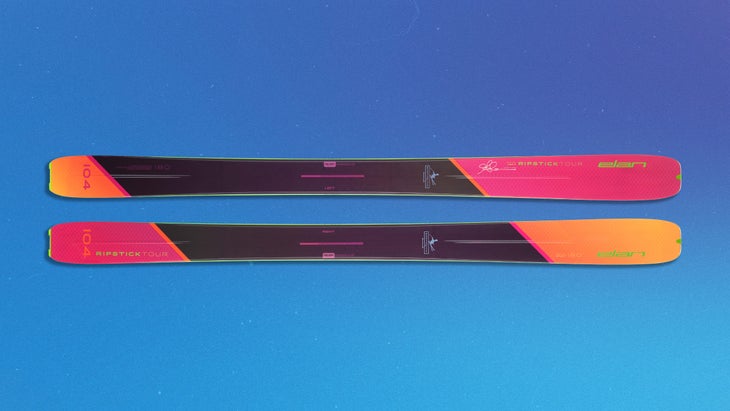 Lengths (cm): 166, 173, 180, 187
Dimensions (mm): 129-104-109
Radius (m): 23
Weight (per ski): 1,540g
Pros: Responsiveness, Quickness
Cons: Flotation, Forgiveness
Testers were not surprised that Elan and Glen Plake morphed the popular freeride Ripstick into a deft touring iteration suitable for the majority of backcountry users and conditions. It slices through crud, sucks up bumps, and holds its own in most terrain, though it's not as playful as some would like, and it definitely has a speed limit. "Gets nervous when pushed," said one tester who prefered maneuvering this ski through tight trees and chutes and called it "predictable, soft, and not intimidating." The designated right and left skis allow for rocker on the outside edges with more camber on the inside, making it easy to turn like a short-radius ski, but amenable to opening up in big backcountry bowls. A single carbon stringer rod embedded in the core gives the ski its stability, rebound, and vibration absorption in the tips. Testers say you can take these skis anywhere. "Impressive amount of power in a light package," said Colorado-based tester, Keri Bascetta. "The perfect ski for strong skiers who like to charge hard and power through all types of snow conditions." "This ski can handle chop and powder, but excels on corn and chalk and in tight terrain," added Krass.
Read the full review for category scores, strengths, weaknesses, and tester feedback.
---
Rossignol Escaper 97 Nano ($800)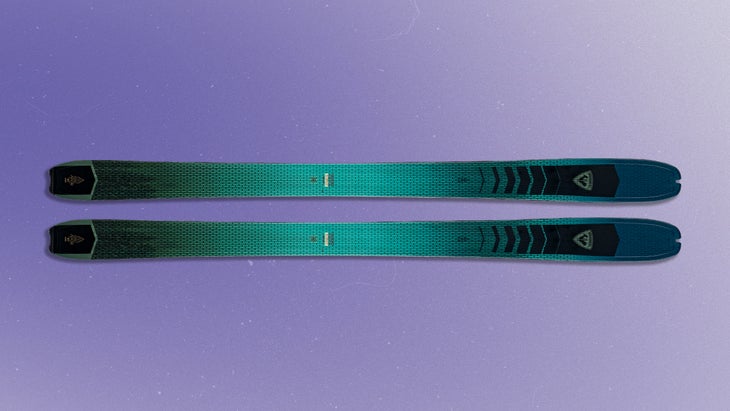 Lengths (cm): 161, 169, 177, 185
Dimensions (mm): 127-97-116
Radius (m): 20
Weight (per ski): 1,300g
Pros: Quickness, Forgiveness
Cons: Crud performance, Stability at speed
Most testers expected this one to ski like it feels—lightweight and therefore flimsy—but the .4mm sheet of Titanal gives the Escaper 97 Nano a stiff backbone that helps drive into the bindings like a true frontside ski. A .3mm layer of woven basalt fiber dampens the vibration and encourages skiing on edge at speed, but some testers felt it was too aggressive and demanding in the bumps and trees for a backcountry ski. Others found that the low swing weight handled tight jump turns like a dream and was ideal for fast cardio blitzes straight uphill, even if the tails were a bit stiff on the release. "Ex-racers or skiers on the East Coast might like the Escaper 97 Nano, as it skied more similarly to a frontside ski than a backcountry ski," said one tester. "At 97mm underfoot, it will have a little float, but the ski really wanted to be driven like a carving ski, not pivoted or skidded on softer snow." Bonus: Enjoy the smartly designed anchors for tail skin clips. "With its exceptionally low weight, I thought this would be a difficult ski to be aggressive with, but it charged," said SKI editor Jenny Wiegand.
---
Black Crows Camox Freebird ($800)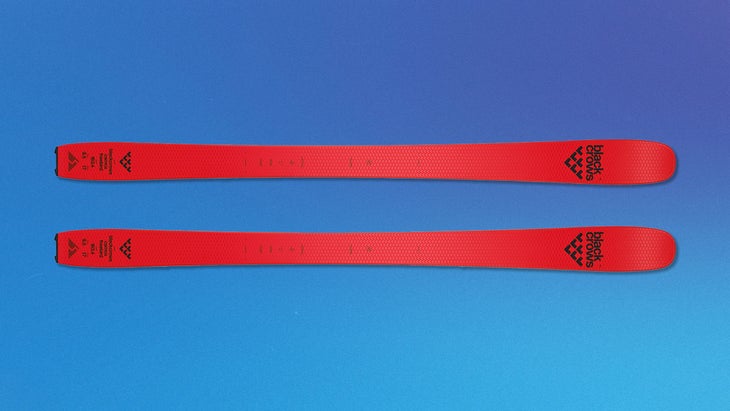 Lengths (cm): 157.1, 164.3, 171.1, 178.4, 183.4, 188.2
Dimensions (mm): 136-95-114
Radius (m): 17
Weight (per ski): 1,475g
Pros: Stability at speed, Responsiveness
Cons: Playfulness, Forgiveness
The tried and true Camox Freebird is a killer backcountry ski for mountaineering and spring objectives. It's not made for powder hunting, but remains a solid choice for someone looking to get a little spicy. While most at home in high-consequence, big terrain where you need to trust your skis under your feet, this reliable, lightweight ski is also approachable for an intermediate skier looking to chase some spring corn or even winter tours when it hasn't snowed in a while. "The tail feels very stiff and doesn't want to engage in turns very easily," noted one tester who thought the Camox prefers to charge straight ahead. Others found it quick and snappy in tight trees. Some were surprised by how well it skis crud given its light weight and narrow waist, which complements its ability to ski alpine steeps with dicey exists with precision. "Looking for an easy excuse to get in the high alpine? The Camox will not disappoint in weight or agility and will provide a solid base on the steepest of steeps," said Schulte.
Lead Photo: Ray J. Gadd