Gear Guy
We Picked the Toastiest Hand Warmers for Winter
Because nothing kills the joy of playing in the snow and cold faster than cold hands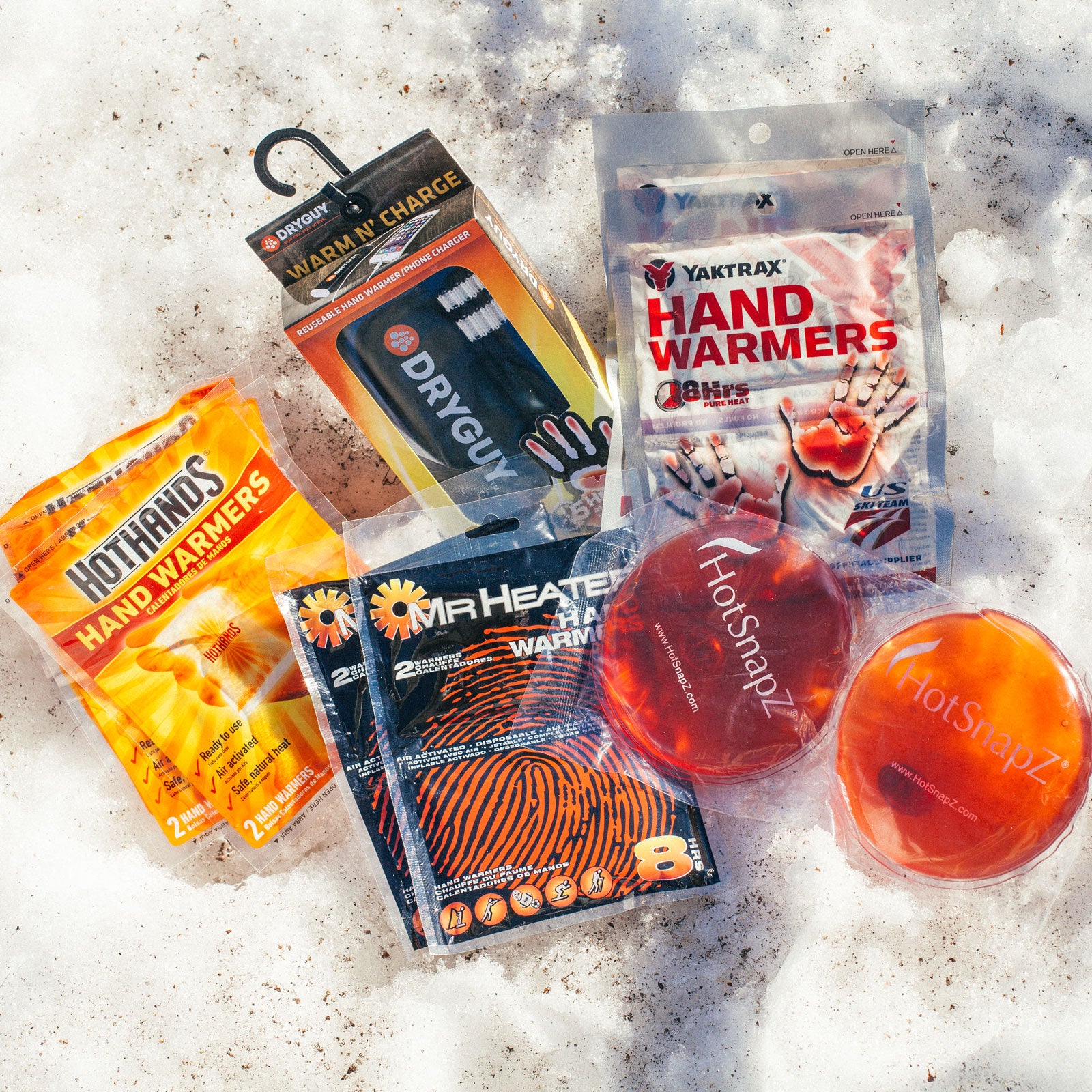 Heading out the door? Read this article on the new Outside+ app available now on iOS devices for members! Download the app.
For certain conditions and activities, you need more than gloves or mittens to keep your paws toasty. Enter chemical and electrical hand warmers. I used to pooh-pooh them, then I watched a buddy throw them into a pair of gloves before a chilly 1 A.M. start to a hut trip. "Why deal with cold hands if you don't have to?" he said. Since then I've found warmers indispensable for a variety of outings. But there are various types of hand warmers, and not all are created equal. So I put my fingers on the line and tested five different models to determine the best.
The Test
I skied with each of these hand warmers both in the backcountry of Oregon's Mount Ashland and in-bounds at the resort, tucking them into my Hestra Fall Line gloves ($155) to gauge whether they hindered my grip on my poles or got in the way as I tinkered with my skins, boots, and bindings. I then weighed each on my kitchen scale and measured their size with a ruler. Finally, I put them through a controlled heating test, activating each and giving them five minutes to warm up before stuffing them into my wife's Hestra Heli Ski mittens ($130) and placing the gloves in my freezer. To make sure each hand warmer rested in the palm of the glove, I packed the mittens with socks. Then I checked the internal temperature of the glove with a meat thermometer every half hour for 90 minutes.
The Results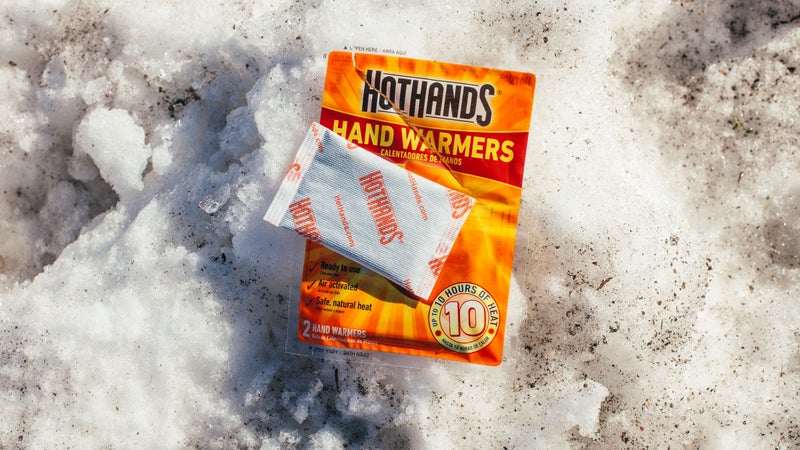 1. HotHands ($25 for 30)
Weight: 0.8 ounces
Size: 3.5 inches by 2.1 inches
Temperature after 30, 60, and 90 minutes: 130, 123, and 120 degrees 
These were the hands-down winner in a test I conducted four years ago, and the HotHands retained the title belt in this contest. They were one of three single-use hand warmers this time around, which are easy to find at pretty much any sporting goods or big-box store. The little packets use the chemical reaction of oxidizing iron powder, salt, charcoal, and vermiculite to create heat in a natural, nontoxic process. The HotHands were notably warmer than the other two single-use options during the mountain portion, and that was backed up my the temperature readings from the freezer. On top of being hotter overall, they heated up faster, which I appreciated during a 29-degree day on Mount Ashland's south side, after gusting winds almost froze my fingers as I ripped skins off my skis and tinkered with my bindings. The HotHands were also the lightest option and second smallest of the batch, which meant they didn't interfere with my grip on my ski poles.
---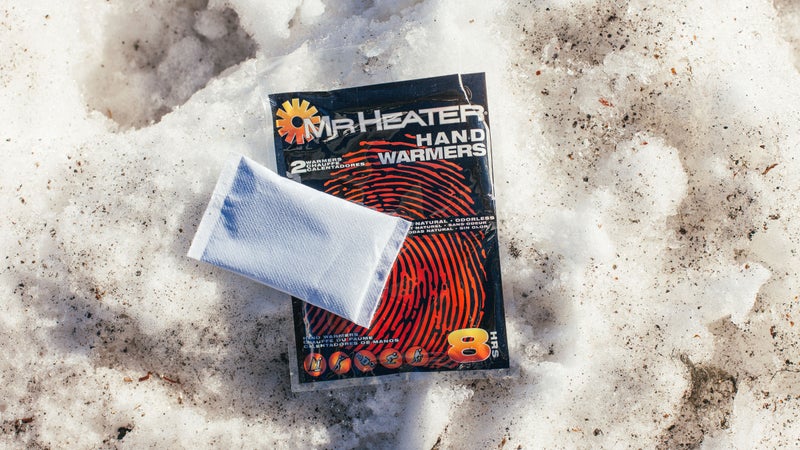 2. Mr. Heater Hand Warmers ($18 for 40)
Weight: 0.9 ounces
Size: 3.8 inches by 2.1 inches
Temperature after 30, 60, and 90 minutes: 118, 101, and 90 degrees 
Mr. Heater Hand Warmers were a relatively close second in the warmth test, but they delivered less heat in a packet that was 0.1 ounces larger and 0.3 inches wider than the HotHands. The extra size didn't make much of a difference while I was skiing or on the lift, but I found it annoying for fine motor tasks like picking through my backcountry ski pack. They edged out the Hotsnapz because, even though the Mr. Heaters were larger than the other two single-use options, they were still small enough that they didn't impede the use of my poles while skiing.
---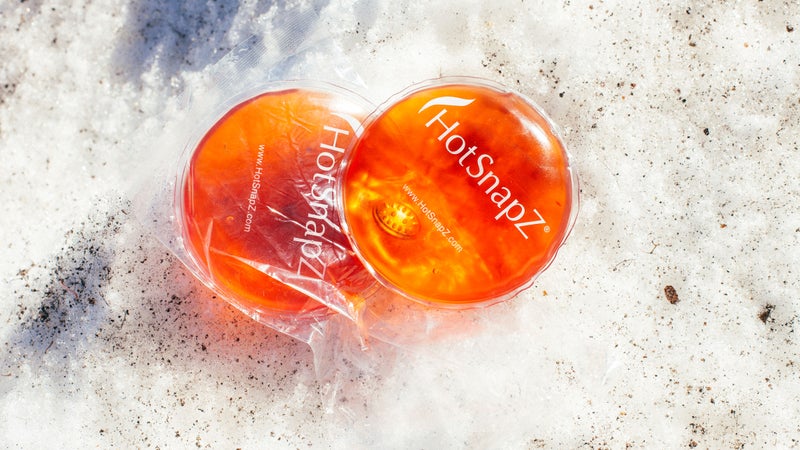 3. HotSnapz Reusable Hand Warmers ($18 for six)
Weight: 3.7 ounces
Size: 4 inches in diameter, 0.5 inches thick
Temperature after 30, 60, and 90 minutes: 112, 81, and 76 degrees 
HotSnapz use a simple chemical reaction between a metal disk and sodium acetate to deliver an impressive amount of heat; then they can be recharged, so to speak, by boiling them in water and letting them cool. The reusability would have bumped them higher up this list had it not been for the fact that they were nearly twice the size and about four times the weight of the single-use options. I found it hard to do anything with my hands while the HotSnapz were in my gloves. (I could grip a ski pole, but it wasn't easy.) The HotSnapz ended up living in my pockets during runs, and I'd pop them into my gloves during chairlift rides, where I was able to appreciate the large heated surface area.
---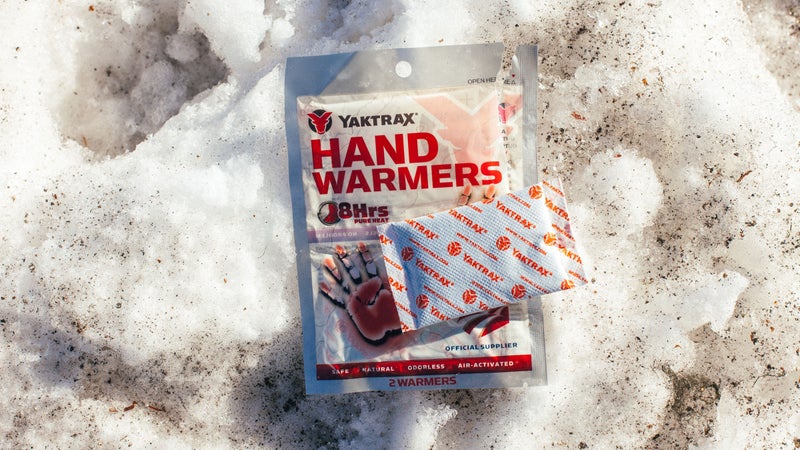 4. Yaktrax Hand Warmers ($2 for two)
Weight: 0.8 ounces
Size: 3.5 inches by 2 inches
Temperature after 30, 60, and 90 minutes: 93, 93, and 80 degrees 
The smallest of the single-use hand warmers, the Yaktrax took top marks for usability. Even when I needed to fiddle with a binding or throw a strap around my skis—movements that require more dexterity than simple pole plants—they didn't feel cumbersome in my gloves. The Yaktrax did, unfortunately, fall short when it came to keeping my hands warm. In my notes from the ski portion of the test, I wrote that they were noticeably less warm than the three above, which was confirmed in the freezer test.
---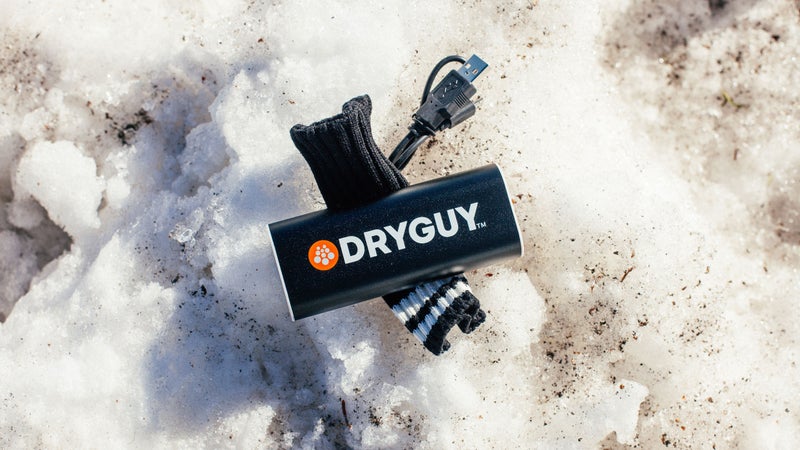 5. DryGuy Warm N' Charge ($40)
Weight: 4.7 ounces
Size: 4.5 inches by 1.5 inches, 1 inch thick
Temperature after 30, 60, and 90 minutes: A constant 95 degrees 
The Warm N' Charge would be amazing for sporting events, tailgating, or other activities where you'd be happy wearing oversize mitts and not doing much with your hands. It was impossible to hold on to a ski pole with the unit in my glove, because its large, rigid form didn't allow me to close my palm. I kept it in my jacket pocket while I skinned or skied, and swapped it between hands on the chairlift or in the parking lot. It held a steady temperature all the way through my 90-minute freezer test (on its low setting) and, as a bonus, can charge a phone, which is nice when skiing since the cold always takes a toll on batteries. My only other complaint is that it took about six hours for the DryGuy to fully charge, which means that if you forget to juice it the night before, you're out of luck.
Lead Photo: Sarah Jackson