2023 Winter Gear Guide
The Best Women's Backcountry Boots of 2023
Featuring tech inserts, rubber soles, and hike-modes with plenty of range of motion, these boots make short work of long, uphill slogs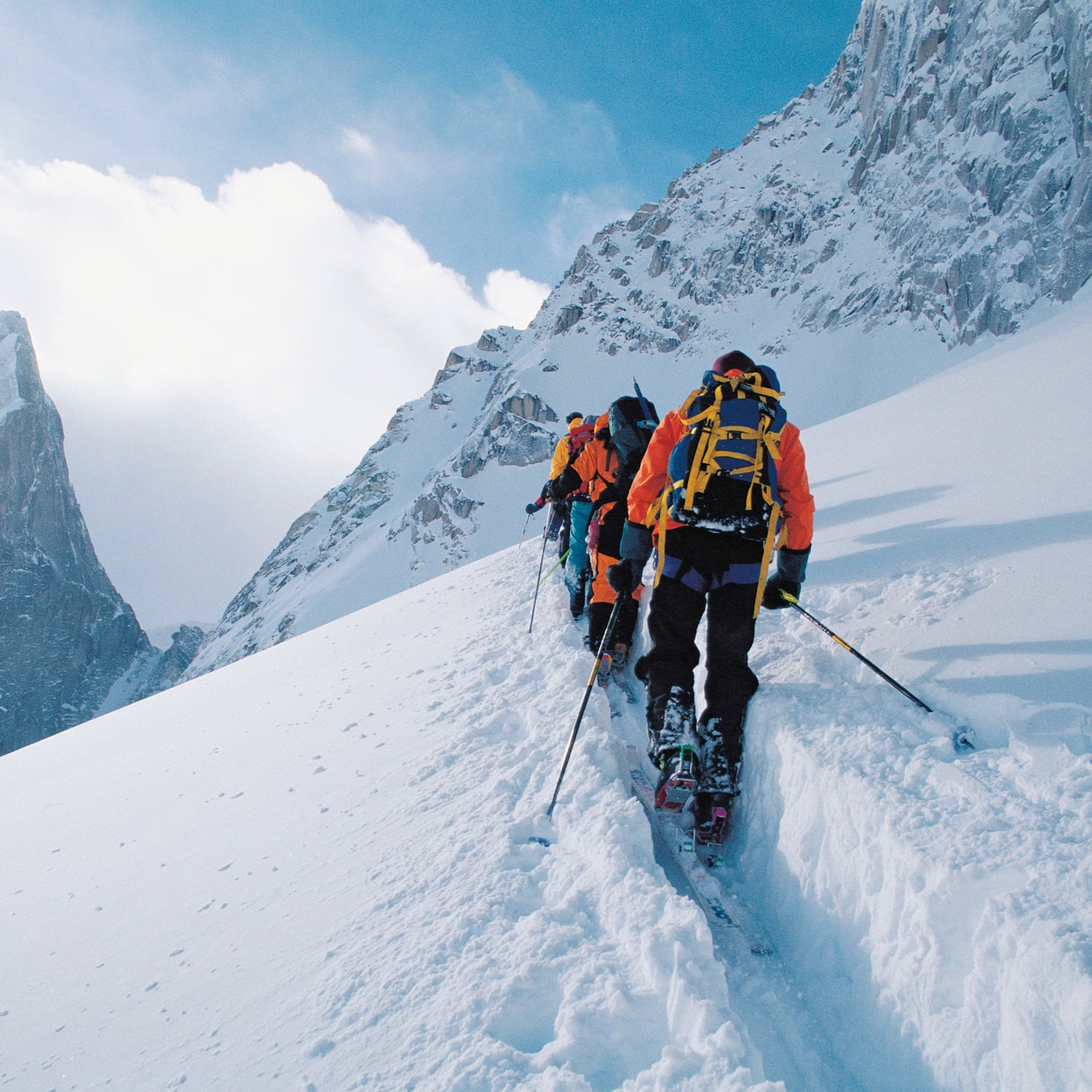 Getty
Heading out the door? Read this article on the new Outside+ app available now on iOS devices for members! Download the app.
This article was first published by SkiMag.com.
These days, you've got options in the backcountry boot category. On the one hand, you've got true, lightweight alpine touring boots designed with the uphill slog in mind. These boots feature tech inserts in the toe, burly Vibram soles for bootpacking, and above all, walk-modes that give you ample fore-aft range of motion so you're not killing your ankles and calves on long, steep tours. On the other hand, you can now find hybrid backcountry boots that bridge the gap between the downhill performance of alpine boots, and the uphill performance of alpine touring boots. These types of backcountry boots may also feature tech inserts in the toe and walk-modes with an acceptable range of motion for longer tours, but they tend to be heavier because they're made with burlier plastics and materials that increase downhill performance. These boots also often feature GripWalk or Multi Norm Compatible (MNC) soles that may be compatible with the bindings mounted on your resort skis, meaning they can be great one-boot quiver options that you can ski in and out of the resort.
Because we all have different backcountry agendas, we've included 2023's best women's backcountry boot options in both the hybrid and alpine touring categories. If you're looking for one boot to use inbounds and in the backcountry, peruse our top-rated hybrid options. If you're a dedicated backcountry skier who's looking to shave grams to make big backcountry missions more doable, check out the Atomic Backland Pro UL, the dedicated alpine touring boot on this list. Whatever you choose, make sure you carefully consider and research your boot/binding compatibility.
Related: These moves will help prevent tight muscles after skiing
Reviews: The best women's backcountry ski boots
K2 Dispatch LT W ($950)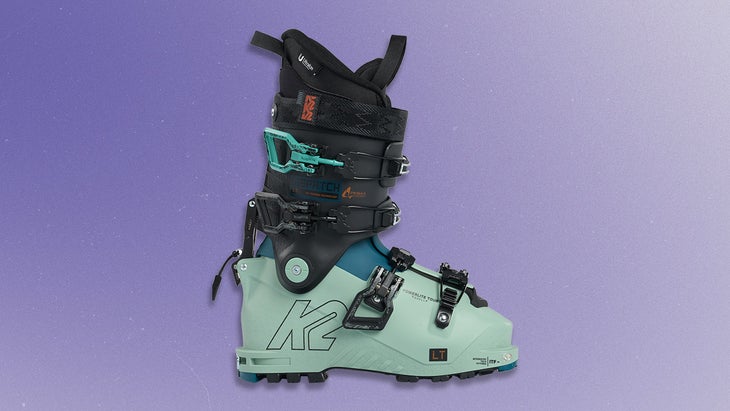 Category: Hybrid
Flex: 115
Last: 100mm
Weight: 1,390 grams
Size range: 22.5-27.5
Binding compatibility: Multi-norm compatible (MNC)
Best for: Advanced and expert skiers who spend more days aggressively charging the backcountry than at the resort
The all-new K2 Dispatch LT W was built for big missions and technical descents, a lightweight freeride touring boot for advanced to expert female skiers looking to charge. At 1,390 grams, it's remarkably light for a four-buckle touring boot; while it's not burly enough to smash resort laps, it's about as performance-oriented as you can get for the backcountry and the occasional inbounds day without jumping way out of the weight class. With a flex of 115, the Dispatch LT W is slightly stiffer and about 1,000 grams lighter than K2's other new Dispatch, which is a softer and more approachable 105-flex boot. Testers appreciated the large external walk-mode lever, which is easy to use with gloves on, and the 60-degree range of motion feels on par with other freeride touring boots like the Tecnica Zero G W and the Atomic Hawx Ultra. Fit-wise, the Dispatch LT W features a pretty wide box and a 100mm last, so skiers with a low-volume foot might want to look elsewhere.
---
Fischer Ranger 115 GW DYN ($750)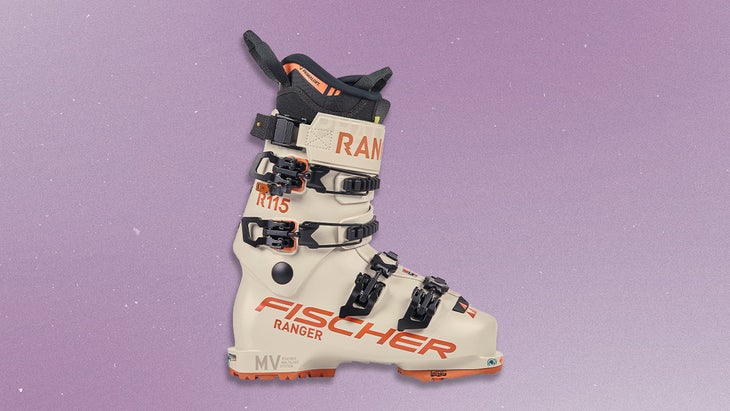 Flex: 115
Last: 99mm
Weight: 1,590 grams
Size range: 22.5-27.5
Binding compatibility: MNC, GripWalk (GW)
Category: Hybrid
Best for: Resort skiers in search of a boot that can also hang on short backcountry tours
A charging boot that's down to earn a few turns, the updated Ranger 115 GW DYN is an ideal everyday boot for female resort skiers who occasionally take a few backside laps. Thanks to a 115 flex and redesigned TPU cuff and shell, it's strong and capable while railing icy groomers or jockeying for a rope drop on a powder day. Tech fittings, Gripwalk soles, and a decent range of motion make bootpacks and sidecountry hot laps a breeze. At first glance, the Ranger 115 W doesn't look like a touring boot at all; the walk-mode lever is tucked away next to the top buckle, preventing pant legs from getting snagged on an external mechanism. For what it is, this boot walks pretty well, but it's definitely a better choice for those who prioritize the ski down and prefer to smell the roses on the way up.
---
Lange XT3 Tour Pro W ($900)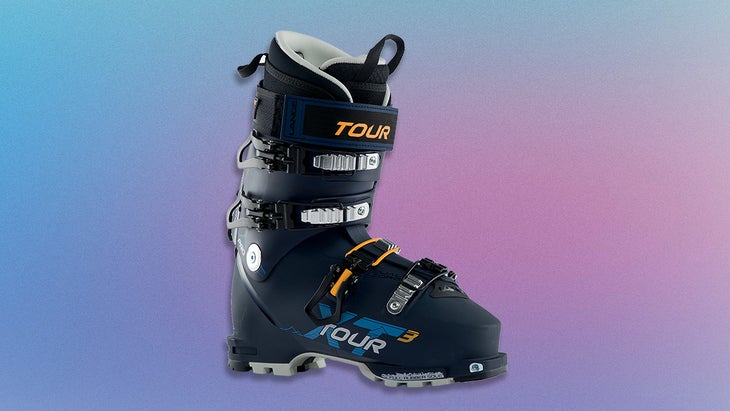 Flex: 115
Last: 99mm
Weight: 1,380 grams
Size range: 22/22.5-27/27.5
Binding compatibility: MNC
Category: Hybrid
Best for: Backcountry skiers who occasionally ride the resort and are looking for a good balance of uphill and downhill performance
For decades, Lange has proven to skiers that their boots don't mess around when it comes to powering downhill, but it wasn't until recently that their touring boots found a seat at the table among hardcore backcountry skiers. The new XT3 Tour Pro W strikes an impressive balance between downhill and uphill capabilities, with a stiff 115 flex, a lightweight Grilamid shell, tech inserts, and Vibram soles. Testers who had skied on past versions of the XT3 and XT Free touring boots were impressed with the 53-degree range of motion on the women's-specific XT3 Tour Pro W. This new range allows you to glide through strides smoothly, but the cuff can still be cinched down at the summit for a compromise-free descent. The walk-mode lever is manageable with gloves on, although not quite as easy to manipulate as a large external lever, which testers felt was the only big drawback in user-friendliness in this boot.
---
Atomic Backland Pro UL W ($975)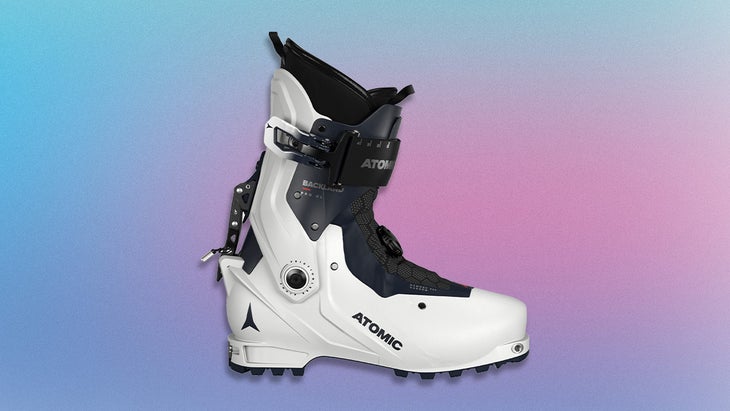 Flex: N/A
Last: 98mm
Weight: 936 grams
Size range: 22/22.5.5-27/27.5
Binding compatibility: Tour Light Tech (TLT) pin bindings only
Category: Alpine Touring
Best for: Dedicated backcountry skiers with big missions on the agenda
For adventures that are more about the walking than the skiing—admit it, we've all had them—the updated Backland Pro UL W makes skinning a heck of a lot smoother. On the up, it feels like a hiking boot. The 74-degree range of motion allows for more movement than most human ankles can physically flex, and the polyamide shell and cuff keep things light on the skintrack. At the summit, it's a breeze to lock things up: The external walk-mode lever, Speed Strap buckle, and BOA Fit System system cinch the boot quickly, making for efficient transitions on fitness laps and alpine missions alike. A soft boot like this requires a fair amount of balance and technique, so unless you're hippie-wiggling in low-angle pow, you can't put this one on cruise control. For this reason, it's a great option for advanced female skiers with their sights set on long pushes in the wilderness. Like the other Backland boots, it's incredibly low volume, and a few testers had to go up a whole size to find a comfortable fit.
Lead Photo: Getty
Trending on Outside Online