Black Diamond Revamps Ski Line for Winter 2013-14
Thanks to the new factory, built with Laakso's pre-preg expertise, all of Black Diamond's 2013-14 skis are lighter but higher performance than existing models.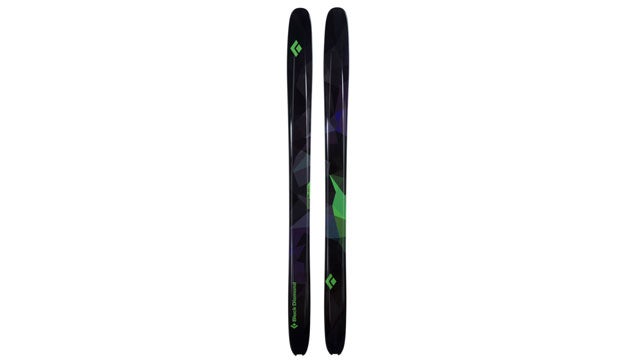 Heading out the door? Read this article on the new Outside+ app available now on iOS devices for members! Download the app.
It's not often a ski designer gets a blank slate, a clean piece of paper, the go-ahead to start from scratch. When he sat down to design Black Diamond's 2013-14 ski line, that's the opportunity Thomas Laakso had helped build, along with Black Diamond's brand new, state-of-the-art, multimillion dollar ski factory—part of the Black Diamond campus in Zhu Hai, China.
Laakso, who has been in charge of Black Diamond's ski business for a decade, didn't scrap the efforts of the last 10 years, or rethink Black Diamond's identity as a ski brand, but built upon them. From the start, Black Diamond's skis have been about "skiing outside the lines," according to Laakso. "It's about the powder hunt, whether it's deep in the backcountry, or just beyond the rope."
Most of the dozen skis in the 2013-14 collection have the same names and same or similar shapes as previous Black Diamond boards, but names can be deceiving. Thanks to the new factory, built with Laakso's pre-preg expertise, all of Black Diamond's 2013-14 skis are lighter but higher performance than existing models.
Laying up a ski, there are two options for bonding fiberglass layers. Standard construction, the more affordable option, uses a sloppy, sticky and wet epoxy-like mix applied to dry fiberglass. By nature, it's imprecise. The resin adds weight, and because the application is inconsistent, once the ski is pressed, the manufacturer needs to work the ski's bases to flatten them, which can sometimes compromise the bases' ability to hold wax. The second method, prepreg, eliminates the sticky mess and the toxic emissions that go with it. Resin is embedded into the layers—no muss no fuss—which allows a manufacturer control and precision in its layups at a significant weight savings that yields more consistent and durable skis. It also allows more creativity and control in ski design. Instead of three goopy layers in a layup, Laakso can now use six super thin layers oriented how he wants them. It's a typically a more expensive process reserved for only the highest end skis.
The weight savings of prepreg is so significant, it in turn lets Black Diamond use sidewall construction, which stiffens the ski extremities and adds a pleasant dampness without effecting the underfoot ease. It's a construction technique usually saved for the highest end skis because, but adding that capability at the new factory was at the top of Laakso's list. " With our new line, we're pushing the strength to weight ratio. We're hitting DPS weights at K2 prices," said Laakso.
Black Diamond's new collection is divided into freeride and touring categories, and by ski/skier personality.
"Skiers tend to either like agro or easy skis," said Laakso. So he made the super powerful Megawatt ($899), and the super-fun AMPerage ($799), the agro Zealot ($849) and the playful Verdict ($799).
Last week, we had the opportunity to put next year's skis on the snow along British Columbia's Powder Highway. And they lived up to Laakso's claims: playful and powerful, fun and agro, stable and reliable and top of their game. The 2013/14 Megawatt is more than a pound lighter, with thicker crud busting edges. The 100 mm underfoot Verdict is a fun twist on a GS race ski. You can still carve like a madman, but it's friendly in soft snow.
"Those are just a couple of examples of what the best available technology can do.," said Laakso. "Black Diamond has been making skis for 25 years—we're not reinventing ourselves. We're just inventing."
Available August 2013, blackdiamondequipment.com
Lead Photo: Courtesy of Black Diamond