Bode Miller Launches Peak Ski Company with 6 New Ski Designs
Montana-based Peak Ski Company introduces a new line of direct-to-consumer products featuring newly developed technology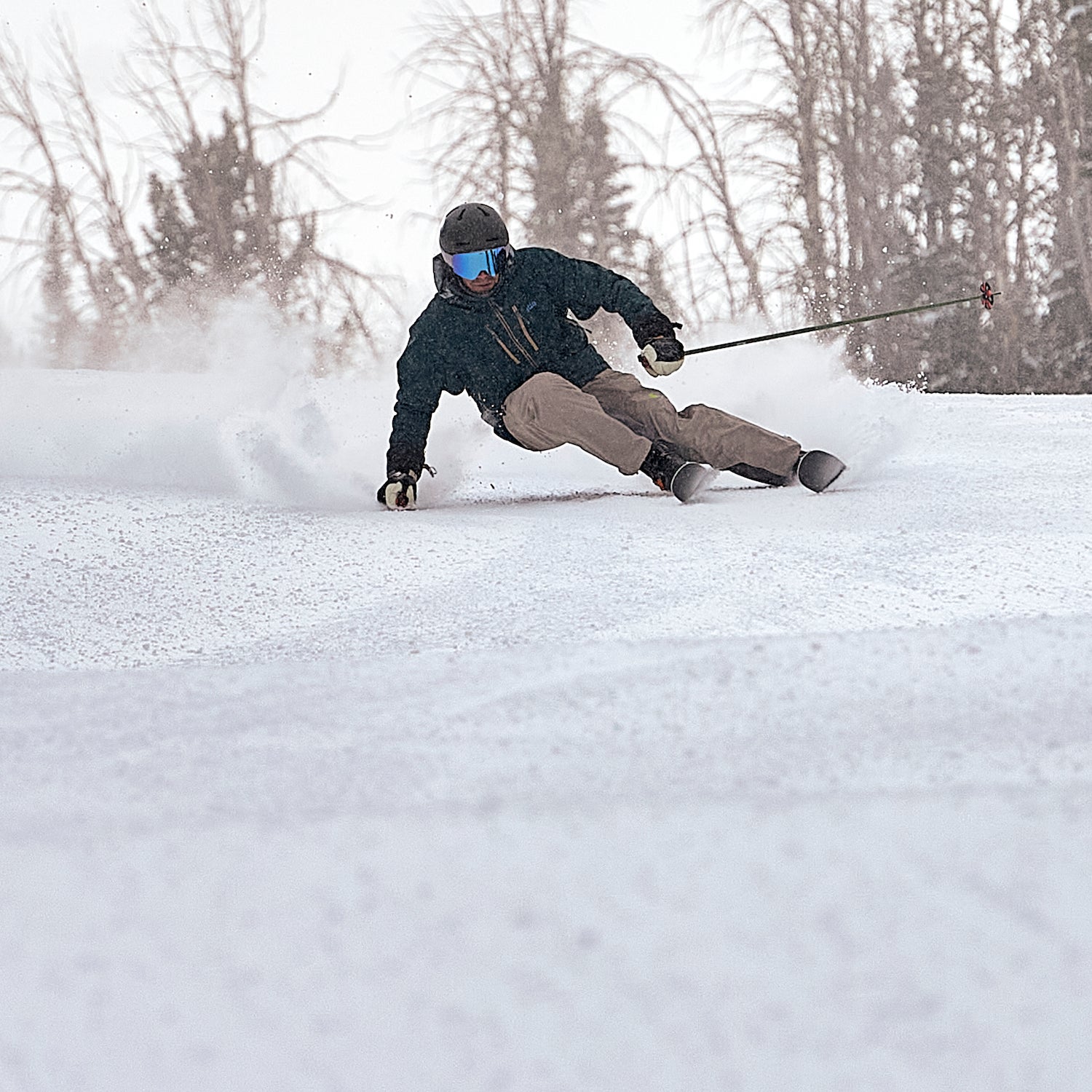 Kelly Gorham
Heading out the door? Read this article on the new Outside+ app available now on iOS devices for members! Download the app.
Bode Miller wants you to try his skis. No, not the burly metal Head or Atomic skis that saw him become the two-time overall World Cup champion and six-time Olympic medalist. He's not pushing $2,500 pairs of Bomber Skis this time, either. Today, Miller is launching a new venture, Peak Ski Company, a direct-to-consumer ski brand leading with a line of six all-mountain skis designed for skiers like you and me—which is to say, skiable by mortal enthusiasts. Miller is joined by co-founder Andy Wirth, most recently the president and CEO of Squaw Valley Ski Holdings until 2018, who will serve as the brand's CEO.
Miller, who retired from ski racing in 2017 and has put his name on a number of ski and ski-adjacent brands in the time since, began his latest project over a year ago with the intense focus on developing the highest performance skis possible, designed for all skiers and every part of the mountain. While heavily focused on downhill performance, Peak Ski Company isn't making racing skis. They instead fall into the all-mountain category.
The company developed its first prototypes and had a team of respected ski testers led by 30-year veteran ski tester David Currier, who has tested for Skiing, Outside, and Mountain Magazine, review the skis. The goal was to build skis that could compete with the top five ranking skis in the Outside Magazine ski test.
"After multiple rounds of culling—selecting the best of each of the four prototypes created for each model—I'd say Peak's skis far exceeded that goal," says Currier. "In fact, every model of ski would have clearly broken into the top five  '21-'22 skis, and three models would likely have won—outright—the 'Best in Test' ranking in their respective categories. I've never seen a new brand even come close to this performance."
So what sets this boutique brand apart—and possibly above—the roughly 35-plus ski companies already holding market shares?
"Bode's racing experience and passion for performance, coupled with his unique and creative approach to engineering, are the key differentiators of our company," says Wirth.
In practice, that expertise resulted in what Peak is calling Keyhole Technology—an oval cutaway in the top layer of aluminum-titanium alloy that delivers what the brand calls "accessible power." Meaning, the power is in the ski when you want it (provided you know how to access it), but they won't ski like wet noodles either when you are just cruising on groomers. In theory, this works because the Keyhole requires less sidecut in the wider models, allowing for easy turn initiation and the ability to alter turn shapes at will.
So when you're chasing Miller off the tram into the Big Sky sidecountry, or out for a few dreamy corduroy laps on Elk Park Ridge, you'll be hard-pressed to find terrain these skis won't dance with. That's because the ski stays balanced in every length, rather than applying the same sidecut and flex across every model. 
"Just one small example is that if you change the rise or the rocker by a millimeter or two, you change how the ski engages at the initiation of a turn," Miller says. "If you change that, then you need to compensate by adjusting the torsional rigidity of the ski underfoot. It was with that experience, I learned years ago that a cutaway in front of the binding unlocks the torsional performance of a ski. We've integrated this Keyhole Technology into all our skis and it has yielded great results."
It's a lot of tech to understand, and to hear Miller talk about the process and development of the line, it's clear his years designing skis throughout his racing career have taught him to consider every single element, design feature, and measurement.
And according to preliminary testing by Currier, the attention to detail has paid off.
"Bode and the product team have developed an entire line of skis that have a feel of their own and don't ski like anything on the market," he says, "meaning they are just plain better than what's currently in the market."
The lineup of skis for 2022-2023 include four models of Peak by Bode Miller skis in increasing waist widths: The Peak 88; The Peak 98; The Peak 104; and the Peak 110.  The line also includes two lightweight sidecountry skis, the Peak SC 98 and Peak SC 104. 
The 2022-'23 Peak by Bode Miller skis and Peak SC by Bode Miller skis will both be priced at $890 and exclusively available through peakskis.com. Based on the limited number of skis produced, customers can make a reservation with a fully refundable $50 deposit to lock in their ski of choice well before they are manufactured in Peak's 10,000-square-foot-facility in Bozeman, Montana, in early fall of 2022.
So will the skis make you fly like Bode? Probably not. But that's the point, he says. Not everyone can bend a ski like the world's top racers—but they shouldn't have to sacrifice performance because of it.
Lead Photo: Kelly Gorham
Trending on Outside Online