Gear Guy
Can I use ski poles as trekking poles?
What's the deal with trekking poles? I seem to be the only one hiking without them. Are adjustability and shock absorption really worth the extra money? Or can I get away with using the beat-up downhill ski poles I bought at my neighbor's garage sale for $2? Kristen Seattle, Washington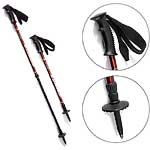 Heading out the door? Read this article on the new Outside+ app available now on iOS devices for members! Download the app.
My God! You aren't using trekking poles? As a matter of fact, you ARE the only person not using them. The rest of us long since saw resistance as futile and allowed ourselves to be subsumed into the Great Pole Entity. Join us. You'll be happier. Happier…happier…happier….

Summit Trekking Poles

But, seriously, poles are pretty good deals. I'll hike without them for one reason or another (such as when trying to manage my two beagles on their leashes), but I always prefer to have them. Why? Lots of reasons. Just using them to pace yourself helps improve hiking rhythm. They help with balance. They take some of the load off your knees, especially downhill. They make it much easier to balance on slick rocks when crossing a stream, or if you're going over logs. If your hiking partner annoys you, you can poke them.


But, let's get real: A trekking pole is just a walking stick that the marketing folks got hold of and gussied up. So a pair of beat-up ski poles will likely work just fine. That said, I do think adjustability is important, and most poles at least offer that. It's a good feature because sometimes you're side-hilling and need to adjust the pole length to accommodate the angle of the slope. Or you're on a trail that's cut slightly into the hill, so can shorten the poles so they hit the higher terrain on either side. Or, you just want a pole that's a comfortable length for you.
As for shock-absorbing poles, I think they're a waste of money. I suppose for people who have bad shoulders, they might offer some benefit. But generally—no.
So, I'd suggest you buy trekking poles that are purpose-built for the job. But don't go overboard. REI's Summit Trekking Poles are just fine, and they're only $60 (www.rei.com). Don't spend more than $100, whatever you do.