Can one pair of boots work for three different winter sports?
To put it simply, I want one boot to rule them all. Is there a single pair that works for mountaineering, splitboarding, and AT skiing? Or should I pull out a second mortgage on my house and buy three new pairs of sport-specific boots? Matthew Tacoma, Washington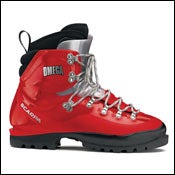 Heading out the door? Read this article on the new Outside+ app available now on iOS devices for members! Download the app.
That's quite a range of needs for one boot, Matt. I think you can pull it off, but as with all things, when you try to make one item work for several applications, there will be compromises.
Scarpa Omega Boots

Omega Mountaineering Boots
The main question to ask is this: When is a boot most a matter of life and death? I think that's pretty clear: when ice-climbing (Ptarmigan Ridge! That's a pretty fearsome route!). So I'd start by looking for good mountaineering boots, and then see how to make them work for your splitboarding. If you're using leather boots now, then I think you'll love a pair of Scarpa Omegas ($369; scarpa.com). These are very trim, plastic-shell boots that are great on ice, snow, and mixed routes. La Sportiva's Trango Ice EVO ($380; sportive.com) might work well, too; they'll be a bit more flexible than the Omegas.
How well those will work on a splitboard is an open question. They certainly won't work as well as the Scarpa Matrix, an alpine touring boot ($560). But then, I don't think the Matrix would work at all as a serious climbing boot—not enough "feel," and too high. They are fine for moderate angle stuff, but when you're on mixed terrain or front-pointing, I think you'll run into problems. And who needs problems at a time like that? I don't even think you'd find it very comfortable; even when loosened, it will still want to push your knees into a partially bent skiing position.
I will say, there's a good reason for all these sport-specific boots. To get the most performance out of crampons, a split snowboard, skis, or whatever else, it really pays to have a foot system (i.e., a boot) that does the best job of transferring power to whatever it is that is trying to grip or slide across the snow/ice.
So, I'd start with the mountaineering boots. But be prepared to take out that second mortgage for a pair of AT boots as well.
The 2008 Winter Outside Buyer's Guide is now online. From snow sports to trail-running to camping, get reviews of more than 300 new gear must-haves.