Can you recommend some skinny skis for corduroy and crud?
Last winter I discovered the joys of cross-country skiing at a local resort, but as soon as I stepped outside the tracks I was about as controlled as a cel on a hockey rink. I'm used to skis with metal edges and I could barely stand on my rental skinny skis. I'd like to buy some skis this year that I can use to cruise the Forest Service roads and use at the resort. Can you recommend some for a big guy and his fiancé that could be used in both situations? Mike Reno, Nevada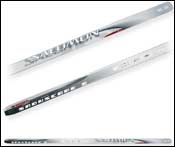 Heading out the door? Read this article on the new Outside+ app available now on iOS devices for members! Download the app.
I know the feeling, although for me it's usually the opposite—I get into tracked stuff and suddenly feel as if I'm plodding on elephant feet while the graceful gazelles go zooming past.

Snowscape 8

And therein lies the problem: Finding a ski that works reasonably well on both backcountry snow and groomed tracks. It's not easy, as the differences in the two snow environments create a dilemma roughly similar to a bicyclist trying to find a bicycle equally adept on smooth pavement and rough singletrack.
But it can be done. The tradeoff is that you'll need to favor the backcountry side of things, settling for a ski that's a little less ideal for tracks. But it doesn't have to be a big compromise. Salomon, for instance, makes a ski called the Snowscape 8 ($179; www.salomonnordic.com) that's designed for people such as yourself. It's moderately short and wide, so is easy to control off-trail—but it's not so fat that it won't fit into a groomed track. And it has an easy-maintenance base that works under nearly all conditions. On the downside, it lacks a metal edge, which can offer a decided advantage on hard-packed or icy conditions.
For that, you need to move up to a ski such as the Fischer Outtabounds Crown ($295; www.fischerskis.com). They're going to be wider than the Snowscapes, so won't fit as well into tightly groomed tracks. But I think these will do you proud.
More length equals more float, of course, so for you I'd recommend the 189-centimeter skis. For your fiancé, the 169s.
Ski on!
Read the Top 10 Cross-Country Guide from Outside Online's partner site, GORP.com, for the best North American Nordic centers.