This Gear Makes Parking-Lot Après Fun
Base lodge closed? No problem. Turn your car into a private post-ski lounge.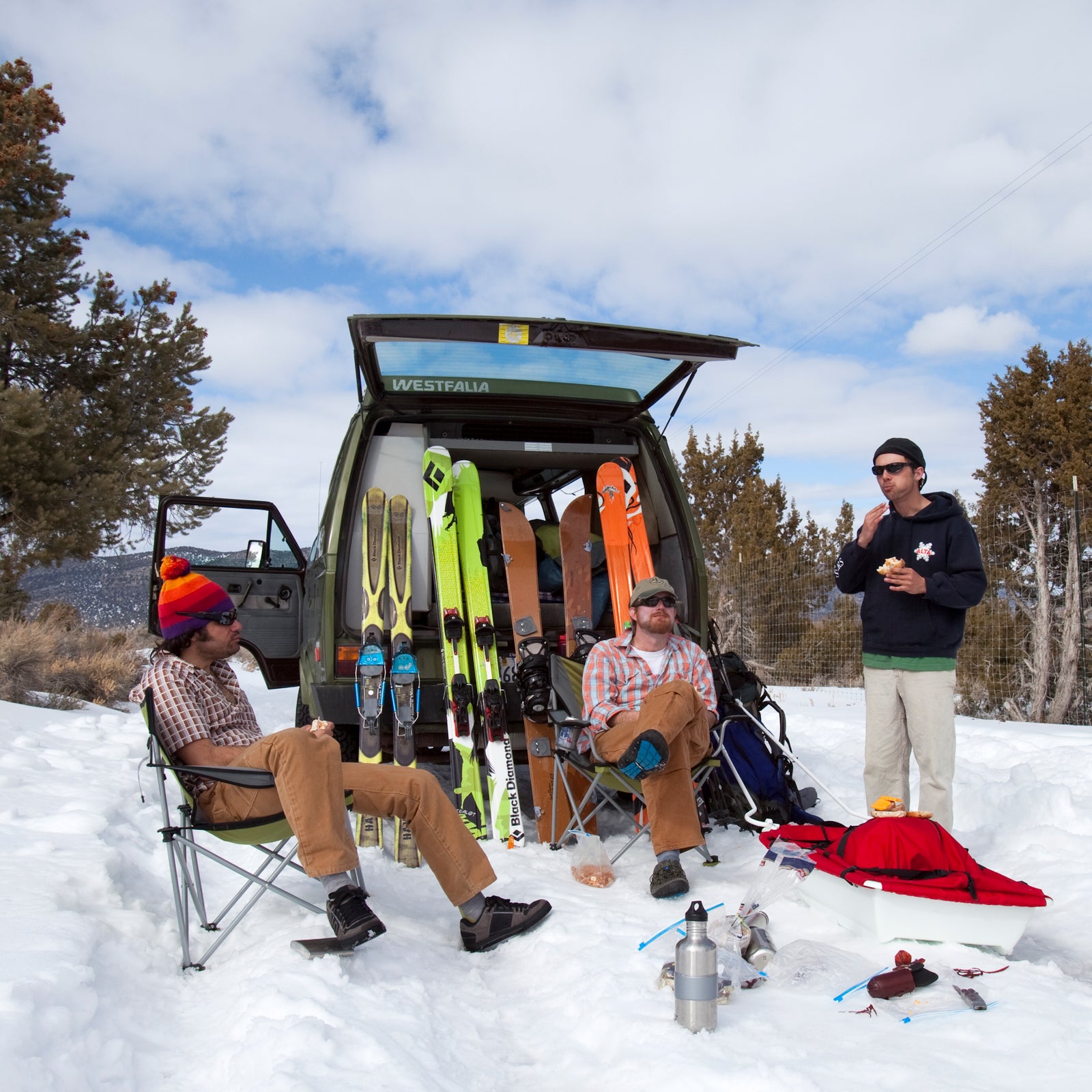 Heading out the door? Read this article on the new Outside+ app available now on iOS devices for members! Download the app.
Whether it's morning meetups, quad-resting coffee breaks, or lunchtime defrosting sessions, a ski area's base lodge is a sanctuary. But not this season. Sure, they'll still be open, but thanks to COVID, we can expect reduced seating and limited capacity, with less of the festive atmosphere we're used to. That means we all need to better our tailgating game. Here's the gear that'll help.
Layer Up and Dry Off
The reason most of us typically head indoors during a ski day is to warm up. Hanging out in the parking lot doesn't have to feel like the Arctic by comparison.
Start with your feet. Keeping your piggies wiggling is a two-step process. First, when you get to the car, swap your ski boots for the Deckers X Lab Ko-Z Snpr ($150, available in men's, too), a slip-on bootie that combines the coziness of an Ugg with the pillowy feel of Hokas. They're exactly as comfortable as they sound, and the water-resistant leather outer gives them necessary chops for navigating messy parking lots. Next, plug the Dry Guy Travel Dry DX ($45) into your car's outlet, and slide the wands into your ski boots. Its heating elements and fan kill perspiration, so you can set yourself up for happy feet the next day. You can also use the Travel Dry during a midday break to keep your toes toasty on that freezing post-lunch lift ride.
Keep your upper body toasty with the Poler Reversible Camp poncho ($100). It's more than roomy enough to wear over your ski kit, with a hefty dose of synthetic insulation that'll help you stay warm during a ten-degree rest stop. Flip up the hood for even colder days on the hill.
Now you're ready to settle in for a little après hang. First things first: a fire. Solo Stove's stainless-steel Ranger ($270) has vents all the way around, to feed the flames. This means it burns wood hot, smoke-free, and efficiently. All that's left when it goes out is a little ash. The foot-high cylinder weighs 15 pounds—not the lightest out there—but the easy cleanup is hard to beat.
Fuel Up
Once you're feeling the glow, it's time to rest and refuel. Instead of standing in line, spending too much money on mediocre food, and then hunting for a spare seat, bring your own food and chow down in style.
Somewhere to sit is a must. The Helinox Bench One ($300) consists of collapsible poles holding up a fabric body. When set up, it's wide enough for two, yet it packs down into an 18-inch-long tube and easily disappears in a trunk loaded with ski gear.
To keep chilled beverages close at hand, we love the Rovr Rollr 45 cooler ($369). With its big wheels, navigating parking-lot ruts is a nonissue. Meanwhile, two-inch-thick insulation and an airtight gasket mean beer stays cold (but never frozen) all day. Inside, an included bin separates drinks and ice from happy-hour goodies, like cheese and crackers. It also comes with a collapsible bag that rests on top, in case you need to lug other essentials, like cups or plates.
If you want to go with a room-temperature drink, we recommend New Holland Brewing's Beer Barrel bourbon ($30). It's aged in the same barrels the company uses to brew its Dragon Milk stout, which lends a soft bite, with notes of vanilla and malts. It's a great way to toast a wicked day on the slopes. If hot drinks are more your style, light up the Jetboil Flash Java kit ($120). The efficient, integrated stove-pot system boils a liter of water in 100 seconds, and thanks to its silicone French-press plunger, you'll have coffee faster than if you'd waited in line.
Of course, a long day of skiing in the cold makes a person hungry. That's why we love Stanley's Legacy Quadvac Food jar ($45). The vacuum-insulated, double-wall design keeps chili or chowder hot for up to 13 hours, and an included stainless-steel spork, which has its own pocket on the grippy leather wrap, means you'll never need to slurp—or heat anything up.
Lead Photo: Trevor Clark/Cavan