Gear Guy
Need to Organize Your Gear? Get a Gorilla Rack
You can't put a price on the peace of mind that comes with good gear organization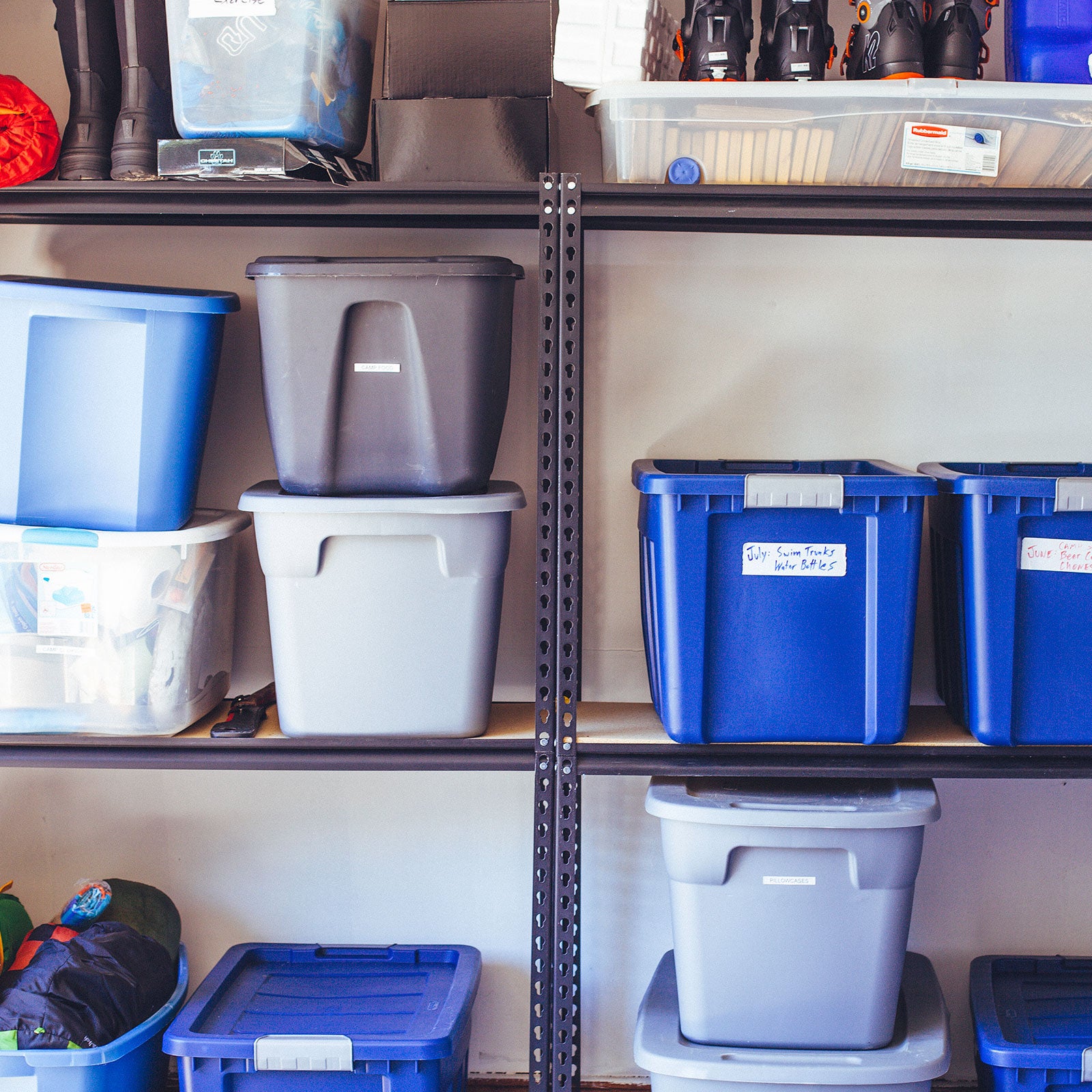 Sarah Jackson(Photo)
Heading out the door? Read this article on the new Outside+ app available now on iOS devices for members! Download the app.
I haven't always been a gearhead (read: hoarder). A mere eight years ago, the vast majority of what I owned fit either below the sleeping platform that I built in the bed of my 2000 Chevy Silverado or on the rack of that truck's camper shell. Since then, though, I've become a professional gear tester, gotten married, bought a house, and had a kid. And I've celebrated all of these wonderful life happenings, in part, by accruing more stuff. While my gear stash has grown from fitting in a couple of musty bins to taking up a two-car garage until there's no room to park a car in it, I still know where everything is, thanks to the four Gorilla Racks I use to keep the clutter at bay.
I learned the glorious efficiency of storing gear using the rack and several Rubbermaid bins during my first job at Outside, when I was assistant editor of the Buyer's Guide. I was in charge of calling in samples of all of the gear we reviewed and making sure that the right people in the editorial and photography departments had them (or could access them) when needed. My first morning on the job, when I looked at what it would actually mean to keep track of nearly a thousand pieces of gear in dozens of bins—set behind a floor-to-ceiling chain-link fence, with a padlocked gate, in the basement of Outside's office—I was so overwhelmed that I nearly puked. Soon I learned that if I kept the right things in the right bins and on the right shelves, labeled everything clearly, and didn't let anyone mess with my precious system, it was quite manageable. So even though I've now moved up the ladder, so to speak, I stick to the same method for organizing my personal equipment.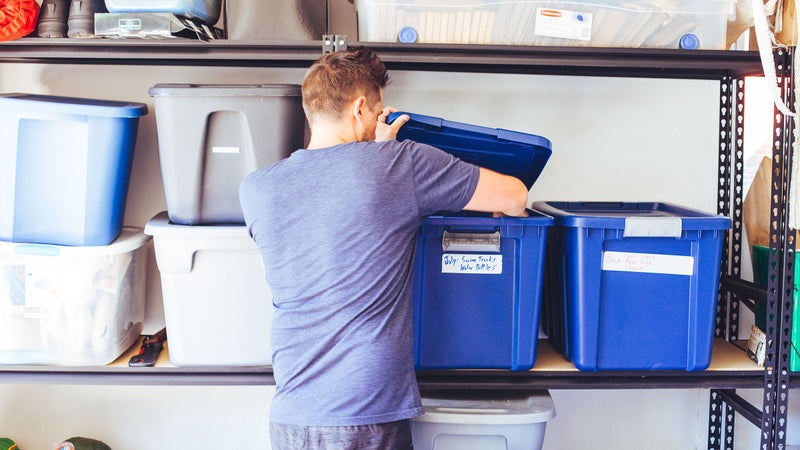 Storing gear on a Gorilla Rack is fantastically effective in its simplicity. All you have to do is label different bins and fill them with gear based on sport and season, then be disciplined about putting the cleaned gear back in the right place at the end of a trip. That way you'l never have to guess where something is. Plus, this system keeps the space around the rack looking organized and tidy.
At around $150, the Gorilla Rack is certainly affordable but not cheap. The powder-coated steel frame makes it plenty sturdy for holding hundreds of pounds' worth—and thousands of dollars' worth—of gear. The shelves are made of particle board, which I wouldn't use to build my house, but which has never bowed when I weighed it down under skiing and kayaking gear or my camp kitchen. I've had the first two Gorilla Racks I ever bought for over six years now, and they're still solid.
With five shelves, the rack is also impressively customizable. The frame has notches every couple of inches, which you slide the pegs on the ends of the shelves into, for wider or tighter spacing between them. I've always stuck with three rows of shelves placed evenly apart—one at the base, one in the middle, and one on top—to accommodate my bins. But I might add one or two more to the mix, to store the clothes my daughter has grown out of but we just can't bear to get rid of (yet).
The black, powder-coated steel skeleton and wood shelving have a clean, minimalist look, despite the gear hoarding they facilitate. No one needs to see that you have three Jetboils and a dozen questionably old Mountain House Meals tucked away. Your secret is safe with your Gorilla Rack, bins, and me.
Lead Photo: Sarah Jackson
Trending on Outside Online