Gear Guy
Have bibs gone the way of the one-piece '70s ski suit?
Why have high-end gear manufacturers like Patagonia and The North Face completely dropped bibs from their alpine climbing and skiing lines? I couldn't imagine skiing in deep powder or mountaineering in anything but reinforced, technically oriented Gore-Tex bibs. Have bibs gone the way of the one-piece 1970s ski suit? Michael Vancouver, British Columbia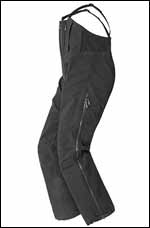 Heading out the door? Read this article on the new Outside+ app available now on iOS devices for members! Download the app.
I have to agree with you, Michael. I can't imagine skiing in heavy, deep snow, or embarking on certain mountaineering trips, without a good waterproof-breathable bib. I have a (now somewhat ancient) Gore-Tex pair from Moonstone that still serve me well, and for skiing I like my now-unavailable Patagonia bib, which is sewn together and fitted with the care of an Italian suit.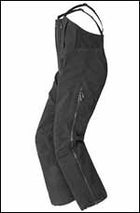 Shield Bib Pants

And therein lies the problem. Bibs are very complex pieces of clothing, which makes them expensive to design and make. Then there's the fact that the market for them is fairly limited—alpine skiers would be the biggest market, yet for reasons I can't fathom, people just don't "get" their utility.
So, there are fewer bibs available now than were around ten years ago, but you aren't out of luck. Marmot, for instance, makes a really classic bib called the Spartan Bib (Spartan, get it? Because people who wear them must be tough). It's made with durable three-ply Gore-Tex XCR, and for skiing has reinforcements around the cuff. Add to that package internal gaiters, waist and chest pockets, and even a map pocket at the thigh. All very nice stuff, though at $390 also a little steep—even though the Canadian dollar goes further than it used to (www.marmot.com).
Hey, that's right, you're Canadian! And in Vancouver. So just trot over to Mountain Equipment Co-Op on West Broadway. Buy a pair of the Shield Bib Pants ($290 Canadian; www.mec.ca), which also have Gore XCR and the added trimming of stretchy Schoeller fabric around the waist.
There, problem solved. Go say hi to my friends at La Bicicletta, just across the street. One of the world's great bike shops.
For an array of all the gear you need to hit the slopes (and the après scene), check out Outside Online's Ski Gear Buying Guide.