How to Carry Your Skis with Comfort and Confidence
On snow as in life, it's important not to look like a bozo, and for new skiers, handling long, clunky boards is the original challenge. Ignore the hecklers—there's more than one way to do it right.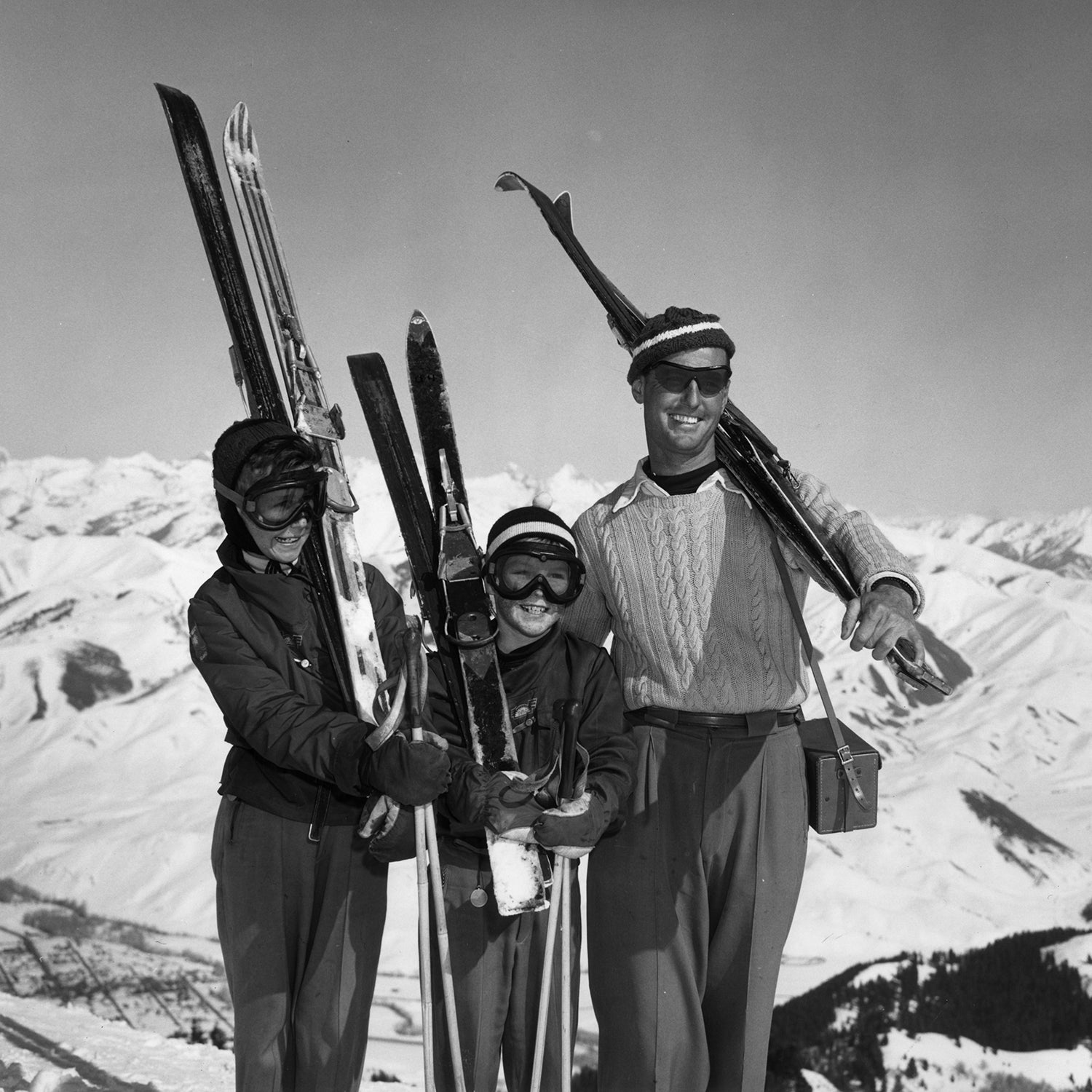 Harold M. Lambert/Getty
Heading out the door? Read this article on the new Outside+ app available now on iOS devices for members! Download the app.
On a perfect day in Park City, Utah, I got off the lift, removed my skis, and began hiking up a snowy ridge leading to one of my favorite steep stashes. I soon found myself stuck behind a middle-aged woman who was clearly struggling, and whose husband was barking at her to hurry up. "I'm coming!" she yelled, in an accent that spoke of proximity to the Garden State Parkway.
My slight annoyance soon turned to genuine concern. What worried me was the way she carried her skis: clutched to her chest, making an X across her body, the metal edges just inches from her throat. My ski-snob sense told me she had no business being up here. On the other hand, getting in over your head is part of the thrill and the learning curve. I watched to make sure the two of them got down safely.
Seasoned skiers will tell you that there's only one "right" way to carry skis: clamped together by the brakes, hoisted over your shoulder with tips forward, the toepiece of the binding resting behind a shoulder, one arm draped across the front end of the skis for balance, and the other using the poles as a walking stick. But as I looked more closely into the subject, I realized that this, too, is not always the best way to go.
Learning to ski requires picking up a host of new skills that are completely unnatural, like getting on and off chairlifts and walking down a set of stairs in rigid boots. Making matters worse is the attitude of some (not all) other skiers, who seem to believe that if you're not following certain unspoken rules, you have no business being on the mountain.
That's a genuine barrier to participation for people looking to get into this expensive and clubby sport: it's difficult enough without having to deal with secret rules made up by self-appointed gatekeepers. In November 2020, skier Brooklyn Bell pushed back on this front with an exasperated Instagram post that shows her carrying her skis, in air quotes, "wrong."
"I will carry my skis however I please," she wrote. "Cause I don't need to be perfect to access this space."
This is true—all you need to do to be a skier is ski. At the same time, unlike some of the sport's less functional unspoken rules ("There are no friends on a powder day" is exactly wrong; also, it's perfectly fine to ski in jeans, as long as they're cutoffs), mastering this particular skill can actually make the experience better, particularly for people who are new to skiing (unlike the cliff-hucking Bell). Carrying skis effectively helps you start the day with comfort and confidence, and is safer for you and everybody around you. But it's tricky to nail, because skis are awkward things that are designed to be skied on, not schlepped around. And nobody bothers to teach it, so between the parking lot and the lifts, novice and infrequent skiers are left to figure it out. "It's not part of the ski-school curriculum," says Scott McGee, a veteran instructor in Jackson, Wyoming. "And you don't want to seem too judgmental."
Unfortunately, many of the most obvious ways to carry skis are clumsy, painful, and potentially hazardous. Back when pro freeskier Colter Hinchliffe worked at a ski shop near the Aspen gondola, he and his buddies bestowed names on the many different styles they observed, which he and fellow pro Tim Durtschi later immortalized in a Teton Gravity Research video. Their favorites included the Offering, in which you hold the skis in your arms, across the body, like firewood, and the Oklahoma Suitcase, in which the pole straps are wrapped around the skis and the poles act as a handle. That lady I saw on the ridge at Park City was employing the Decapitator, a surprisingly popular option.
Hinchliffe and Durtschi dubbed the "proper" carry the Local, because that's how locals tend to do it. But the Local has its own drawbacks, as I realized one weekend after I tried teaching it to my girlfriend and her 14-year-old son. She felt unbalanced and top-heavy; he couldn't take the pressure of the heavy skis digging into his shoulders. The tears welling in his eyes told me that I was being a dogmatic jerk. I had to find a better way.
The Local has other drawbacks. The most obvious is that the tails of your skis are waving around behind you, bonking into your friends' helmets, and making the skis positively deadly in crowded spaces like a gondola line.
I needed expert advice, so I called Hinchliffe, who confessed that his preferred carry is not the Local but a simpler, easier method he calls the Escort. First you clamp the skis together by the brakes, base to base. (Always do this when carrying or stowing skis.) Next, grab them between the bindings and bring them to waist level, parallel to the ground, tips forward. Then, he says, wrap your arm around and under the skis, between the toe and heel on the bindings, and proceed as if "you're walking your daughter down the aisle."
On a recent trip to Alta, I decided to give The Escort a try. The local bros looked at me funny as I strutted across the parking lot, but the joke was on them. It was easy, painless, balanced, and, most important, safe. My ski tails were not waving around in anybody's face. Setting the skis down did not require any potentially sketchy aerial catches or sudden drops.
I felt comfortable, and it was kind of liberating to not care what other skiers thought. Going forward, I'll not only do it, I'll also (gently) share it.
Lead Photo: Harold M. Lambert/Getty
Trending on Outside Online