Gear Guy
As an improving skier, what skis should I buy?
I'm an improving intermediate skier who will ski practically everything on the mountain—though not always gracefully! I'm looking for a pair of skis that won't hinder me as I progress, but that won't be too advanced for my current skill level. What do you recommend? Joel Manhasset, New York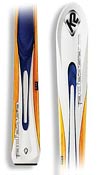 Heading out the door? Read this article on the new Outside+ app available now on iOS devices for members! Download the app.
So many skis, so little time.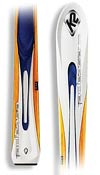 You don't mention if you already own a pair of skis. If so, I'll assume you're reasonably current and have a pair that reflect current thinking on parabolic design. That alone has made a HUGE difference in the performance of skis. I have a pair of Volant steel skis, now about four years old, that were a quantum leap over my previous Salomon GS skis made with a more traditional, straighter design. The Volants turn telepathically, as do most of today's skis with deep sidecuts. The downside is slightly inferior tracking when going straight down the fall line, but that's a minor quibble.
So really, a lot depends on your budget. You'd do just fine with a moderately priced pair of skis such as the K2 Escape 3500 (www.k2skis.com). A very easy-turning ski, with enough width to ski pretty well in crud. Good for the entire mountain. And at $299, pretty well priced. A little further up the price ladder you'll find the Salomon Verse 8 Pilot ($449; www.salomonski.com). Like the Escapes, designed as an all-mountain ski for the intermediate/improving skier. A little stiffer than the Escape, though, and a little more responsive. So it's a ski that could start taking you to that next level.


Or, you could just drop some serious dough now. Rossignol's Bandit B2's ($699; www.rossignol.com) are meant to be a ski-anything pair of boards for the good-to-really-good skier. They might take a little getting used to, but I think you'll like the extra snap you get out of turns when compared with a lesser ski.
Of course, everyone has different tastes in skis. The snow you're on, your weight—all these things will have an impact on ski performance. It's an excellent idea to rent some skis like those you'd like to buy. Several different pairs, in fact. Most mountain ski shops have "premium" rental skis available, in addition to the everyday kinds. So you can test several skis back to back on similar runs and snow conditions, and really get a sense of what works best for you.
I'm thinking snow. Are you?