Gear Guy
Is it worth spending 400 on a Gore-Tex ski jacket?
With the downhill ski season quickly approaching, I'm looking for a new shell-type jacket to replace my current insulated jacket, one that will work in almost any weather with appropriate layering (to be worn primarily in Vermont and New Hampshire, where rain is an occasional factor, but not a daily occurrence). Basically, I'm wondering if the 400-plus Gore-Tex jackets (like the Arc'Teryx Javelin SV or XCR Sidewinder SV) are really worth it, or if I'd be just as happy 99 percent of the time with a soft shell. Erik Hoboken, New Jersey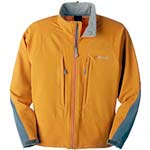 Heading out the door? Read this article on the new Outside+ app available now on iOS devices for members! Download the app.
For downhill skiing, I just can't get that excited about spending $400 for a ski shell. To me, that's overkill. I mean, if it's snowing, then the snow will usually bounce off before it melts. And if it's raining…well, I don't ski in the rain, so I wouldn't know. Life is just too short to put up with that! So in my world, Gore-Tex is almost irrelevant in a downhill jacket. Maybe less so in pants, as you'll likely be planting your rear on melted snow on the chairlift.

Serendipity Jacket

Plus, I confess that although I've invested a fair amount of money in my downhill kit over the years, my upper shell has stayed the same since about 1995—an old Patagonia anorak with that company's proprietary H2NO coating. It fits well, it's comfortable, it even looks sorta styling. Alas, Patagonia quit making it years ago. So what to do? Soft shells are a good alternative. In this case, by "soft shell" I mean the class of jackets that are a not-quite-waterproof shell that breathes better and is softer than something like the Arc'Teryx Javelin SV (a fine, ski-specific jacket at the somewhat alarming price of $399; www.arcteryx.com). An example: Cloudveil's Serendipity Jacket ($220; www.cloudveil.com), a simple, well-designed hoodless jacket that will repel just about any mountain precipitation you'll run into this winter. Layer it over a good fleece jacket and some light long underwear, and you'll be ready for most anything. The lack of a hood may or may not turn you on—I never use a hood when skiing, so that doesn't bother me. Columbia Sportswear's Speed Rusher Parka ($200; www.columbia.com) is a little roomier, has a hood, and uses a bit less technical fabric. A solid choice, nonetheless.
Incidentally, Patagonia does make a pretty good all-around ski jacket—with Gore-Tex. It's called the Liquid Sky and sells for a very reasonable $299. A nicely designed all-mountain jacket (www.patagonia.com).
Meanwhile, look out for me on the slopes, the guy in the slightly faded, purple and orange anorak.
Until December 15, the Gear Guy is unveiling his ten favorite pieces of gear, and in the spirit of the season we're giving it all away. CLICK HERE to find out what makes his all-star Hall of Gear and enter the 2003 Great Gear Giveaway!