Making the Best of Beetle Kill—with New Gear
"Blue-stain pine" used to go to waste. Now companies are using the wood to make outdoor lifestyle products—and the trend is growing.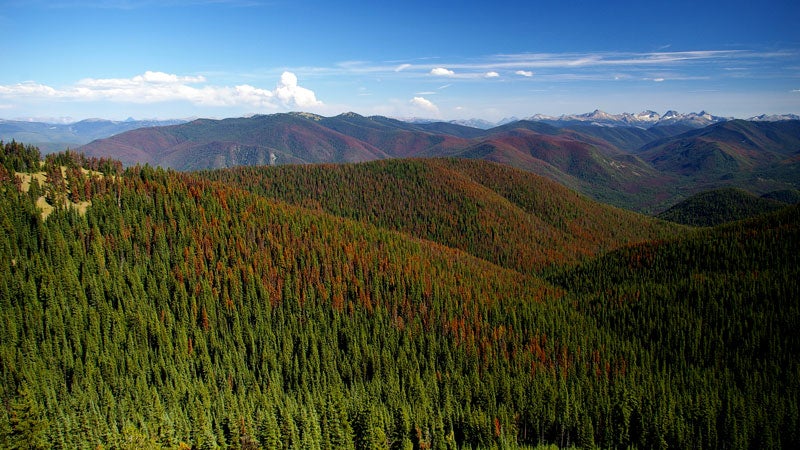 Heading out the door? Read this article on the new Outside+ app available now on iOS devices for members! Download the app.
For more than a decade, drought conditions have set the stage for a mountain pine beetle epidemic throughout millions of acres of forest in the Rocky Mountain West. Standing dead lodgepole pines pose a safety risk when left by roadsides or in campgrounds, and state agencies have struggled to clear out the hazardous wood.
But it hasn't all ended up in the chipper. Seeing opportunity in the timber, various designers in Colorado and Montana have manipulated the wood into everything from cabinets to coffins. Weston Snowboards founder Barry Clark says he created his business out of the desire to do something productive with the surplus pine. "You walk outside the front door, and it's just depressing to see so much of this wood," he says. "I thought about how I could use it in a meaningful way."
Though once considered waste, "blue-stain pine" is now in vogue, partly because it comes mottled with blue-gray streaks from a fungus carried by the bugs. Below we've complied a list of beetle-kill wood products to serve your outdoor lifestyle—and remind you of the delicate state of the woods out west.
---
Meier Skis
You can see stringers of beetle-kill wood beneath the transparent topsheet of Meier's handcrafted skis. The company's locally-harvested Aspen cores make these planks lightweight—an advantage for backcountry skiers. The environmentally-aware company only uses wood-based epoxies and toxic-free materials for its products.
---
I've Got Wood lamps
The vertical shapes of I've Got Wood's hanging lamps trace the pine's natural silvery-cobalt bands perfectly. Once the fixtures are lit, their laser-cut patterns look like glowing molecules suspended in the air.
---
Azure Furniture Coasters
In his Azure Furniture workshop, Corbin Clay creates the Denver company's signature square coasters by lopping off leg ends from the farm tables he builds. All the tables, benches, and storage pieces are crafted from locally-sourced beetle-kill pine. They're also built from a "passion for pure lines," as Clay puts it, "and a respect for the wood itself."
---
Beetlekill Boards San Juan Camp Chair
Made from beetle-kill pine and upholstered with sailcloth, the Beetlekill Boards camp chair is easy to fold flat and carry to the next picnic or climbing spot. It's a great way to sit and enjoy the woods—while they're still around. 
---
Bad Beetle iPhone Replacement Back
Pop out your iPhone's glass backing and screw in a Bad Beetle blue-stain-pine replacement back to give your device a rustic twist. An accompanying kit provides all you need for the operation. The accessory comes engraved with a likeness of the eponymous critter, and Bad Beetle plans to donate a portion of its profits toward reforestation efforts in Montana.
---
Weston Snowboards
The clever alternation of beetle-kill wood and poplar stringers under a maple topsheet makes Weston's all-mountain snowboards and splitboards light, yet still stiff enough to dampen chatter.
---
Marshwood Guitars
Luthier Robert Marsh's handcrafted electric guitars feature a body of beetle-kill pine, a neck painted brilliant cobalt, and an abalone beetle medallion inlaid at the 12th fret.
Lead Photo: Tim Gage/Flickr