These New Skis Have Gone Too Far
Light and strong have long been the holy grail of ski-design qualities—but have we taken them too far?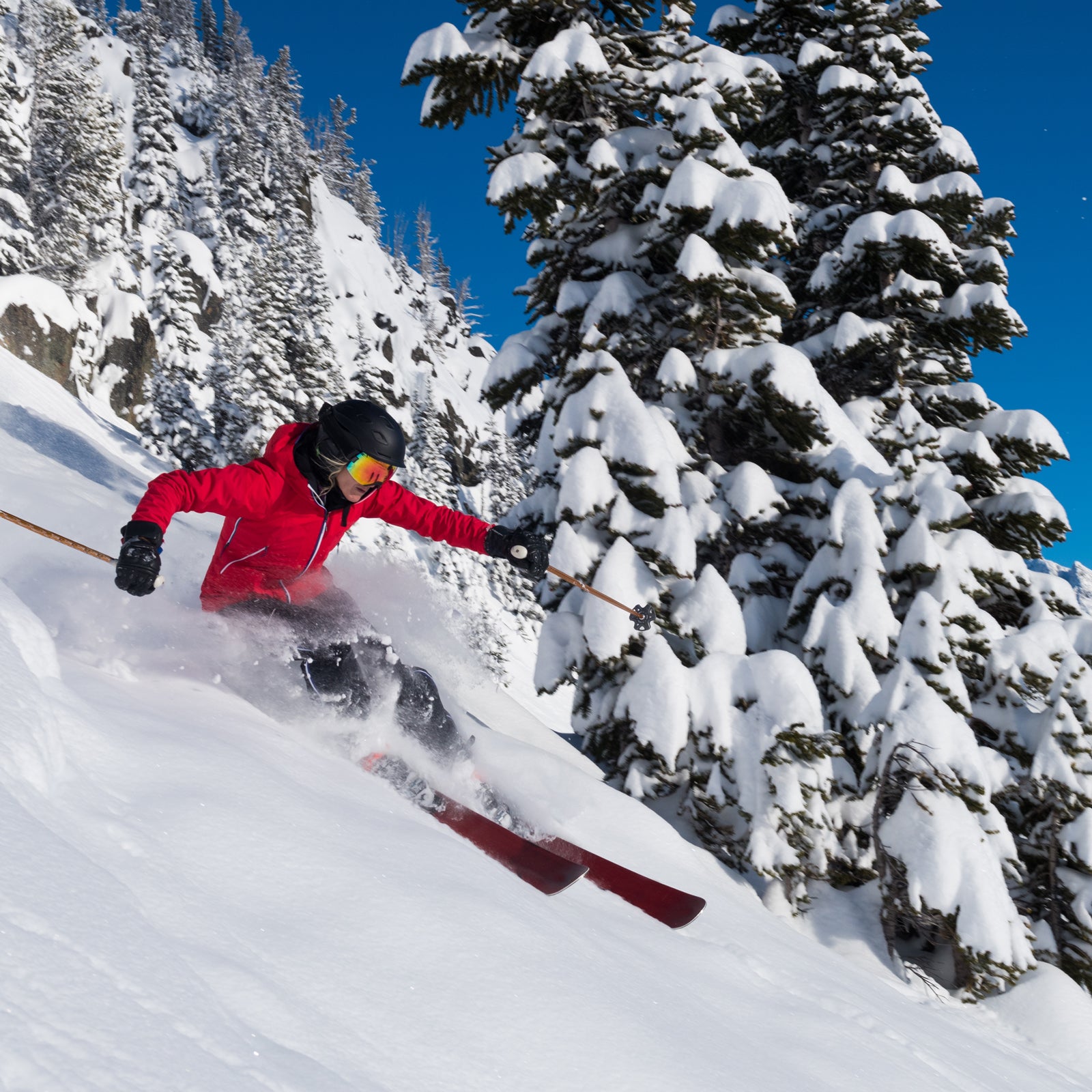 Heading out the door? Read this article on the new Outside+ app available now on iOS devices for members! Download the app.
Like blue-jeans fashion, ski design is always evolving. The most notable adaptations have made not sucking at this sport so much easier. In 1949, Head introduced the continuous metal edge. In 1995, Atomic released the Powder Plus, one of the first fat skis, with a waist width of 95 millimeters underfoot. In 1990, Elan trademarked the term parabolic with the new SideCut eXtreme, or SCX. Then 2001 saw the advent of rocker with the Volant Spatula. But when it comes to the most recent trend in all-mountain skis, I have some doubts.
Designers in R&D labs around the world are putting perfect skis on the operating table to strip out precious pounds in order to join the marketing war over who makes the lightest boards. They drill out honeycomb patterns in the tips and tails and inject twinkie-like foam filling between wood stringers. They layer materials that are measured in atoms instead of grams and are surely better suited to interstellar travel. They insert hollow carbon tubes that will someday wash up on the beach like all those plastic tampon applicators. Then they put their nipped and tucked creations into a ski-flexing machine, take down the numbers, and nod at the marvel of their lightweight strength. But is the lightest ski possible really the best thing for most of us?
Now, I'm not some kind of Luddite who yearns for the days of my brother's hand-me-down 200-centimeter K2 KVC Comps (though they were so cool). I'm all about progress. Case in point: I just bought a new $6,000 carbon mountain bike in the hope that it will help me climb all the frustrating technical steeps on the Colorado Front Range. And in my 20-some years of testing skis for magazines, I can happily corroborate that the shaving of some swing weight has, in fact, eased my quad burn at the end of the day. 
But there comes a point when a trend goes too far, like when my 13-year-old daughter came home from the mall wearing mom jeans. Yes, reducing a ski's weight can make turning a bit easier and less tiring, which was the original impetus behind this whole trend. But do you know what is really tiring? Getting bucked around in push piles all day because the feathers on your feet are afraid of snow. Have manufacturers forgotten that skiing downhill is a gravity sport? 
After three days of testing with Outside at Colorado's Steamboat Mountain Resort last winter, I came away feeling like many all-mountain, resort-oriented models in the new 2020–21 crop—the models hitting the market this year—were simply missing their meat. As we put skis through their paces, the conditions went from heavy pow to heaps of slop to frozen ocean, each of which a disconcerting number of skis seemed to shudder on. At the end of each run, we take notes on the ones we just tried out, and my comments on these skis' cards read like this: "Perhaps it prefers fly-fishing?" "Perfect Christmas gift for a Keebler elf." In the space devoted to writing down what conditions each of the skis would be best suited for, I noted skinning uphill as an AT setup, where of course lightness makes perfect sense. 
Indeed, the uphill trend is partially responsible for the emaciation of all-mountain skis. Most consumers have to prioritize sending their kids to college over collecting a garage full of gear. So manufacturers are nobly trying to build one ski that can do it all. But no matter how badly my bank account wishes it were so, a ski that is light enough for mortals like me to haul up high-alpine peaks just doesn't cut it on lift-served crud. A ski simply needs a bit of heft to stay its course. Have you seen ski-mountaineering racers with their magic slippers and featherweight toothpicks try to downhill? It's like watching toddlers who just learned how to walk run down a cobblestone street while wearing Crocs. 
If you're starting out and are drawn to lightweight skis for their ability to turn (rather than their uphill versatility), I understand the temptation. But those skis won't make you better faster. Trying to push yourself and gain confidence in variable snow is hard and scary. Your skis should be there to support you, not turn into a chattery mess the minute you venture off the corduroy.
I know, my priorities may not be in order. I have a garage full of skis for different conditions and high hopes that I'll be paying in-state tuition when my daughter goes to college. But I'm sticking to my guns on this point: just as the skis made for alpine touring should be light enough to avoid permanent damage to your hip flexors, skis marketed for all-mountain resort skiing should be heavy enough to stay on the snow. 
There are some models that successfully cross over from resort to backcountry. (And truth be told, much of the loss of skiability on an all-terrain setup owes to the boots and bindings.) But there's a feeling you get on hearty skis—that of biting into the snow and plowing through chunder—that those lightweights just can't deliver. It's the closest I've felt to having a superpower. 
Why shy away from that? We are skiers, after all. We understand effort. We don't mind firing a muscle or two. We forego beach vacations for ski passes, set ungodly alarm times, pull warm children from their covers, fight traffic for hours, schlep gear wearing painful boots, and freeze our asses off all day. Yet it only takes one turn—whether it's the jolt of hardpack or the velvety purr of plundering pow—to remember what happiness is. This sport is a vehicle for joy, and it is best deployed at eye-watering speeds. There is nothing anyone can do to make my low-rise skinny jeans fashionable again. So manufacturers, I implore you: give me a ski with meat, and leave the feathers for walking up mountains.
Lead Photo: stockstudioX/iStock