2023 Winter Gear Guide
2023 Nordica Enforcer 100 Review
Testers once again designated the Enforcer 100 as the benchmark ski of the all-mountain category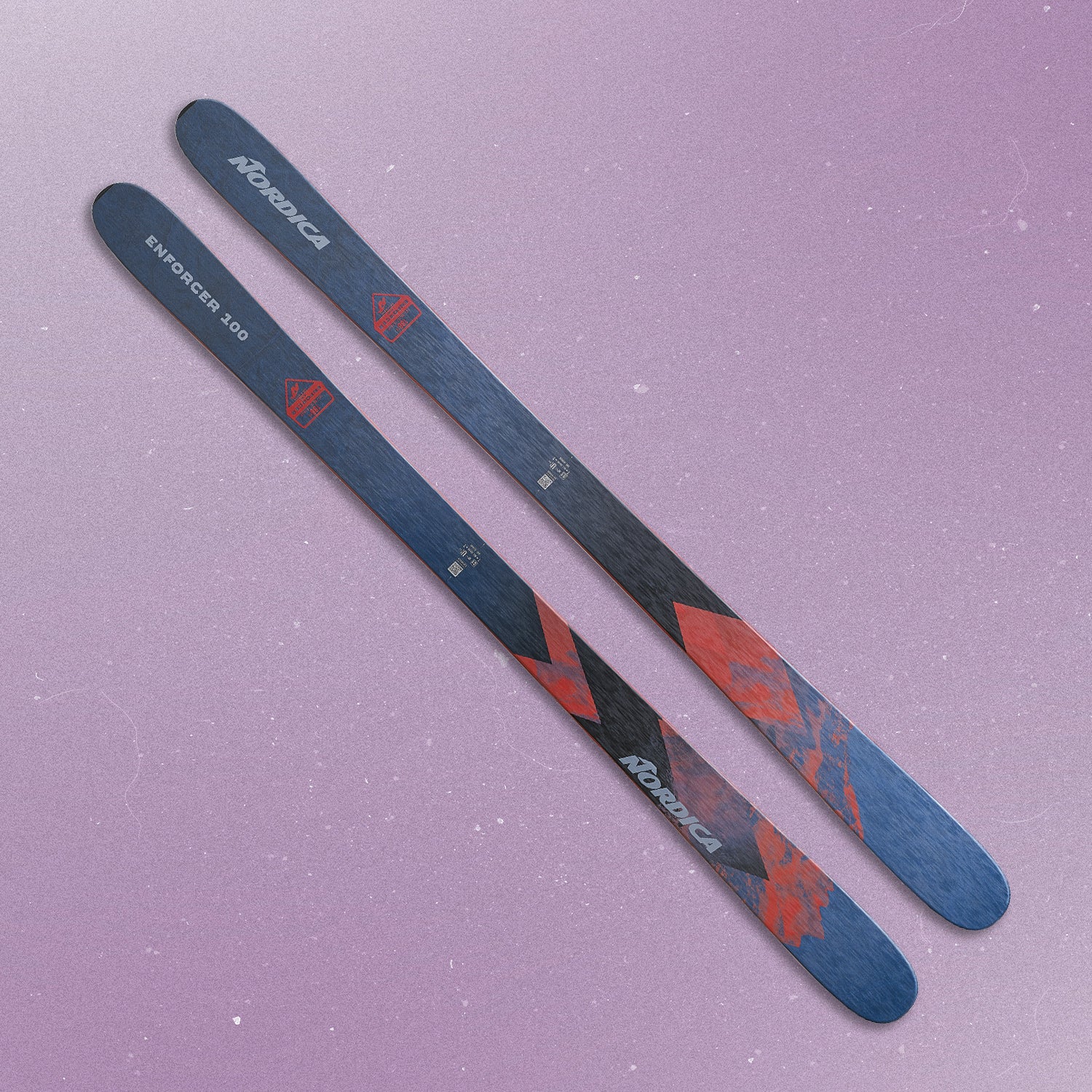 Courtesy Nordica
Heading out the door? Read this article on the new Outside+ app available now on iOS devices for members! Download the app.
This article was first published by SkiMag.com.
The Scores (out of 10)
Overall Score: 7.5/10
Rank: #1
Versatility: 7.6
Crud Performance: 8
Playfulness: 6.4
Responsiveness: 7.4
Hard-Snow Integrity: 7.4
Quickness: 6.4
Stability at Speed: 7.4
Carving: 7.6
Flotation: 7.4
Forgiveness: 6.4
The Specs
Price: $800
Lengths: 165, 172, 179, 186, 191
Dimensions: 132.5-100-120.5
Radius: 17.3 (179cm)
Level: Advanced, Expert
In a Nutshell
Pros: Versatility (#1), Crud performance (#1)
Cons: Quickness (#21), Forgiveness (#15)
There is a reason the Enforcer 100 has become ubiquitous in lift lines, and that is not likely to change, as testers again ranked it at the top of the all-mountain category. During the 2023 gear test, the long, steep pitches at Sun Valley provided plenty of opportunity for the Enforcer to show off its all mountain prowess. "In soft, variable snow the ski is lively and simple to direct through mixed terrain and still has enough guts to let you plow through crud," commented Colorado-based tester Jon Sexauer.
This ski really comes alive when driven with confidence at high speed. With top scores in Versatility, Flotation, and Crud Performance, this ski most impressed testers with its backbone off-piste. The Enforcer 100 didn't get the best marks for Playfulness, but that's not why you buy this ski. You buy the Enforcer to give you the confidence to smash through crud and variable snow.
And while it's not particularly quick or agile, advanced and expert testers will have a hoot arcing turns around trees like slalom gates and diving no-holds-barred down the fall line. The energy and power that make the Enforcer 100 stand out is courtesy of Nordica's new carbon-reinforced chassis that maintains strength and stability while reducing the ski's overall weight. But make no mistake: despite the lighter swing weight, the Enforcer is still a stiff and burly ski. Testers caution you'll want to spend time in the gym before the season gets underway since this ski is demanding; you'll need legs of steel to be able to keep up with them for a full day.
Related: See How the Blizzard Sheeva 9 Compares to Its Competition
Less aggressive skiers may easily be overwhelmed by the task of staying on top of this ski, especially off the groomed. Several testers also noted that because the Enforcer 100 is so stiff, it could be too much for smaller or lighter skiers. Tester Otto Gibbons, a 5'6", 135 lbs expert skier, pointed out that the Enforcer 100's biggest issue is that "not everyone who is recommended this ski should be on it."
If you are a strong intermediate skier, the Enforcer 100 may be a handful, but it will also force you to develop better technique and become a stronger skier. If you are already an expert, this ski will let you push your skiing to new heights anywhere on the mountain.
The only other concern with the Enforcer 100 was performance on really hard snow. Some testers pointed out that the ski would chatter on firm snow, and as such may not be the best choice for skiers who think they want an all-mountain ski, but end up spending the majority of their time on firm groomers. But then again, if hard-snow and groomer performance are at the top of your wish list, you shouldn't be shopping in the all-mountain category to begin with.
At the end of the day, the Enforcer 100 is a benchmark all-mountain ski that continues to impress testers with its versatility, especially off-piste. Testers unanimously agreed that it's the best option for advanced and expert skiers looking for one ski to tackle the whole mountain on all but the deepest of days. "This is that do-everything ski you tell your friends about—as long as you've got some weight behind you," said Vermont-based tester Adam Jaber. "I'm not surprised by how well this ski performs," added Gibbons. "It has been a heavy hitter in the category for years and it still delivers."
---
A self-proclaimed gear nerd when it comes to skis and mountain bikes, Jon Sexauer grew up skiing in Northern California, spending the majority of his time getting loose and sendy in terrain parks. He now lives in Colorado and calls Copper Mountain his home hill. Though he still gravitates towards playful and wide all-mountain skis, he's developed a more open mind when it comes to skis since joining SKI's official gear test crew five seasons ago. These days, you'll find him ripping around Copper on his trusty Nordica Enforcer 100s.
Lead Photo: Courtesy Nordica