Outdoor Retailer Winter 2007
OutsideOnline's Gear Guy reports on the latest trends at this season's gearapalooza.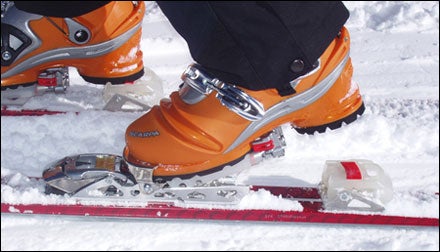 Heading out the door? Read this article on the new Outside+ app available now on iOS devices for members! Download the app.
"Just look for the banners," the guy next to me in the chairlift advised. "That's what tells you people think they have something that's gonna be hot."
Arc'teryx Sidewinder SV Jacket with Gore-Tex Pro Shell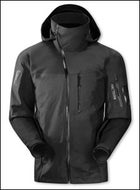 Arc'teryx Sidewinder SV Jacket with Gore-Tex Pro Shell
My new acquaintance and I were on the lift at Brighton Ski Resort, the venerable resort (in business since 1936) outside of Salt Lake City. He owned a bike/snow sports shop in Bozeman, Montana, and, like me, was attending that day's on-snow demo, part of the Winter Outdoor Retailer show, the annual gear extravaganza where hundreds of gear makers flog their latest products. I'd asked him what he had seen of interest, prompting his remark about the banners.
This wasn't bad advice, really. Although the show hasn't seen a banner explosion since the height of the dot-com boom seven years ago (Fogdog, anybody? Quokka.com? Planetoutdoors? And do you realize that in Internet years, the Gear Guy has been around for 38 million years?), there's still plenty of stuff to promote. So here are some of the banner-intensive items, and a few that perhaps are worthy of a banner.
Rottefella NTN binding: Given that it's a winter show devoted to sliding around on snow or keeping warm when out in the snow, Rottefella's NTN ("New Telemark Norm") binding surely counted as one of the big events, even if bent-knee skiing is never going to become the pastime of all but a hardened core.
Along with boot makers Garmont, Crispi, and Scarpa, Rottefella has tried to re-think the telemark binding to devise something that's sturdier, walks better, and can take a boot that's also suitable for alpine touring. The NTN binding seems to solve all of that. For one thing, it eliminates the need for the 76mm "duck bill" at the front of traditional telemark boots, making it easier to walk. And an NTN-style boot more easily fits into a crampon. The bindings also have a two-step spring mechanism that increases resistance to heel lift when skiing downhill and decreases it when you're hiking up.
And instead of clamping at the toe alone, NTN bindings grip the boot between the toe and a cut-out in the boot sole located about one-third of the way back from the toe. That makes for a more positive connection between boot and ski and allows a more comfortable gliding action when skiing uphill. That connection also allows a releasable binding, so NTN setups are equipped with ski brakes.
I'm not much of a telemarker, but I took some NTN-equipped K2 skis and Crispi boots up for a run or two. I thought the connection between the boot and ski was extremely firm and powerful. I also thought the binding complex and heavy, and somewhat difficult to get into/out of. But serious telemarkers who ski big lift-supported areas should love it.
None of this comes cheaply. The bindings will sell for about $350, boots and skis for another $500 or so for each.
Gore-Tex Pro Shell: Gore-Tex has had to scramble a bit as light weight becomes more and more valued. True, Gore has had Pac-Lite out for the better part of a decade, but that is seen as having lesser durability compared with heavier XCR Gore-Tex. So the Gore folks are introducing Pro Shell, a much lighter version of its waterproof-breathable membrane bonded to a tough face fabric and a liner. I wore a sample jacket during a demo day hosted by Gore and came away impressed. The full-featured jacket, designed by an Arc'teryx alum, was maybe just over half the weight of a comparable XCR piece. The fabric was a little crinkly, but it was generally comfortable, comparable to a Pac-Lite jacket. And it seemed highly breathable. I couldn't attest to its waterproofness due to crystal-clear skies.
Gore is also introducing a new winter glove technology that employs Pro Shell. Gloves from Gordini and other makers will have two five-fingered membranes within the shell. One has maximum insulation for cold weather, the other a thinner layer for better manipulation of small objects, or less insulation. I found them warm, but in the "nimble" mode they weren't as nimble as my Marmot Randonee gloves are all the time. My impression: Why do gloves need to be that complicated?
Several makers—Mountain Hardwear, Merrell, Arc'teryx, and Marmot among them—will introduce Pro Shell jackets and other items this fall. Cost of a Pro Shell jacket will be on par with those made from XCR—around $400 to $600, depending on maker and bells and whistles included in the piece. Take Arc'teryx's Sidewinder SV jacket, for instance. It currently employs Gore-Tex XCR and costs $499. But the revamped-for-Fall-07 Sidewinder SV will feature Gore-Tex Pro Shell using a polyester-faced (rather than nylon) fabric, which sheds water more effectively. Expect to pay $599 for this gem.
Green, green, green: Appropriately, participants in a winter-oriented show have concerns about global warming. So "green" initiatives were everywhere. In some cases that meant a green exhibit booth—Keen's was made of recycled mailing tubes; Gramicci's booth of particle board was 100 percent recyclable. But products also are looking greener. Marmot, meanwhile is expanding its line of clothes that include Cocona, a fabric derived from coconut shells. And companies such as Patagonia and Mountain Hardwear were showing new lines of Polartec-based garments using 100 percent recycled materials. These have been around for a while, but improved recycling technology makes them softer and more competitive price-wise. Now you can't tell recycled Polartec from non-recycled.
More Banner-Worthy Gear
New Balance 921 Trail-runners

New Balance 921 Trail-runners
Black Diamond Cobra Hammer and Adze Ice Tools

Black Diamond Cobra Hammer and Adze Ice Tools
I didn't see any banners near these gear items, but they each seem worthy to me.
Spiky running shoes: New Balance was showing its new 921 running shoes ($100). Designed for winter running on ice and snow, the 921s have threaded mounts in the sole for ceramic (soon to switch to stainless steel) spikes. They also have a midsole with an anti-freezing compound so they stay supple in cold weather.
Dress like a pine cone: Schoeller, makers of some really great outdoor fabrics, was showing its new "bionic" membrane, called c_change. It's designed at the molecular level so that it operates like a pine cone, which keeps its seed cone closed when the weather is cold and wet, then opens it when it's dry. C_change works the same way. When the wearer is out in the cold and damp, the membrane's pores stay tightly closed to keep heat in and the wet out. As the temperature warms, the membrane opens up for ventilation. Look for it this fall from several makers, including Cloudveil with its new Koven Plus jacket ($440).
A better bivy…and jacket: Another great fabric, in my view, is eVent, a waterproof-breathable membrane that is chemically similar to Gore-Tex but has different molecular structure. I actually prefer it to Gore-Tex, but since its introduction five or so years ago, eVent has struggled a bit to gain traction. But now, Big Agnes is introducing its new Three Wire Bivy, which will use eVent. That should make for an excellent bivy, plus Big Agnes has built a tent-like frame around the user's head so you won't feel like you're in a cocoon. Weight is about two pounds, and it goes for $299.
Meanwhile, a couple of young Canadian dudes have launched an outerwear company called Westcomb and are churning out a series of extremely clean, functional designs. Among the new items they were showing was the new Rampage HX Jacket, which uses eVent and Schoeller Dynamic to create an alpine jacket that's light (about 18 ounces) yet has a hood and other must-have features. The Schoeller material is used to "body map" the garment, as it's placed around the torso for breathability, while the eVent repels rain from shoulders and arms. At $330, it's a good buy.
Use the pointy end: If ice climbing is in your blood, then you'll be lusting for Black Diamond's new Cobra Hammer and Adze ice tools. Made with carbon-fiber shafts, the new tools are incredibly light, yet designed so that the head has plenty of swing-weight for sinking into hard ice. Not cheap at $300. But their wicked curve is hard to resist.
Skis, boots, snowshoes: The theme of winter is sliding around on snow, so plenty of gear-makers worked that vein. If you like alpine touring skiing but also do a little telemarking, then Scarpa's new Terminator X ($650) will have the appeal of a cold beer in Death Valley. For telemarking it uses the new NTN binding but also takes Dynafit's TLT alpine-touring binding. It's a tall, three-buckle boot that offers tons of support. Off-piste, anyone?
The Terminator X would work brilliantly with Karhu's new Team 130 ($600), a super-fat telemark/AT ski with a carbon core for light weight and strength. Or, hook them up with the new Black Diamond Kilowatt, billed as a friendly fat ski with a generous sidecut and a solid wood core with torsion box construction.
One would think snowshoes have evolved about as far as they could, but new designs and materials keep pushing the envelope. This fall, Crescent Moon will offer its well-designed snowshoes in a magnesium frame, to save weight and improve durability. Expect to pay $275. Atlas was showing snowshoes with a new Wrapp Pro for more positive fit and easier on/off. The company is also making snowshoes with an elliptical aluminum frame, a process that adds stiffness and strength. The go-anywhere 1230 model will retail for $259.
It's warm out there: Insulated outerwear is making a big comeback as new fabrics and insulations allow a trimmer cut that's still warm. Outdoor Research unveiled the new Megaplume (for men) and Refuge (for women), which combine down filling with light, water-resistant Pertex outers. They'll be $299. Mountain Hardwear's Windstopper Insulated Jacket uses Gore Windstopper for a shell and Thermo Micro synthetic insulation. That will sell for $240. Arc'teryx was showing its new Dually Belay insulated jacket, which uses that company's proprietary ThermaTeka hollow-core insulation ($475).
Pack it all up: Backpacks typically abound at the Summer Outdoor Retailer show. But in Salt Lake City, Gregory was showing its Targhee Ski Pack ($179), a 33-liter pack that carries skis diagonally or vertically. The ski-carry system ties directly into the pack suspension for better carrying. The Targhee also has an insulated hydration system.
A camera on your wrist: The wrist-mounted Digital Hero camera from GoPro isn't brand new, but they will soon be offering a higher-resolution 3-megapixel model for $140. This is a fun gadget. It mounts securely to your wrist, then flips up when it's time to take a picture. Shoots decent video, too.
Peep, peep: Winter sports can be hazardous. If you venture into the backcountry, you'd be wise to carry the newest Pieps DSP beacon ($400), which gives you quick, accurate directions to as many as six avalanche victims. Indispensable.
Trending on Outside Online