The Standout Skis of 2015
Buying new skis this year? Lucky you. We tested the latest designs, and these came out on top—so shop wisely.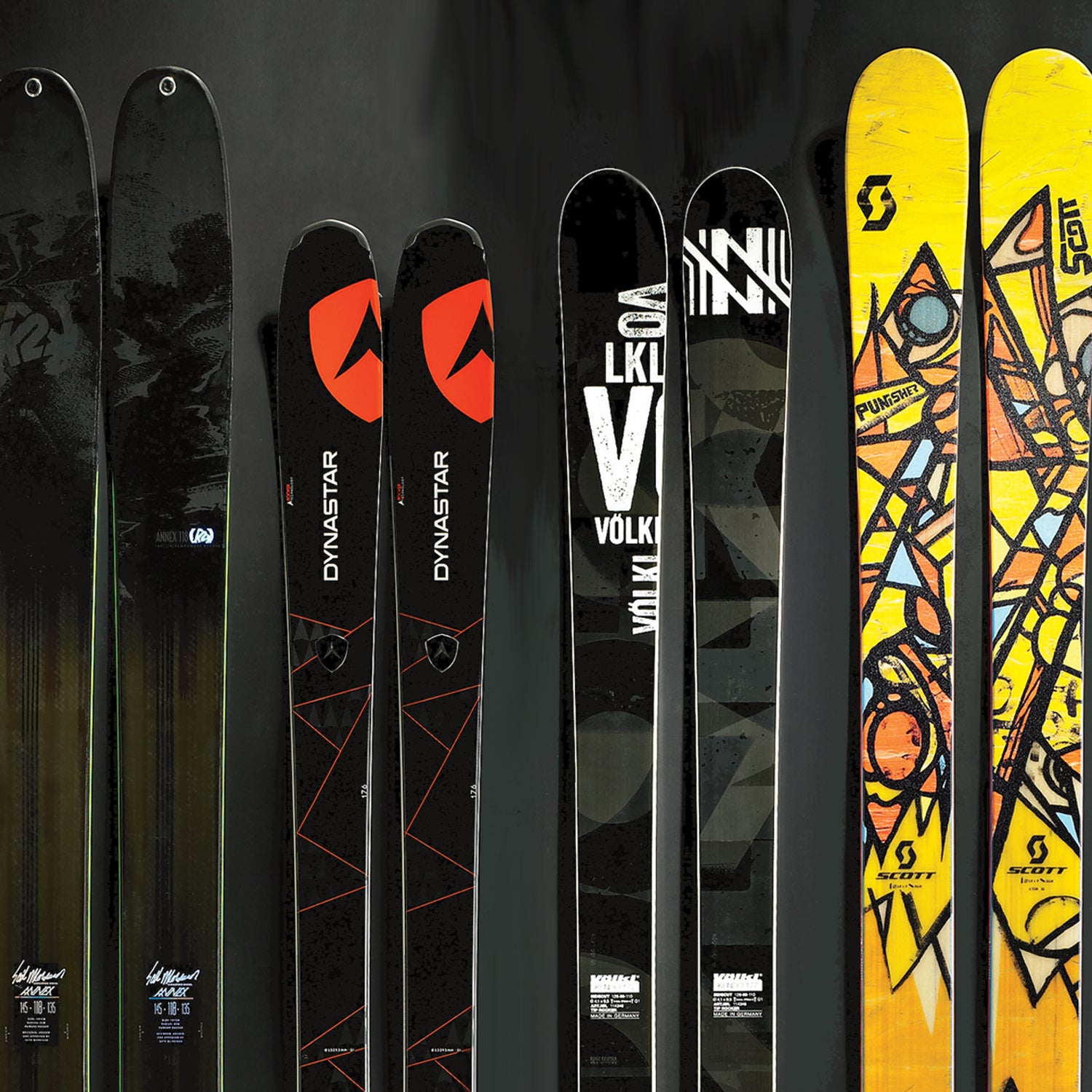 Dustin Sammann
Heading out the door? Read this article on the new Outside+ app available now on iOS devices for members! Download the app.
Despite the insider jargon, buying skis today is easy: it's all about waist width—of the skis. Carve powder every day? We don't believe you, but regardless, you're a 110-to-120-millimeter big-mountain shopper. Spend most of your time arcing turns on corduroy? Start in the range of 80 to 90 millimeters. Want versatility? The meat of the market is now 90 to 105 millimeters. From fat to thin, here's a sampling of standouts from our three-day test at Snowbird, Utah.
Line Supernatural 100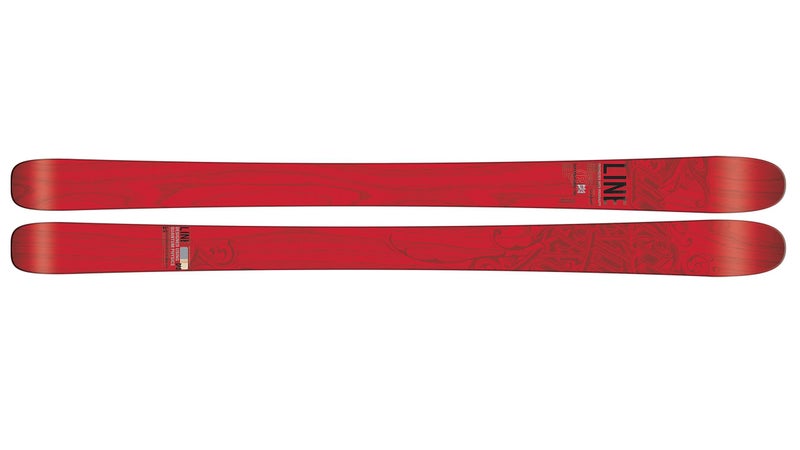 Best For: All-mountain western skiing.
The Test: The brand-new Supernatural 100 ($810) offers just a hint of tip rocker—enough to float the ski and keep it maneuverable in boot-deep powder. But because that rocker isn't pronounced, you feel the full power of the edges in a carved turn. On our standard test run, we found that it transitioned seamlessly from loose and surfy tree skiing to precise and sinuous mogul thumping to easy carving on soft corduroy. It's a true all-mountain ski.
The Verdict: The 100-millimeter midsection is the benchmark for versatility. 132/100/121
---
K2 Annex 118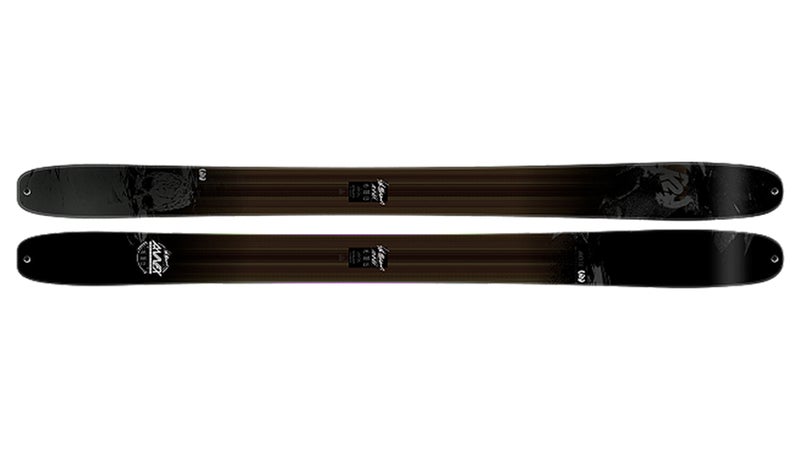 Best For: The deepest storms.
The Test: The redesigned Annex 118 ($960) is a blend of powder rocker (for surfing), low camber (for big-turn stability), and understated tapering of the tip and tail (for off-trail steering). Testers were impressed by how smooth and powerful it felt when rocketing over frozen crud and how easily it skied at slower speeds in deeper snow. On packed trails it's less of a carver and more of a smooth bomber, but you can work the edges in the center of the turn. "Gives you the confidence to point it into a chute," said one tester. "You can always scrub speed if you need to."
The Verdict: At 118 millimeters underfoot, it's all the width you'll ever need for powder—but it's also well suited to going fast in the big wide open. 145/118/135
---
Dynastar Powertrack 84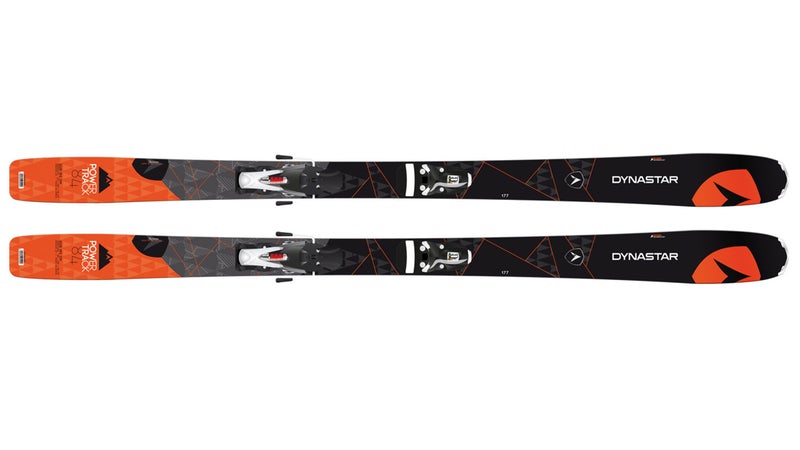 Best For: Effortless frontside skiing.
The Test: This new Dynastar ($600) is a template of modern ski design: There's taper in the tip and tail, which virtually eliminates that hooky feeling. Gentle rocker lets you pilot off-trail and takes the work out of turn initiation. And a progressive five-point sidecut means there's plenty of edging power in the belly of the turn—where you want it. To test the ski's attributes, we stood up and slipped it sideways in mock bailouts and laid it all the way over in race carves. The response? It refuses to slap you for pilot error but doesn't wash out when pushed.
The Verdict: Another reminder that "high performance" no longer means "hard to ski." 123/84/106
---
Völkl Kendo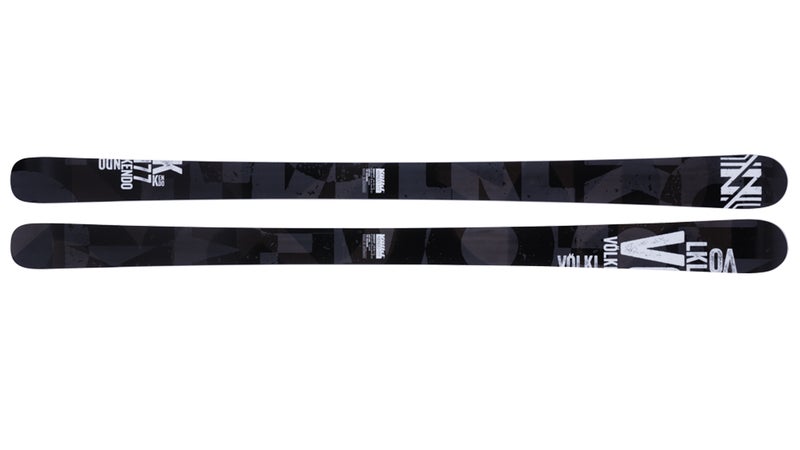 Best For: A one-ski quiver for the East Coast.
The Test: To go fast with confidence on hard snow, you don't need a race ski, you just need one with racing in its family tree. That's the Kendo ($775). Like all the planks on these pages, it has off-trail chops and features tip rocker for easy turn entry. But there's also plenty of camber underfoot—backed by titanium sheets—for unlimited straight-line stability. The 89-millimeter waist is borderline effortless to tip on edge, especially with wider bindings. And the tail is reassuringly flat for finishing turns with oomph. "Makes a big but energized turn 
on hardpack and handles variable crud, too," said one tester.
The Verdict: Look here if firm snow is your reality (or passion). 126/89/110
---
Scott Punisher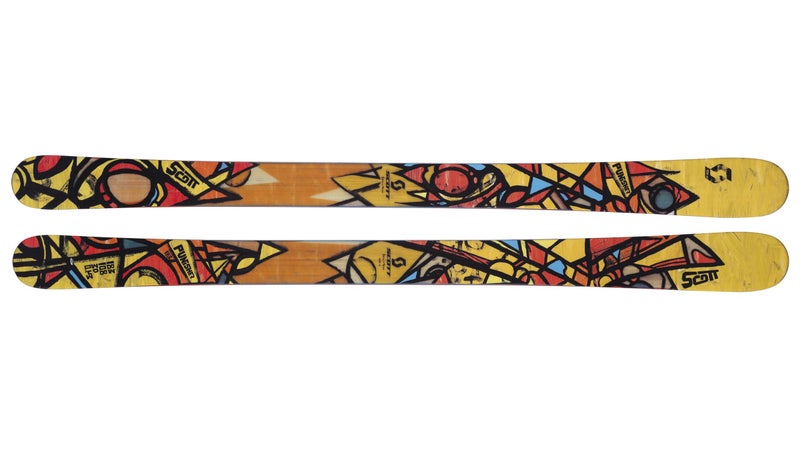 Best For: Crud busting and tree skiing.
The Test: Punisher is a good name for this versatile big-mountain model. There's ample front and rear rocker for float, but the ski has a quietly powerful feel that lends itself to smashing through pockets of leftover snow. You can still get the edges engaged without too much body English, thanks to 108 millimeters of width underfoot, but given the amount of rocker, the Punisher ($700) is best off-trail. In its element, 
it's easy to pivot and smear but won't hold you back if you're chasing friends down a chalky bowl. According to one tester: "Makes you a better skier."
The Verdict: Spend 80 percent of your time on ungroomed trails? You're a Punisher. 142/108/130
---
Atomic Vantage Ritual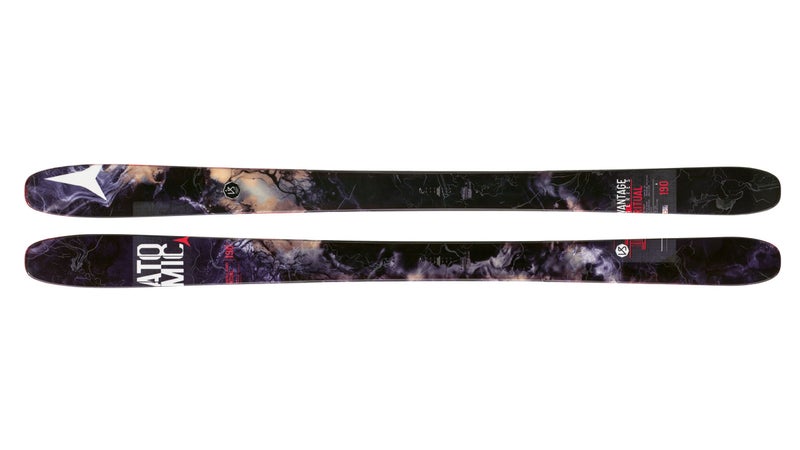 Best For: Western skiers.
The Test: Atomic sells its Austrian-made, wood-core skis for a couple hundred bucks less than the company's high-end rivals. Judging by performance, you'd never know it; this ski ($800) won our Buyer's Guide Gear of the Year award. The 103-millimeter waist means you can carve all day on corduroy, and a full 65 percent of the ski is cambered underfoot for dynamic feel and better glide. The rest features an all-mountain rocker for that surfy performance in new snow. "It's stiff enough to bomb," one tester noted, "but light and nimble enough when you need to pivot."
The Verdict: The Ritual was the skinniest big-mountain ski we tested, but it outperformed all comers in powder, crud, steeps, and trees. 137.5/103/123.5