Gear Guy
What Is A Sit Ski, And How Does It Work?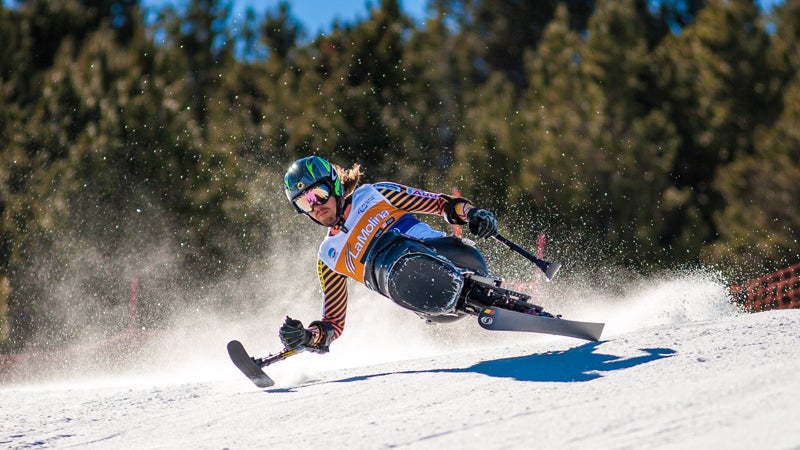 Heading out the door? Read this article on the new Outside+ app available now on iOS devices for members! Download the app.
The best person to explain sit skiing is Josh Dueck, who was paralyzed from the waist down in March of 2004 when he severely overshot a ski jump and injured his spinal cord. Dueck, now 32 and a paraplegic, has triumphantly returned to freeskiing—via a sit ski, a bucket seat suspended above a ski that allows him to rip turns using his upper body and outriggers, which are attached to his hands. 

Josh Dueck.

Josh Dueck.
In fact, Dueck won gold in Mono Skier X at the 2011 X Games, and in February 2012, he landed the first backflip on a sit ski. The feat, which pushed the boundaries of what paraplegic skiers can do, was captured by Salomon Freeski TV and subsequently went viral.
I caught up with Sochi-bound Dueck to talk about the tech behind the sit ski setups. When I asked about his aspirations in the Paralympic Games, he gave he gave a characteristically humble answer: "Every day I get to ski is a gift. If I get a few extra days of skiing in Russia it's a bonus."
Dueck has been working since 2008 with Canada's Paralympic ski team to make a single sit ski that can perform well in all of the current Paralympic race disciplines—downhill, super g, giant slalom and slalom—while still allowing him to drop cliffs and throw backflips. 
Currently sit skis either excel at agility or stability but don't do both. In other words, a sit ski either rips trees and slalom or stays stable on downhill and big mountain lines.
"It's an issue of adjustability for your mass as well as where your legs are," Dueck says. If the rider's legs are out, he will be more stable and will handle downhill better; when legs are drawn in, the sit ski performs better in slalom. By allowing the driver to choose where his mass is and the position his legs, he can excel at both disciplines on a single sit ski.
Dueck and team Canada are also working to improve sit ski suspension. Traditionally sit skis have used shocks similar to those on snowmobiles. "We want to go more towards a mountain bike style suspension," Dueck says.
He has been working with the engineers at Fox Racing to develop suspensions that can be fine tuned for each sit-ski driver. This adjustability allows the driver to accommodate more fluid or powerful turns depending on their skiing style and weight.
Lastly, a good seat is crucial for a good sit ski experience. Dueck worked with a prosthetist who molded his body just below his ribs to create the seat base. To dial in the fit, wheelchair strap company Bodypoint created a series of straps that completely connect his upper body to the chair.
"We are now talking about one fluid chain of events that goes from my mind into my body into the ground, there isn't much energy lost," Dueck says. "Not many people think synergy through body to chair. It's something I wish more people could experience."
Lead Photo: Marcus Hartmann