Gear Guy
What snowshoes can I use for winter racing?
I a strong trail/road runner and interested in doing some snowshoe racing this winter. I would like to buy something that I can use for training as well as racing. Could you give me a few options? Robert Grandville, Michigan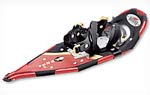 Heading out the door? Read this article on the new Outside+ app available now on iOS devices for members! Download the app.
I think I can help you out here, Robert. We've come a long way from the late 1970s, when your snowshoe choices essentially boiled down to either medium-sized and clunky, or big and clunky.

The P25 snowshoe

The company most responsible for this change, particularly in terms of developing a performance-oriented snowshoe, is Redfeather. And they're still happily making snowshoes that are light and fast. An example: The P25, what they call a "performance" shoe, meaning it's light (3.5 pounds per pair) and fast, but has enough heft to withstand some abuse. Price is $219 (www.redfeather.com).
Of course, other snowshoe makers jumped in with similar light, fast models once they saw the niche Redfeather had started to carve out for itself about a decade ago. The Atlas Dual-Tracs ($239; www.atlassnowshoe.com), for instance, are under three pounds per pair, and have a low profile so you don't trip over yourself. Or there's the Dion Model 130 ($201; www.dionsnowshoes.com), a superlight shoe made by a small Vermont-based company.


Racing snowshoes are sort of like running shoes—chances are, you'll end up with one pair for training (a little heavier-duty, maybe better float) and one for race day. So you might want a midweight shoe for training and general trekking. Then, for your races, something like Redfeather's F25 ($229), which uses titanium crampons and other features to pare down the weight to 2.5 pounds.
Have a great winter!